Are stinging nettle benefits to be believed? Top chef Jamie Oliver says yes – we investigate
Nutritious, delicious and good for wildlife, stinging nettles deserve a second glance and a place on our plates, and the time to pick them is now say foraging experts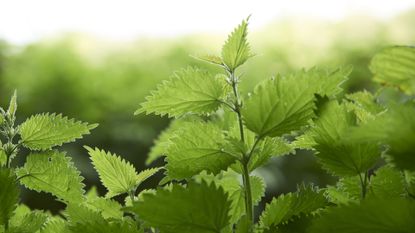 (Image credit: Future)
Sign up to the Homes & Gardens newsletter
Decor Ideas. Project Inspiration. Expert Advice. Delivered to your inbox.
Thank you for signing up to Homes & Gardens. You will receive a verification email shortly.
There was a problem. Please refresh the page and try again.
Stinging nettle benefits? Yes, this is a thing. So this weekend, put on some thick gloves and prepare yourself to do battle with stinging nettles. No, not weeding, but foraging. Because it turns out that if you handle them right, these painful and invasive plants can actually do more good than harm.
Higher in protein than almost any other leafy green vegetable, tasty, and more nutritious than spinach, kale or asparagus, nettles deserve a place on our plates as well as in our gardens.
See: Small garden ideas – clever designs for maximizing a compact gardening space
Celebrity chefs Gordon Ramsay, Hugh Fearnley-Whittingstall and Jamie Oliver agree, and all have nettle recipes in their batterie de cuisine.
In a video on Jamie Oliver's You Tube channel, the top chef shows how to make a simple nettle ravioli, first foraging the leaves, gloves at the ready. He uses nettles in soups, pasta sauces, risottos, and even sprinkles the braised leaves on quiches and pizzas.
'These underloved little greens, let's give them some love,' urges Oliver, adding, 'next time you go for a walk, maybe, there's a dish for you.'
Stinging nettle benefits – and how to gather them
Stinging nettles are packed with iron, and vitamins C, A, and B, and have a good calcium and protein content.
'Nettles offer a good nutritious boost and overall tonic for the body,' as forager Rachel Lambert puts it, but did you know they also play a vital role in our gardens and in the countryside too?
Nettles, as Alysia Vasey from Yorkshire Foragers explains, 'are one of few plants that actually give back to the soil more than they take, enriching it by transferring a supply of nitrates. They are also the absolute favorite of every butterfly and moth.'
Dried or boiled leaves can be used enrich feed for laying hens, while fresh leaves and stalks can be added to compost heaps to speed the composting process, or left in a bucket of water to decompose into nitrogen-rich liquid plant food.
Food for the soil, food for wildlife, food for healthy bodies. Nettles: the ultimate superfood.
See: Eco-friendly garden ideas – expert tips on creating an eco-friendly backyard
How to pick stinging nettles
To pick nettles, wear gloves and mind your legs and ankles. Choose a site away from roads and dog walking routes and of course wash your foraged bounty thoroughly.
Foraging expert, author and guide Rachel Lambert has the following advice: 'Just pick the top four to six leaves which will stimulate the plant to create a second growth (picking is good for plants) and at the first sign of the catkin-like flowers, stop picking them.'
Expert forager Alysia Vasey from Yorkshire Foragers supplies foraged fare to top chefs and restaurants. She has the following warning about nettles: 'They have glass like spikes and each spike carries venom. If you do happen to sting yourself try not to touch it as you risk pushing the glass like spike further into your skin releasing more venom.'
And nature's antidote? 'Look for dock leaves and scrunch in your hand to bruise them. They release a natural anti histamine and will help the sting.'
Stinging nettle recipe tricks
Never eat raw nettles. They must always be cooked or blanched. Cooking nettles removes the sting completely.
Alysia Vasey adds: 'The secret to a great nettle recipe is to remove the stalks, we do this for chefs and spend a great deal of time cutting the leaf from the stem with scissors and sometimes two pairs of gloves! Nettles have incredibly tough stems that traditionally were used for rope making, so use the nettle leaf only.'
See: Outdoor kitchen ideas – create a food prep station in your backyard
'The trick is to blanche them, not obliterate them so that they retain the flavor, the vitamins but not the sting.'
Vasey then blitzes the blanched leaves and uses them to make gnocchi, pesto and soup. 'It really is a matter of replacing your favorite green leaf veg with nettle. And it's free,' she adds.
Sign up to the Homes & Gardens newsletter
Decor Ideas. Project Inspiration. Expert Advice. Delivered to your inbox.
Karen is the houses editor for homesandgardens.com and homes editor for the brand's sister titles, Period Living and Country Homes & Interiors, and an experienced writer on interiors and gardens. She loves visiting historic houses for Period Living and writing about rural properties for Country Homes & Interiors, and working with photographers to capture all shapes and sizes of properties. Karen began her career as a sub editor at Hi-Fi News and Record Review magazine. Her move to women's magazines came soon after, in the shape of Living magazine, which covered cookery, fashion, beauty, homes and gardening. From Living Karen moved to Ideal Home magazine, where as deputy chief sub, then chief sub, she started to really take an interest in properties, architecture, interior design and gardening.