8 tricks interior designers use to brighten a dark bedroom
Yearning for a light and airy bedroom? These are the easiest ways to make even the darkest of spaces feel brighter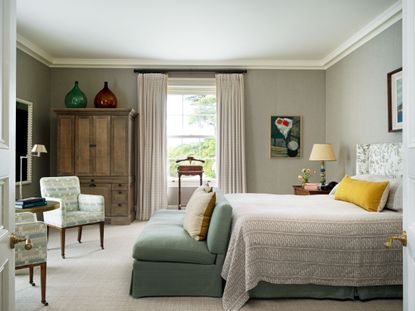 (Image credit: Susie Atkinson)
Naturally, we love a dark bedroom at night, but what if it's not much lighter during the day due to a low ceiling, small window or simply a lack of square footage?
These fabulous decorating ideas – and essential design advice – will help you lighten and brighten up your bedroom so it no longer feels dark and dingy.
See: Bedroom ideas – designs and inspiration for beautiful bedrooms
1. Offset dark furniture with light elements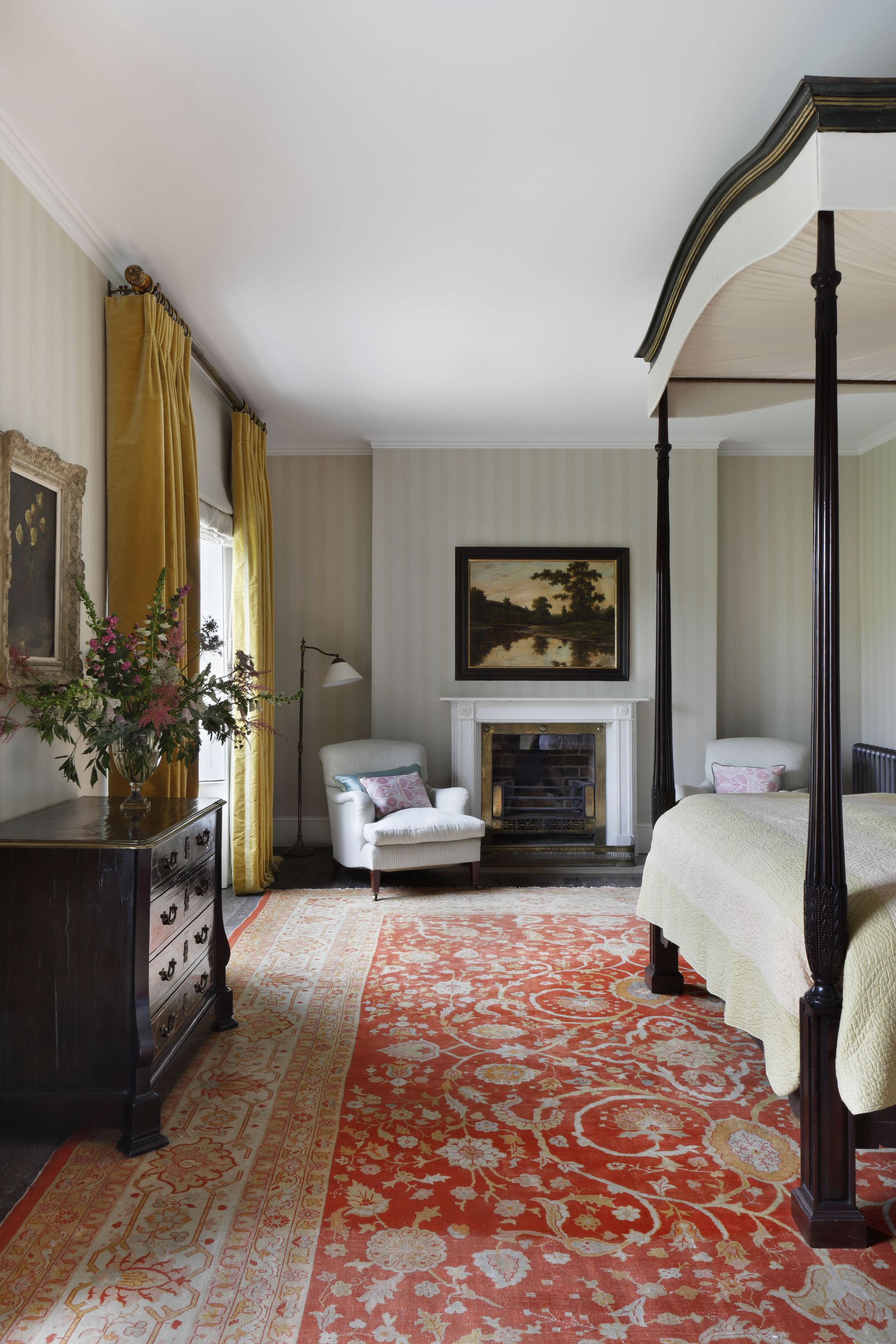 We often have pieces of furniture that have meaning, that we want to still use even if they can slightly inhibit the light in a room.
There are ways of working around this – for example, if your bed is dark and visually heavy you can brighten up the bedroom with pale bedlinen, trimmings and upholstery, light-colored walls and floors, and so on.
A word of caution, though: dark furniture against pale finishes can create a cold, unwelcoming – if bright – room, so it's always wise to add elements of warmth and texture, such as with a wall hanging, upholstered headboard, or curtains and rugs, as in the room above designed by Henriette von Stockhausen of VSP interiors.
2. Choose pale-colored flooring
Pale colored flooring will instantly lift a room that's naturally on the dark side. It will also reflect and bounce the light upwards, mirroring the light that is in turn reflected off a pale colored ceiling.
Painted or varnished floorboards will create the best 'bounce' of light, but if you want to add comfort and texture to a room, a pale carpet or rugs will work just as well.
Even if your bedroom is large it can still feel dark, it's not always about the square footage. A great interior design trick is to choose flooring that's a shade or two lighter than your walls, it will visually 'lift' the room and coupled with a white ceiling will create an airy feel.
Now, in this beautiful bedroom designed by renowned interior designer Susie Atkinson for Lime Wood Hotel, the carpet, drapes and bedspread are all the same tone, this helps the eye to pick up on these lighter elements.
3. Hang sheer drapes – that pull right back
Dark fabrics in heavy velvets or linens will drain the light from your windows. The key to brightening a bedroom is to choose your fabric wisely – Hayley McAfee, Design Director at Villa Nova, offers her advice on how to do just that.
'When choosing the right fabric for a dark bedroom you need to ask what you want from the fabric. Lightweight fabrics will allow daylight to filter through; try a sheer or unlined curtain which you can then layer with a black out blind to stop the light coming through in the early morning.'
Hanging drapes so that there is room either side to pull them right back from the window frame offers the advantage of more than just allowing more light into the room – it also makes the window look larger.
4. Opt for muted prints for light-enhancing interest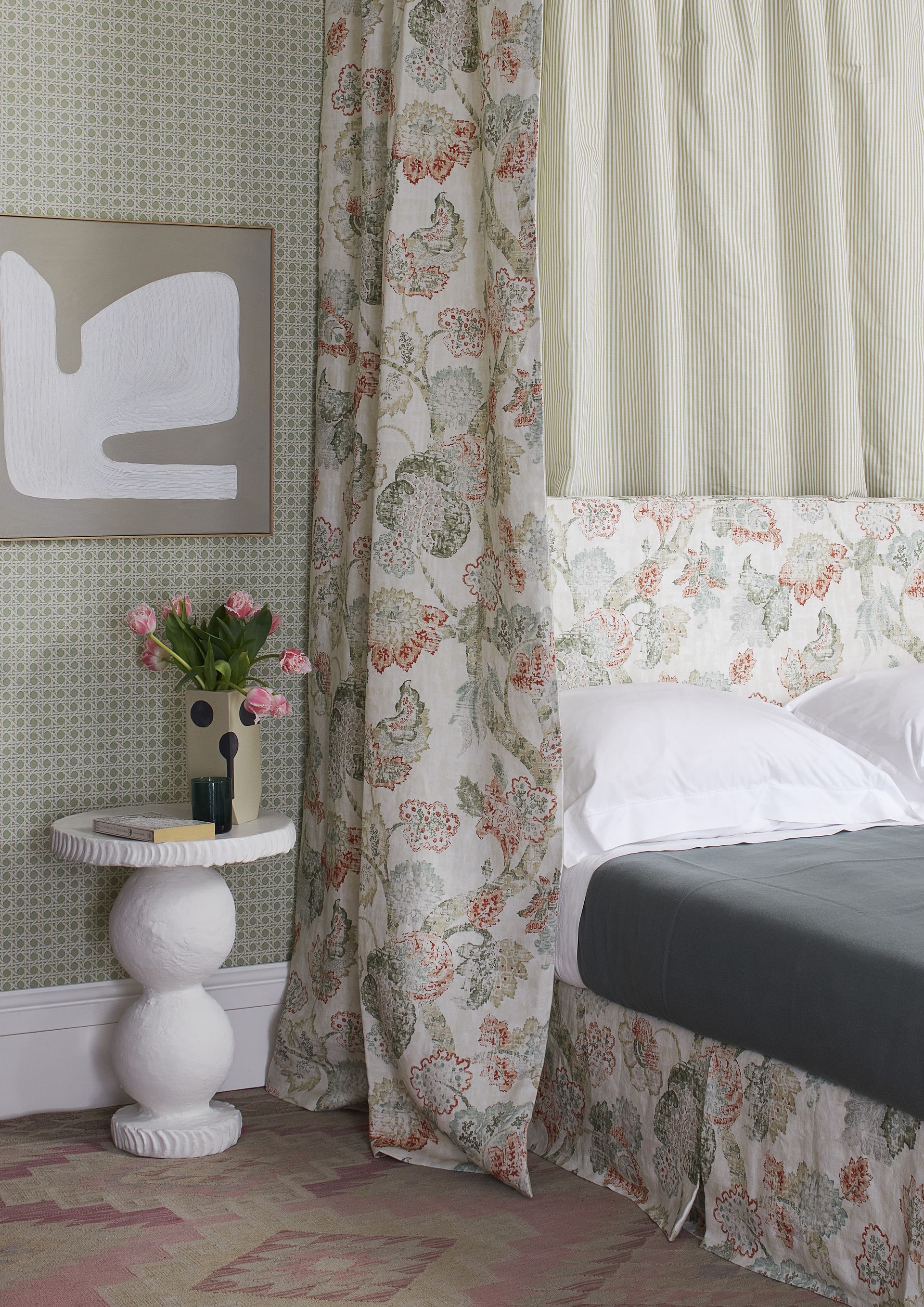 A brighter and lighter bedroom doesn't mean the space is devoid of personality. You can still have a bedroom that has color, pattern and is full of character.
'I love to create fabrics and wallpapers that work beautifully together to create rich, layered, eclectic interiors,' says Richard Smith, Founder and Creative Director of Madeaux.
'Whilst I'm drawn to maximalist decorating and bold patterns, I feel there is certainly a place for a calmer and more elegant scheme in bedrooms where we are searching for a serene and soporific environment that also delivers design personality.
'The small scale of our hand painted rattan motif wall covering which is printed on grasscloth to give an "almost plain" effect, is the perfect organic geometric to combine with any floral, the pretty Celery green colorway of Rattan works fantastically alongside the gentle, distressed Lucia floral fabric in Mineral and classic stripe Audrey in Celery to create a contemporary, yet charming light and airy space.'
5. Pick the same colors for walls and the ceiling
When the color on the walls continues uninterrupted on to the ceiling, the visual flow within the room is better, tricking the eye into making you feel the bedroom is more taller, spacious, and airier. This can make any dark room look brighter.
And, of course, if you use white – or cream for rooms that need warming up – it will make the room feel lighter and brighter, making these among the best bedroom colors for smaller spaces.
6. Use a single color scheme – with an off-white base
Want to add color? A single-color scheme is always a good trick for making a space feel cohesive, calmer and, as a result, larger – and if you use a pale color against a backdrop of white or off-white, the light-enhancing effects are only heightened.
'I think of my bedroom as my sanctuary and look forward to returning to it at the end of a long day. I have created an indulgent bedroom space by layering different textures and patterns in white and blue hues, which not only pair well to create a calming and cocooning feel, but also brighten up the room,' explains Deborah Fiddy, Managing Director and Co-Founder of Gingerlily.
'I love our Coral Fern eiderdowns and cushions, particularly in the blue colorway, which I have on my bed; they're perfect for adding soft pops of color to contrast with my white bed linen and really lift the overall scheme, but in an elegant and refined way. Light wooden cabinets either side of the bed create balance, whilst keeping the overall look light and airy.'
7. Hang mirrors adjacent to windows
Mirrors needn't always be hung in the usual places – over fireplaces or dressing tables. Instead, use them where they're needed in a dark bedroom to create a hit of light and depth.
Hanging mirrors adjacent to a window is the most effective positioning if you are looking to maximize light – pick smaller mirrors with decorative frames if this is your aim.
See: Decorating with mirrors – ideas and rules for how to use mirrors in your home
8. Build a smart bedroom lighting scheme
Good bedroom lighting is obviously vital for a dark space, and we all know that a single pendant and a couple of bedside lamps may not be enough to cut it in a room that's really light-challenged.
So, consider more inventive, perhaps even hidden, bedroom lighting ideas, such as headboard lighting, extra accent lighting, lighting inside closets... and so on. Pick bulbs that mimic warm daylight, and ensure the shades you choose don't dampen or discolor the light emitted too much. The better the artificial lighting in your room, the less you will notice the lack of natural daylight in the room.
Sign up to the Homes & Gardens newsletter
Decor Ideas. Project Inspiration. Expert Advice. Delivered to your inbox.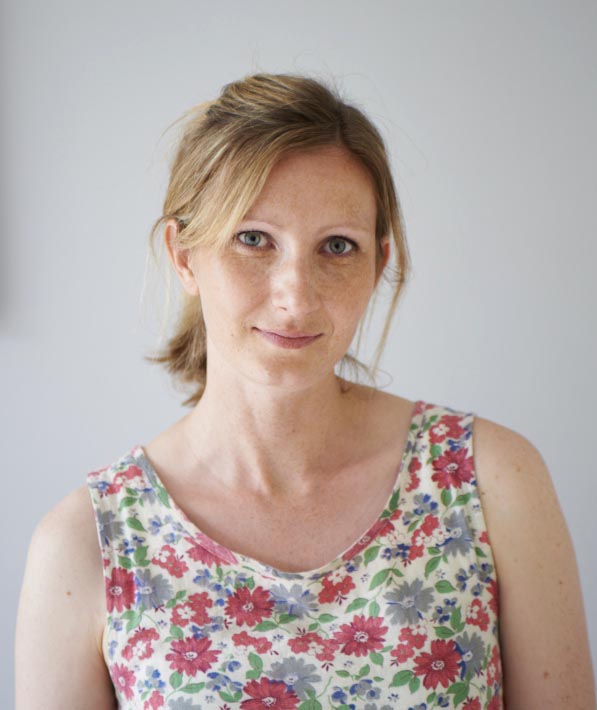 Sophie has been an interior stylist and journalist for over 20 years and has worked for many of the main interior magazines during that time, both in-house and as a freelancer. On the side, as well as being the News Editor for indie magazine, 91, she trained to be a florist in 2019 and launched The Prettiest Posy where she curates beautiful flowers for modern weddings and events. For H&G, she writes features about interior design – and is known for having an eye for a beautiful room.