How can I make a dark room brighter? 8 expert design techniques
Making your darker spaces look brighter has never been easier with these expert tips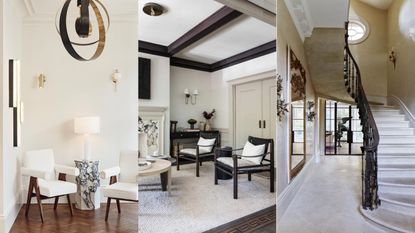 (Image credit: Damian Russell / Mindy Gayer / David Lovatti )
Most homes have spaces that do not get as much light as we would like them to, leaving the risk of them feeling cold or unwelcoming. So how can you make a dark room brighter besides just adding lamps?
Besides lighting ideas, interior designers often play with clever furniture placement and paint techniques to create the effect of a bright room – even if there is no natural light. Rooms tend to be dark for several reasons; whether it is an internal room with little to no windows, a north-facing room, or it is blocked by external features or trees.
From brightening a dark bedroom to light living room ideas, these designers' advice is bound to brighten up even the dullest of rooms.
How can I make a dark room brighter?
There is more to making a room brighter than simply lighting a dark room, although it certainly helps.
Dark rooms in the house may be good for relaxing, but spending too much time in darker spaces could have a negative impact on your mental wellbeing, studies suggest, with effects such as low mood or difficulty remembering. What's more, it is generally impractical.
Use these eight expert ideas to lighten up your darker rooms while also creating a beautiful space.
1. Utilize paint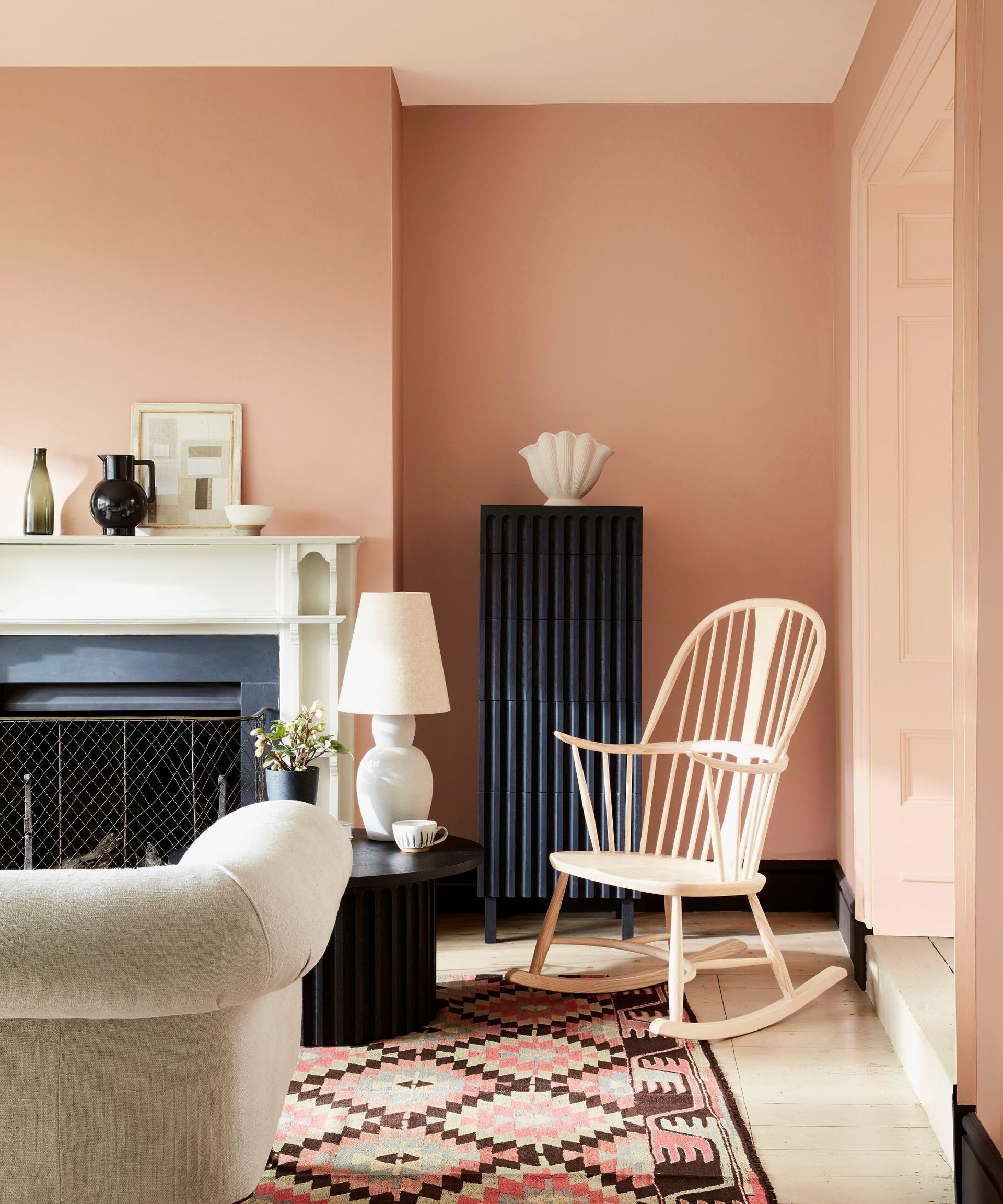 One of the most common ways to brighten up a room is to use specific paint ideas to distribute light easier or create the illusion of airy space.
'Many opt to use bright white in small or dark rooms with the aim of making the room appear larger, however light neutrals used in a tonal scheme will have the same effect whilst not appearing too stark,' explains Ruth Mottershead, creative director at Little Greene. 'If there isn't a lot of natural light in a small room then using lighter hues will make the room feel more spacious. Our color scales collection is a wonderful solution for creating a light, harmonious space; 'Masquerade' works beautifully alongside 'Masquerade Mid' and 'Masquerade Light' to create an elegant and welcoming living room scheme.'
'Darker rooms can feel a little cool, so we recommend opting for whites with a yellow or red undertone to warm up the space,' adds Helen Shaw, UK director at Benjamin Moore. 'Whites create a soft glow, welcoming mood and help to balance the natural light that comes into the room.'
There is more to paint trends than simply color, however. Choosing different paint finishes can also have a positive effect on a dark room, as Patrick O'Donnel, Brand Ambassador for Farrow & Ball explains; 'be creative with finishes for a similar effect. Paint your walls in Estate Eggshell for a little luster (also brilliantly hard-wearing for a busy household) or spray your ceiling in full gloss (but do follow the manufacturer's product advice sheets for this).'
2. Introduce playful patterns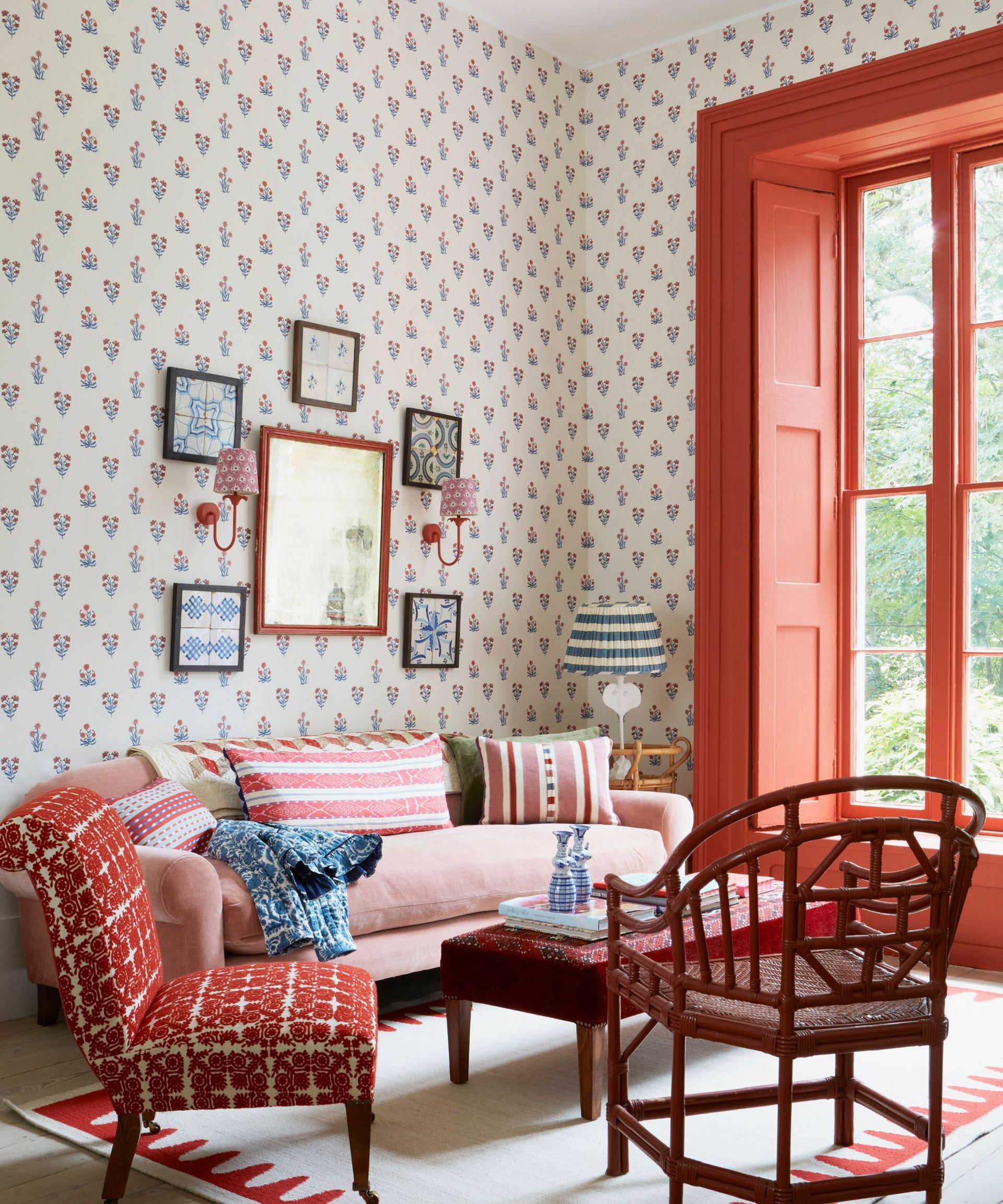 Mixing patterns in interiors is a great way to add interest to a space and, although typically avoided in smaller, darker rooms, they can be used to add color and vibrancy to brighten up a space.
'Pretty, fresh wallpapers in light colors with an airy feel will give the illusion of space. Jaipur Flower by Daydress for Dado is a charming design that adds pattern and personality, but due to the white background and space between the colorful floral motifs, it will ensure a space feels spacious and bright,' says Kate French, creative director at Dado.
Wallpaper ideas can be used to add textural interest to the space too. 'Consider metallic papers,' recommends Patrick. 'The gentle use of gold or silver will shimmer effervescently as the natural or artificial light hits them – creating little pockets of glamorous glow.' Metallic elements can be incorporated with a full metallic paper or through metallic patterns for a more toned-down look.
3. Get rid of heavy curtains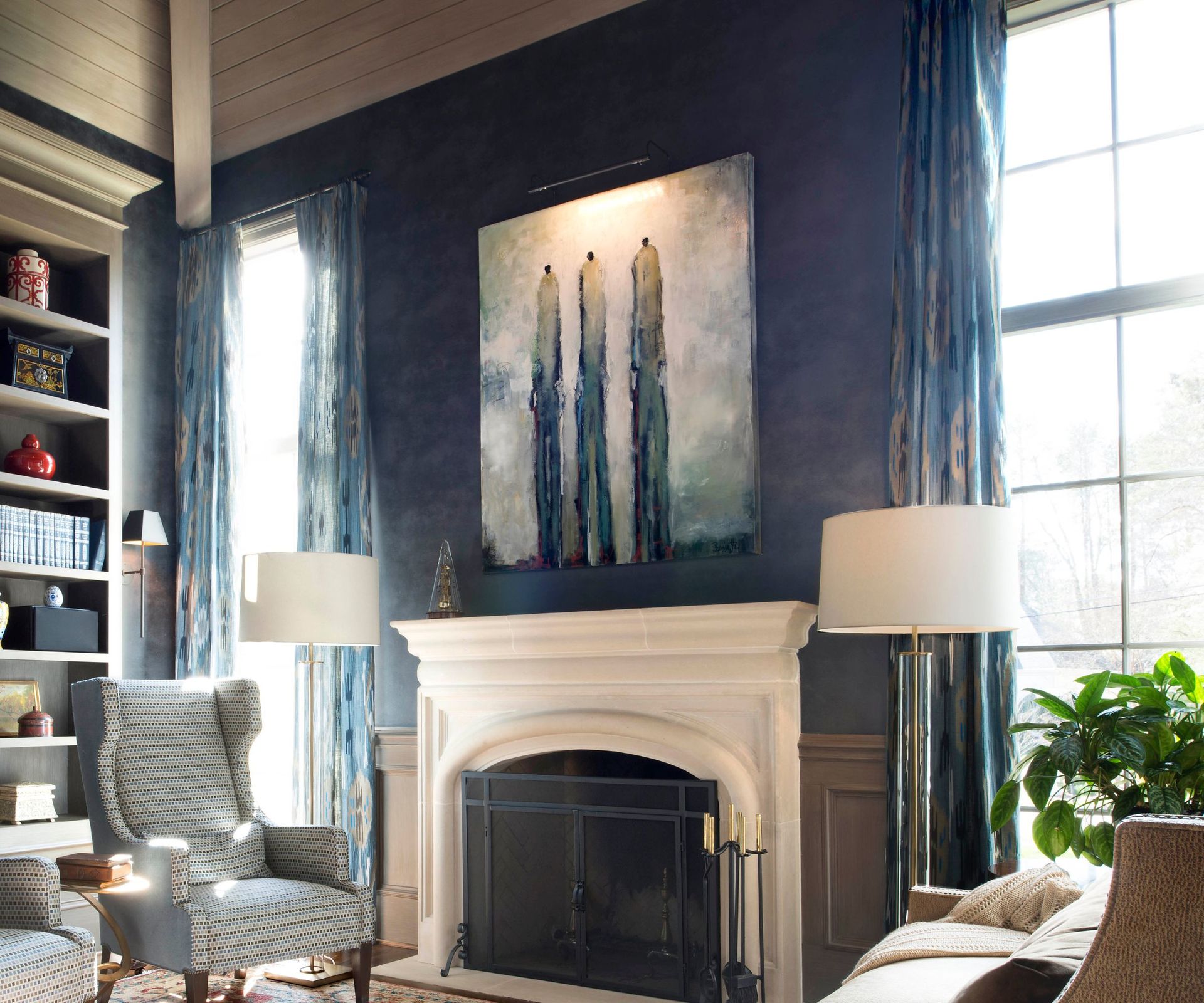 Curtain ideas, along with other window treatments, are a great way to tie a room together. However, in a dark room, heavy curtains can contribute to the dull look even when opened.
In dark living room ideas, for example, consider swapping thicker curtains with a lighter, more breezy substitute.
Alternatively, consider using roman shades to provide privacy as well as reduce the visual impact of heavy fabric in the room, or use curtains in a similar color to the rest of the room so that they blend in seamlessly while also allowing the comfort of thicker drapes.
4. Choose light flooring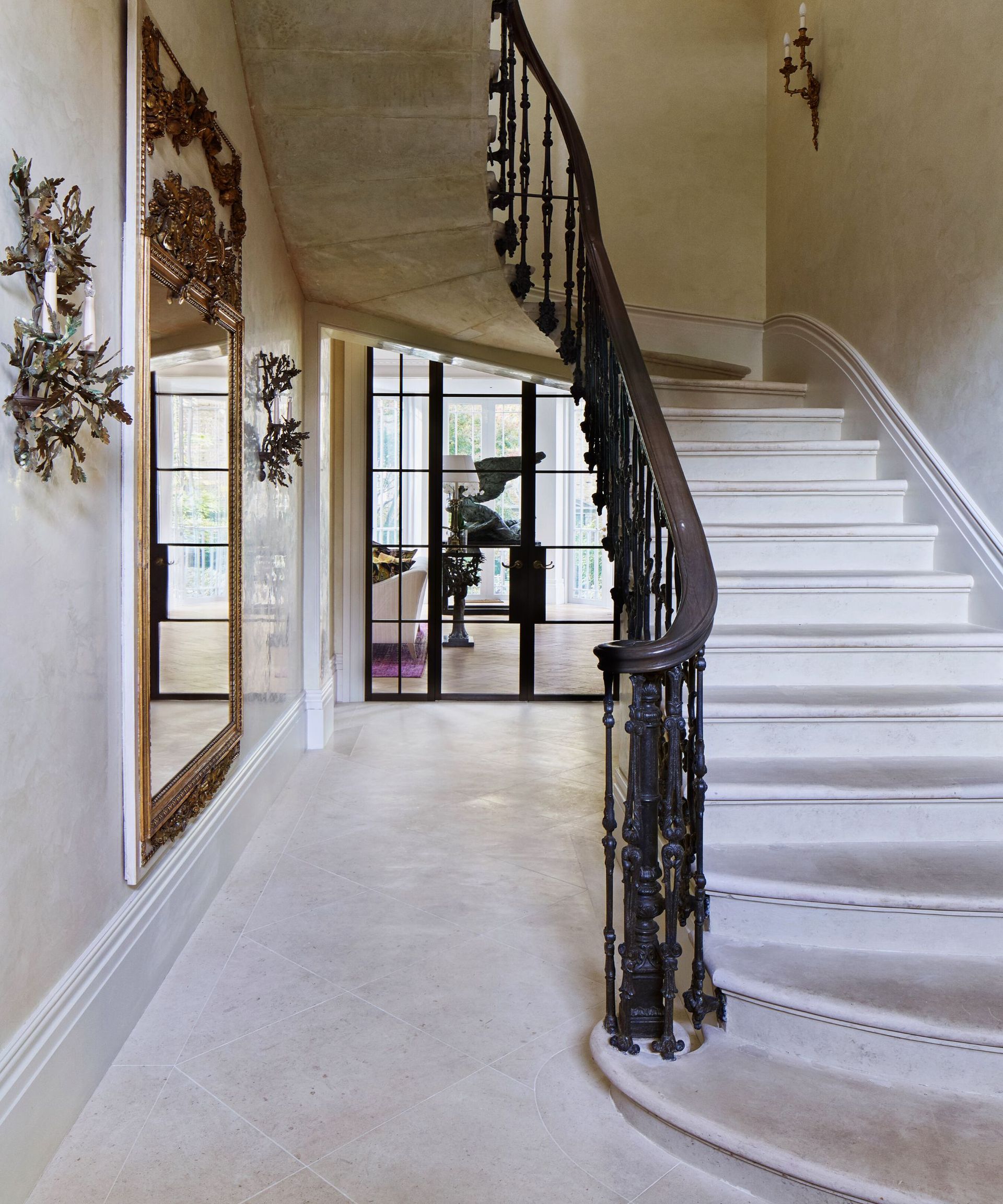 'A couple of tricks with the simple application of paint can help bring some relief to a light-starved space. One would be to paint your floor a lighter color – this can help bounce light around your room,' suggests Patrick. Although painting your floors is an uncommon flooring idea it can offer a quick solution to brightening a dark room and will endure everyday usage if done correctly. In a north-facing room, consider painting your floor a subtle off-white tone avoid the room becoming too cold.
If painted floors are not your style, opt for a neutral light-toned carpet, or a light wood such as maple or birch to help distribute light around the room. For your kitchen flooring ideas, pair light wood or painted cabinets with light, reflective tiles to increase the light and functionality of the space. These bright tiles can be carried into your hallway flooring ideas, with entryways often being some of the darkest areas of the home.
5. Use bright artwork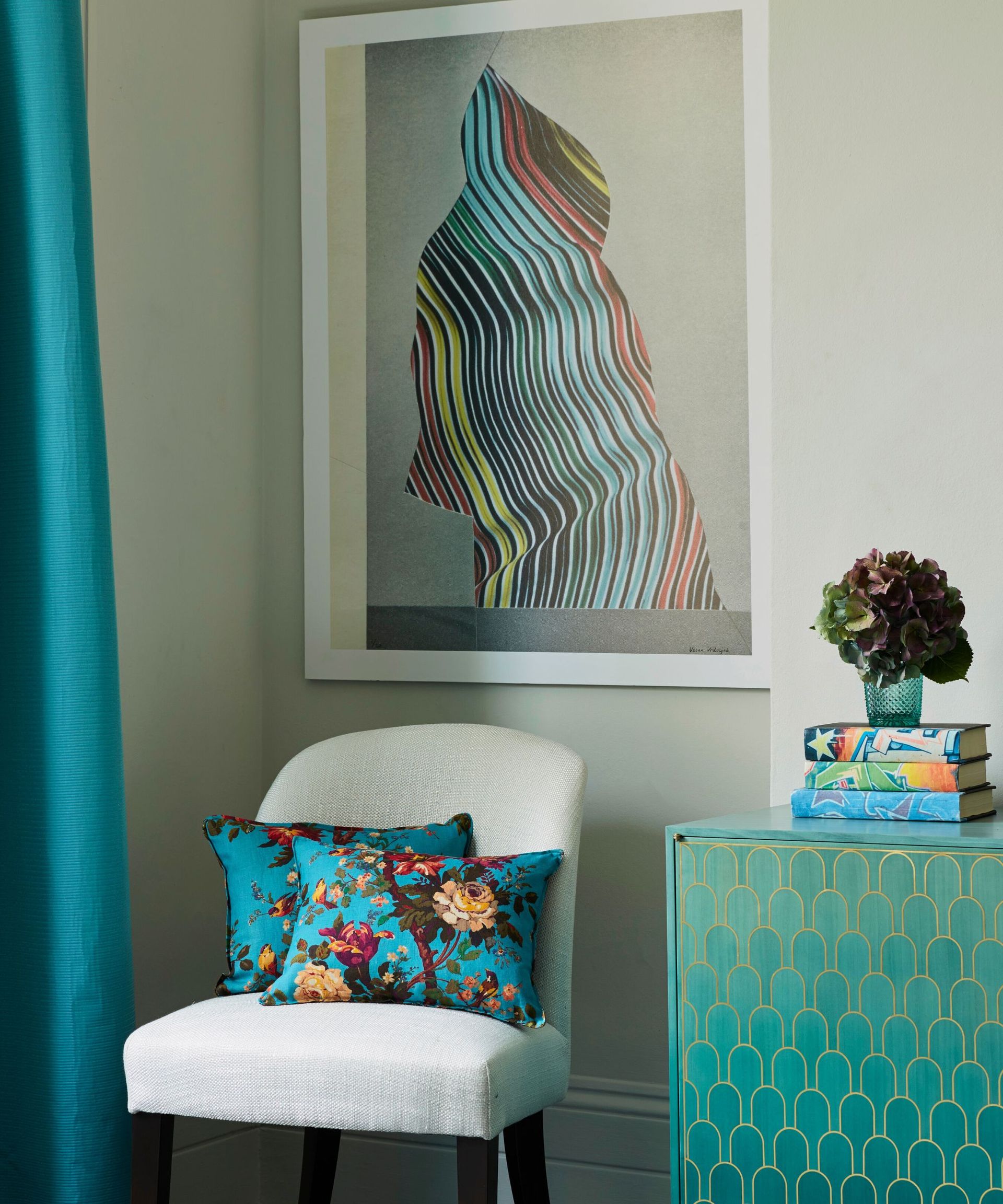 Adding the right artwork to a space can add vibrancy as well as visual interest, although it is important to leave how to choose art for your home so that it has a connection to you. This is crucial to ensure you do not select pieces that you will want to replace over time or will age poorly in the space.
Decorating with art in a dark space can add pops of color and pattern without them overwhelming the space, while artwork frames and high gloss finishes can add a reflective metallic element allowing light to travel further in the room. Furthermore, artwork can invite warmth through serotonin-boosting oranges and reds to prevent darker rooms from leaning too cool.
6. Supplement daylight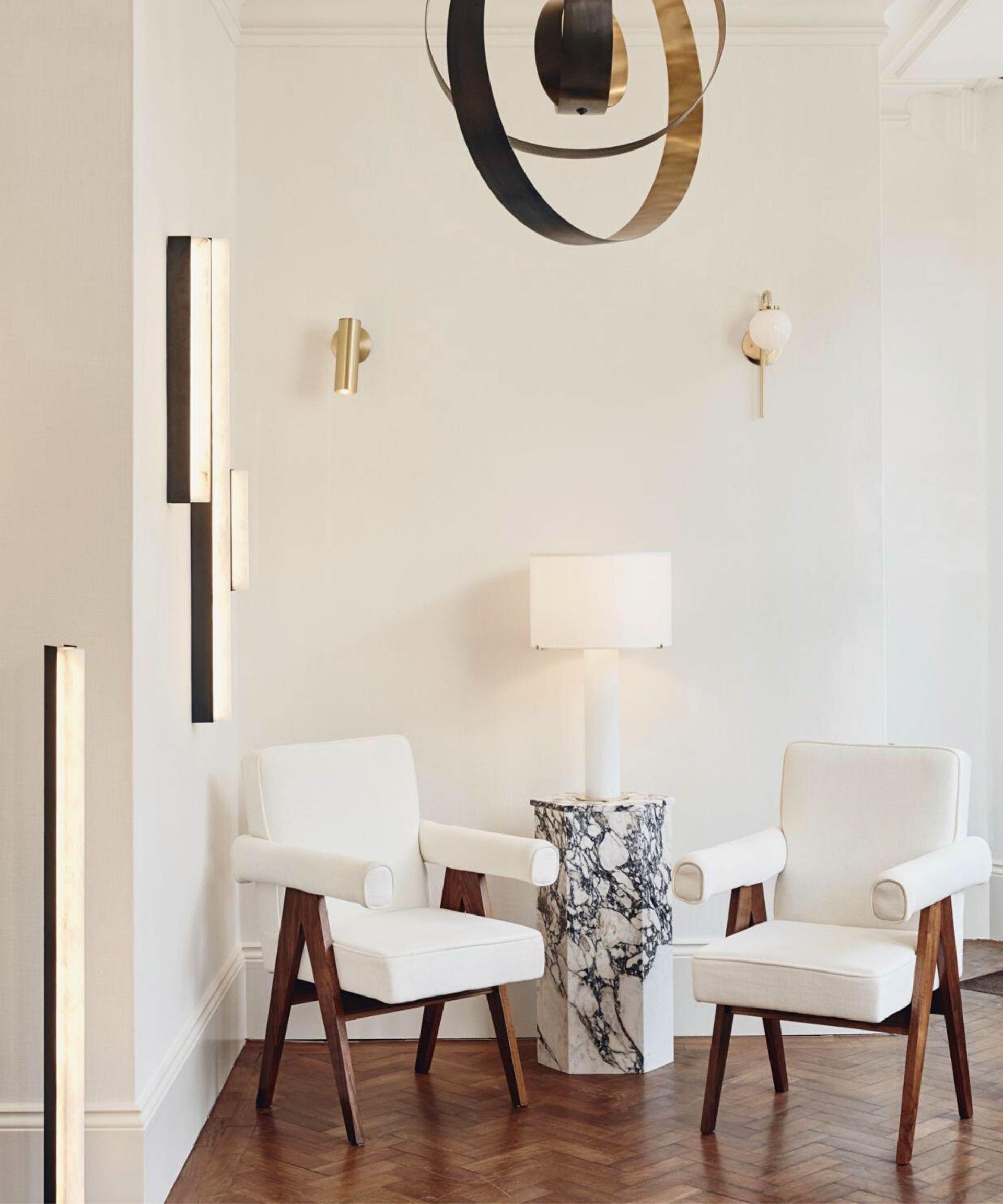 Perhaps the most obvious way of making a dark room brighter is to add lighting. It is important to layer lighting correctly, however, to ensure a balanced space that does not become not overly lit instead.
'You should decorate a dark room taking into account how different surfaces and shades reflect light. It is good to check the lighting in the room,' advises Finnish designer and home stylist, Johanna Lehmuskallio. 'Change the lamps to the brightest possible option. Even this little effort can bring about a significant change in the atmosphere of the room.'
Layer a mix of ambient, accent, and task lighting in the room to create an even, welcoming glow without adding to the shadows of the room.
'For dark and dramatic rooms with jewel tone colors, try adding unique lighting fixtures that will brighten the space and of course, add a glow through soft lighting,' says Maria Viola-Kuttruff of Viola Interior Design. Taking this approach is advised when it comes to living room wall lighting ideas as lighting design can become a wall feature in and of itself.
7. Position mirrors cleverly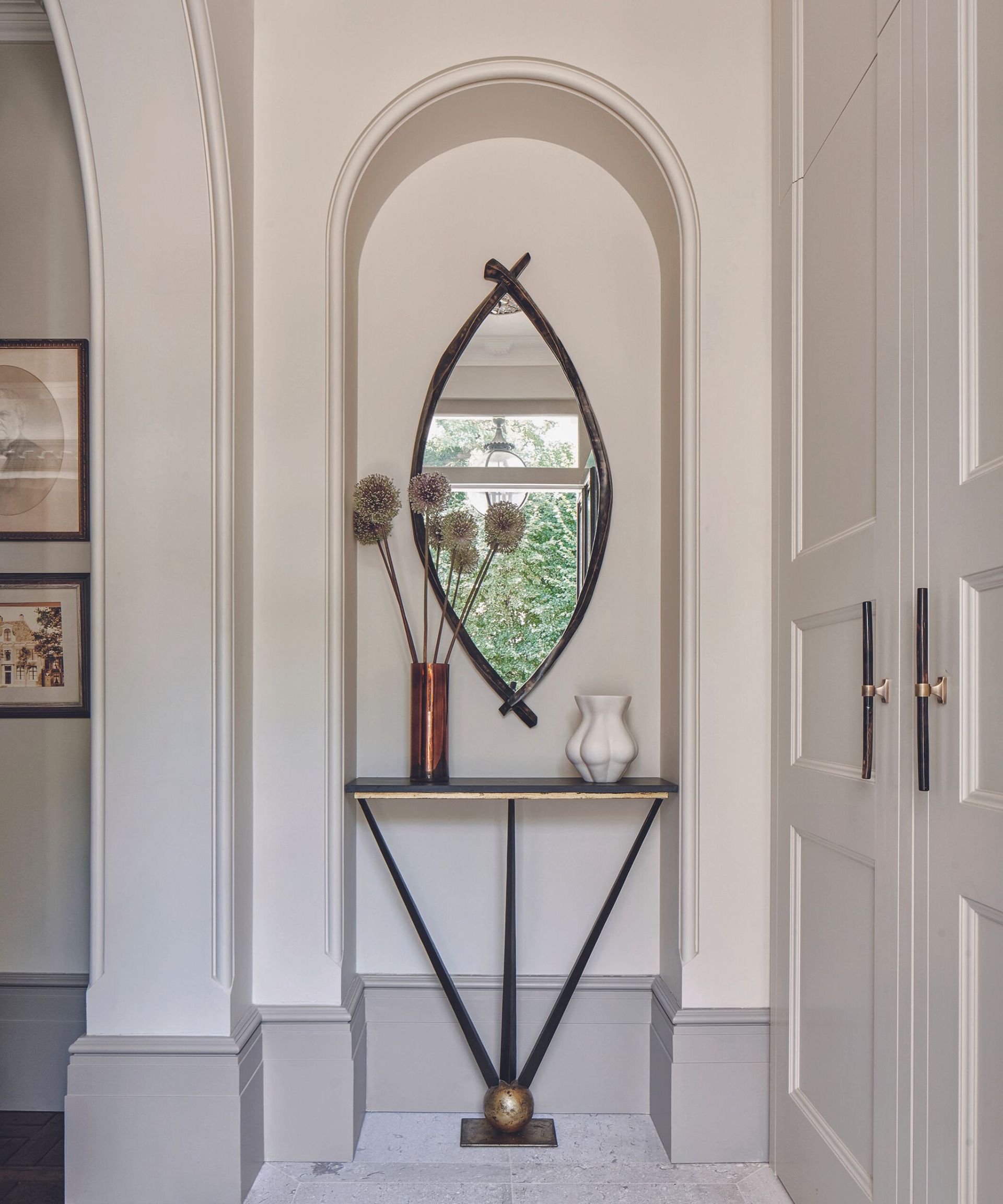 To get the most out of decorating with mirrors, you should place them in positions to reflect as much light as possible. In rooms with windows, for example, mirrors should be hung adjacent to or on the opposite wall to rebound the light around the room as it first enters. 'The metallic interior elements and mirrors also reflect light and create the illusion of a brighter space,' explains Johanna.
In rooms with no windows, using a large mirror will help to break up the wall planes which could contribute to a dark or claustrophobic look. Hallway mirror ideas, for example, always what little light is received from the door and the hallway lights to make the space feel larger and less enclosed.
Like positioning mirrors near windows, place mirrors near to or opposite light sources such as lamps and sconces for a similar effect.
8. Consider your furniture silhouettes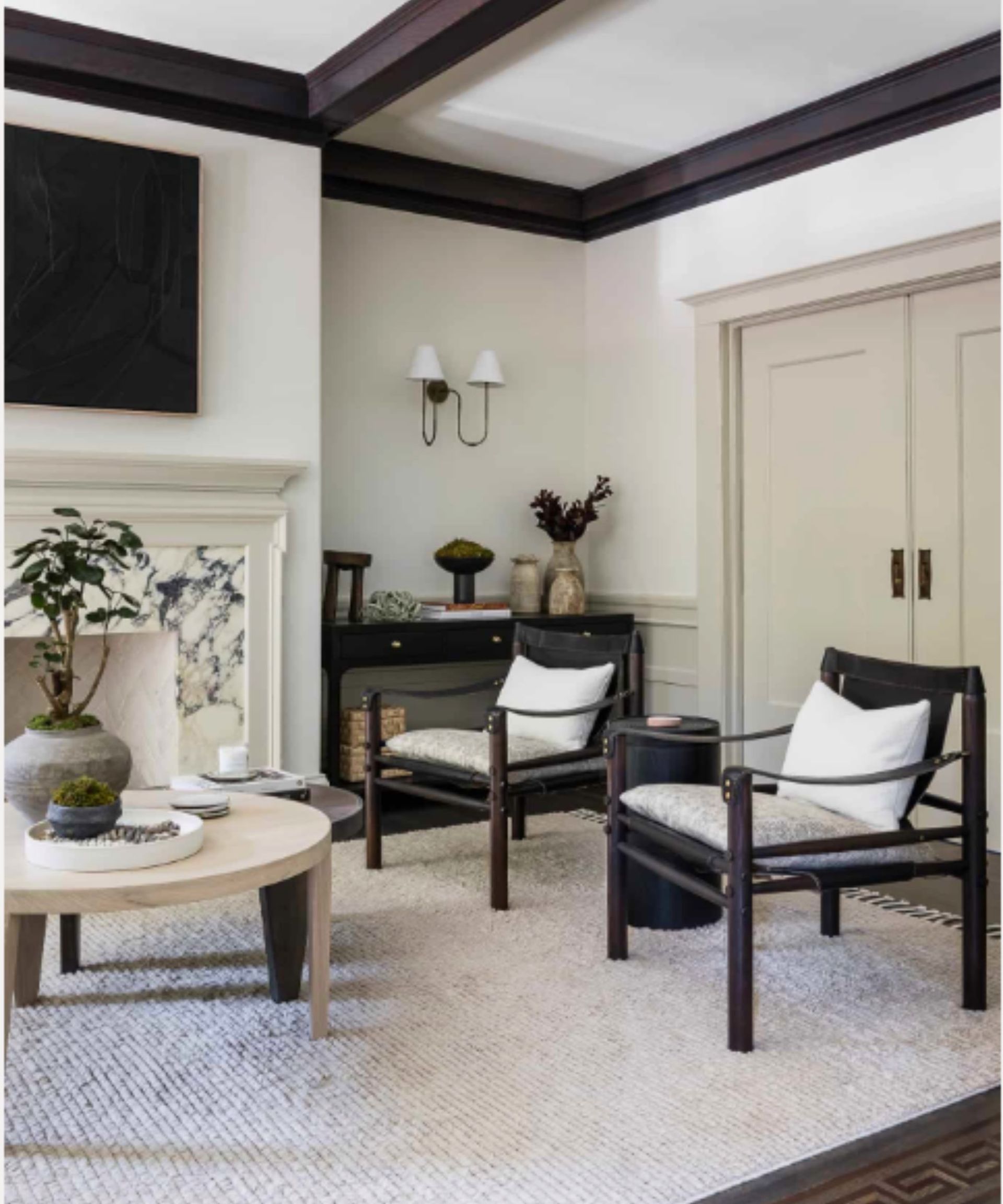 When it comes to decorating a dark room, it is important to choose furniture items with light visual weight such as furniture with gaps or frames and lighter color schemes to prevent adding to the darkness. 'Big and dark furniture eats up the room's space and light as if without noticing,' Johanna points out. 'For example, you should change a dark, heavy coffee table to a light, marble-topped table whose surface reflects light. With this trick, the feeling of lightness in the room increases immediately.
'It's also worth getting rid of excess stuff, so the space immediately looks lighter and brighter,' she suggests.
If you have to use darker furniture, however, Judy Pickett of Design Lines Signature suggests 'counteract darker cabinetry by considering keeping everything else in the space white and fresh – countertops, wallcoverings, and flooring in a lighter white or neutral to help create that contrast and reduce the overall moodiness.'
What color makes a dark room brighter?
The best color to make a dark room brighter is pale shades of grey and blue, especially when trying to stay away from stark white. If you are after warmth, yellow or light terracottas can help to bounce light around the room while adding a sunny feel. It is important to test bold colors to see how they change with daylight before you paint your room in them, however, to avoid a garish or overwhelming tone change by sunset.
How can I lighten a dark room without natural light?
In a room with no natural light, you can brighten the space by loading up on layered lighting, using mirrors to bounce the light around the space also allowing the area to feel bigger, and using light furniture. Furniture with light visual weight can lift a room and allow light to pass through them – think glass tables or open-backed chairs. Furniture that is particularly blocky or large can weigh the space down by casting shadows.
Sign up to the Homes & Gardens newsletter
Decor Ideas. Project Inspiration. Expert Advice. Delivered to your inbox.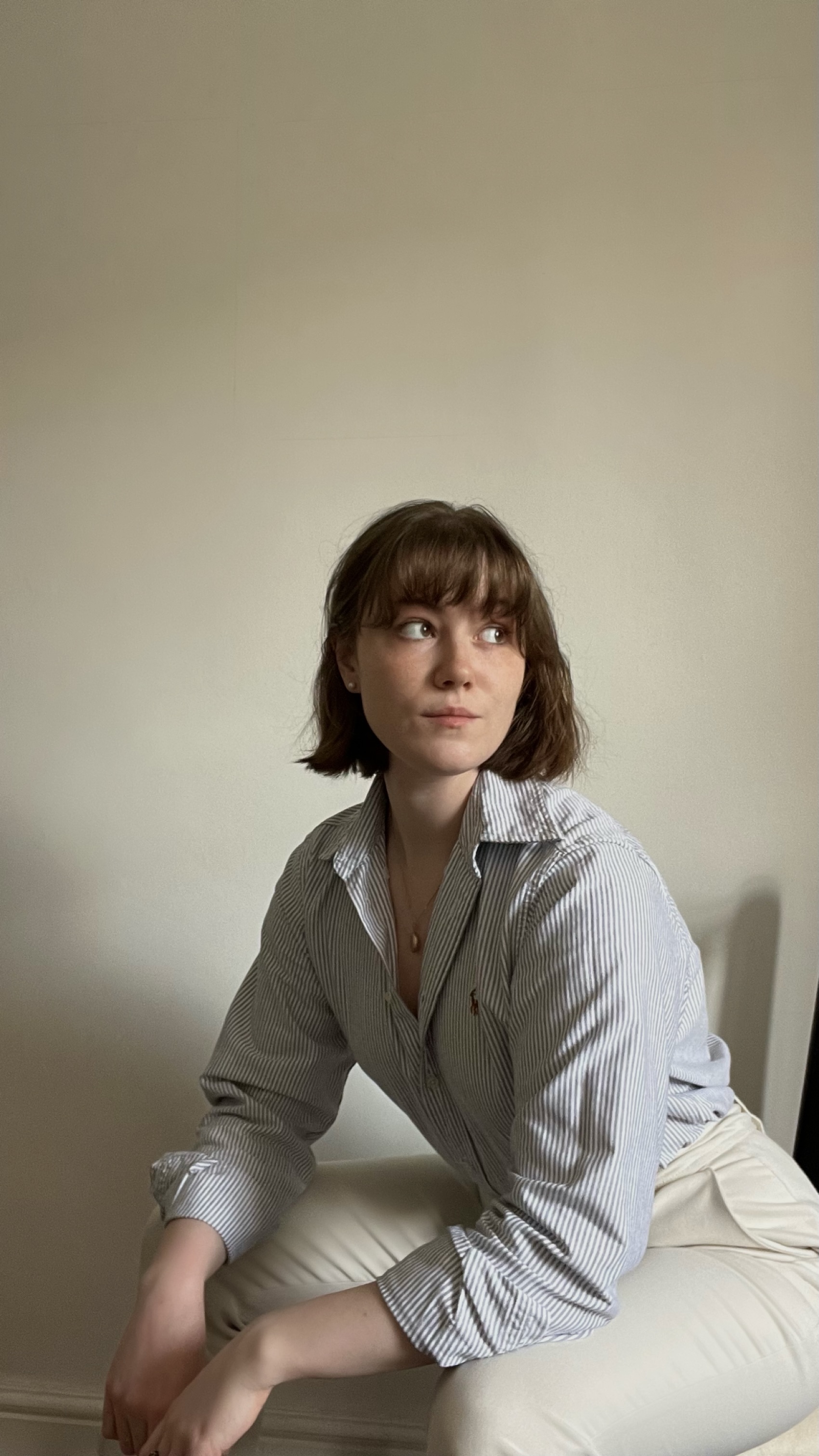 Chiana has been at Homes & Gardens for a year, having started her journey in interior journalism as part of the graduate program. She spends most of her time producing content for the Solved section of the website, helping readers get the most out of their homes through clever decluttering, cleaning, and tidying tips – many of which she tests and reviews herself in her home in Lancaster to ensure they will consistently deliver for her readers and dabbles in the latest design trends. She also has a first-class degree in Literature from Lancaster University.