This $160 off Vitamix blender is unmissable – and it's Jennifer Aniston approved
Jennifer Aniston shares her favorite smoothie recipe and reveals the Vitamix blender as her blender of choice – get one for cheap in the Black Friday sale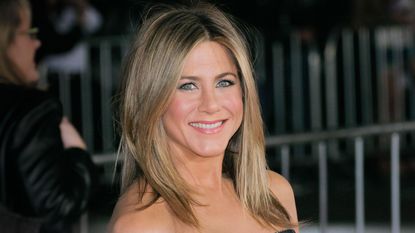 (Image credit: Alamy)
Jennifer Aniston doesn't post regularly on Instagram, so when she does, her fans go wild, especially when she recommends something she uses at home. In a post shared to her 41million follows, she revealed the recipe to her favorite smoothie – and that she uses a Vitamix blender to create the delicious concoction.
And guess what? We can share news of both here. The Vitamix first: there's currently a rash of Black Friday Vitamix blender sales to be enjoyed across multiple retailers and, with many of their models reviewed and tested by us here at Homes & Gardens, and ranking high in our best blenders guide, you can trust us (and Jen) when we say they are definitely worth it.
Sur La Table is selling Jen's Vitamix blender at a massive discount this Black Friday, though there other retailers to buy from.
Below, we share more details of these great Vitamix blender deals, and the recipe for Jennifer's favorite smoothie.
Black Friday Vitamix blender sale
Jennifer Aniston's favorite smoothie recipe
You will need:
Once you've placed all ingredients into your Vitamix blender, simply press the button, blend to your desired consistency, and there you have it, Jennifer Aniston's favorite smoothie.
Why choose Vitamix?
One of the most famous blending brands, Vitamix are renowned for their powerful, durable and long-lasting blenders.
Featuring aircraft-grade stainless steel blades, a unique vortex that rapidly folds ingredients back to the blades for faster and smoother blends, and a high-performance cool-running motor, they are one of the best blending brands out there.
With a range of models to choose from, from the Ascent to the Explorian and the Immersion Blender, there is a design to suit all blitzing and blending needs.
Vitamix products are on the more expensive side compared to other brands, so make the most out of the Black Friday Vitamix blender sale.
Which is better, Vitamix or Ninja?
Both powerhouses in the blending game, many of us ask, which is better, Vitamix or Ninja?
The two brands produce some of the best kitchen appliances on the market, so we understand why it can be hard to choose.
Vitamix are an American-owned family company that has been making blenders since 1921, they have carved a legacy built on producing high-performance kitchen appliances.
Ninja, part of SharkNinja Operating LLC group, offer innovative blending designs at incredible value.
To help you make your decision, see our expert guide on Vitamix vs Ninja blenders.
Zara joined Homes & Gardens in February 2022 as a Content Editor. After studying English Literature at University, she worked as an Ecommerce Website Editor, Content Writer and Buying Intern at multiple independent businesses within the luxury retail and lifestyle sectors. Her role at Homes & Gardens unites her love, experience and passion for the world of design and desire to create inspiring written content. She enjoys nothing more than discovering new trends, brands and products, whether that be in fashion, interior design or lifestyle.