Vitamix vs Ninja blenders: which one is right for you?
Explore Vitamix vs Ninja blenders and establish which is best for your smoothies, soups and salad dressings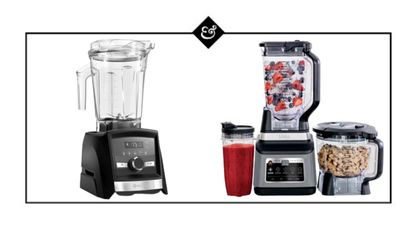 (Image credit: Future)
Vitamix vs Ninja blenders is an clever question throughout the holiday sales. Both brands offer standout appliances that have earned their place in our best blenders round up; the former has a reputation for commercial gold standard appliances, while the latter offers innovative designs and incredible value.
Though at first glance they look pretty similar, there are plenty of features that set these blenders apart, as well as varying price points and user settings.
It can be easy to spot a deal and go for it, but you might end up with buyer's remorse. We're delving into the crucial comparisons between Vitamix vs Ninja blenders that you need to know before you make your choice.
The Vitamix A3500 Ascent Series Smart Blender might just be our new favorite, but it's an expensive choice. Here is how it performed in our hands-on tests
For
Unrivaled power
Works on all sorts of recipes
Recipe book included
Makes great soups
Tamper included
Large capacity
Smart display
Against
Expensive
Blades heat up after prolonged use
Better on large quantities
Very noisy
Not dishwasher-safe
The Ninja Professional Plus Kitchen System with Auto-IQ is the perfect all-in-one machine to make the most of your kitchen
For
Very powerful
Incredible value
Multiple jugs
Dishwasher-safe
On-board countdown timer
A range of food processor blades and discs
Price
Against
The lids won't close when not on the attachments
Difficult to store
Vitamix vs Ninja blenders
You can trust Homes & Gardens. Our expert reviewers spend hours testing and comparing the latest products, helping you choose the best for you. Find out more about how we test.
Vitamix have been making blenders since 1921, and you can tell there's a century of careful design in every product. They're a high-quality investment built to last, and so powerful that even big businesses like Starbucks rely on Vitamix for commercial blenders. Vitamix has around 20 blenders in its range, with most in a price range upwards of $399.99. They came out on top in our Vitamix vs Blendtec blenders comparison for its premium quality.
There's lots on the market when considering which Vitamix blender you should buy, but my pick goes to the exceptional, perfect-scoring Vitamix Ascent A3500, thanks to an impressive range of preset programs that let you create perfect soups, smoothies and sauces at the press of a button. While their big downside is price, you can find discounts with our guide to Black Friday small appliance deals.
Where Vitamix offers classic design, Ninja is more of a young upstart, developing innovative blenders that stray outside the norm.
Ninja blenders work by a patented dual blade, designed to double their effectiveness and speed. They also offer a wide range of different styles and attachments. They have smoothie cups, such as the Ninja Foodi Smoothie Bowl Maker, which is great for bowls of breakfast granola and açaí bowls. Ninja also offer compact personal blenders like the Ninja Plus Blender for making juices and smoothies on the go.
You can find Ninja blenders at all major retailers, from Walmart to Best Buy. We also have a guide on which Ninja blender you should buy which covers the major options. Plus, one of the best places to look out for saving on major events like Black Friday is the Ninja website itself, which really cashes in on shoppers looking for sales' bargains.
Ninja Black Friday deals 2022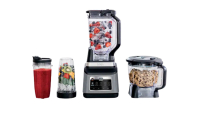 Ninja Professional Kitchen System with Auto IQ |was $229.99, now $149.99 at Kohl's
This powerful kitchen system is now $100 less than its retail price. Already great value thanks to three different blender attachments, you can now get even more bang for your buck from Target.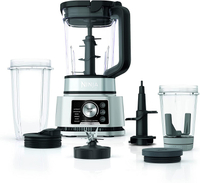 Ninja SS351 Foodi Power Blender: was $179.99, now $129.99 at Amazon
This Ninja blender makes it easy to make delicious on-the-go smoothies and smoothie bowls. It even includesa food processor jug, so you can shred cheese, chop vegetables, mix hummus, and even knead bread dough - all for under $150.
Vitamix Black Friday deals 2022: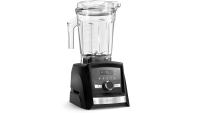 Vitamix Ascent A3500 Series Smart Blender: was $699.95, now $574.95 at Best Buy
Save $125 on the incomparable Ascent A3500, the gold standard of blenders with 100% on our expert review. Our in-house testing genius Millie Fender found that it made perfect smoothies, dips, and soups, powering through ingredients with ease for a smooth, delicious finish.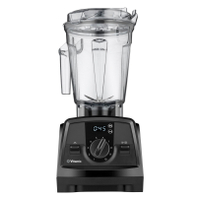 Vitamix V1200 Venturist Blender | was $399.99, now $374.99 at Best Buy
There's a fantastic $125 off the Vitamix V1200 Venturist, a 64oz. blender with mix, purée, smoothie, chop and liquify modes, perfect for making a variety of juices, smoothies and dips.
Vitamix vs Ninja blenders: Design
The Vitamix A3500 blender has a 64 ounce container, laser cut blades and importantly comes with a tamper, a tool perfectly designed for creating more movement inside of the blender. A similar sized, equally sleek looking model from Ninja is the Professional Plus Blender which comes with single serve cups for those who want a smoothie on the go.
On the outside, these two blenders look pretty similar, but on close inspection there's a big difference in quality - the Vitamix offers much thicker, sturdier plastic jugs and metal components compared to the Ninja. While the Ninja is still a great appliance, its short one-year warranty vs the decade-long guarantee of the the Vitamix demonstrate this gulf in quality.
Vitamix vs Ninja blenders: Power
The Vitamix A3500 narrowly wins, with 1500W vs the 1400W of the Ninja Professional Plus. Either will be more than enough to whip up smoothies and drinks.
That said, the Ninja Professional Plus puts its power to greater use thanks to the inclusion of a food processor attachment, which means you can shred cheese and chop vegetables - something that the Vitamix, for all its quality, just can't do - at least not without expensive attachments.
Vitamix vs Ninja blenders: Versatility
With the Ninja Professional Plus, you'll have no issues with creating smoothies and frozen drinks, which are its strong point. The food processor attachment and the personal blender jug both mean that you can make far more with the Ninja than with the Vitamix.
If your heart is set on the Vitamix, it's worth knowing that Vitamix also sell attachments, such as their food processor attachment, but this will cost you more, where it's included in the already low price of the Ninja Professional Plus.
Vitamix vs Ninja blenders: Price
Vitamix blenders start from around $250, and this cost rises for models with preset programs or if you add on extra attachments like food processors. Vitamix offer high-end blenders with a price tag to match, so while the 10-year warranty guarantees long-term returns on your investment, it's a expensive upfront cost.
Ninja blenders begin at $70 for a personal blender with a smoothie cup; the most expensive model – the Ninja Foodi Hot and Cold Blender – comes in at $159.99. This accessible price point means that Ninja blenders are an incredibly popular choice, offering an inexpensive buy that suits a range of different functions.
Molly is the Ecommerce Writer for Homes & Gardens and spends her time searching the internet for the next best thing for your home, with a focus on shopping edits and buying guides. Before joining Homes & Gardens, Molly graduated from the University of Exeter with a degree in English Literature, with previous internships undertaken at The Economist in her summer breaks.