Vitamix vs Ninja blenders: which one is right for you?
Explore Vitamix vs Ninja blenders and establish which is best for your smoothies, soups and salad dressings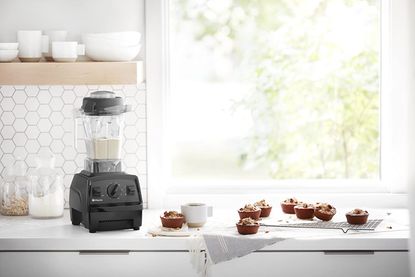 (Image credit: Vitamix)
Wondering which is better: Vitamix vs Ninja blenders? If you're researching, it's likely that you love whizzing up smoothies and other concoctions at home, or you want to open up a whole new world of culinary creations.
Vitamix and Ninja blenders are standout appliances that have earned their place in our best blenders round up; the former has a reputation for commercial gold standard appliances, while the latter has a recognizable bullet shape and is renowned for home blending.
There are plenty of features that make these blenders different; they also have varying price points and user settings. Here we delve into the real comparisons between Vitamix vs Ninja blenders that you need to know before you make your choice.
Vitamix vs Ninja blenders
Vitamix blenders are a high-quality investment built to last, with their blenders being the appliance of choice in many commercial settings (including Starbucks), as well as models for personal use. Vitamix has around 20 blenders in its range, with most in a price range upwards of $399.99. Even in our Vitamix vs Blendtec blenders comparison, it came out on top in terms of premium quality.
Which Vitamix blender should you buy? Well, more expensive Vitamix blenders boast an impressive range of preset programs that allow extremely convenient use – simply add your ingredients, press one button and walk away, returning to perfectly turned out soups, smoothies and sauces. You can find Vitamix products for sale at Best Buy, Bed Bath and Beyond and Walmart, and there are often notable savings on Amazon thanks to Black Friday small appliance deals.
The most familiar Ninja blenders operate a little differently from Vitamix's offerings. They have smoothie cups that attach to the base of the blender with a blade base, such as the Ninja Foodi Smoothie Bowl Maker (opens in new tab).
Despite their lower price, Ninja blenders are well thought of thanks to their variation of designs (a more classic design can be found in the Ninja Plus Blender (opens in new tab)) and their suitability for drinks and smoothies.
You can find Ninja blenders at all major retailers, from Walmart to Best Buy. We also have a guide on which Ninja blender you should buy which covers the major options. Plus, one of the best places to look out for saving on major events like Black Friday is the Ninja website itself, which really cashes in on shoppers looking for sales' bargains.
Ninja Black Friday deals in 2021: what we expect to see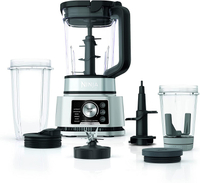 (opens in new tab)
Ninja SS351 Foodi Power Blender: was $179.99, now $139.99 at Amazon (opens in new tab)
Grab this Ninja blender for less now at Amazon, and benefit from the included processor system and smoothie bowl maker. So many functions for a blender under $150!
Last year you could pick up a Ninja blender for a lot less than the RRP, including the Nutri Foodi Hot and Cold Blender for $129.99 down from $169.99; a great price for a blender that is versatile enough to handle both slushies and soups. There are already deals happening over on Amazon with Ninja Blenders, an indication that discounts on these blenders might be cropping up earlier than you think.
Vitamix Black Friday deals in 2021: what we expect to see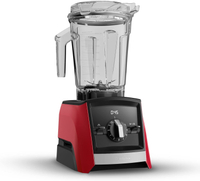 (opens in new tab)
Vitamix A2300 Ascent Series Smart Blender: was $549, now $420 at Amazon (save $129) (opens in new tab)
The Vitamix A2300 Ascent Series Smart Blender is the brand's most popular blender for balancing value and smart design. It comes in four colors and has a timer to make it easy to follow specific recipes.
Last Black Friday over at Amazon saw reductions on the Vitamix 5200 Blender (opens in new tab), with 22% off the usual RRP of $449.00 taking it down to around $350, a great deal for a high-end blender that can deliver seriously large batches.
In order to secure the best price possible, it's good to be eagle-eyed when it comes to Vitamix Black Friday deals. Prices will start falling from the end of October onwards, and with stocks in short supply everywhere this year, you'll want to checkout on one of these high-end blenders while you can.
Vitamix vs Ninja blenders: Design
By looking at two popular blenders from both Vitamix and Ninja, you can get the best impression of how these brands differ when it comes to design.
The Vitamix 5300 blender has a 64 ounce container, laser cut blades and importantly comes with a tamper, a tool perfectly designed for creating more movement inside of the blender. A similar sized, equally sleek looking model from Ninja is the Professional Plus Blender which comes with single serve cups for those who want a smoothie on the go.
It's unsurprising that the Vitamix 5300 is a little more refined in its design given the price difference, as the real distinction between these appliances is the quality of the components inside. However, when it comes to how they'll look on your countertops, it's fair to say that these two blenders look pretty similar.
Vitamix vs Ninja blenders: Power
Within the Vitamix 5300 Blender you'll find a 2.2 horsepower motor to get working with; there's no doubt this is a seriously powerful machine that can blitz through many different consistencies.
There's less power in the 1400 watts Ninja Professional Plus, but this should be enough for anyone whose chief priority is whipping up smoothies and drinks with their blender.
The Ninja Professional Plus puts its power to use in the preset programs, allowing you to make mixes at the touch of a button. The Vitamix 5300 doesn't have the same programs but does have variable speed control thanks to its dial.
Vitamix vs Ninja blenders: Versatility
With the Ninja Professional Plus, you'll have no issues with creating smoothies and frozen drinks, which are its strong point. What you'll miss out on however is the opportunity to incorporate hot and cold blends, as well as creations with more variable textures, like nut butter and soups. These more complex blends are where the Vitamix 3500 and other Vitamix blenders excel, as you can use the pulse function to switch up the blending pattern.
If you want to get a little more out of your blender, then Vitamix also sell attachments, such as their food processor attachment, meaning that your appliance becomes multi-functional, and you'll be able to meal prep super efficiently.
Ninja blenders are less versatile when it comes to add ons, but do offer generally lower prices across the range.
Vitamix vs Ninja blenders: Price
Vitamix blenders start from around $250, and rise in price when practical preset programs are integrated into certain model designs. They're high-end blenders with a price tag to match, but with a 10-year warranty and an emphasis on quality, it's fair to say that this is a multi-functional investment that will go the distance.
Ninja blenders begin at $70 for a personal blender with a smoothie cup; the most expensive model – the Ninja Foodi Hot and Cold Blender – comes in at $159.99. Despite their affordable price point, Ninja blenders are a popular choice and are an inexpensive buy for anyone who wants to discover exactly what they want before they take the plunge with an appliance like a Vitamix.