Vitamix vs Blendtec blenders – which should you buy?
Vitamix vs Blendtec blenders, which is best? We delve into the must-know features to help you choose between these two premium blenders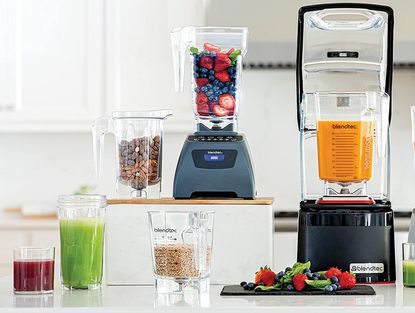 (Image credit: Blendtec)
When looking for a new blender, it often comes down to Vitamix vs Blendtec blenders. Both are great choices for those who are serious about making tasty smoothies, crushing ice and even making dips in their blender, and if you look out for the blender used in your favorite smoothie shop, it's usually either a Vitamix or a Blendtec blender.
Many of the best blenders are a fair bit cheaper than either Blendtec or Vitamix blenders. Despite this, many opt for them because of their supercharged and durable design. If you are the type of person who uses a blender on a daily basis, it is absolutely worth investing in a Vitamix or Blendtec, because both can be used for cooking, pureeing, and crushing ice.
So, Vitamix vs Blendtec blender, which should you buy? Despite their similarities in looks and power, there are some key differences you should know about when making your decision. And of course, with Black Friday small appliance deals now available, the price will certainly be a big factor. While Vitamix is typically more expensive, it is also easier to find a great Black Friday Vitamix blender deal.
Vitamix Black Friday deals in 2021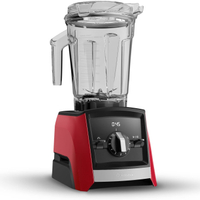 (opens in new tab)
Vitamix A2300 Ascent Series Smart Blender: was $549, now $399 at Amazon (save $150) (opens in new tab)
The Vitamix A2300 Ascent Series Smart Blender comes in a range of colors and has a smart display to show your blending process in real time. It's a great choice for those who want a multi-functional blender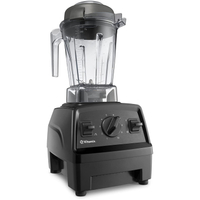 (opens in new tab)
Vitamix E310 Explorian Blender: was $349, now $289 at Amazon (save $60) (opens in new tab)
Choose the Vitamix E310 Explorian Blender if you love the idea of a Vitamix but want a more budget-friendly option. Thanks to this Black Friday discount, it's even better value.
Which Vitamix blender should you buy? Finding a good deal will make that choice a lot easier. Over on the Vitamix side of Amazon deals last Black Friday, there was a generous $80 off on the Vitamix Explorian (opens in new tab), which has pulse control for creating textured soups and stews, alongside $100 off the Vitamix A2300 Smart Blender (opens in new tab), which has a digital timer built-in, taking the work out of your hands.
As with last year, it's not just on November 26th that you can jump on a great deal. Amazon, and other retailers like Bed, Bath and Beyond (opens in new tab) which stock Vitamix will begin supplying deals from as early as the late October period, and keep resurfacing until Cyber Monday fades away. It's also important to note that due to the global supply chain issues currently ongoing, that if you spy a product that has a substantial discount, you'll want to grab it before it sells out.
Blendtec Black Friday deals in 2021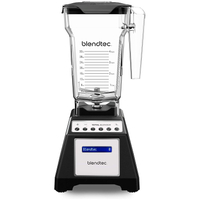 (opens in new tab)
Blendtec Total Classic Original Blender: was $599.99, now $384.99 at Amazon (save $214) (opens in new tab)
The Blendtec Total Classic Original Blender is Blendtec's most affordable blender, but it's still immensely powerful and designed for family-sized drinks. The digital display will make it easy to choose from ten power levels.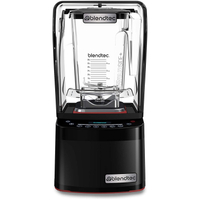 (opens in new tab)
Blendtec Professional 800 Blender: was $895, now $799 at Amazon (save $96) (opens in new tab)
While Blendtec is typically cheaper than Vitamix, the Blendtec Professional 800 Blender is just that: professional. If you want that at-home smoothie shop experience it is a brilliant but not so budget choice.
Amazon capitalized on enticing shoppers with discounts on prestigious Blendtec products last year, with discounts on the Blendtec Classic 575 Blender (opens in new tab), reduced in price from the RRP of $510.00 to $343.62, alongside the offer of free shipping; a seriously good deal for such a versatile appliance (plus it self cleans).
Blendtec has a more approachable price range than Vitamix, meaning that Black Friday is a great time to invest as prices drop even lower. Places to look out for deals include Walmart (opens in new tab), Bed Bath and Beyond (opens in new tab) and of course, Amazon (opens in new tab).
Vitamix vs Blendtec blenders
Starting with the basics, the range of blenders on offer from Vitamix is more extensive while Blendtec has a smaller collection of models to consider, and currently has a lot of stock already sold out. Standout models from Vitamix include the A3500 from the Ascent Series (RRP: $649.99), which has a touchscreen and five programmed settings for total ease of use, alongside the Professional Series 750 ($599.95), which has an ample 64-once container perfect for larger batches. Equally notable blenders from Blendtec include the Total Blender Classic from $399.95 which has six preset programs at the touch of a button, and the more costly Professional 800, which claims to be the quietest blender in the world and has 11 speeds to run through.
It's worth noting that both Vitamix and Blendtec blenders are so capable that they are often used in commercial settings, like coffee chains and restaurants, so you know you're in safe hands no matter what. If you're on the lookout to secure a Vitamix blender for a little less, then you can find their blenders reduced in events such as the Vitamix Days sale which runs every September, as well as pick up deals on the Blendtec site. What's more, you can often find reductions on these blenders on the biggest sales period of the year, Black Friday.
Vitamix vs Blendtec: Design
Considering the status of these brands, it's no surprise that one element of their excellence is found in the design and components of the blenders that you can't see, in order to avoid the clunky operation found in lower-end appliances. Vitamix excel due to the tampers included with their products; a tamper is a tool crucial for pushing down ingredients in order to accelerate the blending process. Blendtec on the other hand, state that their blending cycles are so efficient that they don't need a tamper in order to set off the crucial mixing motion, and prioritize total power instead.
These design differences play out in popular models; the Vitamix Ascent A3500 (opens in new tab)' (opens in new tab)s design makes it the perfect tool for smoothies and hot soups thanks to its tamper tool, while the Blendtec Professional 750 (opens in new tab) boasts 1560 watts of power in an effort to claim that it can eradicate the need for a tamper altogether. Those who have used high-end blenders without a tamper before may agree with experts who say that a tamper will save you time and effort, regardless of the claims from Blendtec, when it comes to having to pause your blend cycle to push ingredients down. When it comes to design, this is a crucial factor that sees Vitamix take the crown.
Vitamix vs Blendtec: Power
Blendtec not only prioritize high power, but have varying levels of speed and pulses in order to make the process nice and simple. Blendtec blenders are also far superior to the Vitamix blenders when it comes to supplying their power in a flexible way. This is seen in the Professional 750 model (opens in new tab), which has six preprogrammed options ready at the touch of a button, meaning you can leave your blender to speed up or slow down without your watchful gaze, and come back to a perfectly blended batter, smoothie or soup.
Vitamix, the more expensive brand overall, certainly don't struggle when it comes to power either. The Ascent A3500 (opens in new tab) blender has a similar number of blending programs as the Blendtec Professional 750 for ultimate convenience, and also has a programmable timer function if you want to perfect your own recipes, and apply power where you need it. On the whole, in the Vitamix product range, this handsfree blending option is harder to come by and appears a lot more frequently in the slightly more affordable Blendtec range.
Vitamix vs Blendtec: Versatility
As you might expect, both Blendtec and Vitamix can make a smoothie with ease, churning through ice and fruit in a way that low-end blenders could only dream of. The more complex foodstuffs are where the differences between the brands start to show. Vitamix's tampers are the key for those who want to create more intricately textured foods, like nut butter and salad dressings, making it a winner for those who like to get inventive with their cooking.
If you like to level up your appliances with accessories, you'll find that Vitamix wins out again. With a series of containers and attachments on offer, you can turn your Vitamix blender into a food processor in a flash, saving you hours of time when it comes to meal preparation. Blendtec doesn't have anything quite as versatile, so if making your blender more of a multi-appliance is crucial to you, then bear that in mind.
Vitamix vs Blendtec: Price
Outdoing Blendtec when it comes to design and extras, it likely comes as no surprise that Vitamix are certainly the most expensive of these two contenders. Those blenders that range up to $600 in the Vitamix range are a blend of convenient automation with their many presets, alongside seriously impressive mixing due to their design; an investment worth making and one that you won't have to make again for some time, with a ten year warranty on many products.
Blendtec prices aren't quite as high as their rivals, with prices in the Classic Collection beginning at $229.95. For this price, though the blending power may not be as exact, you will have an appliance that's perhaps more intuitive to use, with more preset options than similarly priced alternatives from Vitamix. The bottom line when it comes to price is that if you can afford to spend more on a Vitamix that also has a good level of automated programs, you'll be securing the best of both worlds from these two brands.