Ninja Foodi Cold & Hot Blender: homemade soup without a stove
This blender makes creamy soups and smoothie bowls, though it's pretty tricky to clean.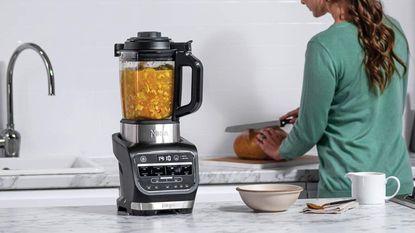 (Image credit: Ninja)
This multifunctional machine makes near-perfect soups, good smoothies, and decent dips. If you love soup, this is for you, but if you just want a blender, there are better options out there.
Reasons to buy
+

Excellent soup maker

+

Powerful blending

+

Intuitive design

+

Large capacity
Reasons to avoid
-

Tamper is too short

-

Pitcher is hard to clean
You can trust Homes & Gardens. Our expert reviewers spend hours testing and comparing the latest products, helping you choose the best for you. Find out more about how we test.
Any decent blender can make a smoothie. The Ninja Foodi Cold & Hot Blender makes so much more. With Auto-IQ options for 'desserts', 'frozen drinks', and 'chunky soups', this budget blender is beginner-friendly.
With powerful blades and a big pitcher, the Ninja Foodi Cold & Hot Blender can tackle large and firm produce as easily as small and soft. But it isn't perfect. Some of those preset programs are more effective than others, and the blades proved tricky to clean.
To test this blender, I made a protein shake, a smooth soup, and a hummus dip. I also used the Ninja Foodi Cold & Hot Blender to crush some ice. Some of my recipes were freestyled, and one was taken from Ninja's surprisingly excellent recipe inspiration guide.
I found that this excels at making soup, and is pretty good at everything else. If you love a healthy, hearty soup, this is a must-buy. For anything else, I'd consider looking at the best blenders for more choice.
Ninja Foodi Cold & Hot Blender Specifications
Swipe to scroll horizontally
| | |
| --- | --- |
| Type: | Blender with a heating element |
| Materials: | Glass pitcher |
| Weight: | 5.49 lbs |
| Power: | 1400W motor base, 800-watt precision heating element |
| Modes: | Smoothie, frozen drink, dessert, milkshake, smooth soup, chunky soup, jam, sauce, chop, caute, blend, cook, pulse |
| Accessories | Recipe inspiration guide, tamper, and cleaning brush |
Unboxing the Ninja Foodi Cold & Hot Blender
Like all Ninja kitchenware, this Cold & Hot Blender was packaged sustainably in cardboard and tissue paper. Each machine comes with an instruction manual and a recipe inspiration guide. I wouldn't throw these away, especially if you're new to blending. The instruction booklet gives helpful tips about correct loading and which produce to blend on what setting.
Thanks to its capacious 64-oz. pitcher, this blender is tall and broad. It should just about fit under standard kitchen cabinets, though you'll have to pull it forward to remove the lid and load. We found it fit under a standard cabinets by about 1/4 inch, so it's not one for smaller homes. The glass pitcher is marked with measurements in milliliters, ounces, and cups: whatever your recipe calls for. The lid is a little stiff, though. It makes for secure locking, but it might be difficult to remove if you struggle with arthritis.
Clearly and intuitively labeled, the Ninja Foodi Cold & Hot Blender is easy to use. There's a wide range of auto-IQ programs, including 'smoothie', 'soup', and 'milkshake' modes, which are great for blending beginners. If you like to have control in the kitchen, you'll appreciate the manual 'blend' and 'cook' settings, too, with low, medium, and high speeds.
I liked that this blender isn't fussy: you don't need to learn the right order in which to push the buttons. You can choose setting then speed, or speed then setting, and get the same results.
Test 1: Protein smoothie
Any decent blender can mix soft fruits. Since this machine looked pretty robust, I wanted to challenge it with tougher textures.
I added a bag of frozen berries to my blending pitcher, along with a handful of spinach and two scoops of protein powder and creatine, topping it off with a splash of oat milk. I was keen to see whether the Ninja Foodi Cold & Hot Blender was powerful enough to shred the berry skins and seeds and thorough enough to incorporate gritty powders into a smooth blend.
First, I tried the auto-IQ smoothie setting, with little to no success. The blades moved in stops and starts, before giving up altogether. I tried again, using the Ninja tamper tool to push my ingredients down towards the blades, but still no joy. It's not a great sign when your smoothie setting can't make a smoothie.
I decided to change tack and blend manually for 40 seconds on the lowest speed setting. This worked much better: the blades sliced through the berries and leafy greens with ease and even managed to incorporate most of the protein powder.
I switched to the highest speed setting for the last 10 seconds to try and achieve the smoothest possible finish. For the most part, the Ninja Foodi Cold & Hot Blender made a very well-blended, if very thick, protein shake. There were only a few seeds and scraps of leaf left intact. This made for an ever-so-slightly gritty texture, though it was good for my fiber intake.
As I went to rinse the pitcher, I noticed that some of the protein powder had not been incorporated into the shake and was still stuck to the sides. So I scraped the powder down into the blended shake and gave it a quick stir: problem solved.
Test 2: Soup
Here at H&G, we've reviewed a lot of combination blenders, but the Ninja Foodi Cold & Hot Blender is one of a small handful to make soup from start to finish. I was excited to put this function to the test.
I peeled three onions and threw them in my pitcher, along with a pinch of salt and some olive oil. Though I quartered the onions for ease, I wanted the blender to chop them. I selected the auto-IQ 'chop' setting, which was far more effective than the 'smoothie'. After a 10-second blitz, my onions were finely chopped and coated in seasoning.
Next, I selected the 'sauté' function. I'll admit that I was pretty skeptical that the onions would cook evenly, especially since there were no obvious signs of frying, aside from a little steam. Five minutes later, the blender beeped quietly and quickly to let me know it was finished, and I was proved wrong: the onions were gold and glistening and smelled delicious.
Feeling much more confident in this blender's soup-making abilities, I added a bag of butternut squash chunks and some carrot strips. Though the Ninja Foodi Cold & Hot Blender comes with two soup settings, 'smooth' and 'hearty', I only wanted to try smooth soup.
I pressed the button, and the 30-minute timer began. After that, the blender was so quiet, I practically forgot it was on. There was a blending blitz every few minutes, and a bigger blast for the last 60 seconds. But for the rest of the time, the blender just quietly bubbled away.
I poured a few bowls of soup for lunch with the other product testers. I appreciated the neat, narrow spout on the pitcher, which prevented me from spilling a drop. It's worth saying that the sides and the bottom of the pitcher got pretty hot. I'd recommend wearing oven mitts for this part.
I added a crack of black pepper and some basil for garnish before we began. Though the first few sips were pretty hot, I can safely say it's some of the best soup I've had all year, and much better than I was expecting before testing. Two of our testers found a tiny chunk of squash at the bottom of their bowl, but my own soup was super-smooth.
Test 3: Hummus
Following such a success making soup, I was optimistic about the Ninja Foodi Cold & Hot Blender's ability to make dips. Since I had a can of chickpeas to hand, I decided to make hummus.
First, I rinsed my chickpeas and poured them into the pitcher, adding a splash of water to loosen things up. It's easy to overmix hummus, so I stuck to manual settings, using the lowest speed and pulsing for control.
It took around 60 seconds to reach my desired texture: smooth, but not too smooth. When I tried to use the tamper to move the chickpeas, I found that the tool isn't quite long enough to reach through the lid and touch the sides. This design flaw meant I had to stop the machine and remove the lid before I could reach the chickpeas, and replace the lid before I could blend again. This inefficiency isn't a dealbreaker for me, but it was inconvenient.
Once I'd blended my chickpeas, I added two garlic cloves, the juice and zest of one whole lemon and a few tablespoons of olive oil. I stirred through three tablespoons of tahini for taste, then blitzed the mix for 15 seconds. The blades sprayed some hummus up the sides of the pitcher, so I used the tamper to push it down again. I seasoned the hummus with salt, pepper, paprika, and a pinch of chili powder before mixing for five more seconds.
The Ninja Foodi Cold & Hot Blender made a very smooth hummus. Even the two whole garlic cloves were incorporated into the paste. The hummus was delicious to taste, but difficult to serve. Too much of the dip was trapped beneath the blades, which cannot be removed from the blender base. I had to scratch and scrape, and I still didn't get it all out. The pitcher sides are very straight, which makes it difficult to push ingredients up and out.
Test 4: Crushing Ice
Since this blender claims to tackle hot and cold ingredients, I was keen to see how well it crushed ice. This was the simplest test of the lot: I placed 10 whole ice cubes in the pitcher and blended manually for a few seconds.
The result was okay. The ice was pretty melted, perhaps because the blender had been working with warmer ingredients. This sort of ice would be great for frozen margaritas, but one of the best Vitamix blenders would create much colder, sharper shards.
Cleaning the Ninja Foodi Cold & Hot Blender
The lid, center cap and tamper are all dishwasher-safe for quick and convenient cleaning. If you wipe the motor base with a clean, damp cloth after use, you should prevent spills from becoming stains.
The pitcher is not dishwasher-safe, since such high temperatures will damage the blender's integrated heating element. This is annoying, but it's par for the course with blenders that handle hot ingredients. Plus, each machine comes with a cleaning tool that gets between the blades.
If you prefer to keep your hands dry, you could make use of the Ninja Foodi Cold & Hot Blender's auto-IQ 'clean' program. Just fill the pitcher with around 25 fl. oz. of water and two small drops of dish soap. Close the lid and press 'clean'. 30 seconds later, you can pour out the dirty water and rinse. I tried the 'clean' setting, and I was impressed by what a thorough job this machine could do. With that said, the machine did drip a little and the blades got very hot. You'll have to handle it with care. What's more, while it did a pretty good job in the pitcher, there was some soup residue in the lid and along the top edge of the pitcher.
How does the Ninja Foodi Cold & Hot Blender rate online?
The Ninja Foodi Cold & Hot Blender has thousands of five-star ratings on Amazon, praising its versatility and flavorful cooking. However, a handful of customers have noted that the lid latch mechanism deteriorates over time. We'll update this review in a few months and let you know what we've found.
How does it compare to other blenders?
The Ninja Foodi Cold & Hot Blender is one of the best blenders we've tested. You might get more use out of this multifunctional machine than you would a basic blender like the Vitamix E310 Explorian.
With that said, this blender isn't for everyone. If you're looking for a smoothie-maker you can grab and go, then the Ninja Foodi Cold & Hot Blender is much too big. You'll be better off with something compact like the BlendJet 2. The Vitamix A3500 Smart Blender makes soups, dips, and smoothies, just like the Ninja, only it's more powerful and easier to clean, albeit much more expensive.
Should you buy the Ninja Foodi Cold & Hot Blender?
he Ninja Foodi Cold & Hot Blender costs around $150. I'd say it's worth the money, particularly if you're keen on soups and smoother textures. It's large enough to accommodate the ingredients to make multiple servings of soups, smoothies, and sauces to feed the whole family. While it isn't the best blender on the market, it's easy to use and great for beginners. Just prepare to hand-wash that pitcher.
Sign up to the Homes & Gardens newsletter
Decor Ideas. Project Inspiration. Expert Advice. Delivered to your inbox.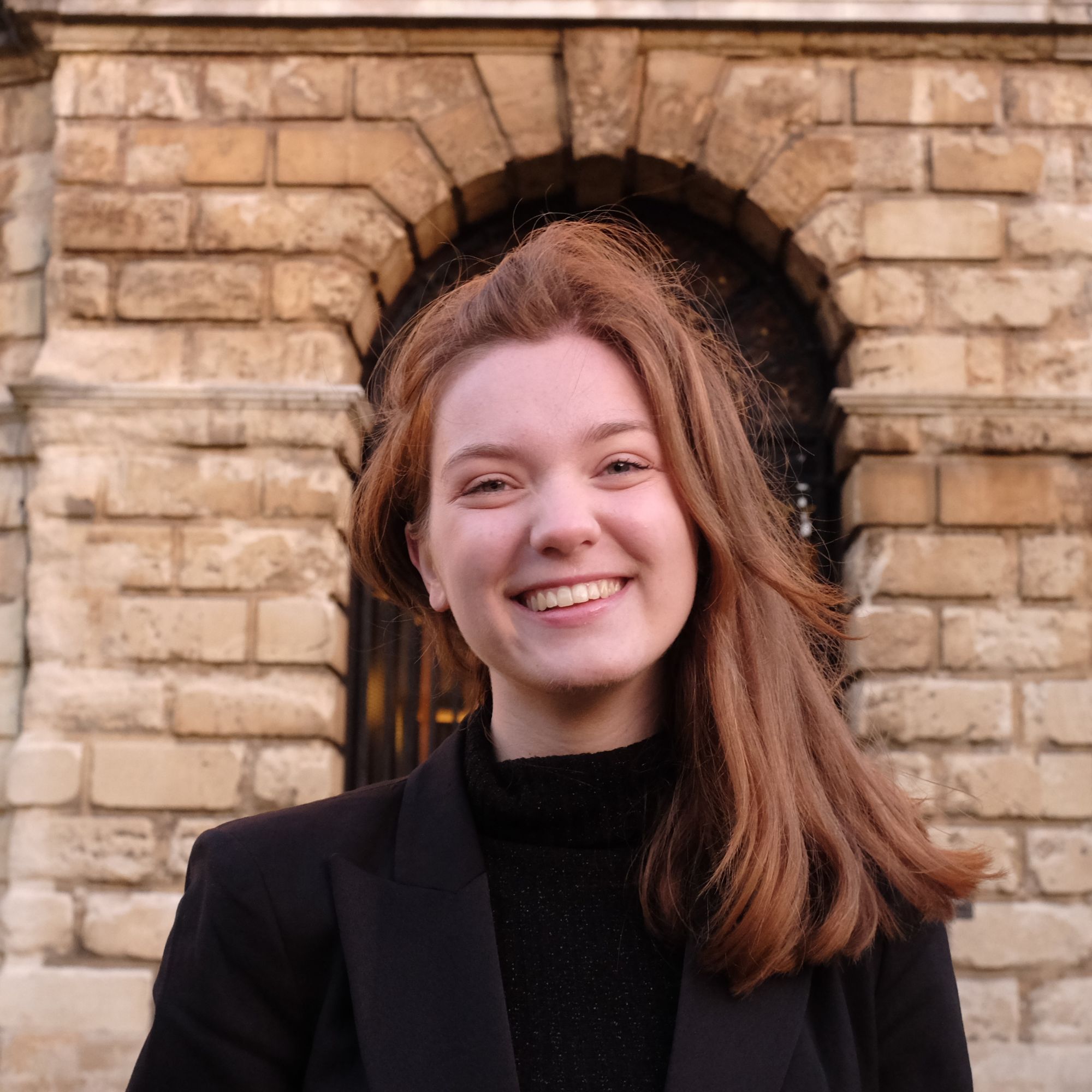 Before she joined Homes & Gardens, Emilia studied English at the University of Oxford, where she sharpened her critical writing skills. She also worked on the other side of the aisle writing press releases for regional newspapers and crafting copy for Sky. Emilia combines her business savvy with her creative flair as our eCommerce Editor, connecting you with the products you'll love. When she's not in the office, Emilia is happiest when entertaining friends al fresco or out in the country.