De'Longhi Dinamica Plus Coffee Maker: Brad Pitt's choice
There's a lot to love about the De'Longhi Dinamica Plus Coffee Maker, also known as the 'Brad Pitt Coffee Machine'. It can make 16 different coffees perfectly.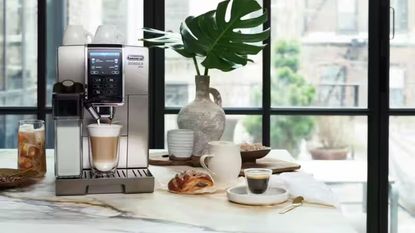 (Image credit: De'Longhi)
The Dinamica plus is smart and sleek, even if it is a little bulky. It made an impressive range of coffees and tackled non-dairy milks without any difficulty. For a bean to cup machine, this is a superb option.
Reasons to buy
+

Integrated milk frother

+

Simple touchscreen controls

+

Range of coffee options

+

Easy to clean
Reasons to avoid
-

Expensive

-

Heavy

-

Milk frother can be messy

-

Wasteful set-up process
You can trust Homes & Gardens. Our expert reviewers spend hours testing and comparing the latest products, helping you choose the best for you. Find out more about how we test.
De'Longhi Dinamica Plus Coffee Maker Review
You've probably seen the cinematic clips of Brad Pitt winding through Italy on his motorbike. Celebrity products can come with a high price tag, but De'Longhi's coffee makers are top quality and still reasonably priced. They consistently brew barista-style coffees in record time, so make room on your countertops.
As a barista, I approach bean to cup machines with caution. The best bean to cup machines are brilliant rivals to the more hands-on espresso machines. They need very little attention and can deliver a variety of customisable cups of coffee. However, I'm cautious because sometimes, cutting costs or overspending can leave you, your coffee, and your machine in a poor state. Given how proficiently equipped, and capable the Dinamica Plus is, it's one of the better bean to cup machines.
With 16 barista-style beverages and intelligent programming, this machine has a lot to offer. If you're looking for a slick, hands-off machine that's easily customizable, this is the coffee maker for you (and for Brad Pitt).
De'Longhi Dinamica Plus Specifications
Swipe to scroll horizontally
| | |
| --- | --- |
| Dimensions | 9.3 x 17.32 x 14.17 inches |
| Weight | 20.8 lbs |
| Pump pressure | 19 bars |
| Beans container capacity | 10.5 oz |
| Water container capacity | 60 oz |
| Grounds container capacity | 14 |
| Custom option | yes |
| Interface | touch |
| Drink options | espresso, coffee, long, doppio+, coffee pot, over ice, cappuccino, latte macchiato, cappuccino +, cappuccino mix, hot milk, caffelatte, flat white, espresso macchiato, hot water |
Unboxing the De'Longhi Dinamica Plus
I was struck by how heavy the Dinamica Plus is. Once you've settled the near-21lb appliance in place, you won't want to move it again. It's not big; if anything, it's compact for what it can do. However, it's still really heavy. The packaging isn't brilliant for recycling: there's lots of plastic, stickers, and protective sheets to peel off. This means that the Dinamica Plus looks immaculate. However, it would be good to see more paper and cardboard in the future.
Everything about the Dinamica Plus feels premium. It's a little bulky, but the finish is sleek, each part slots quietly and satisfyingly into place. Coffee machines are so much more than their appearances, but it never hurts to look good.
This comes with a pack to get you started. It includes all the extras that would normally drive up post-purchase cost: a carbon active filter ($9), a measuring scoop ($5), a hardness test ($10), a cleaning brush ($12), a 100 ml descaler ($12), a water spout ($16), a thermal milk container ($60), instructions, and quick start instructions. In total, that's $124 and a lot of hassle saved.
Who would it suit?
As an automatic bean to cup machine, this is perfect for those who want coffee at the press of a button. If you need to fill it with water, or adjust a setting, the 3.5 inch screen will give you clean instructions. You can't go wrong.
With sixteen different coffees, it's a great option for those who would like variety or for those who want to customize their cups. You can adjust strength and milk to suit your tastes and the machine will remember them. You can also add ground decaf to the machine, for all the flavor without the buzz.
If you're on a budget, this has a few extras that you don't need. You could save money on other models. Also, if you're itching to get involved, tamping, grinding, and testing out your barista skills, you'll be left purposeless. There's nothing for you to do here.
What is it like to use?
Setting up the Dinamica Plus was surprisingly easy. All I had to do was plug the machine in, add water to the reservoir, and fill the hopper with beans. On the first run, the machine will flush through with water. The instructions warn you that this is a loud process. The setup requires you to follow the touchscreen most of the time and the paper instructions offer extra reassurance, such as the noise in this instance.
Once the circuit is full of water, it'll empty some water into the drip tray. This is part of the cleaning process and it took me by surprise. This happened a number of times: the machine would auto-clean and spit out water when I was least expecting it. By the end, I was quick to move my coffee cup off the drip tray to avoid an extra shot of milky, grainy coffee.
The touch screen is the same as a smartphone's. It's responsive, sensitive, and simple. The instructions advised me to make five cappuccinos to calibrate and warm up the Dinamica Plus for the first time. This felt wasteful and was a really loud process, but, once over, I was ready to get some proper tests done.
Espresso
I didn't have an espresso cup, but my coffee cup is quite low. Thankfully, the height adjustable spout prevented me from splashing and breaking the crema as the espresso machine poured out my shot. In thirty seconds, I had a beautiful, thick crema and very drinkable espresso. It was slightly on the cooler side, but that makes it easy to drink quickly.
Coffee
The next measure of any good coffee machine is their Americano. De'Longhi labels an Americano under the simple title 'coffee'. Making this was really quick; it was ready in under a minute. The hot water didn't splash or spray any coffee, and it kept a really nice crema on top. My coffee was really smooth, the perfect strength, and a little sweet. The only issue I had was that it was far too hot to drink straight away. I had to wait for my coffee to cool before I could taste it.
Latte macchiato
To make milky coffee, the machine instructed me to remove the water spout and add the integrated milk container. Taking the spout and container off the fixture is stiff and requires quite some strength - I was worried that I was going to break the machine. Before beginning, the touchscreen instructed me to adjust the milk froth setting. After adjusting, the milk began to pour out of the container. My cup was a little smaller than average. I tried to angle the milk nozzle, but it would get stuck on the machine's body. As a result, the milk stream ended up straddling the rim of my coffee, dribbling half of my milk straight into the drip tray. I shifted my cup under the milk stream and then quickly back to collect the coffee from a separate spout. This wasn't the most relaxing start, but the end product looked pretty good.
The Dinamica Plus froths your milk first and adds the coffee later. This means that you get a fair bit more separation and less of a smooth, all-over integration of the coffee and milk. If you give it a stir, you break the foam, but it solves the problem.
Having milk wait for the espresso can make the froth dissolve and loose structure, so I was taught to pull the shot first. However, you won't be doing any coffee art, so the milk texture doesn't matter too much.
Cappuccino
For a cappuccino, I had to use the third, most frothy, setting. Again, the spout churned out lovely light, smooth, frothy milk before adding coffee. The milk was nice and silky and the coffee was sweet, but it was stronger than a cappuccino should be. Luckily, you can adjust the milk and coffee ratios on the customisable screen. I did this, tried again, and the machine immediately mastered my preferences. After frothing, the milk spout auto cleans, spitting out some cloudy water. I was quick to move my coffee away, but don't let it catch you out, spoiling your cappuccino.
Water and milk
Hot water taps can spit quite a lot, but this was a clean, steady stream that was easy to use. The integrated milk container is a user-friendly design. You can keep it in the refrigerator when it's not in use and then clip it into the machine when you need it. You shouldn't ever touch the metal of a milk wand directly, they're the source of some nasty burns on baristas, but when I did skim the milk nozzle, it was warm and not scalding.
The milk has a LatteCrema system, which is designed to achieve different levels of frothy milk. On both dairy and oat milk, I achieved a really glossy, smooth froth. The milk didn't burn, but it also wasn't too cold. Aside from missing my glass, I was really pleased with the results. If you are making non-dairy options, make sure you buy barista versions of your preferred non-dairy milk; these have more protein in them, so won't split and will hold the foam structure much better.
Link to app
It's really easy to connect to the app on Bluetooth. This gives you access to the fill menu and lets you adjust everything from your milk to your coffee. You can also adjust the temperature from here too.
Taste
Overall, I was really impressed with the taste. I used Union coffee beans and, after extraction in the 19-bar machine, they weren't burnt or bitter. I had the grinder set on three and used De'Longhi's recommended, pre-set coffee ratios. I found that the coffees were all really smooth and quite sweet, which made them dangerously drinkable. They tend to err on the lean side with water, resulting in strong coffees, but you can adjust this on the machine settings.
Cleaning the De'Longhi Dinamica Plus
For a machine that can do so much, I was concerned that cleaning might get overcomplicated, but it wasn't. I made well over ten coffees and didn't have to empty the grounds container once. When I was finished, it was easy to pull the drip tray and grounds container out from the front. This is where you access the milk container and water reservoir, so you don't need to poke around at the back when doing your daily clean. Everything except the dispenser can go in the dishwasher, but they're quite slim and deep shapes. I think you're best to clean them yourself in warm soapy water. That way, you'll avoid any films or residue being left over.
The machine itself has automatic rinse functions for internal cleaning. This is really useful for clearing out milk that could dry and go sour and any coffee beans that could spoil your brew.
Storage and Maintenance
As I mentioned, this is a really big machine. It looks smart, so you it's for displaying on your countertop. You'll just need to make some room first. For the most part, it'll maintain itself. When you do need to descale or change a filter, the screen will alert you. The hopper at the back could, in theory, store your beans in an airtight container; I didn't find that they got warm whilst I was using the machine. However, to keep your beans at their freshest, try to fill the hopper with only as much as you need and store the rest of your bag in an airtight container in a cool, dark place.
How does it rate online?
This is a really popular option. Looking at customer reviews, this averaged around 4.8 stars across a number of platforms. People generally felt that it was good value, easy to use, and they enjoyed the range of settings. Customers who had the basic Dinamica model felt that the Plus warranted the extra money: the Plus has upgraded from a LCD screen to a touchscreen, has an app, has three user profiles, more pump pressure, can cater to taller cups, and has a pot function. It also looks slicker too.
The main issues customers had were with the three user profiles. Some would have liked more options. Also, some reviewers who used oily beans commented on the oil build up in the brew group. This wasn't a universal observation, but is worth noting.
How does it rate online?
Although the Dinamica Plus is expensive, it holds its place in the market. Jura makes more expensive, beautiful, and premium machines. However, the Jura Z10, for example, is over double the price. De'Longhi delivers on the same range of functions, touchscreen sensitivity, but is much cheaper. The frother was also one of the most hands-off, elegant options that I've tested.
Currently, our favorite bean to cup machine is the Philips 3200 Series Fully Automatic Espresso Machine. It has the same fully automatic, adjustable settings, and milk frothing features. It's easy to clean too. It's nearly half the price of the Dinamica, but you can tell. There's no screen and you don't have as much support from the machine. The set up is much more complicated and it's very limited in variety: there are only five different coffee options. It's a good alternative if you want to save money, but you'll have to be ready for a less luxurious user-experience.
Should you buy it?
If you're looking for a hands-off bean to cup machine that can make a range of customizable coffees, this is a reasonable choice. Even though it's a big investment, it feels premium and the machine is very independent. As soon as you look at lower-cost models, you can tell the difference. The coffee flavors were barista-quality and, if it's good enough for Brad Pitt, it has to be good enough for us.
How we test
Before we review or recommend any product to you, we've tested it in-person as if it's an everyday product. We have a specialized process for how we test every appliance. I'm trained as a barista and a qualified Customer Advisor for coffee. This means that I've been through a number of processes to become an expert on all things coffee.
Before testing, we carefully research the claims that a brand makes about their product, so we know what we are looking for. We will also look at and test competitors, so we can place every product that we test on the market.
I took this De'Longhi coffee maker and tested it alongside other automatic coffee machines, espresso machines, and other coffee appliances. I used it in our dedicated test kitchen kitchen and made sure to test every function. At every stage of the process, from unboxing to cleaning up, I made thorough notes and observations.
Sign up to the Homes & Gardens newsletter
Decor Ideas. Project Inspiration. Expert Advice. Delivered to your inbox.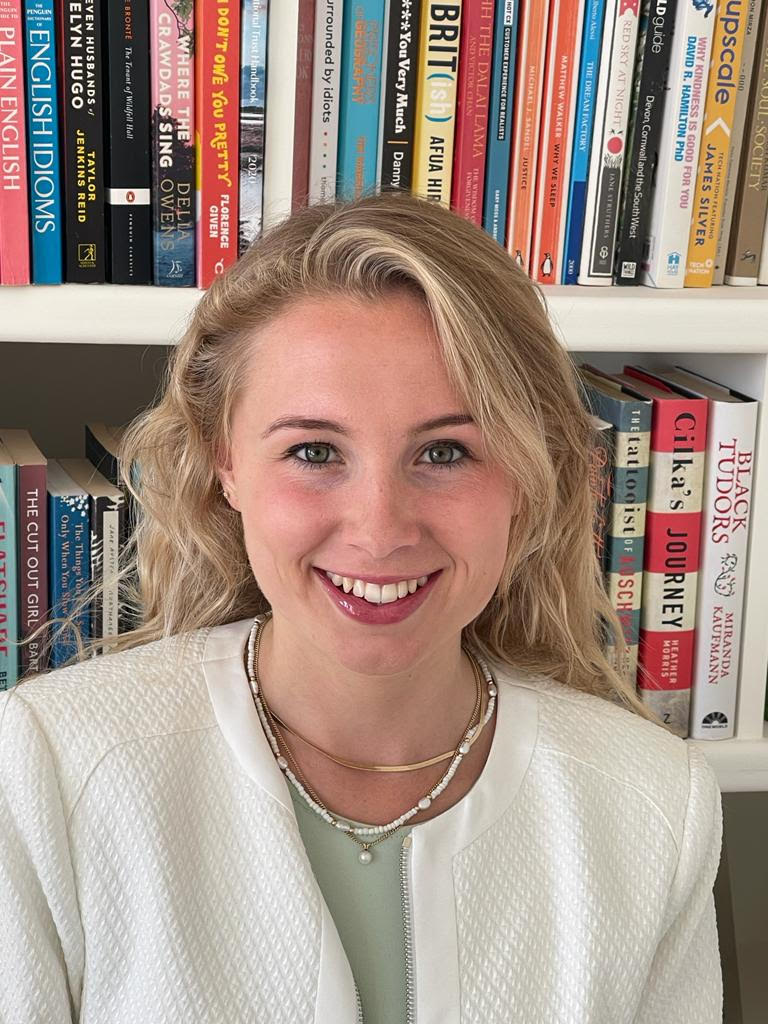 Laura is our eCommerce editor. As a fully qualified barista, she's our expert in all things coffee and has tested over thirty of the best coffee makers on the market. She has also interviewed Q-Graders and world-leading experts in the coffee industry, so has an intimate knowledge of all things coffee. Before joining Homes & Gardens, she studied English at Oxford University. Whilst studying, she trained as a master perfumer and worked in the luxury fragrance industry for five years. Her collection of home fragrance is extensive and she's met and interviewed five of the world's finest perfumers (also known as 'noses'). As a result of this expansive fragrance knowledge, she always puts quality and style over quantity and fads. Laura looks for products which have been designed simply and with thoughtful finishes.