I tested the Hoover ONEPWR Blade+: it could be best budget vacuum you can buy
The Hoover ONEPWR Blade+ is a brilliant option for those on a budget. It's powerful, has a flexible floorhead, and is cordless too.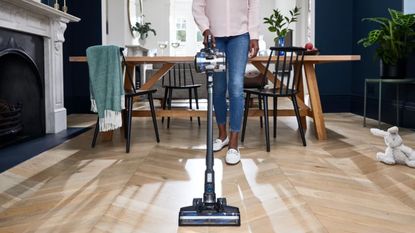 (Image credit: Hoover)
The Hoover ONEPWR Blade+ is a basic, lightweight, adjustable, and powerful cordless vacuum. It's a good affordable option for smaller households with hardwood or carpet floors. There are better vacuums out there, but this is good value for the price point.
Reasons to buy
+

+very strong suction power

+

+thorough on a range of floor types

+

+LED light

+

+battery indicator on top

+

+flexible head

+

+good range of attachments

+

+boost button for extra power

+

+comes with a spare battery

+

+ good capacity
Reasons to avoid
-

-not easy to empty

-

-not tidy to empty

-

-some dust gets caught in the wheels

-

-quite a small head

-

-needs a wall mount

-

-doesn't like being dragged backwards

-

-battery life doesn't last on 'boost' mode
You can trust Homes & Gardens. Our expert reviewers spend hours testing and comparing the latest products, helping you choose the best for you. Find out more about how we test.
The Hoover ONEPWR Blade+ claims 'innovative design' and 'exceptional cleaning capabilities'. With glowing user reviews and fistfuls of performance awards, we were naturally curious to see how well this stick vacuum performs.
At Homes & Gardens, we have a series of tests which we put every vacuum through. That way, we can compare the top of the range models against the basics, with no bias. Using hardwood, carpet, and linoleum flooring, we recreated a number of household accidents that would require some vacuum assistance. We spilled flour and sugar on the floor to replicate messy baking accidents, poured cereal on the floor in our 'pantry test', and scattered hair on the floor for the tricky ultimate test for any vacuum.
We liked the Hoover ONEPWR Blade+. It's compact, lightweight and the flexible head made it easy to maneuver. It's significantly cheaper than other stick vacuums, such as Dyson's V10, which we tested alongside it. You compromise on smooth performance and luxurious finishes, but, if you're looking for the 'essentials' option for your vacuum, this is for you.
Hoover ONEPWR Blade+ Review
Hoover ONEPWR Blade+ Specifications
Swipe to scroll horizontally
| | |
| --- | --- |
| Model number | CLBN-B4TK |
| Dimensions | 7.3 x 44.9 x 9.5 inches |
| Capacity | 0.6l |
| Corded | cordless |
| Weight | 6.61lbs |
| Run time | 90 minutes (45 minutes per battery) |
| Settings | 2 |
| Filter | rinseable |
| Battery | lithium-ion |
Unboxing
The Hoover passed the first test with flying colors. The packaging used minimal extra plastic and there was very little unnecessary excess box and cardboard.
This was easy to set up. As a basic model, it doesn't come with a huge amount of extra parts, so it's straightforward to attach the floorhead and lock the bin into place. I'm confident that almost anyone could assemble this.
Hoover recommends that you charge the two batteries for three hours before you use them. We only gave them about two hours and they were at full charge, but that might be because they came with a little bit ready to use.
Note from the editor: the image above has the branding 'Vax'. That's because we tested this vacuum in the UK, where the trade name is different. The two models have identical specifications and performance.
Who will it suit?
As a cordless vacuum, the ONEPWR Blade+ is a versatile option that would suit a range of people. It's great for multi-level cleaning because you won't need to plug and unplug it. You're more likely to run out of power before you run out of bin storage, so this is better suited to smaller households. If your home is mostly carpeted or has hardwood floors, this is for you.
What is it like to use?
In a word: powerful. In some places, this was a disadvantage, but, for the most part, was impressive. We started on a linoleum section of flooring and the floorhead immediately suctioned onto a small section. It needed a lot of effort to get the head to move and, even then, it made a 77 dBA whirring noise that wasn't pleasant.
However, when we moved onto carpets and hardwood flooring, the ONEPWR Blade+ excelled. The head was flexible and easy to maneuver and the whole appliance felt really light and easy to use. I almost found it hard to believe that this vacuum had a suction power to rival some of our more premium models. I can't complain; it did a good job. The LED light is a really useful, premium feature, which you might not expect from a basic model. It's a good addition for spotting dust in difficult places.
My main grievance is with the bin. I love that it's bagless, but it's difficult to do a clean and easy job of emptying. It clicks out, at which point some dust or debris inevitably escapes back onto the freshly vacuumed floor. Then, the bin doesn't swing open easily, so you have to be prepared to get your hands dirty. It's a worthy compromise for the price, but, if you're used to Dyson's seamless process, you'll need to adjust your expectations.
Performance
Flour and sugar
This is our test for lighter dust, dirt, and dander. Flour and sugar have a proclivity to make a mess. We exaggerated it, scattering linoleum, carpet, and hardwood floors with a considerable amount of both flour and sugar.
On the linoleum, we had the difficult suction and screeching that made vacuuming unpleasant. The ONEPWR Blade+ doesn't move easily and, when it did, picked up flour in its wheels. At 9.5 inches, the head is smaller than average (which is about 0.5 inches bigger), so we needed to pass over the mess a few times and found that the rubber wheels sometimes left a little flour behind.
On carpets, the ONEPWR Blade+ performed significantly better. We were pleased with the results and couldn't really distinguish between the more expensive Hoover and Dyson models. The same results applied for hardwood floors. Often, when you lift a vacuum's floorhead up, you'll find a collection of dust left behind. We didn't find that at all. The only issue was some leaking when we took the bin off and some remnant flour in the wheels.
The ONEPWR Blade+ didn't like going backwards. If you want to approach your flooring from different angles – ideally you should – you'll need to adjust your standing.
The pantry test – cereals
We test heavier debris with Rice Krispies and Cheerios. There are few sounds as bad as the dreaded crunch when you accidentally step on one, leaving a dusty splat on your floor. On linoleum, the ONEPWR Blade+ struggled. The floorhead is a little too low to suction whole Cheerios up the stick. Instead, the ONEPWR Blade+ pushed around the cheerios until they were crushed into smaller pieces. It eventually picked them up, but we made a dusty mess first. It was a 'you have to go backwards before you go forwards' scenario.
As with the flour and sugar, the ONEPWR Blade+ was much better on carpet and hardwood. We were pleased with the results on the carpet and didn't have any complaints, aside from a few Cheerios staying inside the floorhead for longer than necessary. On hardwood floors, the ONEPWR Blade+ crushed-up the cereal and got some dust in its wheels, but collected up 98% of the cereal, so it did a good job.
Hair
The bane of every long-haired or pet owning household is hair. This is a key test, which we assess with old, cut-up hair extensions, and we were impressed with how the ONEPWR Blade+ tackled it. On linoleum and carpet, the rollers became a little entangled, and still collected most of the hair up. Luckily, you can slide the brushbar out and cut any hair away, so it's a relatively easy process. On hardwood floor, the hair was all cleared effortlessly, even drawing in hair from outside the floorhead's main path.
Cleaning
The wheels behind the floorhead were prone to picking up some dirt, so you'll want to regularly clear them out, especially if you have a lot to vacuum. The filter can be rinsed out easily too.
With a 0.6l bin, this fills up pretty quickly. The bin slots out of the stick easily, but the opening which connects the bin to the rest of the vacuum isn't sealed. If you hold it any other way than upwards, you'll redistribute your carefully vacuumed dust all over the floor again.
The swing bin opens, but needs a lot of assistance compared to a Dyson, for example. You'll need to shake and use a long object to get all of the dust out. It's a messy job, which could negate your best cleaning efforts. Slotting the bin back in is a bit of a fiddly job, but once you've done it a few times, you get used to it. You have to line up the arrows and roll it in.
Storage, Charging, and Maintenance
This is relatively small and doesn't come with a lot of clutter. The handy wall mount means that you can stand it in a corner. If you don't want to use the mount, you'll need to find somewhere to prop or lie it down because the ONEPWR Blade+ can't stand up on its own.
It takes 3 hours to charge the batteries, but you're given two batteries and the ONEPWR Blade+ only needs one to run. If you always have a spare one charged-up, you'll never run into any problems. Each battery has 45 minutes of charge, but that is using it on the standard setting. We used the boost setting in our tests and halved the battery life in a lot less than what should have been 22.5 minutes. It's unlikely that you'll create as much mess as us, but it's worth noting that you're unlikely to get a full 45 minutes out of each battery.
How does it compare to others?
We tested this alongside the Dyson V8, which is over double the price of the Hoover ONEPWR Blade+ Blade. Dyson is certainly quieter and better equipped for handling different floor types, but the Hoover was powerful, especially on hard floors. In our flour tests, we couldn't tell the difference in the results. Choosing the ONEPWR Blade+ means that the bin isn't as easy to empty and the battery won't last as long, but you make big financial savings.
We also tested this against the ONEPWR Blade MAX Pet Blade 5, which is the next model up and $100 more expensive at time of publishing. The Max Pet was significantly stronger than the Blade+ and better equipped to different sized obstacles like Cheerios. However, if you're looking for a basic option, this did a good job.
Compared to the Levoit VortexIQ, our best budget cordless vacuum cleaner, this is a good option. It's lighter, claims to last longer; and has a really strong suction power. It doesn't have the HEPA filters of the Levoit or a range of suction levels, but is still good value.
How does it rate online?
Hoover's own website shows 4.5 star reviews and other experts and review sites range at 4.4 stars and above. That's really good for an appliance that is this low in price. I couldn't find anyone saying that it felt 'cheap' or 'bad value'. Users loved the power, easy use, and maneuverability. The most common criticism was that it couldn't stand up on its own. Some people said that it was a little top heavy too, but I think that this was light compared to others.
Should you buy it?
As far as pared-back, affordable stick vacuums go, this is an excellent option. If you have hardwood and carpet flooring, you can rely on your Hoover for a good clean. I'd steer clear of the ONEPWR Blade+ if you have linoleum floors, as it will be loud and difficult to use. You might prefer the Levoit for an affordable price, because you can adjust the power settings a little more. If you think you want a little more from your cordless vacuum, we have a buying guide dedicated to the best cordless vacuums on the market, so you can read until you're ready to clean.
How we test
At Homes & Gardens, we want in-person, hands-on experience with all of our vacuums before we review them. This means that we can help you to decide on the best vacuum for your home with confidence.
We took this vacuum to our dedicated test center, where we put it through a number of tests on linoleum, carpet, and hardwood floors. We scattered a range of dust, debris, and dander onto each floor and recorded how this vacuum performed. We then compared it to other similar models, so that we could accurately place it on the market.
Aside from suction power, we think about factors such as maneuverability, run-time, emptying the dust bin and general controls. We also look at other user-reviews and the claims made by the brand so that we can test them to the best of our abilities.
Sign up to the Homes & Gardens newsletter
Decor Ideas. Project Inspiration. Expert Advice. Delivered to your inbox.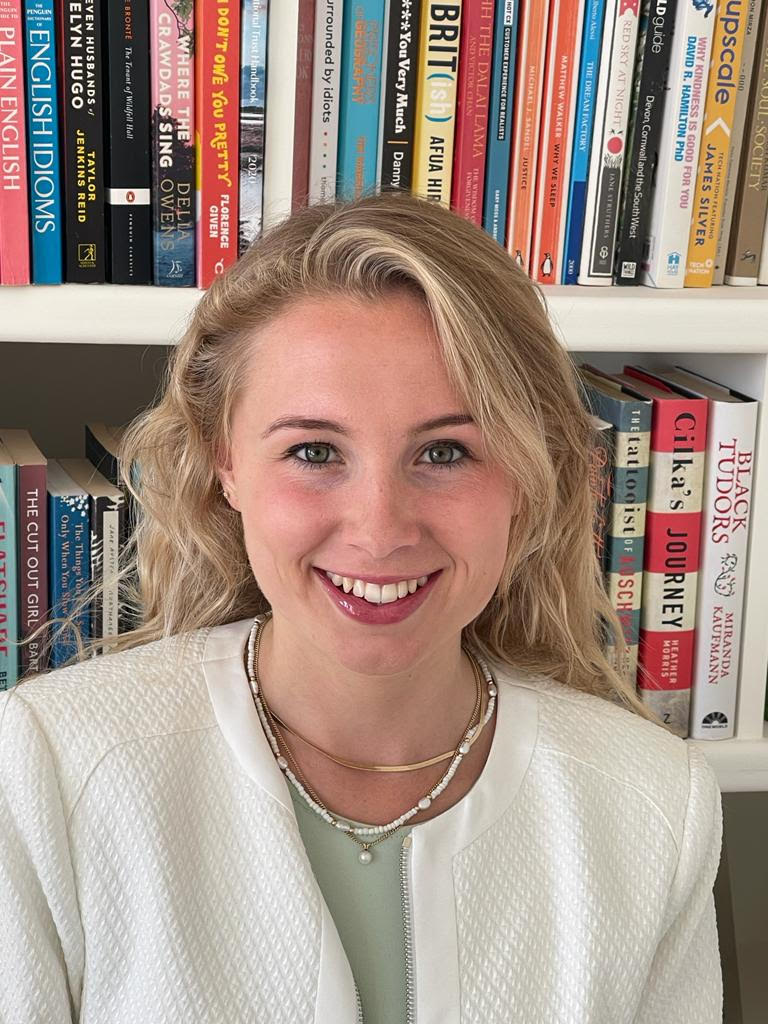 Laura is our eCommerce editor. As a fully qualified barista, she's our expert in all things coffee and has tested over thirty of the best coffee makers on the market. She has also interviewed Q-Graders and world-leading experts in the coffee industry, so has an intimate knowledge of all things coffee. Before joining Homes & Gardens, she studied English at Oxford University. Whilst studying, she trained as a master perfumer and worked in the luxury fragrance industry for five years. Her collection of home fragrance is extensive and she's met and interviewed five of the world's finest perfumers (also known as 'noses'). As a result of this expansive fragrance knowledge, she always puts quality and style over quantity and fads. Laura looks for products which have been designed simply and with thoughtful finishes.