Miele CM5 Silence Automatic Coffee Machine review
We've reviewed the Miele CM5 Silence Automatic Coffee Machine to find out if it delivers the perfect, artisan brew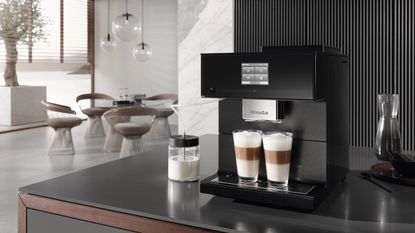 (Image credit: Miele)
If you're after a user-friendly, countertop bean-to-cup coffee machine, this is the ideal buy. Not only will it make smooth, aromatic coffee at the touch of a button, but comes with sleek, intuitive features. The external milk pipe can take some getting used to, however, you'll have the best cappuccinos and lattes to rival your local coffee shop!
Reasons to buy
+

Great aromatic coffee

+

Can prepare two cups at the same time

+

Touch control screen

+

Self-cleaning and rinsing

+

Modern design
Reasons to avoid
-

Huge size can take up a lot of counter space

-

You have to buy separate milk container

-

Pricey
You can trust Homes & Gardens. Our expert reviewers spend hours testing and comparing the latest products, helping you choose the best for you. Find out more about how we test.
If you know a thing or two about coffee and have always fancied the idea of a bean-to-cup coffee machine, the Miele Silence Automatic Coffee Machine may be the one for you. This countertop machine offers the best of both worlds, making everything from full-bodied espressos to frothy cappuccinos in just seconds.
Best of all, it has a One Touch for Two feature which is perfect for making two coffees at once. This is ideal for those working from home with a partner or if you're simply in the mood for having two kinds of brew!
Miele brand is widely known for its top-quality coffee machines, and the CM 5510 (which is the color code of the rose gold model I tested) is its latest model from the CM5 Silence range, boasting some impressive features. But it is one of the best coffee machines you can buy, given its premium price?
I put it to the test to find out if this premium machine can deliver premium-tasting coffee.
Miele CM5 Silence Automatic Coffee Machine: Specs
Dimensions: 9.5" x 14.25" x 18.1"/ 241 x 360 x 460 mm
Power: 120V
Weight: 21lb. / 9.48kg
Cord length: 3ft/ 1.2m
Water tank capacity: 44oz./ 1.3ltr
Bean hopper capacity: 7oz./ 200 g
Pump Pressure: 15 Bar
Grinder Adjustment: 5 settings
Double Cup: Yes
Ground Coffee: Yes
Coffee options: Ristretto, Espresso, Coffee, Long Coffee, Latte Machiatto, Caffè latte, Milk Froth, Coffee Pot
What's in the box>: Descaling tablets, cleaning tablets, operating instructions on the rear of unit, Miele coffee 250 g
Warranty: 2-years
Set up
Unboxing and lifting the machine was a bit tricky due to its weight, and so I had to enlist the help of the hubby! In any case, once you remove all of the excess packagings, it doesn't seem so bulky. It's worth noting it's not exactly small, so if you have a tiny worktop, it will take up considerable space. But it's well-built with an attractive, sleek, and sophisticated design.
It has quite a few attachments and hidden compartments, so it's worthwhile reading the instructions manual (who does?) to find out where everything is. For instance, the removable milk pipe is stored in the brew unit behind the appliance door. This is also where you can find the grinder setting to adjust accordingly. In addition, the slimline water container is neatly integrated into the machine and can be detached and carried by a little 'handbag' handle.
I poured in my coffee beans at the top compartment, setting my grinding level to medium. Once you press the On button, instructions will flash up on the display screen which is all pretty self-explanatory. Bear in mind though, it's advisable to discard the first two brews, as the coffee will be less potent during the initial filtering process.
Ease of use
If you're a newbie to coffee makers with built-in grinders, you'll find the Miele CM5 Silence incredibly easy to use. The display literally guides you every step of the way to making your ideal brew. The front panel has one-touch presets for espresso, coffee, cappuccino and latte macchiato. Or you can go to the menu and scroll through more drinks such as, ristretto, caffè latte, long coffee, hot water, hot milk and milk froth. Spoilt for choice, I first opted for the espresso.
Within seconds, I had a smooth-tasting cup of aromatic coffee. Admittedly, I'm more of a milky-coffee fan and decided to go for my favorite cappuccino. Now this part was a little tricky, since it doesn't come with a milk container or barista-style, steam wand. Instead, it has a flexible milk pipe (stored in the brew unit), that you simply connect one end into the dispenser and the other directly into a milk carton or container. While I would have preferred an integrated milk container, the self-cleaning of the pipe is far more hygienic in the long run.
More importantly, the results produced tasty, frothy cappuccinos and cafe lattes each time. In fact, it was pretty close to those from my local coffee shop. Impressive!
The option to make two cups at once comes in handy, especially if you have more than one coffee lover in the home. I did find it a bit of a tight squeeze to fit two cups side by side, but that's probably down to my cup dimensions. Compared to other coffee machines, you'll find the water tank will need refilling often, and the drip tray needing regular emptying. However, these are minor issues in the grand scheme of things.
Anything else?
There are a couple of things to bear in mind. It is on the large side so may not be ideal for bijou kitchens or ones limited on worktop space. I had trouble fitting it all the way under my low-hanging cabinetry, so it had to sit towards the edge of the worktop. And as the coffee dispensers are located at the top, it needs easy clearance. For a smaller coffee machine, we suggest the best single-serve coffee makers.
Another thing, it comes with an external, removable milk pipe which doesn't look as aesthetically pleasing as a fancy steam wand. But this can be tucked away inside the machine when not in use. Also, it doesn't come with a milk container (you'd need to purchase separately) which is a tad inconvenient. But you could always improvise with a jug!
Clean up
Despite the many compartments to take apart (think jigsaw puzzle!), the clean-up is surprisingly easy. The intuitive function tells you when to empty the waste bin or clean the drip tray. A bonus is all removable parts, besides the drip tray cover, are dishwasher proof if you didn't fancy cleaning in the sink.
Best of all, the machine automatically does a self-clean and rinse process after use. This includes the removable milk pipe, which is more hygienic than washing by hand. Of course, this also means it will use up more water from the tank, and since it only holds 1.3 liters, you'll need to top up frequently. In addition, you should take out the brewing unit every so often to give it a good rinse.
Miele CM5 Silence Automatic Coffee Machine: final thoughts
Coffee aficionados who enjoy their bean-to-cup brew will appreciate the Miele CM5 Silence Automatic Coffee Machine. It's easy to use with its chic, touch screen display, and you can even select your coffee grinding preference. What's more, it cleans itself and looks great. Can't get any better than that!
Bear in mind though, it's rather large and hefty so not practical for small worktops or low hanging cabinetry. It also has a removable milk pipe rather than an attractive steam wand, and the smaller water tank may be a downside for big households who consume a lot of drinks daily. Finally, it is at the top end of the price scale at $1,500/£1,000, which for an entry-level machine may seem a little steep.
However, if you are after top quality, convenience, and more importantly, delicious coffee, then it's certainly worth the spend in the long run.
About this review, and our reviewer
Cynthia Lawrence is a freelance lifestyle and homes/interiors journalist, and writes for various national publications. With an unhealthy obsession for all things homes and gardens, she also has an interior design blog. When she's not spending time surfing online for decor inspiration to revamp her 1930s home, she is busy reviewing some pretty awesome home appliances.
She has written for Real Homes, Livingetc, Gardeningetc, Ideal Home, T3.com, Top Ten Reviews and House Beautiful amongst others.
The Miele CM5 Silence Automatic Coffee Maker coffee machine was tested extensively over a period of 10 days. This was while Cynthia and her husband were working from home which meant it got plenty of use with regular (and much needed!) coffee breaks. Although her firm favorites are the milky coffees such as cappuccino and lattes, she soon became a fan of the aromatic and delicious espresso brews.
Sign up to the Homes & Gardens newsletter
Decor Ideas. Project Inspiration. Expert Advice. Delivered to your inbox.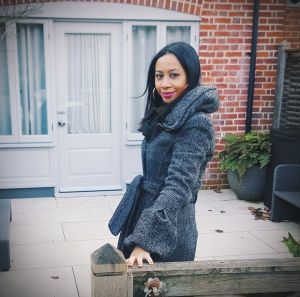 Freelance lifestyle and interiors journalist
Cynthia Lawrence is a freelance lifestyle and interiors journalist, and writes for various national publications. With an obsession for all things homes and gardens, she also has an interior design blog and spends most of her time surfing online for interiors inspiration to revamp her home.