Smeg Fully-Automatic Coffee Machine review: delightful bean to cup at the press of a button
A small but stylish bean-to-cup machine that delivers fuss-free freshly-ground brews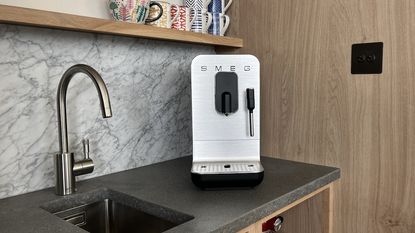 (Image credit: Future)
The Smeg BCC02 is a good-looking coffee machine that doesn't require many brain cells to operate. It may seem expensive given the limited number of features, but the price is more than fair in terms of excellent build quality, design and decent coffee. We're impressed by this fully-automatic machine.
Reasons to buy
+

Easy to use

+

Self-cleaning

+

Compact

+

Professional results

+

Built-in Milk frother
Reasons to avoid
-

Slow to start up

-

A little noisy

-

Milk froth steaming wand feels flimsy and doesn't come with a frothing jug
Why you can trust Homes & Gardens Our expert reviewers spend hours testing and comparing products and services so you can choose the best for you. Find out more about how we test.
If you enjoy freshly ground coffee but are looking to cut back at your local coffee shop, the Smeg Fully-Automatic Coffee Machine BCC02 could be the one for you.
Among the best espresso machines, it's stylishly designed, with a slight but not overpowering '50s vibe, and boasts a compact footprint that won't take up too much precious space on kitchen countertops.
First launched in 2021, the Smeg Fully Automatic Coffee Machine, also known as the Smeg Bean to Cup Machine doesn't go OTT on the coffee menu, but it is very simple to set up, use and maintain, making it a great choice for novice baristas, thanks to its fully automatic settings. Rest assured, the coffee is far from a novice in depth and flavor. I tested one of the six available finishes, a lovely Matte Black that doesn't show up fingerprints and feels pleasantly soft. Read on to find out whether I was convinced to get my daily coffee fix at home.
About our Review
About our Review
Linda Clayton
Linda Clayton is a professionally trained journalist who has specialized in home tech, interior design, and fitness for more than two decades. She's a fastidious product reviewer, design obsessive, serial renovator, and amateur runner.
She was sent the Smeg BCC02 bean-to-cup coffee machine to test in her Devon home, where she works full-time and requires a constant supply of caffeine to keep the features flowing.
We are not given any compensation for our reviews, and Smeg will arrange collection of the coffee machine after it has been tested for a couple of weeks. We may receive affiliate commission for some products bought through our site.
Smeg Fully-Automatic Coffee Machine Specifications
Model Number: BCC02
Other Product Names: Smeg BCC02 Bean to Cup machine
Dimensions: 13 1/4" X 7" X 17"
Weight: 11 lb./ 8.4kg
Power cord length: 39" / 1m
Colors: Black, Red, White, Taupe, Emerald Green, All black
Power: 1470 w
Water tank capacity: 47oz./ 1.4L
Bean hopper capacity: 150g
Strength control: Yes
Pump pressure (bar): 19
Milk frother: Yes
Coffee options: Ristretto, Espresso, Coffee, Light Ristretto, Light Espresso, Long coffee
What's in the box: Operating instructions and Warranty info, cleaning brush, water hardness test strip, steam wand cleaning needle
Warranty: 1 year (2-year UK)
RRP: $999.95 / £699
Smeg Fully-Automatic Coffee Machine Design
Measuring just 18cm wide, the streamlined Smeg BCC02 is a real winner in space-starved kitchens. It tucked neatly into the corner of our pantry cupboard but would also leave space in front for food prepping if you stored it lengthways on the main countertops. The power cable is long but also tucks neatly behind. There's a color to suit all kitchen designs, including a lovely new limited edition Emerald Green, and the aluminum front panel is especially easy to keep clean.
As it only has one hopper, you have to decide whether you want to load it with caffeinated or decaffeinated beans, which is a slight flaw as we like our coffee both ways depending on the time of day. However, the hopper is a decent size, so it didn't need refilling too often. The water tank pulls out for refilling and can take enough water for eight large coffees.
The steamer wand feels a tad flimsy but it does rotate sideways to get a better angle when milk is frothing. I also liked that you could slide the dispenser head up and down, depending on the size of your cup, as this reduces messy splashback. There's a light in the dispenser head, too – a stylish touch that gives you a great view of the crema patterns forming.
Setting up the Smeg Fully-Automatic Coffee Machine
Before first use, I had to give the removable components – water tank, grounds container, brewing group and drip tray – a quick rinse to clean off any dust that may have settled in transit. I then put everything back together and plugged it in.
While the Smeg BCC02 Bean to Cup is fairly intuitive to use, it is worth reading through the instruction book before you start, otherwise, you'll miss key steps, like setting the water hardness level. We live in a soft water area, and the machine is supplied set to hard. The adjustment was a simple matter of pressing a couple of buttons in a particular order (as explained in the instruction book).
It's worth setting the grinding knob adjuster before you add beans. You can also adjust it while the machine is grinding but never with the grinder stopped and beans inside or you may cause damage. I played around with different settings before settling on halfway, neither too coarse nor too fine. I found the coarse setting was too weak, while the very fine setting seemed bitter.
Once the water tank was full, and the machine turned on at the side, it was ready to go. There are five soft-touch button controls on the top. The four buttons in a line deliver drink options, while the button in front switches between two dispensing menus, effectively providing six coffee options, plus steam and hot water. The White dispensing menu (evidenced by white LEDs around the buttons), delivers ristretto, espresso, coffee, and hot water. Press the front button to change to the Orange dispensing menu (orange LEDs) to get light ristretto, light espresso, long coffee, and steam. The light coffee options are around half the strength of the standard brews, ideal for those strange humans who prefer instant coffee!
One very handy feature that's worth setting up at the start is the customization of the quantity. Like many coffee machines I have tested, the Smeg BCC02's idea of a long coffee falls far short of mine. I like a mug of black coffee that is full to the top, like a cup of tea!
Customizing the quantity was another (simple) game of pressing the right buttons in the right order, with lights flashing and audible signals to tell you that you've set it right. Follow the instructions and it all makes sense. Once set up, my dream drink length was memorized for future use. You can customize all the drink options or just the one you use most frequently.
Using the Smeg Fully-Automatic Coffee Machine
Each time I turned the Smeg BCC02 on, I had to wait for it to do a quick (45-second) self-clean, which seemed a little unnecessary given it also does a self-clean when it shuts off. On the plus side, at least I knew it was clean.
It took 2.08 minutes from turning the machine on, to finishing pouring a cup of long coffee. If you want to add steamed milk, using the frother wand, that will be another couple of minutes. Still far quicker than walking to our nearest coffee shop, which is 10 minutes away and doesn't open until 9.30 a.m.
Once I'd spent a bit of time playing with the grinding adjuster and the different coffee lengths on offer, I hit upon the perfect brew. Naturally, a lot of the flavor will be down to your choice of beans, so to help ensure success I bought the same No.1 Coffee Beans (opens in new tab) that my favorite coffee shop uses (from them, so I didn't feel as guilty about the desertion).
Since my local uses a shiny, steam-belching Italian coffee machine bigger than a phone box to brew their beans, I wasn't expecting exactly the same results from Smeg's compact BCC02 but I am delighted to report I honestly couldn't tell the difference. The Smeg BCCO2 produces a thick crema head, and the coffee was rich, deep, and delicious. The only thing I was lacking was a friendly chat with the coffee shop owner.
I am milk adverse but had great fun brewing milky coffees for family and friends. The steam wand is easy to use; go to the Orange menu and press the steam button, wait for the beep that indicates it has finished heating up, then press to start steaming and again to stop. I used the smallest jug I own as there's not a lot of space to get under the wand, but it produces really thick, frothy milk in a couple of minutes. If you remove the drip tray you can get a bigger jug under.
The hot water button is ideal for making tea if you don't have a boiling water tap installed. If you don't turn the machine off when you're finished, it will automatically turn off after 20 minutes, but not until it has done an automatic rinse that clears the pipes. Be warned, it is quite loud and made me jump the first few times before I got used to it!
Admittedly the coffee menu on the machine isn't terribly diverse but you can get creative using the steam wand to produce macchiatos and lattes if that's your thing. Use powdered hot chocolate, the hot water button, a shot of espresso, and steamed milk to create creamy mochas. Or skip the espresso for frothy hot chocolate. Our children were thrilled with the results.
Cleaning and maintenance
As mentioned, the main internal cleaning is automatic, if rather noisy, which means all I really needed to clean was the drip tray, coffee ground container, and, once a week, the brewing group. The brewing group is located inside a flip-down door on the side; just press the two release clips and it slides out easily. Rinse under a running tap, dry, and clip back inside.
There are various LED lights on the top of the Smeg BCC02, which alert you to its needs, for example when the coffee grounds bin needs emptying, which is a simple matter of sliding out a panel behind the drip tray. This should be done when the machine is switched on otherwise the counter won't reset. An empty water tank and an empty bean hopper will also result in an LED alert.
If you use the milk frother, you will need to rinse out the wand, which can be removed by turning anticlockwise. I used the cleaning needle supplied to dig out any crusty bits. Unless you drink milky coffee all day (I don't), you'll probably want to clean the wand out after every use to prevent sour milk from settling inside.
Those living in hard water areas may also need to descale (again there is a warning LED) using a descaler in the water tank and following the instruction in the book supplied. There's a handy test strip supplied to check hardness levels for anyone who is unsure.
Smeg Fully Automatic vs Smeg Espresso Machine
The H&G team has also tried and reviewed the retro-styled Smeg Espresso Machine ECF01, a more traditional manual-style espresso machine that may require a learning curve if you're not familiar with traditional espresso prep. It also does not have a built-in grinder. Perhaps, the most obvious benefit of choosing the Fully Automatic BCC02 over the Smeg Espresso Machine is it offers more choices in terms of coffee size, with no need to add hot water to enjoy an Americano. You can use proper-size mugs, too, which is easier for adding hot, frothy milk.
However, the Fully Automatic is twice the price and will take up a little more space in your kitchen. The design of the Smeg Espresso goes hard with the '50s diner vibe, which is a matter of personal preference but could be too much for many kitchen design ideas.
Homes & Gardens Verdict: Is the Smeg Fully Automatic Coffee Machine worth it?
Above all, the Smeg BCC02 is a brilliant choice if you're seeking a compact design that doesn't crowd countertops and looks stylish. Oh, and you want decent quality, freshly ground coffee that's a fair match for anything you can buy on the high street. Tech fans might find it a touch basic but, when you're in a hurry to get your caffeine fix, this simple press-and-go machine delivers without fuss and is just as fuss-free to keep clean.
At $999.95/£699.95, the Smeg BCC02 isn't the cheapest bean to cup out there, but it isn't the most expensive either. I liked how intuitive it was to use and was very happy with the simple touch-button controls compared to the complicated LCD displays and advanced programming I've experienced on other automatic coffee machines. It looks and feels well-built and comes with one year warranty (two-year warranty UK). The Smeg BBC02 is certainly a luxury purchase compared to using a French Press, especially in the current economic climate, but the expense can be easily justified if you're spending heavily in posh coffee shops
Lastly, but by no means least, when considering the best coffee makers for your home, it's always worth thinking about the environment. Compared to single-serve machines, the Smeg BCC02 Bean to Cup could be a more responsible choice, as the coffee grounds go straight into your compost bin, with no capsules to toss out.
Where to buy
Linda graduated from university with a First in Journalism, Film and Broadcasting. Her career began on a trade title for the kitchen and bathroom industry, and she has worked for Homes & Gardens, and sister-brands Livingetc, Country Homes & Interiors and Ideal Home, since 2006, covering interiors topics, though kitchens and bathrooms are her specialism.