Can you use a mattress topper on an air mattress? Expert ways to make an air bed more comfortable
Whatever reason you're sleeping on an air bed, adding a mattress topper is a great way to make it more comfortable – here's how to do it and other methods on getting better sleep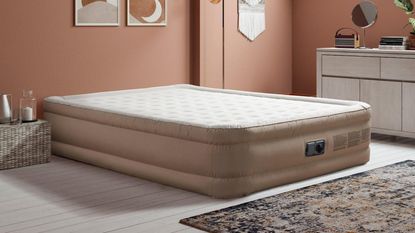 (Image credit: Bestway)
Sign up to the Homes & Gardens newsletter
Decor Ideas. Project Inspiration. Expert Advice. Delivered to your inbox.
Thank you for signing up to Homes & Gardens. You will receive a verification email shortly.
There was a problem. Please refresh the page and try again.
Air mattresses are great to sleep on while you wait for your new mattress to arrive, to have for when guests come to stay, or to take with you on your camping trip, or college stay. But they aren't always that comfortable. Most will find that air mattresses are too firm, cold, and noisy. While one night won't cause too much harm, sleeping on an inflatable bed long-term could lead to some serious sleep issues.
Fortunately, just like a mattress topper can transform a regular mattress, experts say adding one to an air bed can improve your comfort and increase the chances of a better night's sleep. That's because Using a mattress topper on an air mattress will eliminate any squeaking when you turn in the night, make the mattress feel warmer, and be better for your back.
Certain mattress toppers work better for air beds than others, and there are ways to use one. To find out how to use a mattress topper on an air mattress, plus other ways to make an air mattress more comfortable, we spoke to sleep experts from Emma and Earthfoam.
As a sleep editor, I've also suggested some of the best mattress toppers for air beds that are light and comfortable enough to not puncture the bed, but to help you sleep soundly. Trying a mattress topper that is essentially a smaller version of the brand's best mattress is also a great way to test whether it will work for you. While you're waiting or still deciding, make your sleep situation better in the meantime.
Can you put a mattress topper on an air mattress?
Adding a topper to an air mattress will make it more comfortable. In fact, mattress toppers can make the biggest difference to an air mattress, but it depends on the type of topper.
As Karl Shevick, the founder and CEO of Earthfoam says, 'You can use a mattress topper on an air mattress for some added comfort'.
Theresa Schnorbach, content director and sleep scientist at Emma Mattress agrees that 'mattress toppers are a great option for providing a layer of support to an air mattress. When made from the right material, mattress toppers can keep you fresh and cool throughout the night and give you a comfortable night's sleep by providing another layer on top of your mattress, helping to regulate your body's temperature and support your spine.'
Karl Shevick is the Founder and CEO of Earthfoam, a sustainable mattress and sleep company. Earthfoam's goal is to offer an honest product that brings sustainability to the forefront without sacrificing function or form.
Theresa Schnorbach is a psychologist and sleep scientist specialized in Clinical Psychology and Cognitive Neuropsychology. She has completed a post-graduate training in Cognitive Behavioural Therapy for Insomnia (CBT-I) with the German Sleep Society (Deutsche Gesellschaft für Schlafforschung und Schlafmedizin (DGSM), endorsed by the European Research Society.
The benefits
Air mattresses can feel quite uncomfortable, especially if you suffer from any kind of back pain or joint aches. They can feel cold to the touch (which is not good during winter) and can be noisy if you're prone to tossing and turning in the night. The good news is that a mattress topper can solve pretty much all of these issues:
Temperature regulation: Typically made with plastic, air mattresses can feel too cold to the touch. Despite adding a fitted sheet, it's likely for sleepers to still feel cold during the night when the air cools down too. 'A mattress topper can help to insulate the body from the cold surface of the air mattress by acting as a barrier between you and the bed itself.' says Theresa. Most mattress toppers are temperature regulating and will retain and dissipate heat as you need it for a cozier sleep.
Softness and support: 'A mattress topper can also make an air mattress more comfortable,' explains Theresa. 'For example, if you find the air mattress too firm once fully inflated, a mattress topper can add softness and provide a targeted cushioning for those who require specific support.'
Noise reduction: Air mattresses are almost always noisy. Filled with air and made of plastic, they rustle and squeak throughout the night. You can expect to be woken up during the night, especially if you're sharing with your partner. By adding a mattress topper, the extra cushioning 'can help reduce noise that air mattresses may produce and prevent any sleep disturbances.'
The best mattress toppers for air bed
The best mattress toppers for an air bed will be designed with comfort in mind. Thick, memory foam mattress toppers may not be able to stay secure on an air bed due to them being too firm and dense, and instead a thinner cushioning topper should be used. A topper made from shredded foam or even filled with feathers will be soft yet supportive enough to improve comfort levels without damage to the air mattress. They should also have straps to keep it on the bed as ones without are likely to slip off during the night.
These are my top recommended mattress toppers for air mattresses, tried and tested by the team:
Coop Retreat mattress topper
Type: Memory foam
Thickness: 5 inches
Firmness: Medium
Sizes: Queen, king
I've tried the Coop Retreat mattress topper and think it would be perfect for adding to an air mattress. Plush and thick made of shredded memory foam it'll certainly help with any sort of back pain or joint aches. It's soft enough to make an air mattress more comfortable, while the foam supports the body as you sleep. You can also say goodbye to any sleep disturbances caused by noise or motion.
My Coop Retreat mattress topper review has more details
Tempur Supreme mattress topper
Type: Tempur-material
Firmness: Medium-firm
Thickness: 3"
Sizes: Twin, Twin XL, Full, Queen, King, Cal King
This mattress topper is super plush despite being made from firm Tempur foam. This makes it perfect for helping with back pain. The proprietary Tempur material uniquely responds to your weight, shape, and temperature, adapting to your body for truly personalized support. It'll solve all of the uncomfortable sleep issues that come with an air bed by simply securing it with the straps provided.
Our Tempur Supreme topper review has more details
Sleep Innovations mattress topper
Type: Gel-memory foam with a quilted-plush cover
Firmness: Soft
Thickness: 4"
Sizes: Twin, Full, Queen, King, Cal King
Similar to an egg crate design, this soft pillowtop mattress topper has a quilted topper that secures the foam layer by stretching over the bed like a fitted sheet, which is perfect for adding to an air bed. It's ultra plush to soften the hard air mattress surface while offering a gel memory foam layer to offer additional support where you need it. We're yet to test this topper but it has fantastic reviews that put it in our best guide.
Expert advice on how to put a topper on an air bed
Adding a mattress topper to an air bed is easier said than done. Since air beds arent as solid or heavy as actual mattresses, keeping a topper on can be tricky, especially if it doesn't have straps to secure it.
The first essential thing to do is ensure your mattress topper is the same size as your air bed. Any bigger or smaller and you struggle to keep it in place. Once you've chosen the right topper, adding one of the best mattress protectors will hold the topper tight to the bed. Then layer a fitted sheet to keep it even more secure.
If this isn't enough and you're finding your mattress topper is slipping off the bed and in turn, keeping up at night, you could try some bed sheet suspenders, like these Amazon best-selling sheet straps from Raytour that are sturdy and strong to keep your topper secure. More ways to stop your mattress topper from moving on the air bed is to simply use some double-sided carpet tape or even a slip-resistant mat that would hold it in place.
FAQs
How can I make my air mattress more comfortable?
Aside from adding a mattress topper to your air bed, there are ways you can up comfort levels on your inflatable sleep surface. Experts suggest placing it onto a box spring, this way you'll get the height of a regular bed, making it easier to get in and out of.
Since an air bed can move around and is quite lightweight compared to an actual mattress, it can slip around on the floor throughout the night, as you get up or move around. To prevent this from distributing your sleep, you can put your air bed against the wall. This will also contribute to helping your air bed feel warmer.
You should dress your bed as you would a proper one. Investing in the best bed sheets, comforters, and pillows for you will make all the difference when it comes to being comfy in bed. Layering your bed with decorative pillows and sleeping under the softest sheets will guarantee you a cozier feel.
Why can't I sleep on an air mattress?
The truth is, air mattresses aren't designed for long-term use, and probably shouldn't be slept on for longer than a couple of nights. If you struggle to sleep on an air mattress, you're not alone – it's actually quite normal for someone to not be able to sleep at all on an air bed.
Air beds are not very supportive, and sleeping on them for more than two nights could cause back pain, aches, and stiffness as you wake up. Without proper support for your spine, your body will not be kept in the correct position for satisfactory sleep. Your knees, hips, and shoulders may fall out of line causing your spine to curve.
---
If your air mattress is posing as a temporary solution before you invest in a new mattress, it's certainly worth adding a mattress topper. But if it's more of a go-to for when guests arrive, a sleeper sofa may be a better option. Your guests deserve the best.
Sign up to the Homes & Gardens newsletter
Decor Ideas. Project Inspiration. Expert Advice. Delivered to your inbox.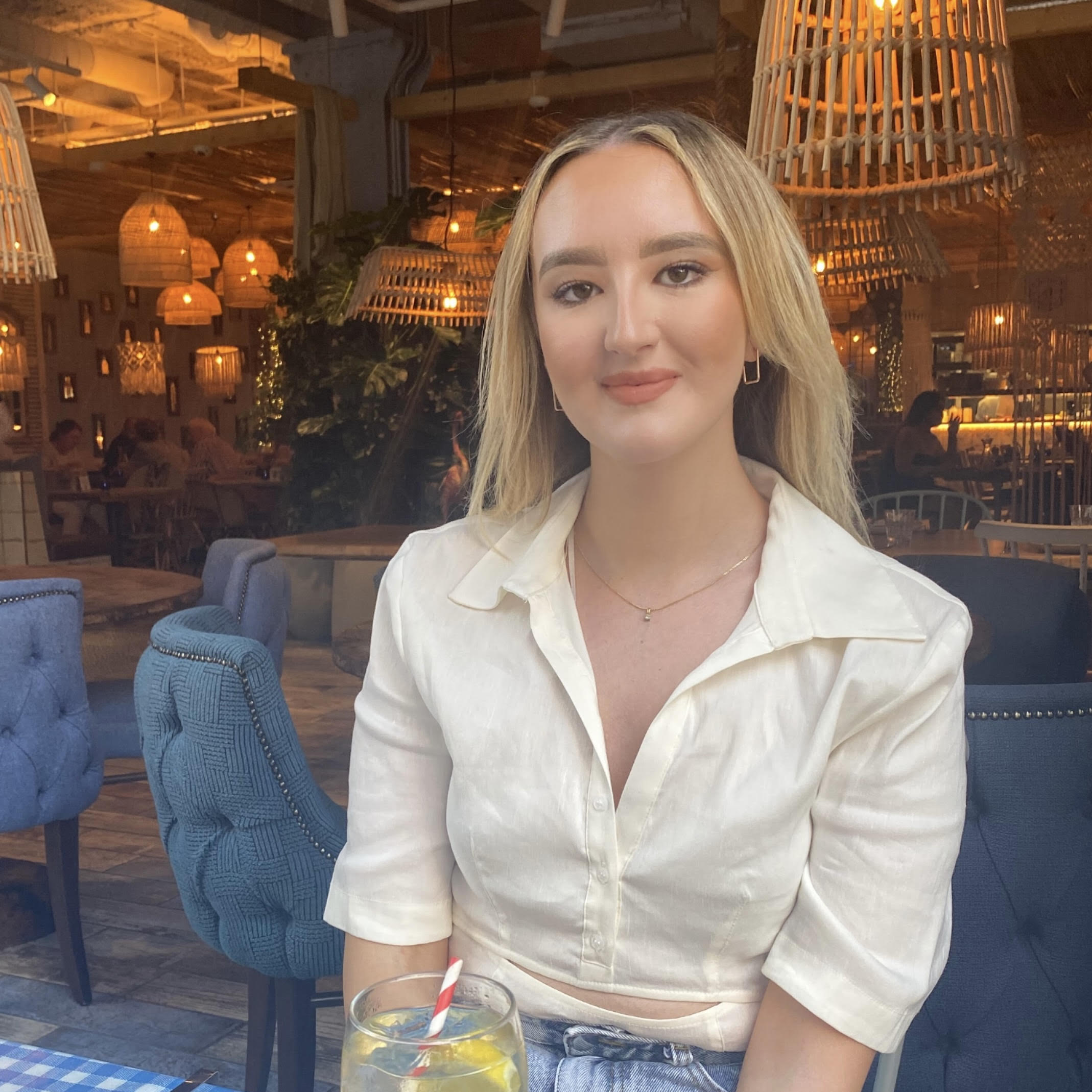 Louise is your eCommerce Editor and sleep specialist to help you wind down well. A connoisseur of the mattress world, Louise previously covered sleep and wellness (as well as the occasional organizational buy) at Real Homes, and has tried, tested, and reviewed some of the buys for your bedroom. With an MA in International Journalism and PR experience, Louise brings bags of bedding expertise and enjoys nothing more than helping readers find solutions and products that best suit their sleep needs.