My mattress was too firm for my liking – the Coop retreat mattress topper felt like sleeping on a cloud
The Coop retreat mattress topper transformed my firm rental mattress into a soft and supportive sleep surface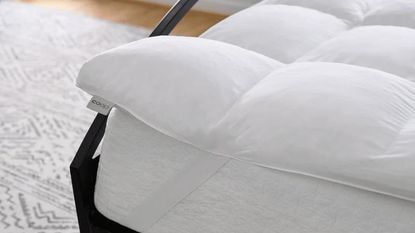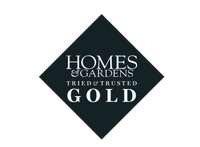 (Image credit: Coop Home Goods )
If your current mattress is old or too firm for your liking, the Coop retreat mattress topper will transform it into a soft and supportive sleep surface using 5 inches of thick pillow-top foam
Reasons to buy
+

Great for side and front sleepers

+

Thick and plush

+

Supportive

+

Organic, certified materials

+

Breathable
Reasons to avoid
-

Expensive

-

Lumpy to begin with

-

Sleeps a little warm

-

Spot clean only
I was sleeping on the mattress provided in my rented apartment. It's an innerspring mattress that I've been sleeping on for around a year. While I was hoping to get used to its firm feel, I was waking up with minor joint pain most mornings. This was not a direct cause for concern, as my mattress is relatively new too. But when I got the chance to add a memory foam topper, I was looking forward to feeling a difference.
Known for their best-selling memory foam pillows, Coop Home Goods' retreat mattress topper is filled with the same cross-cut Oomph memory foam and microfibre blend. At five inches thick, it's a plush pillowtop guaranteed to make your sleep surface soft. I found it a little lumpy, to begin with, but after the foam flattened around my body, every night felt like sleeping on a cloud.
Due to its serious sink-in design, I will say you need a supportive mattress underneath. Add it to an already medium-soft memory foam mattress and you may find your spine falling out of alignment. For this reason, I wouldn't recommend it for back sleepers. But if you're in need of some extra cushioning to your current setup, then the Coop Retreat mattress topper is one of the best mattress toppers you can buy.
Louise Oliphant is eCommerce Editor and sleep specialist at Homes & Gardens, here to help you wind down well. Previously covering sleep and wellness content (as well as the occasional organizational buy) at Real Homes, Louise has tried, tested, and reviewed some of the top buys for your bedroom.
With an MA in International Journalism and PR experience working for a luxury homeware brand, Louise brings bags of bedding expertise and enjoys nothing more than helping readers find solutions and sleep products that best suit their needs.
Who will the Coop retreat mattress topper suit?
Side and front sleepers: memory foam is almost always perfect for side and front sleepers. Offering just enough support to keep your hips, knees, and spine aligned, and supreme 'sink-in' comfort, it'll hug your body and keep your joints in place. It's worth noting that while you may be a side or front sleeper, whether you like the feel of memory foam is generally a personal preference. Back sleepers will certainly find this too soft – if your back sinks below the hips, you're likely to wake up in pain.
Those with a firm mattress needing a soft sleep surface: Whether you're just getting used to a new mattress that feels firm compared to your old one, or you've moved house and the mattress provided isn't suiting your needs, this topper will transform your bed. The puffy pillowtop may feel a little lumpy, to begin with, but after it conforms to your body, you'll wake up feeling refreshed.
If you suffer from some joint pain: Memory foam is great for cushioning joints and relieving them of any possible pain. The soft fabric gives just enough support, where an otherwise firm sleep surface would apply pressure to the affected area. I typically suffer from knee pain, but after sleeping on the coop mattress topper I noticed the pain subside.
Can't afford to get a brand-new mattress (yet): A mattress topper should never be a replacement for an old mattress that's past its sleep-by-date. But it can work as a temporary solution. Until you can afford to buy a brand new mattress, the Coop retreat topper will up comfort levels in the meantime.
Coop retreat mattress topper specifications
Type: Memory foam
Material: Cover: 100% brushed soft microfiber / Fill: a hypoallergenic, non-toxic blend of cross-cut virgin memory foam and microfiber
Firmness: Medium-soft
Thickness: 5 inches
Sizes: Queen: 58x78 inches, King: 74x79 inches
RRP: $299
Care: Spot clean only
Unboxing
The carry case for the topper is great. Convenient and easy to carry from your front door to the bedroom, and ideal for when you want to store away or take away your topper to a new home, college, or vacation spot. But while I appreciated the case that's much better than trying to fold or roll the topper up and failing, the amount of plastic packaging was displeasing.
Tightly rolled, more than once in thick, non-recyclable plastic, I would have preferred a more sustainable alternative. Having tried more than a couple of mattress toppers before, compared, Coop could have upped their eco-game much more. After unrolling the topper and laying it out on the bed, I noticed lots of the quilts in the topper had bunched. At this stage, I wondered whether the baffle box construction could be felt when slept on, and if they might lump as I moved during the night.
After adding it to my bed, using the elastic straps to secure it, my bed looked plush. But then, I struggled to get my (regular) fitted sheet on. Note: you will need deep fitted sheets on top of the topper and your mattress. Giving my mattress an extra five inches in height, and with my huge all-season down-alternative Coop Exhale comforter on top too, my bed was instantly upgraded.
What's the Coop retreat mattress topper like to sleep on?
Comfort and support: It took a few nights to get used to, given my mattress was much firmer, but now, no bed compares. I sleep on my side, and sometimes suffer from knee pain where they overlap each other, rather than sit on top for the ultimate sleep posture. Super soft, supportive and comfortable the foam cushioned my body, where my joints felt cradled.
Breathability and cooling: Memory foam is known to sleep hot. By absorbing your body heat and releasing it as you rest, it's not very breathable. As someone who sleeps hot, I was concerned. Unlike most memory foam mattresses and toppers though, this one is full of cross-cut foam, rather than a solid foam surface, which allows for airflow. Paired with a silk pillowcase, I didn't overheat. I did test this out during the colder months of the year, so it may not be as breathable when the summer arrives. I'll update you when the time comes.
Motion isolation: Due to the extreme 'sink-in' feel of this topper, the motion isolation for this topper could be better. I don't think I switch sleep positions once during the night, but that's because I felt as though I was sleeping 'in' the topper, rather than on it. I balanced a glass of water on the topper and laid down next to it, moved around a bit, and the glass did almost fall. It's not the worst, but the memory foam isn't as responsive as it could be.
Construction and design
Simple, yet effective, the construction of the Coop retreat mattress topper resembles a patchwork design of pillows. Easy to move, and arrange on the bed, it's a customizable, and more convenient design than other solid blocks of foam toppers or heavy latex options. It has elasticated straps to attach each corner, though due to the malleable style of this topper, it didn't feel overly secure.
When it comes to materials, making sure bedding is free from any harmful substances or chemicals is key. And it's nice knowing that Coop products are free from chemicals and meet rigorous product safety standards, with CertiPUR-US and GREENGUARD Gold certifications. This topper is also completely organic and made with 100% virgin memory foam.
How does it compare to other memory foam mattress toppers?
There's not a memory foam topper like the Coop retreat topper on the market. Most other memory foam toppers come in one, or layers of solid foam, wrapped in a cotton casing. The Tempur adapt topper, for example, is a thin foam topper that's much firmer than the pillowtop type here. This makes it a plush option, perfect if you're wanting to up comfort levels or make your sleep surface softer. But if you're wanting a mattress replacement, these foam types may be your better option.
Since this topper doesn't come with a washable, cooling cover either, if you sleep hot, the Saatva graphite mattress topper may suit you more. Since memory foam is known to give off heat, a cooling layer may be a feature Coop could work on. It's also not washable. Memory foam cannot be washed, but when it comes to cleaning this mattress topper, you will have to spot clean and hand-wash only. Other toppers are likely to come with a removable cover you can wash with the rest of your bedding.
The shredded foam present in the Coop retreat is popular in their Coop Original pillows – which sit as the best memory foam pillows in our best pillow guide. Highly rated by customers worldwide you can adjust and customize the amount of 'Oomf' for height. While you can't personalize how much memory foam you fill in the topper, it does perform the same comfort and supportive job as the pillow.
Being someone who generally gets a great night's sleep, and had become accustomed to my firm mattress, I didn't expect to love this topper as much as I do. It upped my comfort levels to the point where I cannot wait to jump into bed each night. I won't be taking the topper off any time soon. So for $299 (for a queen size), I think it's worth it.
Even more so if you're struggling with sleep or extreme aches and pains, investing in a topper can take your bed from lumpy to lush. For the renters who can't switch out their mattress or those who don't have the budget for a brand new bed right now, spending half the price of the best mattress for a memory foam topper that ticks all boxes (unless you're a sweaty sleeper or like your topper on the firm side, of course), then this mattress topper is the dream.
Where to buy the Coop Retreat mattress topper
Unfortunately, they can only be bought through the retailer's website – no prime delivery here. That being said, buying directly from Coop Home Goods has its benefits: they offer a 100-night sleep trial from the day you purchase, meaning it's upgraded sleep, or your money back, and a five-year limited warranty.
About our review and reviewer
Louise's sleep stats
Sleep position: Side sleeper
Insomnia: No
Sleep problems: Hot sleeper, minor joint pain
Average sleep time: 6-7 hours/night
Louise's review of the Coop retreat mattress topper is based on her first-hand experience with the product, which was provided by the brand free of charge. She slept on the mattress for over a month before writing this review and plans to continue sleeping on this mattress to further evaluate claims of temperature regulation when it comes to summer.
For more insight into our heads-on review process, refer to our how we review guidelines.
Louise is your eCommerce Editor and sleep specialist to help you wind down well. A connoisseur of the mattress world, Louise previously covered sleep and wellness (as well as the occasional organizational buy) at Real Homes, and has tried, tested, and reviewed some of the buys for your bedroom. With an MA in International Journalism and PR experience, Louise brings bags of bedding expertise and enjoys nothing more than helping readers find solutions and products that best suit their sleep needs.