I'm an interiors editor – these are the new house decor buys I will never regret investing in
The tried and tested decor that's come with me from home to home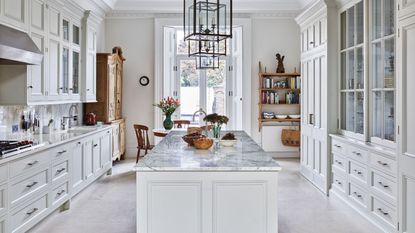 (Image credit: Future / David Lovatti)
Sign up to the Homes & Gardens newsletter
Decor Ideas. Project Inspiration. Expert Advice. Delivered to your inbox.
Thank you for signing up to Homes & Gardens. You will receive a verification email shortly.
There was a problem. Please refresh the page and try again.
Moving home is such an exciting time. I am a bit of a moving addict actually, it comes with the territory of being a serial renter. I would get so excited about starting over with my interior design style, choosing new sheets, picking out new prints, and deciding what style of rug would suit my new place best.
And after years of moving, I have worked out what pieces are the most important. I have noticed what pieces come with from home to home, and what's made it out of the rentals and finally into my own space with me.
Decor can come and go so quickly with interior trends, so it can be tricky investing in pieces for a new home that will stand the test of time. But as both a pro home mover and the Head of Design at Homes & Gardens, I feel equipped enough to share with you the new house decor buys I have never regretted buying. And yes, they are purely aesthetical decor, and of course, you want to be making practical investments like the best mattress, and good quality kitchen appliances too, but I think investing in decor is equally important when shopping for a new home.
What to buy for a new home
Moving into a new home can be a stressful time, so I do think it's important to allow yourself to get a bit excited about investing in new timeless pieces and treating yourself to decor that's going to instantly elevate your home and make the new space feel more like you.
Some of these buys are ones I think have longevity and will stay with you move after move, but I've also pieces I think are key to making a house feel like a home and for me are the first things I pull out of the boxes when I get to a new space.
Throw down a rug and a new home instantly feels cozier and more inviting. Having lived mostly in open-plan spaces, rugs do more for me than just add some softness underfoot, they help ground my furniture and zone the room. Hence why rugs make it onto my list of new home buys I have never regretted.
I am all for patterned and colorful rugs, but the rugs I have held on to are simple, hard-wearing jute offerings. This West Elm rug is exactly what I am talking about – chic, textured, works in any room with any style. An investment I have never regretted.
Anthropologie Gleaming Primrose Mirror
Wall decor ideas are always something I focus on in a new home. Bare walls can be quite intense when you are faced with how to fill all that blank space. But I think mirrors are far easier to shop for and get right, than prints. Print trends come and go and it can take time to find pieces you really love and stay with you, but mirrors have more longevity, mirror trends don't switch up all that often, and I've found the mirrors I have invested in have stood the test of time.
Case in point, the Anthropologie Gleaming Primrose Mirror. It lived leaning up against a wall in one of my apartments and it still worked.
Pom Pom At Home Chatham Cotton Matelasse Coverlet
The best bed sheets are always worth in investing in for a new home. I recommend stocking up on a few sets in seasonal sales, so you can always have a nice set on rotation. Again, like with the rugs I like to have mostly plain, simple bedding that can adapt to my ever-changing tastes and interior design trends. You can always switch up the look with cushions and throws too.
I like that this set as it has a subtle texture to it, it adds interest without the need for color or a bold pattern. It would love wonderful layering up with both soft neutrals and brighter colors depending on the look you want to achieve.
Amber Lewis for Anthropologie Marana Table Lamp
Lighting instantly makes a new home feel more cozy. In fact, lamps are the first thing I unpack. I dot them around my new space and they even make a sea of boxes look more inviting. I have found the lighting that I have bought and never regretted are table and floor lamps. I've left ceiling lamps and light shades behind before, but never my accent lighting.
I have regretted buying a few prints when I have moved into a new home. It's easy to get carried away with trying to instantly make a space feel like your own and panic-buy prints you don't truly love. I have however never regretted investing in good-quality frames. Not as exciting as a new artwork, but I've found a nice frame really elevates any print.
Invest in simple designs that will suit any print and work in any room, but also do look out for one-off quirky styles. I like to mix and match very sleek frames like this one with a vintage frame or something with a bit more shape.
Anthropologie Glenna Platter
Dinnerware and serveware are essentials for me in a new home. I have had the same sets for years, which I do add to every now and then, but I have never regretted buying beautiful pieces of crockery to elevate my table when I have guests over.
I double them up as kitchen decor too, rather than banish them to cabinets I like to create piles of my nicest crockery on kitchen countertops and add them to kitchen shelving with my cookbooks.
A Table Full of Love by Sky McApline
Speaking of cookbooks, yes they do count as decor and the majority of my cookbooks have made every moving-out cull. They are gorgeous pieces to have in your kitchen to add in some color and character. I see them as coffee table books for your kitchen. Leave them out on the side for guests to look through and style them up with a candle and a vase to create a mini vignette in the midst of a practical space.
Crate and Barrel Edge Drink Glasses
Moving into a new home is a good opportunity to take stock of what you already have. I do this for glasses, crockery, and cutlery fairly regularly and the aim is to have enough matching glasses to serve the maximum amount of guests I can have in my home.
I like these from Crate & Barrel because they are really fine glass and have a super simple silhouette. I like a glass that doesn't taper too much towards the top or bottom. They can be used for serving up desserts too.
Diptyque Feu de Bois Candle
Candles in a new home are a given. Lighting a familiar candle in an unfamiliar space instantly makes it feel more like home. But I also like to buy a few new candles when I move, to give the new space a new scent. I do buy cheaper candles that I keep in cupboards (the smell is fine but they don't look lovely) but the best candles I never regret buying are ones that double up as decor and can be on show all the time.
Diptyque candles instantly elevate a space, and when moving I always unpack them pretty quickly and dot them around surfaces to make the chaos feel slightly calmer and more sophisticated. Diptyque's 'Feu de Bois' is ideal for this time of year, smokey and woodsy and delicious.
---
So there is my list of new home buys I think are essential. A mix of both investment pieces that every new home should have, and small items that you should treat yourself to to instantly make your space feel more like home. I will say when moving into a new home, do spend a bit of time in the space before buying anything new, the pieces I don't regret buying are ones I have mulled over, or have had a vision that I know I will love for years to come, not just panic bought because something is on trend or because I am desperate to fill a blank space.
Sign up to the Homes & Gardens newsletter
Decor Ideas. Project Inspiration. Expert Advice. Delivered to your inbox.