Nectar vs Helix − which mattress is best on test?
We set the Nectar Memory Foam and the Helix Midnight Hybrid head-to-head to see which mattress wins.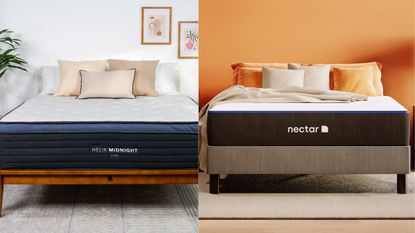 (Image credit: Helix; Nectar)
A good mattress will align your spine, support your shoulders, keep you cool, and bear your weight. Many specialist stores use eco-friendly fabrics and employ a team of drivers to deliver your mattress to your door. But you might have to pay for the privilege: some of the best mattresses will set you back thousands of dollars.
You shouldn't have to spend a fortune to get better sleep. When you shop at Nectar or Helix, you don't have to. Instead, you can buy a bed in a box that's easy to carry, quick to inflate and provides a supportive sleep surface for a fraction of the price. We decided to pit these brands against each other to see which came out on top.
In the interests of a fair fight, we wanted to test the best mattress from each store. We settled on the Nectar Memory Foam and the Helix Midnight Hybrid Mattress. Both Nectar and Helix strive to strike the perfect balance between comfort and support, delivering a premium mattress without the premium price tag. With such similar marketing, it can be difficult to split the difference between the products.
That's where we come in. Our experts slept on these mattresses for months to monitor their performance over time. Casey tested the Nectar, while Jamie tried the Helix. Long story short: they're pretty evenly matched for performance and price, but Nectar just takes the crown, thanks to their lower prices and better warranties.
Nectar vs Helix – which is best overall?
The Nectar comes in every size, from Twin to California King, including a Split King. That's sleep speak for two Twin XL beds pushed together. A Split King is ideal for couples who share a bed, but not a sleep style. This bed was delivered in a box right to Casey's door. All she had to do was unwrap the mattress, roll it out, and wait for it to inflate. She slept on it that same night.
The Helix has thousands of five-star reviews, praising its versatility and quick assembly. It comes in all the standard sizes, though there's no Split King, and there's an option to upgrade to cooling covers and pillow tops. This mattress also comes as a bed in a box, which is lightweight and easy to carry. Jamie rolled out the mattress, which was quick to inflate, and did so without any unpleasant off-gassing.
Nectar Memory Foam Mattress
Sizes: Twin, Twin XL, Full, Queen, King, Cal King, Split King
Materials: Polyethylene and polyester foams
Height: 12"
Firmness: Medium-firm
MSRP: $359-$1078
For
Easy to assemble
Soothes aches and pains
Excellent motion isolation
365-day sleep trial
Lifetime warranty
Against
Poor edge support
Less suitable for hot sleepers
Helix Midnight Hybrid Mattress
Sizes: Twin, Twin XL, Full, Queen, King, Cal King
Materials: High-grade polyform
Height: 11.5"
Firmness: Medium-firm
MSRP: $702.20-$1311.60
For
Memory foam feel
Innerspring airflow
Suits all sleep styles
More cooling
Made more sustainably
Against
100-day sleep trial
Inferior edge support
Nectar vs Helix – which is more comfortable?
WINNER: Helix
It's a close call, but the Helix just takes the victory for its versatility. This hybrid mattress combines the plush feel of memory foam with the support of an innerspring to suit all sorts of sleepers. Good thing, too, since Jamie and her partner have very different sleep preferences. Jamie sleeps on her stomach, so she prefers a firmer mattress that stops her from sinking in and keeps her hips and spine aligned. Her partner sleeps on his back, which means he needs a slightly softer surface that cushions his shoulders to alleviate his aches and pains. Both loved the medium-firm feel of the Helix.
Since Casey suffers from fibromyalgia, she's looking for a mattress with a bit of give that can absorb the pressure from her joints. She found her perfect mixture of comfort and support in the Nectar. When she slept on her front, the mattress sank under her chest to make some breathing space. When she turned onto her back, the Nectar restored the natural alignment of her spine. I'd only caution against the Nectar if you, like Casey's sister, prefer to sleep on a softer surface. She couldn't get comfortable on this medium-firm mattress.
Nectar vs Helix – which is more cooling?
WINNER: Helix
It's no contest. Like most memory foam mattresses, the Nectar tends to trap heat. It's much harder for air to flow through all that dense foam. Though the Nectar is wrapped in a quilted cover, which claims to be cool to the touch, it was pretty ineffective. Casey still woke up most nights in a hot sweat, even with her fan on full blast.
As a hybrid mattress, the Helix combines the plush feel of memory foam with the airflow of an innerspring. That means it sleeps much cooler than the Nectar. This mattress is wrapped in a breathable knitted cover, which wicks away heat and moisture. There's even an option to upgrade to a high-tech GlacioTex cooling cover, though it'll cost you almost $200.
Nectar vs Helix – which offers better edge support?
WINNER: Helix
Neither mattress particularly excels in this area. According to Casey, the Nectar offers extremely poor edge support. She couldn't even sit on the side of the bed to tie her sneakers.
The Helix performed better on test, thanks to a line of reinforced coils around the sides. Jamie needs a mattress with good edge support, as she often ends up sharing a bed with one of her young children, as well as her partner. She decided to test the Helix edge support by filling a glass with water and setting it on the edge of the bed. Though she tossed and turned beside it, the glass remained upright, indicating strong and springy sides. Water only spilled when she placed a 25-lb dumbbell right beside the glass. I wouldn't recommend sleeping right on the edge of the Helix, especially if you're a light sleeper.
Nectar vs Helix – which offers better motion isolation?
WINNER: Nectar
To test the motion isolation of the Nectar mattress, Casey conducted an experiment of her own. She filled a glass with water, set it in the center of her bed, then pushed and pressed around it. The cup never teetered. In sleep terms, that means that your partner could toss and turn across the Nectar mattress, and you shouldn't feel a thing.
Sleeping on the Helix, Jamie could feel her partner moving in the night. Every subtle variation of pressure on his side of the mattress made its way over to hers. With that said, it didn't wake her up in the night. Unless you're a very light sleeper, you should be able to share the Helix mattress.
Nectar vs Helix – which is better at bearing weight?
WINNER: Nectar
The Nectar is made to bear weight. Casey felt that it cushioned her body and relieved pressure from her bones and joints. When she set a 10-lb dumbbell in the center of the bed, it sank just three quarters of an inch, and sprang back into shape as soon as the weight was removed. That's the good thing about a memory foam mattress: it will contour to your every curve at night and bounce right back in the morning.
Jamie only had a 25-lb kettlebell to hand, so that's what she used for the weight bearing test. She found that her kettlebell sank nicely into the Helix mattress, though the cover pulled a little under the strain.
Nectar vs Helix – which is more sustainable?
WINNER: Helix
Both of these mattresses are made with CertiPUR-US certified foams, which are free from ozone-depleting chemicals, such as CFCs. Where Nectar mattresses are manufactured in far-flung factories, Helix mattresses are made in the USA. Each component, from the coils to the foam, is produced on location in Arizona to minimize air miles. Helix foams are GREENGUARD Gold Certified, which means that they're free from fiberglass and kind to your skin.
Nectar vs Helix – which should I buy?
For performance, the Nectar and the Helix are pretty evenly matched. For buyers on a budget, I'd recommend the best affordable mattress on the market: the Nectar Memory Foam. A Nectar Queen costs just $659, and comes with a 365-day sleep trial. That means you can sleep through all four seasons, testing your mattress in heatwaves and harsh winters, and still get your money back if it doesn't work for you.
A Helix Queen costs $999. It's the difference of a few hundred dollars, which is significant, but it's nothing compared to the price of the best luxury mattress. Plus, the Helix is more comfortable, sleeps cooler, and is made more sustainably. It's a win for eco-conscious shoppers and combo sleepers alike. Just bear in mind that each mattress comes with a 100-day sleep trial. That's roughly equivalent to three months, or one season. You might love your Helix in summer, but find it sleeps too cool in winter, and be stuck with it. If you know you want a Helix, I'd recommend purchasing one as the weather turns between seasons, so you can get the fullest possible picture of what it might be like to sleep on this mattress.
How we test
We've written an entire article about how we test mattresses. It involves a lot more than sleeping on the job. If you don't have time to read the whole thing, here's what you need to know.
Our expert testers sleep on mattresses for months, if not years, to monitor their performance over time. We sleep through all four seasons, on our stomachs, backs, and sides, noting whether the mattress keeps us cool and comfortable.
To gauge the firmness of a mattress, we place a weight in the middle of the bed. We tend to use an ordinary dumbbell, the sort you'd find in a home gym. The less the mattress dips, the firmer the surface. From there, we work out which sleepers are best suited to which mattress. Side and back sleepers should opt for slightly softer surfaces that protect their neck and shoulders. If you sleep on your front, you should consider a firmer mattress that stops your hips and spine from sinking in.
To test the motion isolation, we fill a glass with water and set it on one side of the mattress. Then, we toss and turn across the bed, trying to topple the glass. The less water spills, the better the motion isolation. Our edge support test is far simpler: we just sit on the edge of the bed and think.
We record all of the materials in each mattress in the search for innovative design and eco-friendly fabrics. Finally, we consider the cost of the mattress, in addition to any warranties and sleep trials, to determine value for money.
Meet the team
Casey is a freelance writer who covers all things beauty, style, and sleep. You can find her reviews in Tom's Guide, Real Simple, Taste of Home, Forbes, and Insider, as well as Homes & Gardens. For this article, Casey tested the Nectar Memory Foam.
Jamie is a freelance writer and product reviewer with more than 10 years of experience. She's tested some of the best bedding on the market, including a wide range of mattresses. For this review, Jamie tested the Helix Midnight Hybrid.
Emilia is our resident sleep writer at H&G. She spends her days searching the web for the deepest discounts on designer bedding, and spends her nights testing the best sheets, comforters, and mattresses on the market.
Nectar vs Helix FAQs
Are these the best mattresses Nectar and Helix make?
Not necessarily: it depends what you're looking for. If you sleep on your back, or suffer from chronic pain, you'll appreciate the pressure-relieving properties of the Nectar Memory Foam Mattress. Hot sleepers might prefer the Nectar Premier Copper, which incorporates ActiveCool technology that reacts to your body's changing temperature. This mattress stores your body heat while you sleep and releases it again as your temperature drops, keeping you just the right side of cool and dry.
We think the Helix Midnight Hybrid is the best mattress for couples. If you like a firmer surface, while your partner prefers something softer, you'll both appreciate the medium-firm feel of this mattress. If you sleep on your side, you might prefer the Midnight Luxe. This mattress is filled with thick and squishy memory foam that relieves pressure around your hips and shoulders.
How should I choose a mattress?
We've written an entire feature on how to choose a mattress. It all comes down to three key factors.
Size
Consider how much room you need to sleep. Children, tweens, and teens can sleep comfortably in a twin-sized bed, while a Twin XL might be more suitable for shorter adults working with a smaller space. A full-sized bed can accommodate most single sleepers, but a Queen affords more space to sprawl. A king-sized bed can fit the whole family, plus pets, though taller sleepers might appreciate a longer California King. It goes without saying, but remember: the price of a mattress will increase with its size.
Firmness
Whether you opt for a soft or firm surface is partly a matter of personal preference, but it's more about your sleep style. If you sleep on your side, you'll appreciate a mattress with a bit of give that can cushion your neck and shoulders. Front sleepers should stick to firmer surfaces that stop them from sinking in, while back sleepers should consider a medium-firm mattress to keep their hips and spine aligned.
Cooling properties
If you live in a warm climate, suffer from night sweats, or simply sleep hot, you might like a cooling mattress. Some of the best cooling mattresses incorporate thermoregulating technology, while others are infused with cooling gels. Just make sure to steer clear of memory foam: such dense fabric tends to hold heat.
Final thoughts
If you aren't in the market for a new mattress, but you're keen to upgrade your sleep, you could pick up a set of the best cooling sheets. Made from cotton, linen, and natural plant fibers, this breathable bedding will keep you just the right side of cool and dry.
Sign up to the Homes & Gardens newsletter
Decor Ideas. Project Inspiration. Expert Advice. Delivered to your inbox.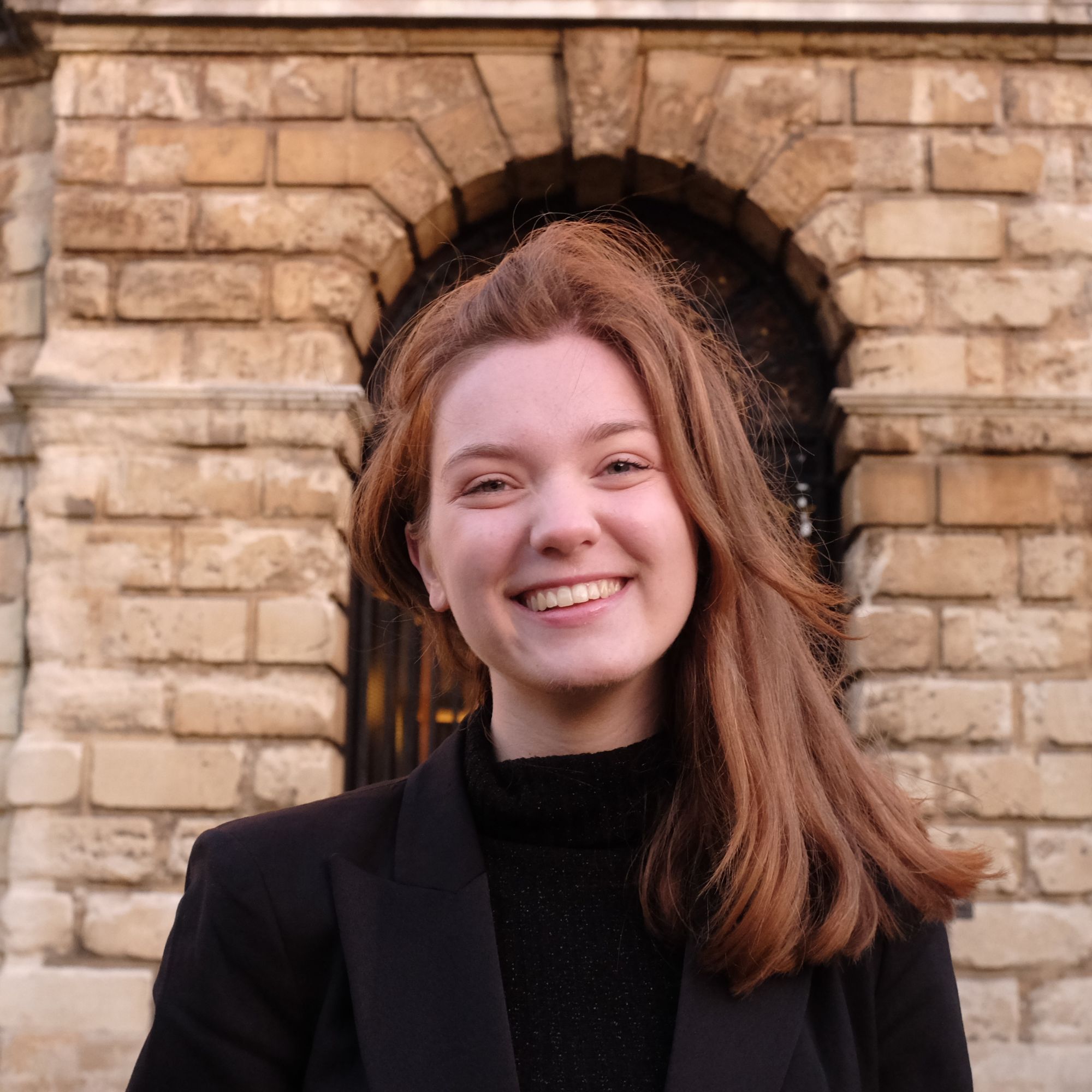 Before she joined Homes & Gardens, Emilia studied English at the University of Oxford, where she sharpened her critical writing skills. She also worked on the other side of the aisle writing press releases for regional newspapers and crafting copy for Sky. Emilia combines her business savvy with her creative flair as our eCommerce Editor, connecting you with the products you'll love. When she's not in the office, Emilia is happiest when entertaining friends al fresco or out in the country.