Ninja vs Instant – who made better air fryers in our tests?
Our experts have settled the Ninja vs Instant debate. We've tested them, so we can use our results to find out which is best.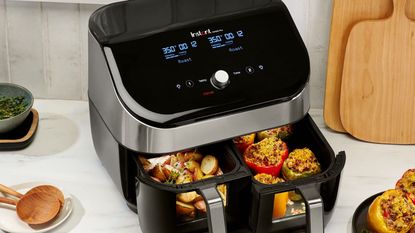 (Image credit: Instant)
In the Ninja vs Instant debate, the discriminators are often tiny. These are the best air fryers on the market. They're versatile, durable, and exceptional value. Choosing to use one is each, but deciding which one you need might be a little trickier.
Our team of expert testers have taken all these air fryers and multicookers to our test kitchen. Here, we put them through their paces, scrutinising every aspect of the appliance.
All the models we dissect below made it into our roundup of best air fryers, but they're brilliant for different reasons and better suited to different homes. Here's what the experts think of the great Ninja vs Instant debate.
Instant Vortex Dual Plus vs Ninja 6-in-1 Dual
Winner: Instant Vortex Plus Dual
These powerhouses are close to perfect. We have to really love a product to give it full marks, because that means that we don't believe there's anything better out there. Such a distinction is rare to find at H&G, but the Instant Vortex Dual Plus earned it. It's the larger version of the greatest air fryer in the world. It's easy to use, gets rid of frying smells and has a handy clear window so you can check on your food without having to open the drawer.
However, the Ninja Foodi almost scored top marks, and it's actually the one that lots of our expert testers own and love. If you're trying to decide between the two, here's everything you need to know:
Swipe to scroll horizontally
| Header Cell - Column 0 | Ninja | Instant |
| --- | --- | --- |
| Dimensions | 15.63 L x 13.86 W x 12.4 H | 17.8 x 17.5 x 14.8 inches |
| Capacity | 8 Quarts | 8 Quarts |
| Settings | Air broil, air fry, roast, reheat, dehydrate, and bake | Air fry, roast, broil, bake, reheat, and dehydrate |
| Cleaning | Removable parts are dishwasher-safe | Nonstick tray and basket, dishwasher-safe insert |
| Temperature range | 105°F–450°F | 95-400°F |
| RRP from brand | $249.99 | $179.95 |
This won the award for being the fastest air fryer in our buying guide. It's super quick, especially when cooking frozen food and can be using separate settings in each drawer, with a synchronised finish. The 8 quart capacity is exactly equal to Instant's, making it brilliant for big families. When we tried to use it at lower temperatures for a little longer, the Ninja wasn't as good as Instant's and it can't get any cooler than 105°F (the Instant can reach 95°F). This also doesn't have a pre-heat function, making it tricky to achieve precise results every time.
For
Very large capacity
Easy to clean
Consistent
With the same capacity and same, dual zone technology as the Ninja, this is a direct air frying rival. It's higher-up in our air fryers buying guide for a couple of reasons. First, the viewing doors. These help you to keep an eye on what you're cooking, so you can achieve crisp perfection without letting the heat out. It also has OdorErase technology, so won't make your kitchen smell like cooking. Our experts found the controls more intuitive and easy to navigate (Ninja has some very similar names for functions). It might not be as quick as the Ninja, but we think it's better.
For
Easy to use
Viewing windows
Sync finish setting
Instant Vortex Slim vs Ninja Max XL
Winner: Instant Vortex Slim
If you're short on space and still air fryer obsessed, there are plenty of compact options on the market. These are, of course, two of the best. Again, they earned a spot in our air fryers buying guide, but for different reasons: the Ninja is our favorite compact air fryer and the Instant is our favorite slim air fryer. Whilst compact and slim fall into a similar lexical fields, those who live in small spaces will know that there are key differences between the two. On balance, the Instant has a better performance, but the Ninja could be a btetter choice if you're really tight on space. Here's everything you need to know to decide which petite powerhouse you want to feature on your countertops.
Swipe to scroll horizontally
| Header Cell - Column 0 | Ninja | Instant |
| --- | --- | --- |
| Dimensions | 8.5 x 12.1 x 11 inches | 12.01 x 15.3' x 12.72 inches |
| Capacity | 5.5 Quarts | 6 Quarts |
| Settings | Max Crisp, Air Fry, Roast, Air Broil, Bake, Reheat, and Dehydrate | Air Broil, Air fry, Bake, Broil, Reheat, Stir Fry, Roast, Reheat, Dehydrate |
| Cleaning | Nonstick and dishwasher-safe baskets and inserts | Removable parts are dishwasher-safe |
| Temperature range | 105°F–450°F | 120 - 400°F |
| RRP from brand | $169.99 | $119.99 |
With a name like Max XL, you might have expected something supersized. Instead, this maximises on space, ensuring that your compact models are delivering on functions without faltering. This has .5 quarts less capacity than the Instant, but that's because it's smaller in every aspect. It boasts a greater temperature range and only misses the 'stir fry' setting off Instant's functions. If you eat a lot of frozen food, the 'Max Crisp' function on this is unrivalled. However, if you need precision, this doesn't pre-heat, so it can be tricky trying to time your meals consistently.
For
Very speedy cooking
High temperature limit
Great at crisping
The dimensions of the Vortex Slim are ever so slightly larger in every dimension when compared to the Nnja Max XL. However, we found that this looked better on the countertop. It also has extra capacity, which, if you're a family looking to maximise your space, can make all the difference. The reheat function is excellent and, in our tests, this made deliciously crispy bacon and fries. Performance wise, this is better and more consistent than the Ninja. It's also reasonably priced too. Our only criticism was that the settings aren't very different from each other, so seem a bit gimmicky.
For
Good capacity
Excellent value
Easy to use
Against
Settings aren't that different
Instant Pot Duo vs Ninja Foodi Multicooker
Winner: Instant Pot Duo Crisp with Ultimate Lid
Much more versatile than air fryers, multicookers can cover a lot of functions. There's no guarantee that they'll air fry, nor is there any guarantee that they will air fry well, but both the Ninja and the Instant are experts across the board. In fact, we loved the Instant Multicooker so much that it's above lots of air fryers in our buying guide to the best air fryers. If that doesn't tell you enough, here are all the details you need to know about both appliances.
Swipe to scroll horizontally
| Header Cell - Column 0 | Ninja | Instant |
| --- | --- | --- |
| Dimensions | 15.39 x 14.21 x 14.25 inches | 13.4 x 15.4 x 15.5 inches |
| Capacity | 8 qt | 6.5 qt |
| Settings | Pressure Cook, Steam & Crisp, Steam & Bake, Air Fry, Broil, Bake, Roast, Dehydrate, Proof, Sear, Steam Souse Vide, Slow Cook, Yogurt, Keep Warm | Pressure Cook, Sauté, Steam, Slow Cook, Sous Vide, Yogurt, Warm, Air Fry, Roast, Broil, Bake, Dehydrate, Proofing |
| Cleaning | Yes | Handwash only |
| Temperature range | 105–450°F | 180-400°F |
| RRP from brand | $349.99 | $199.99 |
If you're looking for versatility the Ninja offers one more function than Instant's multicooker: steam and bake. If we're looking purely at air frying this is pretty good. It cooked food evenly, has another 1.5 quarts of capacity and another 130 °F in its temperature range. All the accessories are dishwasher safe too, making it easy to clean up after the Foodi. Our main criticisms were that this is quite bulky and that the handles can get hot too. If you have some good oven gloves, this won't be too much of a problem.
For
Quick to preheat
Good across all functions
Brilliant for batch cooking
Against
Not compatible with stove top or oven
Even though this lacks one setting compared to the Ninja, it more than makes up for it in performance (and price - this is $150 cheaper). The air fryer function is absolutely flawless: our experts loved it. This is also simple and straightforward to use, especially if you're new to pressure cooking. This automatically releases steam preventing you from ending up in hot water. If you're short on space, this is more compact in every dimension. The cons are that this needs to be hand washed, so if you know you're lazy when it comes to cleaning, you'll be better off with the Ninja.
For
Excellent range of functions
Easy to use
Automatic pressure release
FAQs
Is Instant better than Ninja?
It's difficult to say that one brand is better than the other without accounting for context. Instant tends to be better value, but Ninja is often more dishwasher friendly and quick. We've gone into more detail about the nuances and features of each appliance.
Is Ninja worth more money?
This is product dependent. Ninja makes excellent appliances and, in some instances, they offer extra functions that you might find useful. However, in many instances, Instant offers better value.
Who makes the best air fryer?
Our experts have tested every air fryer on the market and put the Instant Vortex Plus at the top of the list. It boasts incredible value, performance, and quality. However, different homes need air fryers with different functions, so make sure to look at our guide to find the best air fryer for your kitchen.
Final thoughts
Instant tends to offer the cheaper option to comparative Ninja models. If you're looking for capacity, Instant Vortex's Dual Plus is a better option. Not only is it cheaper, it's more consistent and intuitive to use. For those short on space, the Ninja Max XL offers better performance, but is again more expensive. And, if you're interested in a multicooker, the Instant Pot Duo is better at air frying, smaller, and cheaper. You won't go wrong with any of these models though.
How we test
At Homes & Gardens we take our tests seriously. That's why we won't recommend a product until our experts have put it though its paces in our test kitchen. We've tested the Instant and Ninja products recommended here and they're in our buying guide for best air fryers already. If you want to know all the details about how we test, you can visit our dedicated page.
Sign up to the Homes & Gardens newsletter
Decor Ideas. Project Inspiration. Expert Advice. Delivered to your inbox.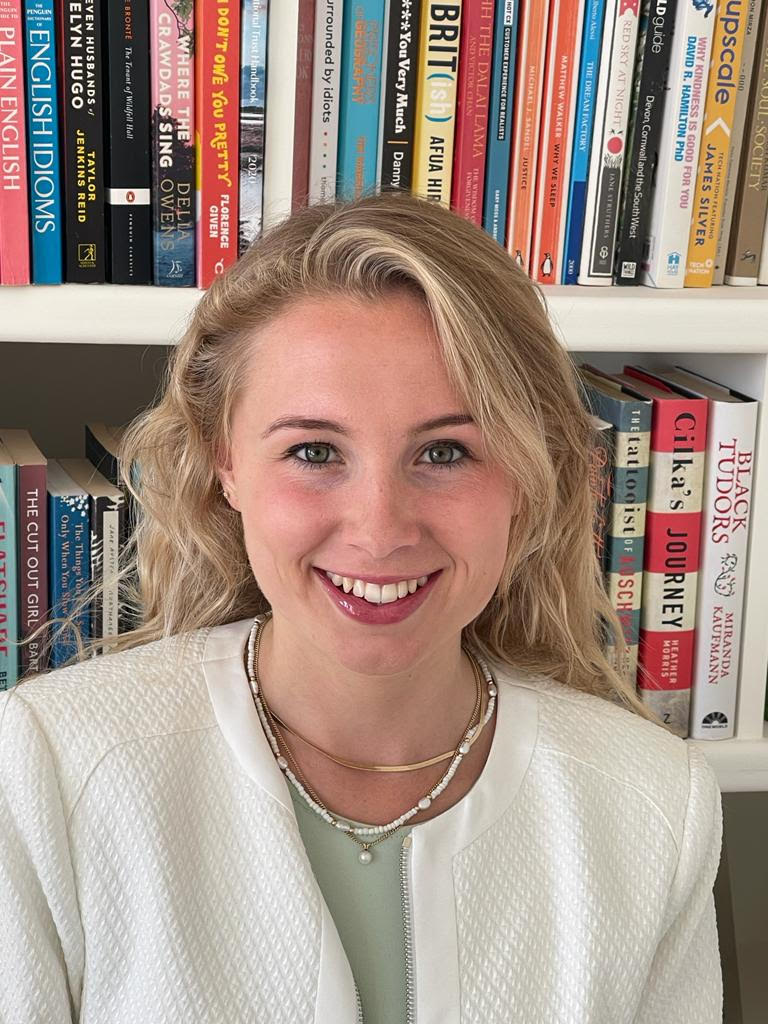 Laura is our eCommerce editor. As a fully qualified barista, she's our expert in all things coffee and has tested over thirty of the best coffee makers on the market. She has also interviewed Q-Graders and world-leading experts in the coffee industry, so has an intimate knowledge of all things coffee. Before joining Homes & Gardens, she studied English at Oxford University. Whilst studying, she trained as a master perfumer and worked in the luxury fragrance industry for five years. Her collection of home fragrance is extensive and she's met and interviewed five of the world's finest perfumers (also known as 'noses'). As a result of this expansive fragrance knowledge, she always puts quality and style over quantity and fads. Laura looks for products which have been designed simply and with thoughtful finishes.