Can you put a double vanity in a small bathroom? Experts discuss
Where there's a will, there's a way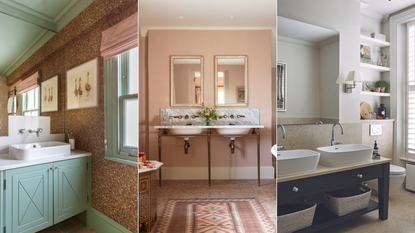 (Image credit: Future PLC)
Since our bathrooms work double duty, giving them the pleasure of the most gorgeous bathroom vanity you can find makes perfect sense. However, if your space is lacking in square footage, you may be wondering whether you can put a double vanity in a small bathroom at all. Or, will it simply make your space feel too cramped and uninviting, leaving little room for functionality?
Despite what your designer instinct may tell you, there is no denying that bathroom vanity ideas, the big and the small, leave endless room to dream.
However, some would argue as to whether it is worth it, or if we should succumb to the single vanity unit, only to make the most of the bathroom instead.
Can you put a double vanity in a small bathroom?
Some design rules must be respected. Others are more open to modification. No matter how organized a bathroom vanity may be, if it is too big, it might slow you down in the morning or impede the delight you take in winding down come night.
Putting a double vanity in a small bathroom can be done, within reason, so an unfathomable design question it is not. This is what experts highlight as key considerations when making this decision:
1. Can you choose a comfortably smaller design?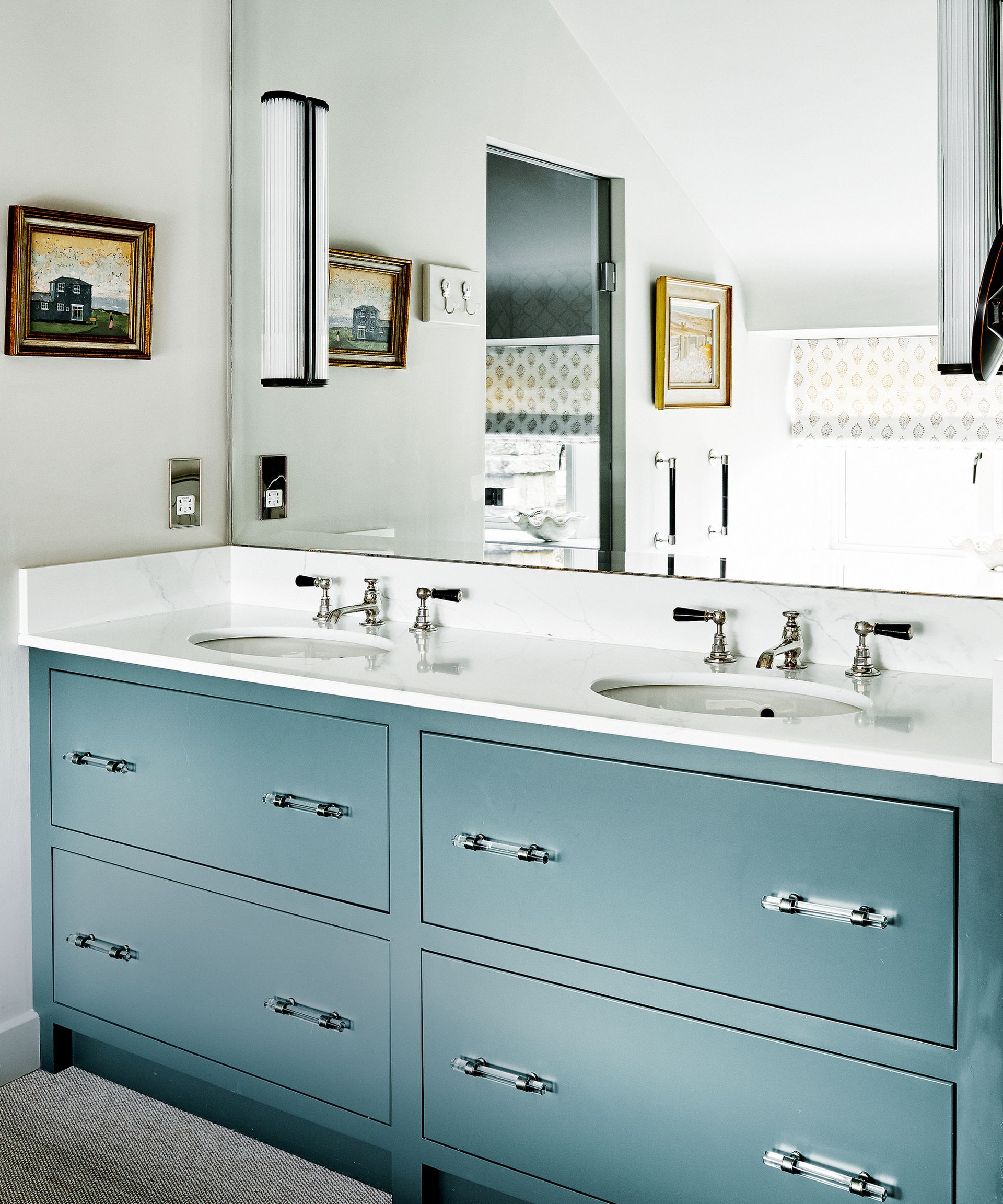 Designing a bathroom vanity that perfectly suits, means ensuring it accommodates all of your space needs and those of the people using it. Considering how it will interact with the rest of your bathroom and fit within the existing layout is key.
'You can use a double vanity in a small bathroom if you have enough space,' professional designer, Soledad Alzaga tells H&G.
Firstly, you need to understand why you desire a double bathroom vanity in the first place. Two sinks make for a simpler morning routine, and in theory, more bathroom countertop space for toiletry movement when getting ready.
'You can absolutely make a double vanity work in a small bathroom depending on the layout and size,' says Elizabeth Vergara, the founder and lead contractor, and designer of Vergara Homes. 'The first step is measuring the space, and making sure it is accurate, every little centimeter counts in a small room. Measure the width, depth, and height.
'When looking for a vanity try to find a sleek and compact option. There are plenty of budget-friendly options online on stores like Amazon and Home Depot.'
'Vanities come in different depths and sizes and you can always have a custom one made,' continues Alzaga. 'The smallest I have seen is 40 inches wide.' This is roughly 1016mm. We have found smaller bathroom vanities at Wayfair, with some as small as 700mm, but it depends on whether this is comfortable for the space. Standard double vanity units are typically quite a lot bigger, ranging from 1,200mm wide all the way up to 2,200mm.
'Bathroom vanities range in height from 30 to 36 inches, with 34 inches being the universal average and the most used.' A custom-made vanity will allow a more flexible design in terms of depth and size too, leaving you to be less reliant on what is available. 'If going bespoke in a small bathroom, choose smaller sinks and wall-mounted faucets. This gives you the option of designing a narrower vanity and freeing up space on the counter,' notes Alzaga.
Soledad Alzaga is the founder of her eponymous business, a boutique residential and commercial interior company based in San Francisco, which was named one of the top 15 best interior design companies in the city. It assists in all aspects of the design and build process of residential and commercial properties from start to finish including consulting and working with architects, builders, and engineers.
Elizabeth Vergara is the founder and lead contractor/designer of Vergara Homes, a bespoke design service for seamless home renovation projects that prioritize style and quality.
2. Will there be enough clearance from other objects?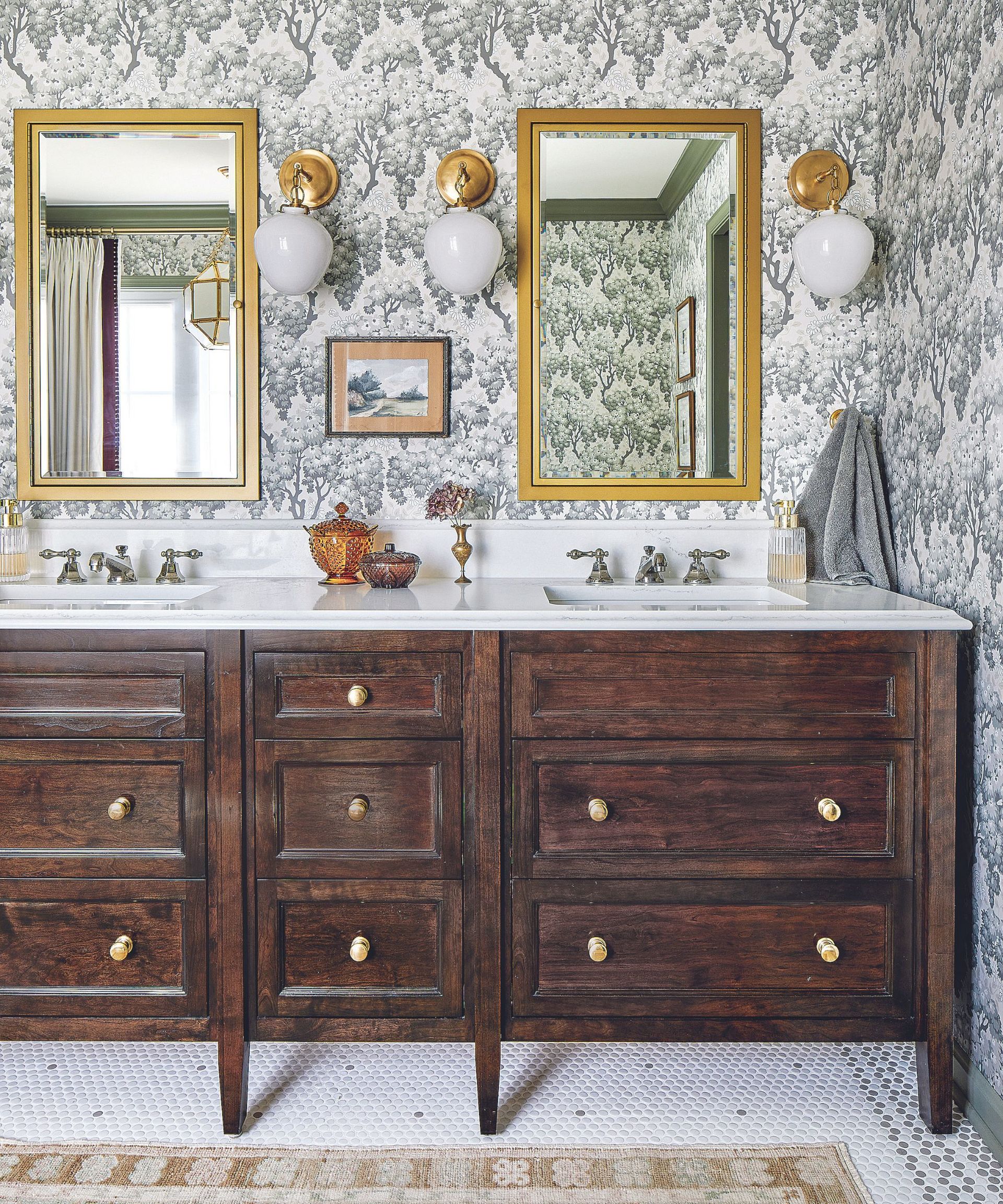 Even if a double vanity fits and will give you enough countertop space that you personally require, without correct clearance from other fixtures, it may not make the wisest addition to a small bathroom design or powder room.
'The ideal clearance is dictated by building standard codes,' notes Alzaga. 'You need at least 15" between the center of a toilet to a wall, vanity, and tub/shower on the sides and you need 21" clearance in front. You can use a vanity right next to a shower with a glass partition if space is tight.'
Owner and interior designer at VERDE Interior Design, Luis Carmona recommends a little less: 'Leaving a minimum of 12" between your vanity and toilet, bathtub, or shower is ideal. This will ensure that there is ample space on both sides of the vanity to leave room for a small trash bin, your toilet paper holder which is often attached to the side of your vanity, and enough clearance to fully utilize the shower or bathtub. If space is limited, try to left or right justify the vanity in the bathroom, assuming that this type of layout works for the space.'
Taking your vanity off the floor can be a clever trick too in a small space: 'Placing the vanity against the wall can oftentimes offer some breathing room on the other side of the vanity, allowing for additional clearance.'
Luis Carmona is the owner and lead designer at VERDE Interior Design. With almost two decades of experience in the creative space (interior design, advertising, and marketing), Carmona gets to blend his many passions into one design studio. Offering interior design and branding services to his commercial clients, VERDE has worked on boba tea shops, Mexican taquerias, sushi restaurants, and financial planning offices. Between the commercial and residential clients, in both Houston and Dallas, the team at VERDE continues to push the limits of design with their signature clean design aesthetic.
3. Are you willing (and able) to be inventive with storage?
Using wall space is a fine way to free up bathroom flooring and create the illusion of height, while you add clever bathroom storage. If you are forsaking a significant amount of countertop space or under counter space, you should look to what other small bathroom storage options are available.
'You won't have a lot of counter or storage space, but that can be remedied by adding an open shelf or medicine cabinet above,' says Alzaga.
There are many beautiful medicine cabinets around nowadays that may add design interest. Choose a wall-mounted option to encourage a loftier modern bathroom appearance, all while concealing toiletries and household essentials.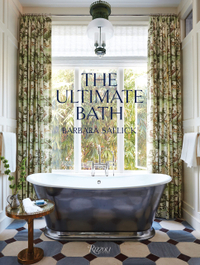 The Ultimate Bath by Barbara Sallick, $44.99 at Amazon
The co-founder of Waterworks, Barbara Sallick is a trusted expert on bathroom design. In this book, Barbara walks readers through the creation of stylish, functional spaces from a wide-ranging list of revered design contributors, including Gil Schafer, Nickey Kehoe, Brigette Romanek, and Miles Redd.
FAQs
Leah Tuttleman, Allied American Society of Interior Designers member and interior designer at Re-Bath. Tuttleman is a graduate of The University of Arizona with a BS in Interior Design. With over 25 years of experience in all areas of design from commercial to residential, her talents encompass design direction, project management, as well as fabrication.
Laurel Vernazza has extensive experience in real estate as well as working with design customers, giving her a steely eye into house design trends.
---
Where there's a will, there's a way. Although a double vanity unit may seem like an extravagant design choice in a small bathroom space, it does not have to be pushed to the side since there are many creative solutions, if you really want to make it work.
Sign up to the Homes & Gardens newsletter
Decor Ideas. Project Inspiration. Expert Advice. Delivered to your inbox.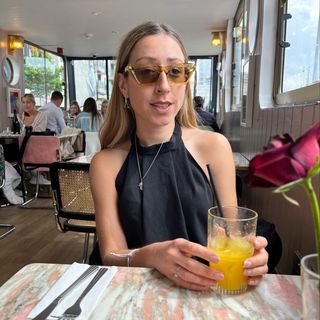 Camille is the former deputy editor of Real Homes where she covered a broad range of topics, including house tours, small space design, and gardens. She studied English language and Italian at the University of Manchester and during a year abroad studying linguistics and history of art in Bologna, Italy she started documenting her adventures and observations in a blog. Camille is always creating and spends her downtime painting, taking photos, traveling, and writing short stories.