The 7 dirtiest places in an entryway – and how to keep them sparkling
Keep grime at bay. These are the areas of an entryway that get the dirtiest plus expert advice on cleaning them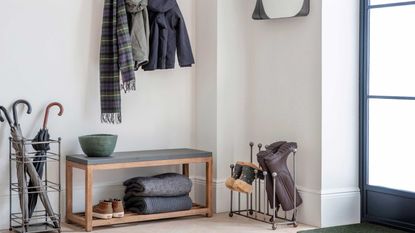 (Image credit: Garden Trading)
Since it's the way into a home, it's inevitable that the entryway will accumulate grime from outside along with the smudges and general gunk that come with everyday living. For a great first impression as well as good hygiene all have to be dealt with.
Following the best entryway cleaning tips makes the chore easy and it's also important to understand which are the dirtiest places in an entryway so you can allocate your time effectively.
We asked cleaning experts to provide the lowdown on the areas that harbor the most muck and, more importantly, how to clean them so they're sparkling and germ-free.
Dirt traps in an entryway
Cleaning an entryway thoroughly requires knowing how dirty the different parts of the space become. These are the hot spots for debris, mud, germs, and more, along with the cleaning tips to ensure that none of it lingers in your space.
1. Doormats
What's on the soles of shoes and boots makes doormats the recipient of all sorts of grime in the entryway. 'Doormats and rugs are the first line of defence against dirt and debris from outside,' says Alicia Sokolowski, president and co-CEO at the eco-friendly cleaning company AspenClean.
'When entering, people often wipe their shoes on these surfaces, which means they collect a significant amount of dirt, mud, and moisture. They can become breeding grounds for bacteria and fungi if not cleaned regularly.'
Shari Cedar, co-owner and VP of AK Building Services, which provides commercial janitorial services in Florida, agrees. 'Dirty shoes track everything in starting at the entrance mat,' she says. 'Think debris, dirt, sand, and anything else that may have been tracked in from a garage or outside.'
Cleaning doormats and rugs is an essential task. 'Vacuum or shake out the mats regularly to remove loose dirt and debris,' says Alicia. 'For spot cleaning, mix equal parts white vinegar and water in a spray bottle. Spray the stained area, let it sit for a few minutes, then blot with a clean microfiber cloth. For deeper cleaning, sprinkle baking soda on the mat, let it sit for 15 to 20 minutes, and then vacuum it up.'
Alicia is the president and Co-CEO at AspenClean. With over 17 years of experience, Alicia specializes in creating healthier, green alternatives to chemical-based cleaning products and services and demonstrating how it can be easy to go green when cleaning.
2. Floor and floor grout
While doormats and rugs are bound to get dirty, so too is the entryway floor as a whole. 'The floor in an entryway receives constant foot traffic, making it susceptible to dirt and grit being tracked in from outdoors,' says Alicia Sokolowski. 'The grout lines between tiles are particularly prone to accumulating dirt because they create crevices that are difficult to clean. Additionally, in wet weather, mud and moisture can seep into these areas, leading to staining and grime buildup.'
The best way to keep the floor clean? Use the best vacuum cleaner or sweep up. 'Sweeping or vacuuming regularly will prevent dirt from being ground on the floor,' says Alicia. Bear in mind that what the floor is made from matters and knowing how to clean hardwood floors, how to clean encaustic tiles, and how to clean stone floors will keep the particular surface in good condition.
As for grout? 'Make a paste using baking soda and water, apply it to the grout lines, scrub with a toothbrush or grout brush, and rinse with water,' says Alicia.
3. Light switches and doorknobs
Feet track in dirt, but hands transfer it to the entryway, too. 'Light switches and doorknobs are high-touch surfaces many use when entering or leaving a home,' says Alicia Sokolowski. 'As a result, they can harbor germs and bacteria, especially if people touch them with dirty hands. Regular cleaning of these surfaces is essential for maintaining a hygienic entryway.'
Both doorknobs and light switches are straightforward to clean. 'Make a disinfecting solution by mixing equal parts water and white vinegar in a spray bottle,' recommends Alicia. 'Spray this solution onto a microfiber cloth (not directly on the surfaces) and wipe down the light switches and doorknobs.' There are a whole host of other things you can clean with vinegar, so it's always worth keeping at hand.
4. Shoe storage area
The place where you stash shoes as part of organizing an entryway is one that's likely to build up dirt. 'In areas where shoes are stored or removed, such as shoe racks or trays, dirt and debris from the soles of shoes can accumulate over time,' says Alicia Sokolowski. 'People often neglect to clean these areas regularly, leading to the buildup of dirt, dust, and potential odors.'
Banish the grime as well as any smells. 'Regularly shake out or vacuum the shoe tray to remove loose dirt and debris,' says Alicia. 'If there are stains or odors, sprinkle baking soda in the tray, let it sit for a few hours or overnight, and then shake or vacuum it out.'
5. Walls and baseboards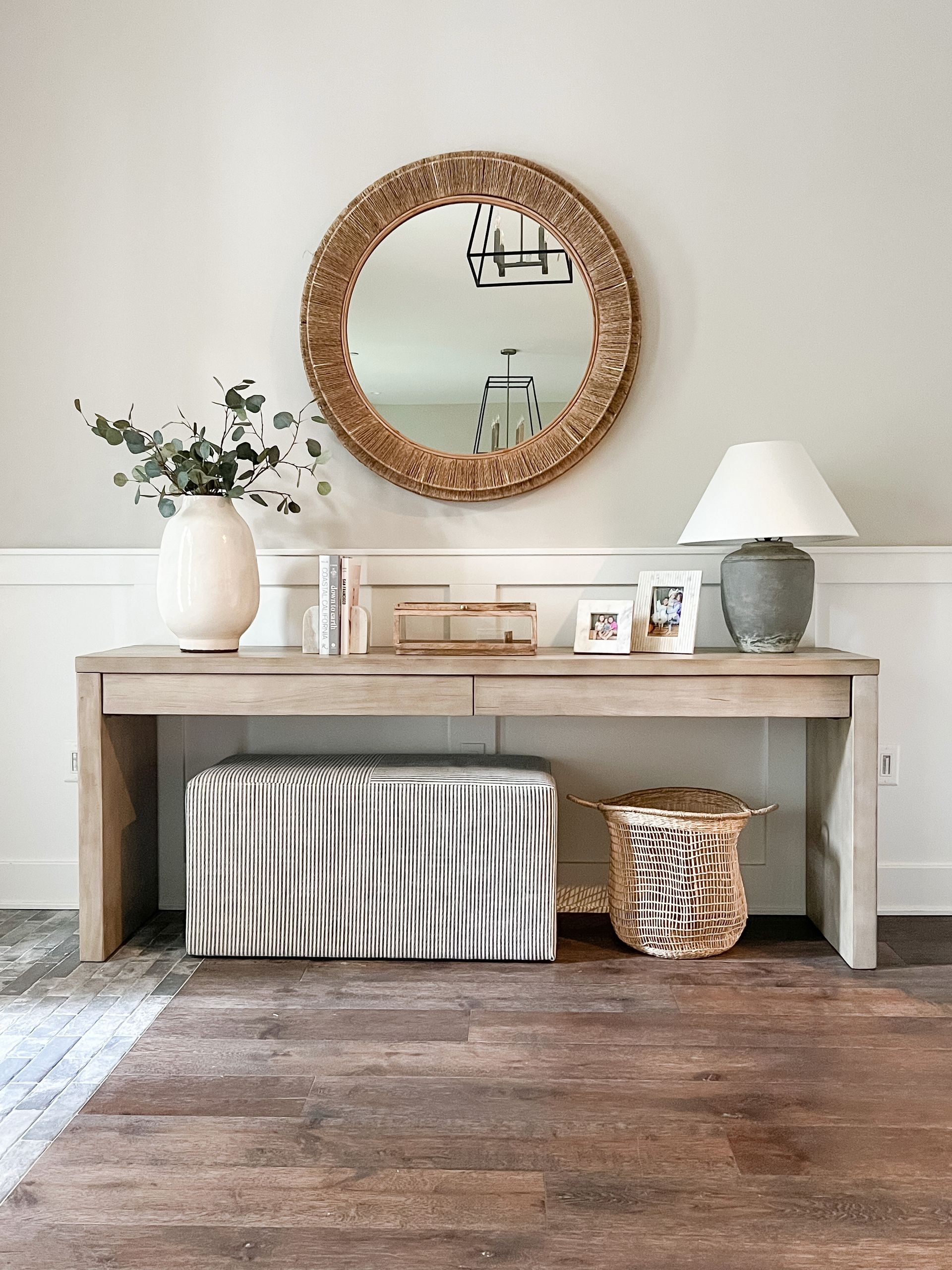 The entryway is a busy part of the home, and walls and baseboards can show the results. 'Walls and baseboards in entryways can accumulate dirt and scuff marks from shoes, bags, and other objects that come into contact with them,' says Alicia Sokolowski. 'These areas are often overlooked during cleaning routines but can contribute to the overall cleanliness of the entryway.'
Both can be made pristine. 'Mix a few drops of natural dish soap with warm water to create a gentle cleaning solution,' advises Alicia. 'Dampen a sponge or microfiber cloth with the solution and gently wipe down the walls and baseboards. Be careful not to oversaturate the walls.' If they're due for a fresh color rather than a cleanup, get savvy about painting a wall or painting baseboards to make the task easy.
6. Underneath furniture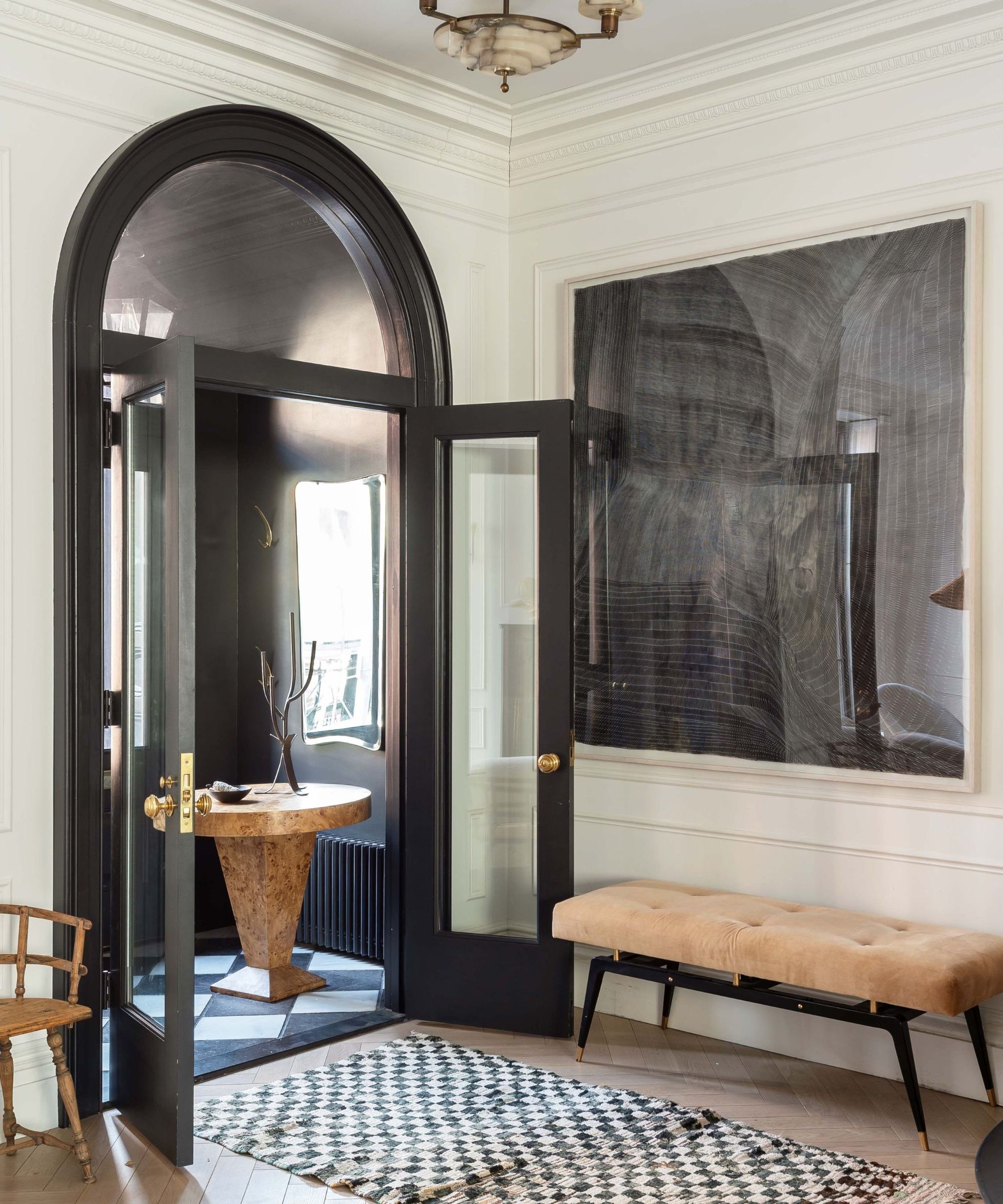 Dirt gets around and one of the places it gathers is below furniture. 'Dust and dirt love to hide under entryway furniture, especially if there are gaps between the furniture and the floor,' says Marla Mock, president of Molly Maid, a Neighborly company. 'This space becomes a prime spot for dust bunnies to gather.'
Cleanup is easy, though. 'For hard surfaces, use a long-handled dust mop,' she says. 'For carpets, use a vacuum cleaner to effectively remove dirt from underneath any furniture.'
7. Air filters and vents
Consider other ways dirt can get in aside from via the front door. 'Dust and particles from outside can be drawn into entryway vents and settle on air filters, making them dirty,' says Marla Mock.
The solution? 'Replace air filters regularly and remove register covers to vacuum visible dust and debris from vents before replacing them,' she says.
FAQs
How do I keep my entryway clean from dirt?
To keep an entryway clean, start from the top of the room by dusting entryway lighting, then clean the front door. Pay attention to walls and baseboards, too, getting rid of dirt and marks, and remove dust from furniture and clean mirrors. Sweep or vacuum shoe storage areas and under furniture as well as vacuuming floors.
---
Each entryway has its particular hot spots for grime. 'The dirtiest areas in an entryway can vary depending on climate, foot traffic, and how well the area is maintained,' points out Alicia Sokolowski. Keep those individual to your home pristine, though, and you can tackle germs to protect every member of the household and keep the rest of your home cleaner, too.
Sign up to the Homes & Gardens newsletter
Decor Ideas. Project Inspiration. Expert Advice. Delivered to your inbox.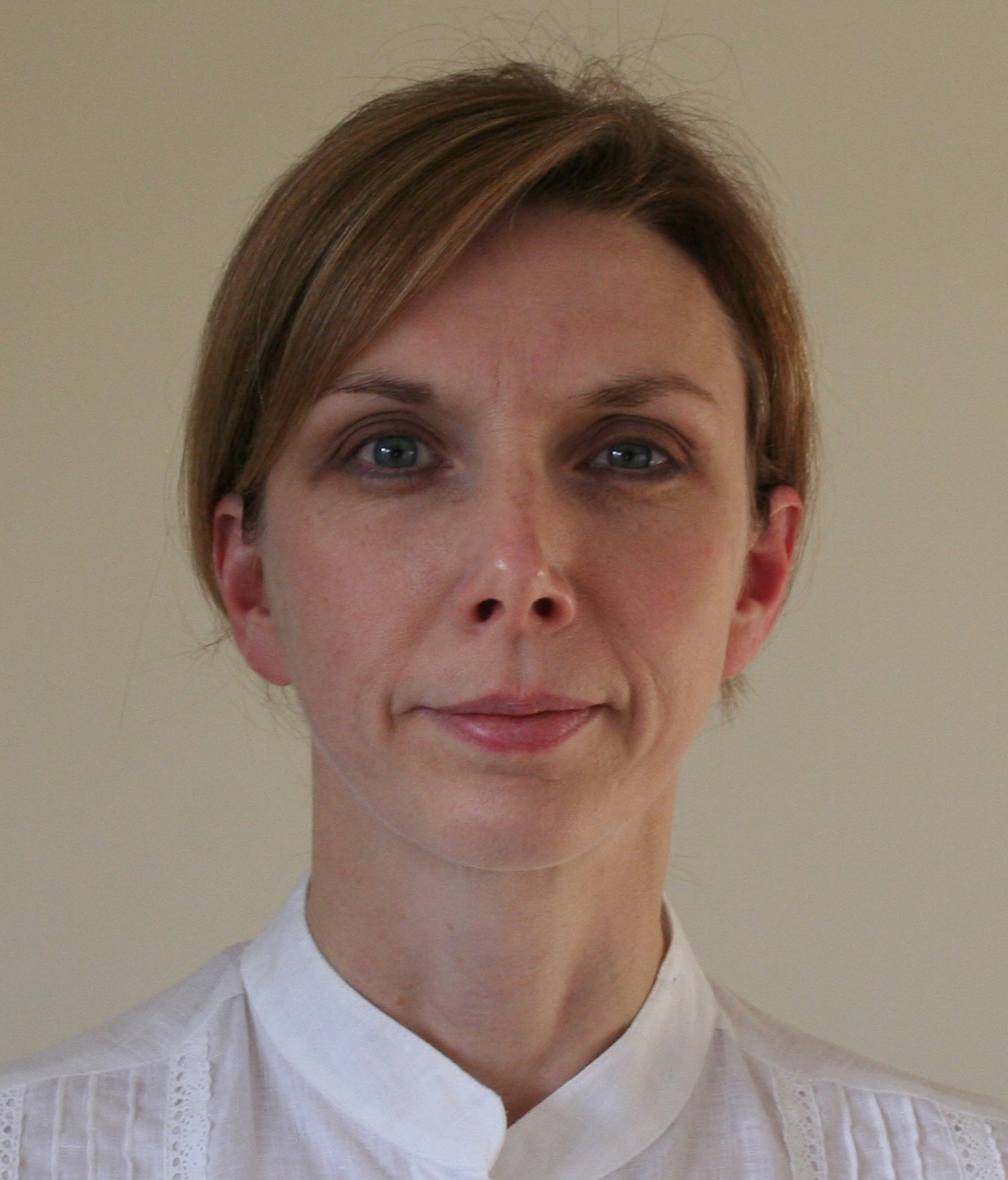 Sarah is a freelance journalist and editor. Previously executive editor of Ideal Home, she's specialized in interiors, property and gardens for over 20 years, and covers interior design, house design, gardens, and cleaning and organizing a home for H&G. She's written for websites, including Houzz, Channel 4's flagship website, 4Homes, and Future's T3; national newspapers, including The Guardian; and magazines including Future's Country Homes & Interiors, Homebuilding & Renovating, Period Living, and Style at Home, as well as House Beautiful, Good Homes, Grand Designs, Homes & Antiques, LandLove and The English Home among others. It's no big surprise that she likes to put what she writes about into practice, and is a serial house renovator.