How to organize necklaces – 7 stylish storage options to prevent tangling
Avoid tarnishing and tangling with these seven necklace storage solutions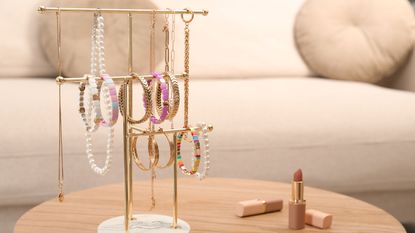 (Image credit: Getty Images)
Sign up to the Homes & Gardens newsletter
Decor Ideas. Project Inspiration. Expert Advice. Delivered to your inbox.
Thank you for signing up to Homes & Gardens. You will receive a verification email shortly.
There was a problem. Please refresh the page and try again.
Something as small as a necklace should be relatively easy to find a home for in your bedrooms or bathroom vanities – but their tendency to tangle makes it tricky. So what is the best way to organize necklaces?
When organizing jewelry, there are a few things you want to take into consideration, experts warn, from how often you wear it, to what it is made out of – and getting it wrong could damage your pieces for good.
Here is how the experts keep their necklaces safe with smart storage.
How to organize necklaces
When it comes to something as dainty, delicate, and often expensive as necklaces, getting your storage ideas right is more important than you may think to prevent damaging your prized pieces – especially as these finicky accessories tend to tangle themselves in knots when we turn our backs.
1. Keep everyday necklaces separate from formal pieces
Whether you keep your necklaces in your bedroom storage or bathroom vanity, it is important to keep your everyday pieces separate from your formal accessories to make everyday life simpler, says Laura Taylor, jeweler and founder of Lorel Diamonds.
'Keeping your everyday jewelry separate, whether that's within the same jewelry box or a completely different one, will make your life so much easier. Doing this will help you quickly find and wear your favorite pieces without fuss, tangling, or rummaging around – avoiding causing damage to expensive necklaces you only wear on special occasions.
'Next time you're in a rush or having a hectic morning, you'll be glad you made this small change,' she says.
2. Organize my metal, as well as by type
It is not just your everyday and formal necklaces you need to keep separate, Laura Taylor, jeweler, warns, but different metal types too:
'Different metals, such as silver and gold, can react with one another, leading to issues like discoloration, which is the last thing you want when you've gone to all the effort of organizing your collection,' she explains.
'By grouping the same metals you protect the longevity of your jewelry, ensuring that each piece looks as good as the day you bought it.'
3. Go classic with a jewelry box
One storage product many organizers can't live without is a good jewelry box – a classic for keeping necklaces together for a reason.
'In my opinion, the best way to organize and store necklaces is by using a jewelry box,' Nathaly Vieria, owner of InspireClean, agrees. 'These are great because they come with slots, hooks, and various storage options perfect for organizing different necklaces. Jewelry boxes can be organized into categories, such as gold, silver, or costume jewelry, or you can also use dividers to separate out the more delicate necklaces. This makes them easier to find and prevents the necklaces from getting tangled together.'
That being said, it is important to pick a box that has adequate storage for all of your necklaces, as many place emphasis on rings and bracelets instead. We like this necklace storage box from Etsy.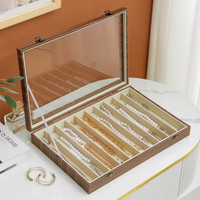 Necklace Storage Box | $31.47 at Etsy
This large-capacity box offers ample space for your treasured bracelets, beads, and chunky necklaces, keeping them safely stored and easily accessible.
4. Double your necklaces as wall art
If you have a large collection of attractive necklaces, then wall storage is a great option that allows you to pick and choose from your whole set each morning, suggests Nicole Gabai, professional organizer, founder of B. Organized, and NAPO member:
'For necklaces, you can place push pins in a staggered pattern along a wall or on an attractive bulletin board and hang your necklaces and bracelets from them. If you don't have a lot of wall space, you can also carefully hang your necklaces all along the horizontal part of a heavy-duty hanger. You should be able to fit dozens of necklaces on one hanger, and it's easy to see and remove just one at a time without disturbing the rest.'
You could even use hooks on the underside of bedroom shelving to keep your necklaces close to other jewelry storage, or near makeup – especially if you already have small bedroom storage that is already full to bursting.
Nicole founded B. Organized over 20 years ago and is a Golden Circle member of NAPO – the National Association of Productivity & Organizing Professionals. She's also the author of the best-selling book The Art of Organization.
5. Use a jewelry tray for larger pieces
Larger, chunkier necklaces, or those made from pearl, need special treatment to prevent them from getting distracted or tarnished. Marcie Kreutzer, professional organizer and founder of For The Love of Simple recommends picking up a velvet jewelry tray to keep them safe:
'Using a tray will allow your necklaces to lay flat and not pull or tug, plus will give you a clear view of what you have for when choosing what to wear. You can also stack trays, making it easier to use height in storing multiple items and not take up too much counter space. Trays, like these from Amazon, are also helpful for odd-shaped or unique necklaces, too,' she says.
6. Convert your closet door into a personal jewelry store
Closet storage isn't just for clothes, Mary Jo Contello, professional organizer and founder of Organized by MJ, reminds us, your closet door can be used to stow away your necklaces to easily match them to your outfits.
'I have used the Elfa over-the-door organizer from The Container Store for jewelry in my sister's home,' she shares. 'The Elfa over-the-door system allows you to attach peg board-like pieces onto it and then hang the necklaces. We also had baskets for bracelets. You can easily stagger the necklaces too. This is just one of the many ways to use the Elfa door system and great use of the back of a closet or bedroom door for added closet organization.'
Mary Jo Contello spent years in the corporate world, when downsizing and layoffs left her with a sudden need for a new direction in life. Passionate about organizing, she started Organized by MJ with the goal of cleaning and organizing people's spaces in Houston, TX and the surrounding communities. MJ is also a member of the National Association of Productivity and Organizing (NAPO).
7. Use a tree stand for daintier pieces
If you only have the odd few necklaces, and don't mind having them on display, a necklace tree is the best bet, says Marcie Kreutzer, professional organizer.
'Hanging your necklaces on a stand like this one from Amazon will keep them from getting tangled and intertwined with each other. This also saves counter space by allowing you to store items up instead of flat.'
FAQs
Does tangling necklaces damage them?
When necklaces tangle, either by themselves or with other necklaces, it weakens the metal. This damage is then made worse when we try to pull or tug them apart. The best way to separate them is to lay the tangle flat on a white surface and slowly untie the knots. Alternatively, for expensive necklaces or severe knots, take them to a jeweler.
Is it better to hang necklaces?
Where storage space allows, it is best to hang necklaces with good spacing between them than it is to lay them down or pool them into piles as hanging is the only way to completely avoid tangles. This can be achieved by using a necklace tree or hanging hooks on a shelf or wall.
---
'There are so many ways to store and organize your necklaces, and it can often be overwhelming, especially if you're new to this. Experiment with various storage methods, such as drawer displays, stands, or wall-mounted hooks to find what works best for you,' concludes Laura Taylor, jeweler.
'For instance, if you prefer to see your options and necklaces form a significant part of your jewelry collection, a necklace stand might suit you better than a drawer where all your necklaces would be hidden from view. Plus, necklace stands are a great option for avoiding tangles – there is no harm in swapping your system to find something that works for you.'
Sign up to the Homes & Gardens newsletter
Decor Ideas. Project Inspiration. Expert Advice. Delivered to your inbox.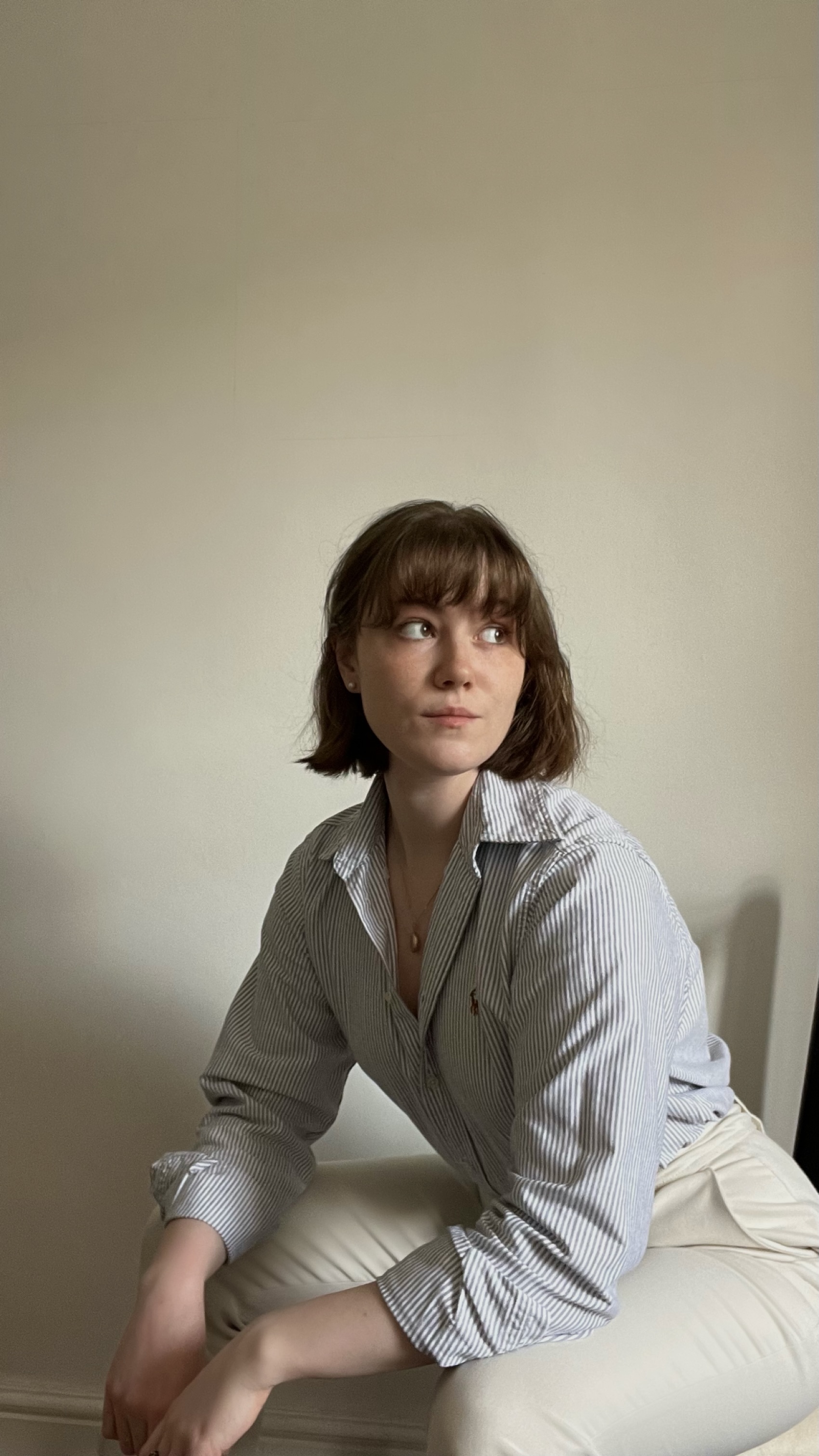 Chiana has been at Homes & Gardens for a year, having started her journey in interior journalism as part of the graduate program. She spends most of her time producing content for the Solved section of the website, helping readers get the most out of their homes through clever decluttering, cleaning, and tidying tips – many of which she tests and reviews herself in her home in Lancaster to ensure they will consistently deliver for her readers and dabbles in the latest design trends. She also has a first-class degree in Literature from Lancaster University.