10 things the most organized people have in their entryways, according to organization and interior experts
The 10 things that will keep your entryway functional, with the added bonus of ensuring it's aesthetically pleasing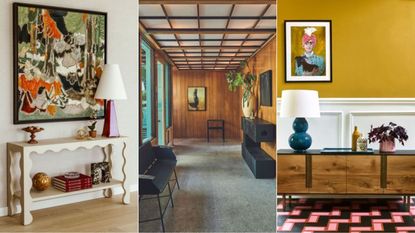 (Image credit: Charu Gandhi / Elicyon / Joyce Park / Future )
Sign up to the Homes & Gardens newsletter
Decor Ideas. Project Inspiration. Expert Advice. Delivered to your inbox.
Thank you for signing up to Homes & Gardens. You will receive a verification email shortly.
There was a problem. Please refresh the page and try again.
Entryways require quite a bit of preplanning to ensure they remain organized since by its very nature an entryway has a constant flow of in and outgoing items that can easily become cluttered and disorganized if you have not created some kind of system.
The most organized individuals have a carefully curated entryway that balances both functionality and aesthetics by finding entryway storage and organizational options that combine the two.
Our experts have shared the key things the most organized people have in their entryways.
Things the most organized people have in their entryway
Begin by considering the needs and lifestyles of your household members, then accommodate these by creating dedicated zones for items and finding the right organization and storage solutions to create order in your entryway.
You should also consider the shape, size, and main functions of your entryway. This can help guide what kind of storage systems you need and which items to prioritize in your organization.
1. Clear zones for specific purposes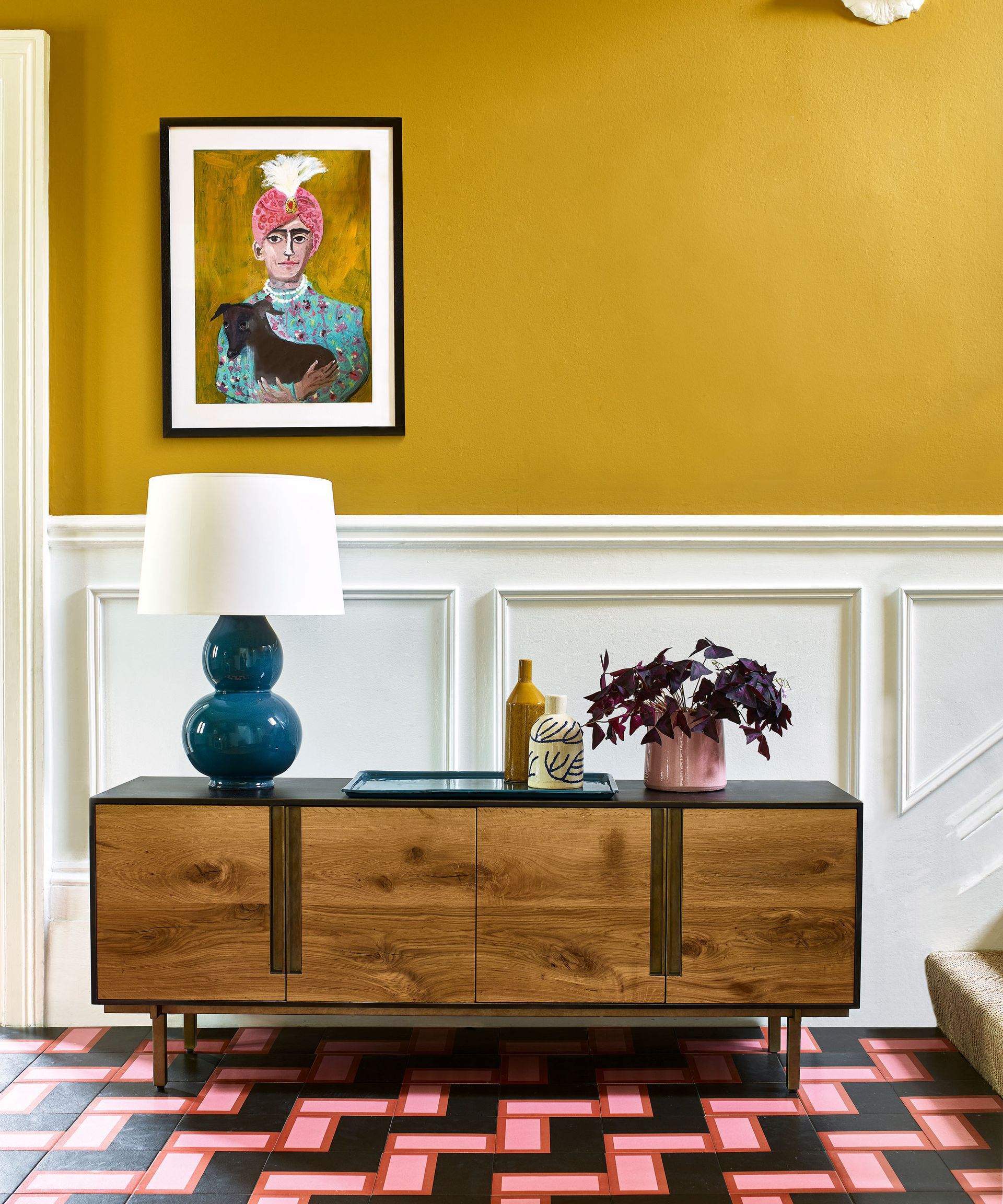 First and foremost, you should establish clear areas for the different items that are part of your entryway in order to create a clear flow of actions when coming in and out of your home.
'Organized entryways often feature designated zones for specific purposes,' explains Rich Mullins, interior design expert and owner of H2O Plumbing. 'For example, incorporating a small bench or a shoe rack defines a spot for removing and storing shoes, preventing them from scattering around. A stylish catch-all tray or bowl for keys and small essentials is a practical addition. By creating clear areas for different activities, you ensure that items are easily accessible and where they belong.'
Aimee Hutzell, professional organizer and owner of Inspired Living NW adds, 'Decrease stress by establishing clear and defined homes for every single item that is used multiple times per day. A designated spot for your keys, purse, and phone is critical to save time and energy.'
Consider which zones certain items should be dedicated to in order to increase efficiency and keep your space organized. For example, keep items near your front door that may need to the the first or last thing you access in your home, such as an umbrella stand, and keep items such as mail storage further into your entryway to encourage yourself to take mail into another room and sort through it.
Aimee Hutzell owns and runs Inspired Living NW, a Portland-area professional organizing company. Her mission is to provide custom organizing and coaching solutions for an inspired home and a peaceful heart. With a background in the mental health and early childhood education fields, Aimee specializes in working with individuals and families, including those who struggle with Chronic Disorganization, ADD/ADHD and generalized anxiety disorder. She also works with business professionals and women-owned businesses in both residential and office settings.
2. A console table
Perhaps the most important storage option in an entryway – perfect for keeping the various items entryways normally house, from bike locks, keys, mail, receipts, and coupons, to decor – is an entryway table.
Jolynn Hansen, interior designer, professional organizer and founder of Lofty Designs says, 'I always recommend having a console or storage shelf in an entryway for a quick and easy place to drop off smaller items. If the entryway is large enough for a console, I suggest using something that has one to three drawers so things can be easily tucked away.'
You can create designated sections for certain items within your console table to keep it organized. To do this you may want to use a drawer organizer, such as this bamboo expandable drawer organizer from Amazon.
3. A catch-all bowl, box or tray
'Consider including a small catch-all tray or bowl for items like loose change, small accessories, or other miscellaneous items that tend to accumulate in pockets,' suggests Raychel Klein professional organizer, certified KonMari consultant, and founder of Raybaybay Home Organizing.
'Having a designated spot for these items prevents them from cluttering up other surfaces in the home. Make sure this bowl/tray/box is not too large and becomes a dumping ground. But having a "landing zone" for miscellaneous items is key to keeping clutter at bay.
'Additionally, make a point to clear this catch-all every Sunday night to start your week off clearly.'
Choose an option that suits the aesthetics of your entryway decor and is large enough so it won't overflow, but not too large that it ends up becoming a storage box that you never get around to emptying.
Considering many of us often don't have the time to put everything in an organized position, for example in the morning rush to get to work this catch-all zone is simply a temporary way to keep clutter in one space until there's time to sort through it.
Raychel Klein started her home organization business in 2020 with the mission of helping people escape the vicious cycle of clutter. She is a certified KonMari consultant based in Seattle, Washington.
4. Multifunctional seating
When creating a logical flow in your entryway, it will often make sense to have a seating option such as a bench or a stool in your entryway for putting shoes on, or just as an inviting decorative element.
If you opt to have a bench or stool in your entryway, why not use it as an organizational opportunity to maximize the space you have by investing in multifunctional seating options that double as a storage space?
'A bench or stool that doubles as storage is a great way to have decorative furniture that also hides clutter,' recommends Raychel Klein. 'I recommend keeping off-season items in these pieces – winter hats, scarves, and gloves during the summer months, and sun caps, and portable fans during the winter months.' Alternatively, you can keep regularly used shoes in them so you can stay in one zone when taking your shoes off and storing them away.
These multi-functional options are also the perfect small entryway storage ideas to maximize the space available.
Was $598.00, now $478.40
Tuck all your entryway items away using this storage bench.
5. Organization baskets
Storage baskets are one of our favorite storage solutions, and apparently, the feeling is mutual for interior and organization experts alike. Not only are these convenient and easy to use, but they can also be a beautiful addition to your entryway.
'Baskets are a good way to keep the entryway organized by containing items such as hats, gloves, and other small items,' says Jonathan Faccone, interior designer and the founder of Halo Homebuyers. They also keep everything in one place and prevent items from getting lost.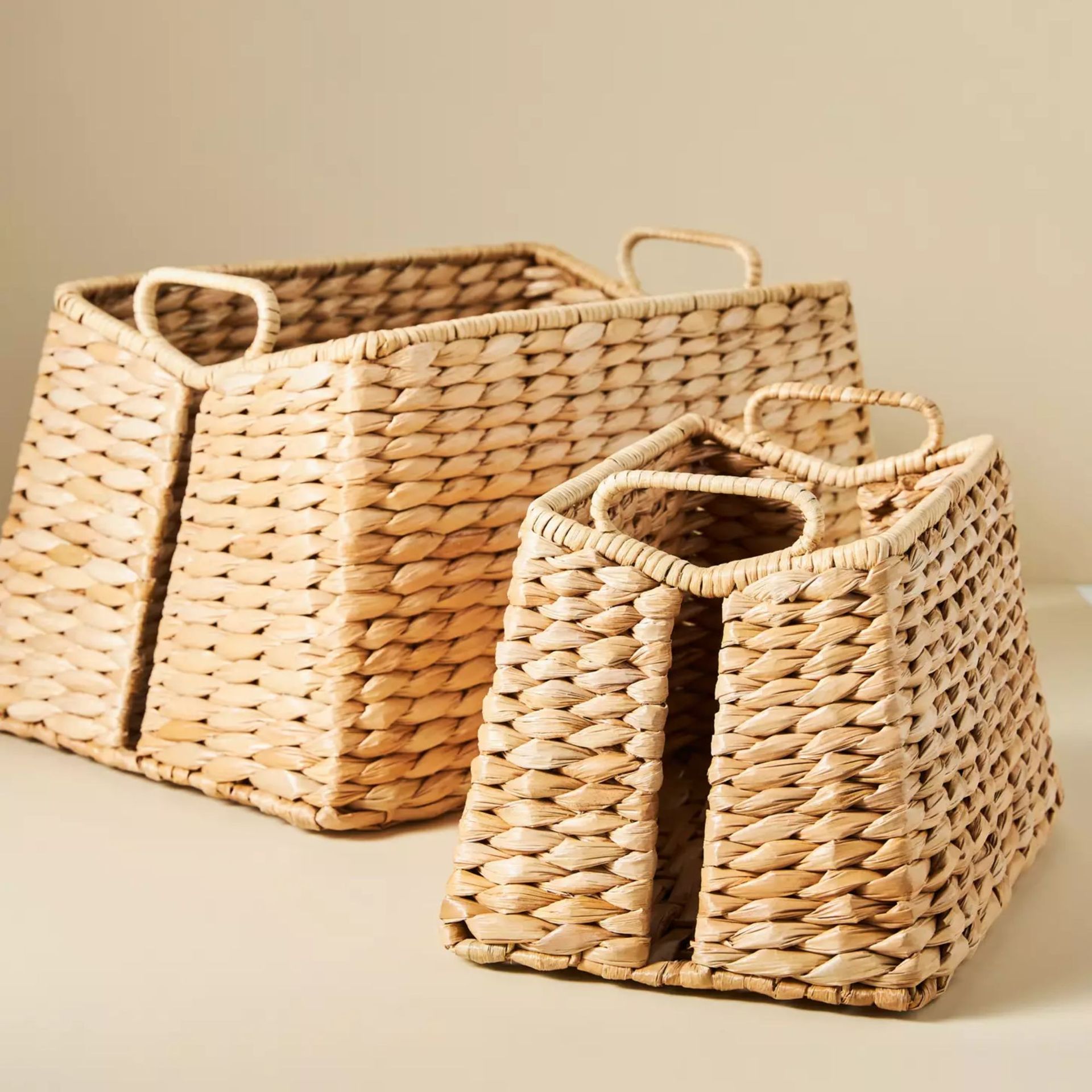 $179.95
These two baskets are a great addition to a living room as some living room storage, perfect for books or miscellaneous items.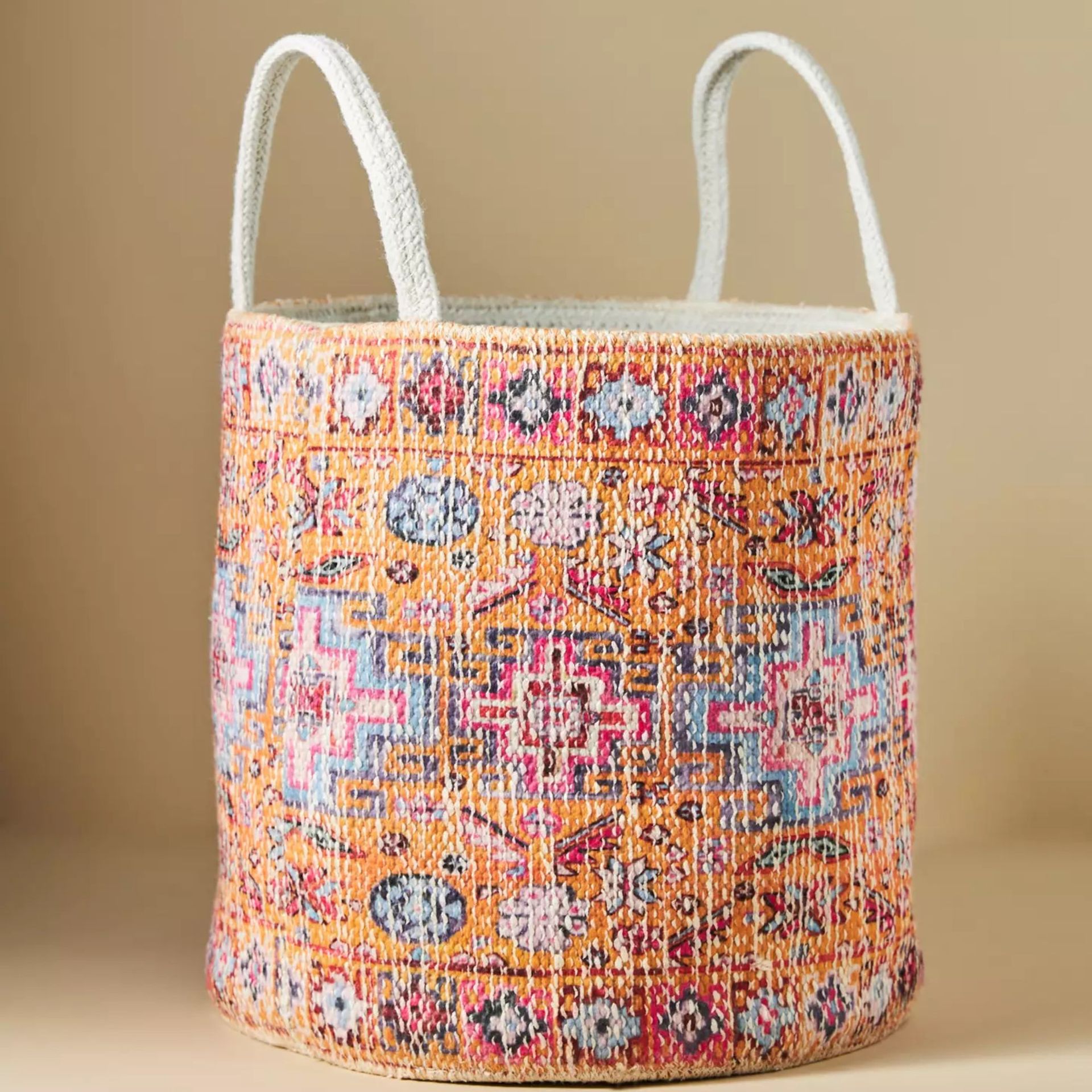 $78.00
Add some color to your living room with this convenient storage basket, ideal for keeping toys concealed.
6. Strategically placed shoes and coats
Key to keeping your entryway organized is separating the regularly used items from the less often worn ones.
'Store shoes used daily in an easy (easy being the operative word) spot like a well-placed basket,' advises, professional organizer Aimee Hutzell. 'The easier it is to access, the better chance there is of it being used.
'Keeping shoes in a convenient spot ensures there is no chance for shoes to be strewn everywhere.' This is especially true for households with children.
Kait Schulhof, organizing expert and founder of A Clean Bee shares, 'My boys (including my husband) move too quickly to neatly place their shoes on any sort of rack. The solution? Shoe baskets. I tuck a shoe basket for each boy under our console table in our entryway. This way instead of neatly placing shoes somewhere, each of them can quickly toss their shoes into their basket and be on their way. It keeps their shoes relatively organized and out of sight without any help or intervention from me.'
Interior designer and founder of Kaiko Design Interiors, Nicholas Kaiko says, 'Whether it's a shoe rack, shoe bench, or a designated basket, organized people prioritize simple shoe storage for quick access to keep the entryway clean and to protect the floors.'
The same goes for coats and other items. For example, keep everyone's favorite two coats on hooks by the front door and store away others that are scarcely used in a cupboard. This will keep you from needing to carefully reorganize your shoes and coats every day, saving you time.
'If you have a small entryway, storing less-frequently used items in a separate area and rotating them out as needed will maintain a tidy space,' recommends Aimee Hutzell.
7. Mail organizers
Whether it's a box or tray on a console table or a wall-mounted sorter, such as this wall mail organizer from Amazon, it's efficient to have a dedicated spot for mail to avoid clutter.
Tom Nolan, home improvement expert and founder of All Star Home advises, 'A file organizer can also help you build a system that can ensure you maintain order in other parts of your house. When you establish a place for everything in your life, things will naturally maintain organization, so you don't have to worry about clutter taking over your home.'
'To manage incoming mail and prevent paper clutter, create a system to sort mail by important follow-up, junk, and shred,' suggests professional organizer, Raychel Klein. 'Similar to the catch-all, create a routine of clearing this pile at the end of the week to start fresh and prevent build-up.'
Lauren Saltman, professional organizer and owner of Living. Simplified. adds, 'Have a place for incoming and outgoing mail. Having a system of bins, or even a drawer in a table, to hold the incoming and outgoing mail will help you to know what needs your attention. Go the extra mile and have a paper recycling bin handy so you can immediately recycle all of the junk mail.'
For Professional Organizer Lauren Saltman of Living.Simplified., decluttering and organizing is how she lives her daily life, whether she is organizing her home, a friend's office, or a client's garage, her resourceful approach yields happy clients who learn to incorporate techniques for a happier and more simplified lifestyle.
8. Key holder
A designated spot for keys ensures they are easily located to avoid the typical pre-leaving the house in a rush panic to find them. Nicholas Kaiko says, 'This is also a great place to express your personal style – it could be metal, ceramic or even stone. The options are endless for this catchall.'
Nicholas Kaiko, founder of Kaiko Design Interiors, is a highly sought-after interior designer based in Sydney, Australia. With over a decade of experience in the interior design industry, Nic has honed his skills as an interior architect and decorator, working on luxury hotels and high-end residential projects both locally and internationally.
9. A mirror
Ayman Nazish, interior designer at Persimmon Design says 'A mirror not only adds a decorative touch but also serves a functional purpose. It's handy for quick outfit checks before heading out the door.'
Entryway organization is about more than just having a neat space, but also considering your needs and lifestyle, so while this may seem like a small organizational hack, it is actually essential for all those who are used to sprinting up and down the stairs before leaving to try and find a mirror. So whether your idea of a good entryway is having a mirror on hand or keeping spare lipstick by the door for a last-minute touch-up, this can make a big difference.
10. Personalized decor
'While functionality is crucial, the most organized entryways also reflect the homeowner's personal style,' says interior design expert, Rich Mullins. 'Consider incorporating elements that resonate with your aesthetic preferences, whether it's a unique mirror, artwork, or decorative accents.
'These personalized touches not only create an inviting atmosphere but also reinforce the sense of organization as an extension of your home's overall design. After all is said, personalization ensures that your entryway is not only organized but also visually appealing and aligned with your taste.'
What is one entryway item organized people keep by their front door?
The most organized people (aside from those who live in deserts) keep an umbrella stand by their front door, not only for convenient storage and easy access, but also because keeping damp objects such as umbrellas by the front door is the best way to ensure they dry quickly since it will most likely be well ventilated. This will ensure they are ready to use and store again quickly and keeps your entryway from smelling of damp.
---
Entryways are often neglected compared to other rooms, without clear zones for items to be stored and thoughtful storage options, however, by keeping these areas meticulously organized it has a snowball effect on the rest of your home.
Sign up to the Homes & Gardens newsletter
Decor Ideas. Project Inspiration. Expert Advice. Delivered to your inbox.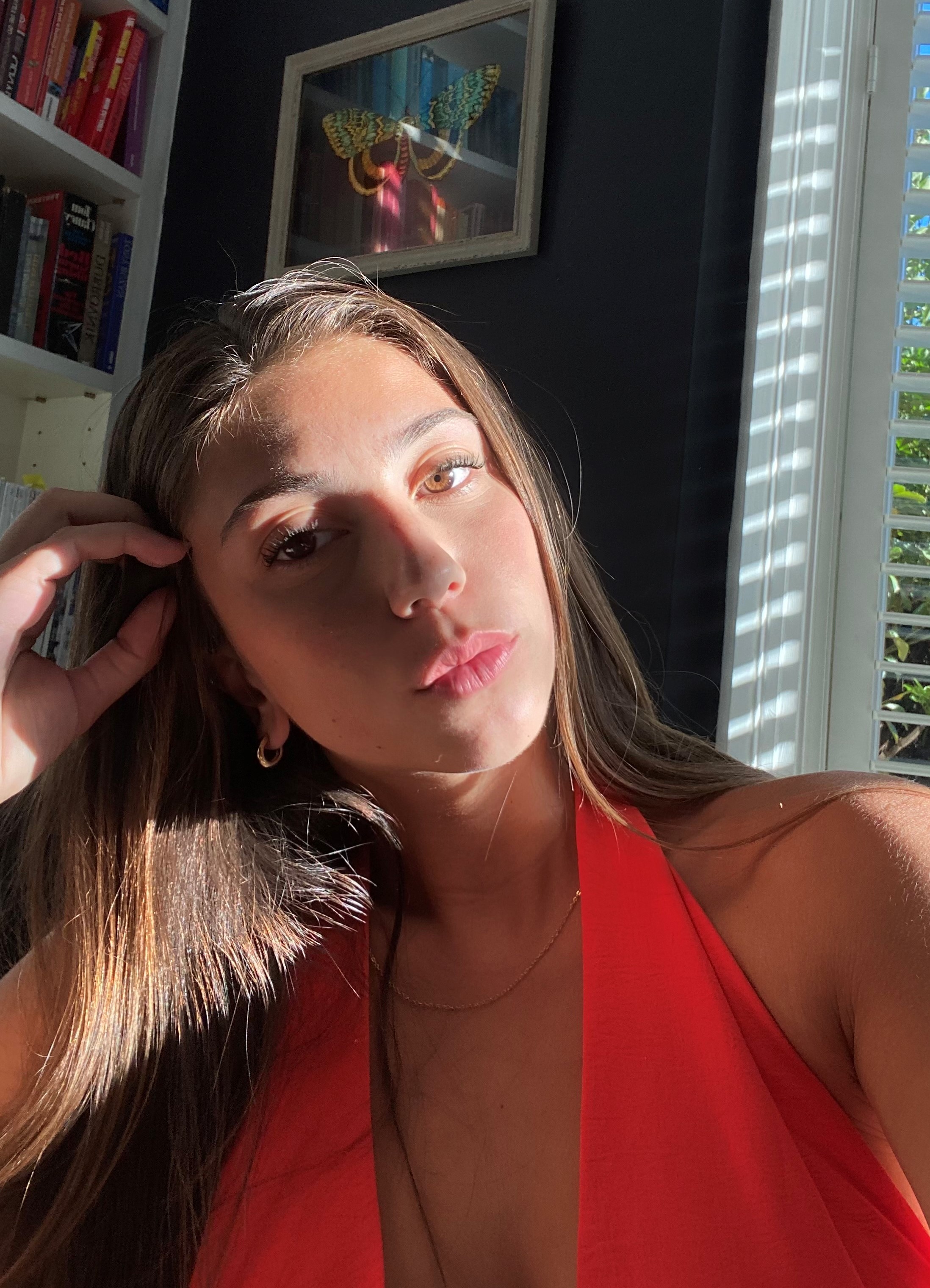 Lola Houlton is a news writer for Homes & Gardens. She has been writing content for Future PLC for the past five years, in particular Homes & Gardens, Real Homes and GardeningEtc. She writes on a broad range of subjects, including recipe articles, reviewing products, writing 'how to' and 'when to' articles. Lola now writes about everything from organization through to house plants. Lola is a graduate student, who completed her degree in Psychology at the University of Sussex. She has also spent some time working at the BBC.