What to do with the items you are decluttering – to avoid 'decluttered' piles in the hallway
'No matter what you are releasing from your home, it is easier when you have a sense that your donation is useful'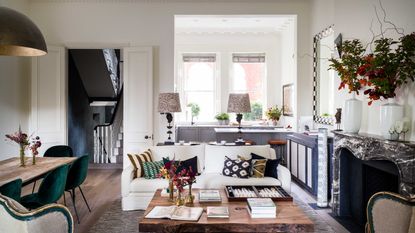 (Image credit: Future PLC)
Once you have decluttered an area of your home, it is easy to leave the piles of things to go in bags by your front door, or worse, in another storage spot in your home, like the garage or attic.
Leaving things lying around defeats the point of decluttering in the first place, and can actually make the whole process more overwhelming as you edge around the piles for weeks on end.
Professional organizers always make a plan to get rid of declutter piles as soon as they are made – here's what to do with the items you are decluttering.
What to do with the items you declutter
When it comes to sorting a place for your items to move on to, Bonnie Borromeo Tomlinson, professional declutterer and author of Stop Buying Bins, available at Amazon, suggests forgetting about the logistics until after you have finished actually decluttering:
'First off, don't worry about where anything is going and just focus on downsizing. Concerning yourself with what avenue to take given an item's value will get you off track and stop your progress cold.
'During the downsizing step, focus only on what stays. For everything else, put it in another room or space where it is temporarily out of sight.'
Once you have decided what to get rid of, then you can formulate a plan.
1. Donate or recycle clothing
When decluttering a closet and deciding what to get rid of, you can split your 'get rid' pile into two categories – clothing in great condition that can be donated, and clothing that is a little worse for wear and shouldn't be passed on.
'Donate clothing that is in good condition. There are many organizations that accept donations of clothing, such as Goodwill, Salvation Army, and local thrift stores,' shares Prerna Jain, professional organizer and cleaner at Ministry of Cleaning.
'Recycle clothing that is not in good condition. Many textile recycling programs accept clothing, even if it is stained, damaged, or worn out. If you enjoy sewing, consider repurposing clothing you no longer want to wear. For example, you could turn an old t-shirt into a tote bag or a pair of old jeans into a denim skirt.'
2. Donate sentimental items to somewhere close to your heart
Decluttering sentimental items is one of the hardest challenges we have to face when downsizing our homes, but picking a meaningful next location for them can make the process a little easier, comments Diane Quintana, professional organizer and owner of DNQ Solutions:
'I always ask my clients to think about places that mean something to them while they are decluttering. For instance, if they belong to a church or temple and this place has a thrift shop they will be more inclined to declutter and donate things they know other people can use.
'Children's toys, for instance, are easier to release once your children have outgrown them if the client is donating them to the daycare or school with which they are connected.
'Clothes can go to Dress for Success, giving women (and men) clothes to wear to work or a job interview. Furniture is easier to donate when you know it is going to someone who needs it, consider donating to Habitat for Humanity, a veteran's association, or a furniture warehouse that supplies furniture to people in need.
'No matter what you are releasing from your home, it is easier when you have a sense that your donation is useful.'
Diane is a certified professional organizer based in Atlanta, Georgia. She earned a hoarding specialist credential from the Institute for Challenging Disorganization and has co-authored a book called: 'Filled Up and Overflowing: What to do when life events, chronic disorganization or hoarding go overboard.'
3. Donate or trash food goods
More often than not, when decluttering a pantry, we are getting rid of old food that has expired. In these cases, the items should be disposed of in your trash.
Helen Kaminkski, counselor at Therapy Helpers, points out that for unused, sealed food goods still well in date, there are plenty of donation points such as food banks that will accept them. These items can then go on to help someone in need.
If you are decluttering a kitchen generally, you can also donate pots and dinnerware that are in good condition to help food kitchens, or even go towards putting a set together for someone leaving for college.
4. Schedule a curbside pick-up for larger items
Not all the things you declutter will be easy to move yourself – especially if decluttering furniture.
'A quick search on Google can lead you to many donation places that take furniture, toys, or other household items as well such as the Salvation Army. Some places such as Pick Up Please connected to the Vietnam War Veterans of America will even do a free pickup from your home of certain items,' Sarit Weiss, lead organizer and founder of Neat & Orderly recommends.
'The key to a proper decluttering session is how quickly you can get those bags out of the house before they turn into clutter again. The free pickup option many organizations now offer is an easy way to ensure your items are taken care of without you having to do too much extra work. You can schedule a pickup online with many of the organizations previously mentioned.'
5. Give books to a local library
Decluttering books is a great opportunity to help out your local libraries, Amélie Saint-Jacques, professional organizer at Amelie Organizes, points out.
'Books can be sold in a second-hand store or donated to your local library or Little Free Library. If they are children's books, your local daycare center or school might be very grateful for the donation!
'The same goes for any toys and games, too,' she adds.
Amélie Saint-Jacques is a certified KonMari Consultant and professional organizer based in San Antonio with years of experience in professional tidying.
6. Consider listing items on online marketplaces
'Any items can be sold online via Ebay or Facebook Marketplace, a consignment shop or resale store, or a yard sale or estate sale,' says Bonnie Borromeo Tomlinson, professional declutterer. 'Any items can be offered for free on a local Facebook Buy Nothing page, or just out on the curb with a free sign if you are not bothered about making some money back or want to help someone in your community.'
A good rule of thumb is to only leave the item listed for a few weeks. If there is no interest, it may be worth looking at some alternative methods to get the items out of your home, such as donation or curbside pick-up.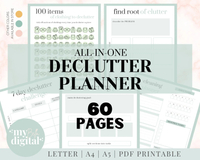 All-in-One Declutter Planner | $3.92 at Etsy
This printable decluttering planner is all you need to help tackle your home's mess without missing a step. It is perfect for both keeping on top of your belongings and starting off on your first big clearout.
FAQs
Why is it a bad idea to just throw away unwanted things?
Although it is easy to toss anything you don't want in the trash, it is not the best idea – especially if the items are still in good condition. Throwing things in the trash is incredibly wasteful, contributing to landfill when the item could go on to have another home. Donating items in good condition also helps out people in need, making it a good deed to donate, rather than trash.
You should only trash items that have expired, been used if they are makeup or food, or are in bad condition or broken beyond repair.
How do I get rid of clutter without guilt?
One of the best ways to clear out clutter without feeling guilty is to make sure the item is going on to another place when possible and not going straight into the trash. By donating, recycling, or selling items, you are ensuring the continuation of an item and keeping it out of the landfill – possibly also making someone else's life easier in the process. This is a great way to stave off guilt and motivate yourself to declutter your home.
---
Although it is often better to declutter first and designate a new destination for items later, sometimes having a plan of where things are going to move on helps to declutter without making a mess.
For example, if you are decluttering a closet, make the decision on where you are going to donate to and set a time frame to get it done. That way, as soon as you have finished cutting down your collection, you can take stuff to its new home right away, preventing piles from forming around your home.
Sign up to the Homes & Gardens newsletter
Decor Ideas. Project Inspiration. Expert Advice. Delivered to your inbox.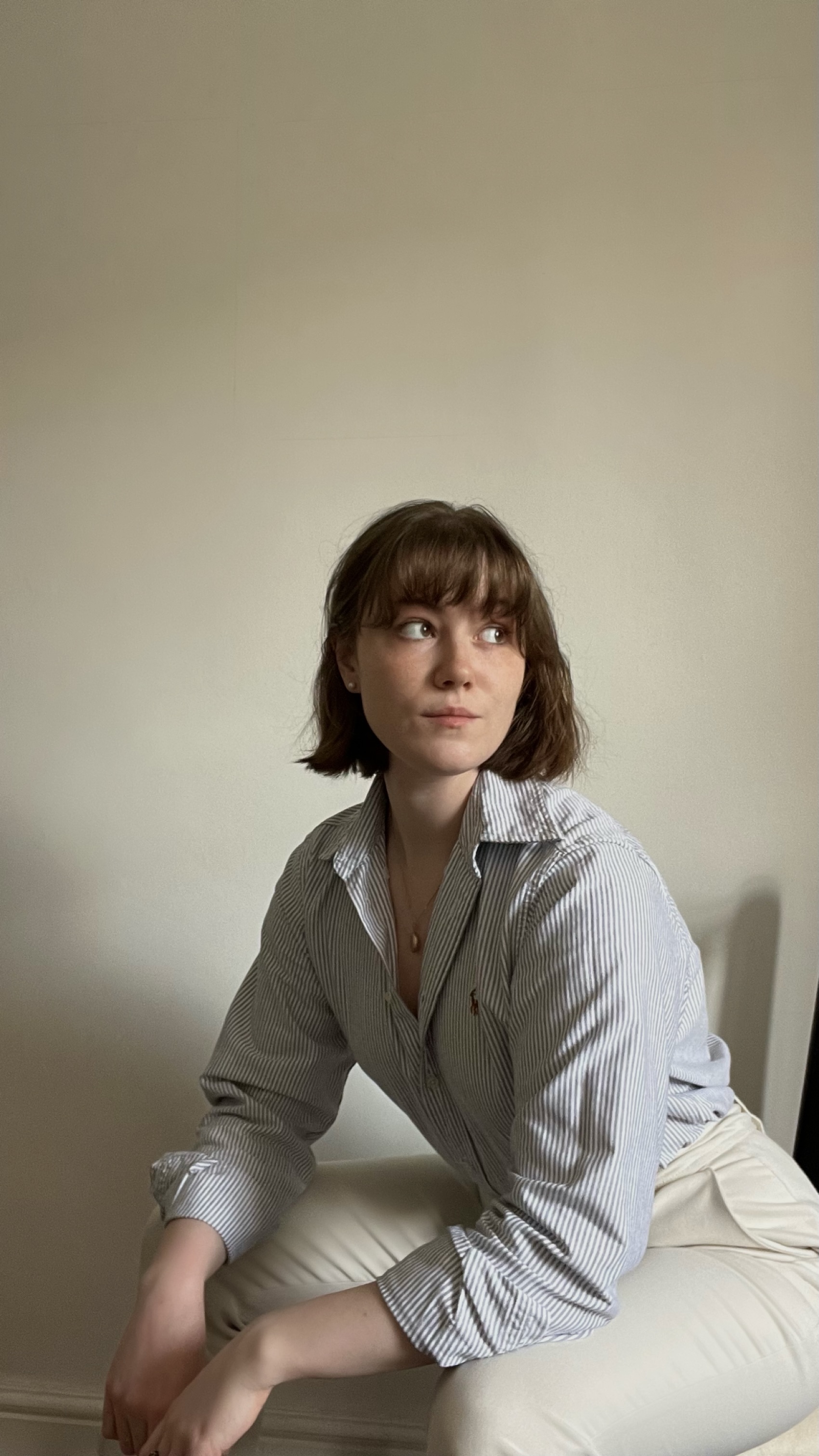 Chiana has been at Homes & Gardens for a year, having started her journey in interior journalism as part of the graduate program. She spends most of her time producing content for the Solved section of the website, helping readers get the most out of their homes through clever decluttering, cleaning, and tidying tips – many of which she tests and reviews herself in her home in Lancaster to ensure they will consistently deliver for her readers and dabbles in the latest design trends. She also has a first-class degree in Literature from Lancaster University.