How to decorate Christmas baubles
Get creative and decorate Christmas baubles with our marvellous marbled make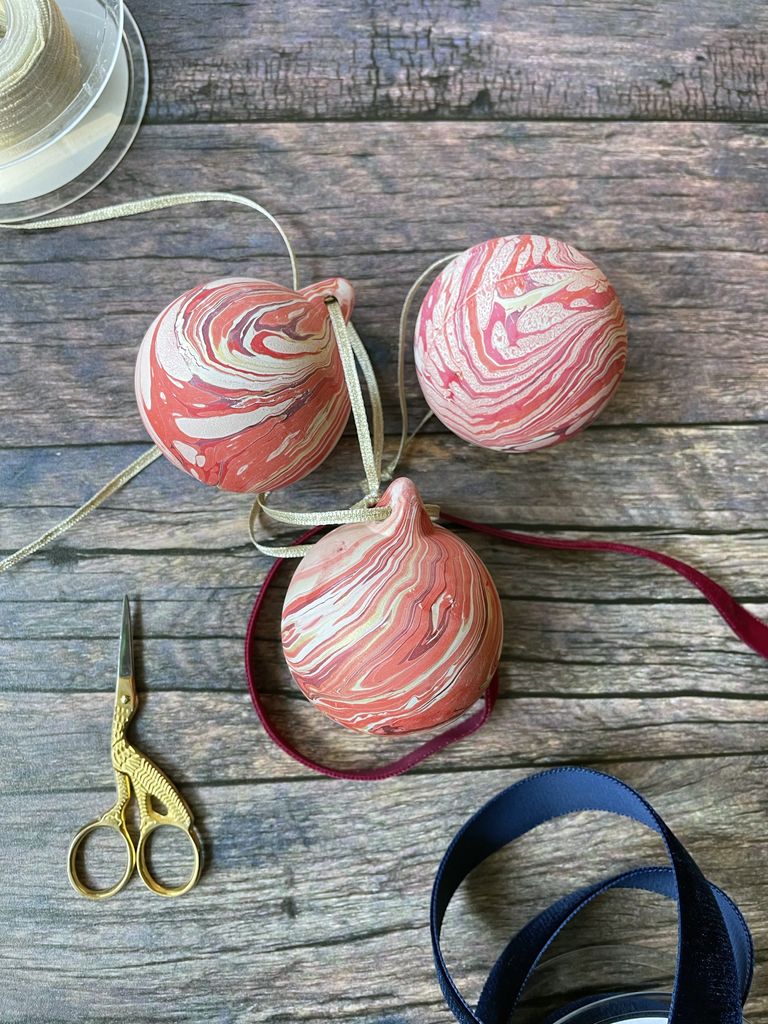 (Image credit: Marmor Paperie)
By Lucy Searle
If you are looking for an original, contemporary way to decorate Christmas baubles, you will love this charming project created by Lucy McGrath for H&G.
Lucy started Marmor Paperie in 2015 with the mission to breathe new life into the endangered craft of marbling. Here, she shows us how to make unique marbled ceramic baubles – you can buy blanks at craft stores or from Amazon.
We have chosen a warm peachy red for our baubles – but you can choose paint colors to suit your scheme. They will give your Christmas decor ideas an edge, we promise.
How to decorate Christmas baubles – with marbling
For one-off Christmas tree ideas, it's hard to beat home-decorated Christmas baubles. Here's how.
You will need:
12g carrageenan powder (available from Marmor Paperie)
2ltr water
5ltr bucket or deep container
Newspaper
Your preferred acrylic paints
Jars or disposable cups
Paintbrushes
Skewer
Ceramic baubles from Amazon
Gloves to protect your hands
Your preferred ribbon
1. Put the carrageenan into your blender
Add 500ml water and blend until you can't see any bits. Gradually add the remaining water, blending periodically to make sure it is all mixed together.
Pour the mixture into a 5ltr bucket or similar container and let sit, covered for two to three hours to allow most of the bubbles to pop.
Clean the surface of your marbling water by skimming torn strips of newspaper along the surface to catch dust and grab any remaining bubbles.
2. Create your Christmas bauble color scheme
Mix your preferred colors in jars using acrylic paints, adding water to get the consistency of milk.
Dip your paintbrush into your paint and hold it over the bucket. Gently tap it to deposit paint drops on to the surface. Move your hands around to aim the drops, attempting to get an even paint coverage. Repeat this step with multiple colors.
3. Make the swirls
Take a skewer and draw through the floating paint to make swirls.
4. Prepare to dunk the first bauble
Hold the top of your first bauble between your index finger and thumb and arrange it over the bucket so your fingers are at the very top. Make sure the thread is held out of the way in your other fingers.
5. Dunk the Christmas bauble
In one smooth motion, dunk the bauble into the marbling water, being careful to always keep your fingers over the center of the bauble so it doesn't try to bob to the surface. Pull the bauble out again and immediately rinse under running water to remove any paint run-off or gloopy water.
6. Thread the ribbon
Hang to dry for 10 minutes, then cut off the thread and replace with your choice of ribbon.
What kind of paint do you use for glass baubles
The best paint to use for decorating glass Christmas baubles is, like ceramic baubles, acrylic. Using acrylic craft paint is easy – just prepare a space to allow them to dry – hanging is best – for a neat finish.
Can you spray paint Christmas baubles
Yes, you can spray paint Christmas baubles. The trick is to hang the baubles from twine or string (outside if possible) while you spray them to ensure a neat finish – and to apply a thin layer each time; this will ensure there are no drips or runs in the finish. A gloss or sparkling finish will give you the best look. Do not remove the baubles from their hanging space until fully dry.
My first job was writing a DIY column for a magazine for the over 50s (which seemed a long way off back then). I then moved to a DIY magazine as deputy ed, then freelanced my way around the homes departments of most women's magazines on the market before working on Your Home and Family Circle magazines as homes editor. From there, I went to Ideal Home magazine as associate editor, then launched 4Homes magazine for Channel 4, then the Channel 4 4Homes website before going back to freelancing and running a social media business (you can see where I had kids from the freelancing gaps!). I was tempted back to the world of big business by the chance to work with the great team at Realhomes.com, where I was Global Editor-in-Chief for two and a half years, taking it from a small website to a global entity. I've now handed the reins of the website to our American managing editor, while I take on a new challenge as Editor-in-Chief of Homes & Gardens.