Best wine coolers 2023: sommelier and expert advice
Sommelier, Cellar Master, and expert advice on the best wine coolers for ensuring that you store your reds and whites in the optimum conditions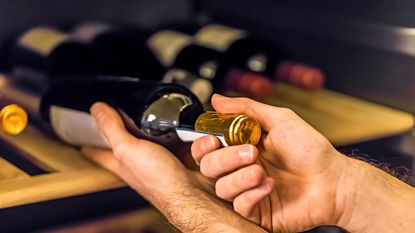 (Image credit: GettyImages)
Wine coolers help to keep your favorite bottles flavorful. A high-quality appliance will prevent temperature, humidity, vibrations, and odors from spoiling your wine. But with coolers ranging from compact to cupboard-size to built-in, or under-the-counter, there's a lot to choose between.
To get the advice on the best wine coolers I spoke to sommeliers and certified wine specialists like Marshall Tilden III, and cellar masters like Collin Mitzenmacher. I also spoke with licensed realtors for advice on how a wine cooler can affect your property price. Their valuable insight and advice helped me to bring together the best coolers for your home.
Just like the best refrigerators, there's a lot to consider. Whether your cooler is a design statement to display your favorite bottles or a functional protective unit, you'll want to think about capacity, UV protection, LED lighting, and smart controls. After taking all this into consideration, these are the best wine coolers.
Best wine coolers 2023
You can trust Homes & Gardens. Our expert reviewers spend hours testing and comparing the latest products, helping you choose the best for you. Find out more about how we test.
Best cabinet wine cooler
1. Newair Dual Zone
Best Cabinet
Specifications
Dimensions: 22.5 x 23.5 x 34.5 inches
Capacity: 29 bottles
Temperature range: 40-66
Zones: 2
UV protection: yes
Type: compressor
Reasons to buy
+
Looks modern
+
Dual temperature zones
+
Very quiet
+
Adjustable drawer height
+
Great customer service
+
LED lights
When I asked the wine community, the Newair was one of the most frequently recommended coolers on the market. I'm not surprised: it looks modern and sleek and reviewers consistently praise its functionality and quiet noise levels.
The drawer height is adjustable, so you won't struggle with oddly shaped bottles. This is a surprisingly uncommon feature in most coolers. The dual temperature zones are effective at maintaining separate temperatures for your red and white wines. The triple-tempered, UV protectant glass doors help to ensure this is efficient and stable at cooling and protecting your wines against potential damage.

The main feedback from customers is that they have struggled to maximize the cooler's capacity. The shelves are designed to use as much space as possible, so you'll need to stack the bottles in tightly. Other users suggested adding a top zone drip tray to stop the pc board, which distributes the LED light, from being damaged.
Best smart wine cooler
2. Wine Enthusiast VinoView
Best smart wine cooler
Specifications
Dimensions: 72.25 x 23.5 x 16.75 inches
Bottle capacity: 155 bottles
Temperature range: 40-72
Zone: single
UV glass: yes
Reasons to buy
+
Looks modern
+
Smart technology
+
Good temperature range
+
Can be freestanding or built in
+
Display shows labels
+
Rail storage for easy access
+
LED lights
Reasons to avoid
-
Quite big dimensions
-
Not the most efficient
-
No UV protection
This was the top pick from certified Specialist of Wine, Marshall Tilden III. With built-in Wi-Fi, you can remotely control and monitor the temperature, humidity, lighting, and safety of your cooler. The touchscreen thermostat ranges between 40°F - 72°F, which is more than enough for domestic use.
Aside from the performance, I love this display option. Being able to show off the labels with easy-to-slide shelves is a popular selling-point amongst customers, who enjoy displaying their well-protected and packed bottles. There's plenty of room for your collection, as this cooler comes in a range of capacities from 145 to 620 bottles, so even the most serious collector can buy one. It can be built-in or freestanding and looks modern and frameless, opening in both directions.

Whilst this looks beautiful, it's not really necessary for smaller wine collectors. Wine coolers aren't energy efficient, so buying one larger than your needs is an unnecessary expense. Not only that, but a half-full display case will only make your space look sparse. The glass isn't UV protective, which means that you'll need to place this somewhere out of direct sunlight.
Best basic wine cooler
3. EdgeStar Duall Zone Wine Cooler
Best basic wine cooler
Specifications
DImensions: 22.5 x 33.5 x 23.5 inches
Capacity: 46 bottles
Type: compressor
Zones: dual
Reasons to buy
+
Good capacity
+
Maintains stable temperature
+
Can be free-standing or built-in
+
Dual zone
+
Carbon filter
Reasons to avoid
-
Expensive
-
A little noisy
EdgeStar strikes the perfect balance between capacity and cooling power. It can fit 46 bottles, which should be more than enough for the average wine enthusiast, and can keep the two separate zones at steady temperatures without using too much energy. Users all commented on the consistency of temperature that this built-in appliance provides.
One of the best features is that this is panel-ready, so can sit alongside your kitchen cabinets, a well-used and valued aspect of the cooler in many user-reviews. Paul Corazza, a real estate expert from the Independent Property Group, recommended that you should 'store your bottles in a wine cooler that resembles furniture for a living room' or other subtle styles and this is an easy option to integrate into your home. This cooler can also be freestanding if you don't want a built-in appliance and the UV resistant glass and carbon filter will help to protect the quality of your wine too.

Although users thought this was good value, it's a three figure investment, so you need to make sure that the capacity is well-suited to your needs. As with many compressor coolers, it's also a little noisy, so keep it in the kitchen with other, louder appliances.
Best value wine cooler
4. Thor Kitchen Wine Cooler
Best value wine cooler
Specifications
Bottle capacity: 33
Dimension: 22.8 x 24.6 x 20.7
Type: compressor
Zones: dual
Reasons to buy
+
Good capacity
+
Good temperature control
+
Dual temperature zone
+
LED lights
+
Freestanding
+
Easy to use touchscreen
+
Adjustable wooden shelves
Reasons to avoid
-
A little noisy
-
Shelving feels a bit flimsy
This one cooler perfect for those who are just getting into wine collecting and experts recommended it to me as an entry-level appliance. With a 33 bottle capacity, there's more than enough room for the foundations of your best bottles collection. It's a cheaper option that feels premium and has all of the essential features that you might want, including a door lock.
Although it isn't essential, the dual-temperature zone in this cooler is really useful for storing your reds and whites at the optimum temperature for immediate drinking. The LED lights are helpful for reading the bottles' labels and a digital touch screen makes this easy to adjust and control. These are the extra features that you won't miss until you don't have them. As a compressor, it's well suited to basements and warmer climates.

Compressor fridges aren't always silent and this one does have a subtle noise. User reviews say that this isn't too bad, but it's worth noting. Although the shelves are adjustable, they're a little flimsy. Changing the height will change the capacity, so if you have 33 bottles of wine you're thinking of storing, you'll need a different appliance.
Best Dual Zone wine cooler
5. Samsung Wine Cooler
Best Dual Zone wine cooler
Specifications
Dimensions: 34 1/16 x 23 13/16 dimensions
Capacity: 51
Temperature tamge: 41-64
Type: compressor
Reasons to buy
+
Dual temperature zones
+
Good values
+
Freestanding ot built in
+
Good capacity
+
Can handle a range of bottle sizes
+
LED lighting
Reasons to avoid
-
Noisy
-
Different bottle shapes reduce the capacity
-
Set-up instructions aren't clear
Having spoken with the Cellar Master at Waters Edge Wineries, the Samsung cooler covers all of the essentials of a really good wine fridge. They recommended a dual zone cooler. It is a luxury, but if you love red and white wine, it's worth it. It offers UV protection, a good amount of space and relatively good humidity control: everything the Cellar Masters suggest. Lots of users commented on the sturdiness of the appliance and the versatile design: the door can be left or right opening, and it can be free-standing or built-in, so suits a range of kitchen designs.
Having enough room for 51 bottles is useful, especially since this caters to a range of bottle shapes, rather than just standard 750ml bottles. The rail shelves and LED lighting makes this easy to use and ensure that it looks modern and smart, a good addition to any kitchen. Samsung aren't wine specialists, but they make a really good value appliance.

Users commented that this is relatively noisy. It's louder when it's freestanding, so ideally have it built-in. If your collection contains a lot of champagne, or bigger wine bottles, the top zone rails are narrower, so won't fit long or wide bottles. The overall capacity is for 51 standard size bottles, so is significantly less for magnums or jeroboams. A number of people struggled to follow the instructions, so it might be worth having a helping hand or video to assist you.
Best large wine cooler
6. Kucht Tri Zone Wine Cooler
Best large wine cooler
Specifications
Dimension: 22.5 x 25 x 20 inches
Zones: 3
Type: compressor
Capacity : 72
Reasons to buy
+
Large capacity
+
Three temperature zones
+
Hardly any temperature fluctuations
+
13 shelves
+
Looks modern
+
Locks
+
UV protectant glass
+
LED lights
Reasons to avoid
-
Quite big
-
No energy star
-
Large upfront cost
If you're an oenophile, the KUCHT fridge is for you. It has enough capacity for 72 of your best bottles and has three different temperature zones. The temperature and humidity stays steady, so your wine is perfectly preserved. Having locks on the bottom two doors means that you can add an extra layer of protection to your favorite wines.
It looks ultra modern and comes in a range of styles. The subtle LED lights show off the wine labels from the outside, but the UV protectant glass stops your wine from tasting sulfurous and unpleasant.

It's unavoidable that this is a big and expensive appliance. It certainly delivers on value, but is a big upfront investment. If you're short on space, it's not a compact option either. The cost of running a bigger cooler will take its toll on your utilities, so make sure this isn't a bigger capacity than what you need.
Best Premium wine cooler
7. Allavino Tru-Vino
Best premium wine cooler
Specifications
Dimensions: 33.9 x 23.4 x 23.6 inches
Capacity: 56 bottles
Type: compressor
Zones: 1
Reasons to buy
+
High quality
+
Almost no temperature fluctuation
+
Reasonable capacity
+
Good for energy efficiency
+
Quite quiet
+
Nice wooden features
Reasons to avoid
-
Expensive
-
Makes some noise
-
Single zone temperature control
There were a number of competitors for this spot, including Liebherr and SubZero, but Allavino was our winner for premium appliances. Users reported some of the lowest temperature fluctuations on the market, which many sommeliers say is the most important part of having a good wine cooler.
The capacity is reasonable, without being excessive, which is really important for energy efficiency: an appliance that is too large or inefficient will take its toll on your utilities. Our realtor advised that you buy coolers which blend in with your décor, so the wooden front can suit a good range of kitchen decors. It's also not too noisy, which is impressive for a compressor machine.

Although it's quiet, there is still a little noise that comes from the cooler. Similarly, although it's efficient, this doesn't have an Energy Star for efficiency, so could be improved.
This has a single zone temperature control. Marshall, the wine specialist, said that this doesn't matter, because wine can be preserved at a single temperature really well. However, if you want to drink your wines straight away, you'll be compromising on the taste of your red or white ever so slightly.
Best slim wine cooler
8. EdgeStar Built-In Cooler
Best slim wine cooler
Specifications
Capacity: 7 bottles
Dimensions: 20.375 x 34.3125 x 6
Type : compressor
Reasons to buy
+
Looks modern
+
Can be built-in or freestanding
+
Maintains a steady temperature
+
LED lighting
+
UV protectant glass
+
Easy to use touchscreen
Reasons to avoid
-
Limited capacity
-
Can topple if loaded badly
-
Doesn't for large bottles
This slim and sleek wine cooler has a seven bottle capacity and is the ideal appliance for making the most of your kitchen space. You can mount it flush with cabinets, but it looks best built-in under the countertops.
Users love having a reversible door in their kitchen, because it helps the appliance to blend in seamlessly: it can open the same way as your cabinets without clashing. The temperature can stay steady, even when the cooler is full and ranges from 40 to 65 degrees Fahrenheit. It has other useful features like LED lighting for seeing your labels, a sleek stainless steel finish, and UV resistant glass. The digital controls are sensitive and straightforward too.

Aside from the limited capacity, we wouldn't recommend using this as a freestanding cooler. The manufacturers warn that uneven weight distribution can cause it to topple, so make sure that it is well-mounted. If you collect champagne or larger bottles, they won't fit in here either.
Best Countertop wine cooler
9. EuroCave Wine Art
Best countertop wine cooler
Specifications
Dimensions: 478 x 248 x 245 mm
Capacity: 2 bottls
Reasons to buy
+
Easy to use
+
Cools quickly
+
Helps seal and slow oxidation
+
Best on the market
+
Relatively quiet
+
Low power requirements
+
Very popular
Reasons to avoid
-
Makes a bit of noise
-
Small capacity
-
No UV protection
-
Not subtle
This came highly recommended from the wine community, so I had to look it up. Although it only stores two wine bottles, that's often all you need if you're drinking them fairly regularly. The system extracts air from the bottle to help prevent oxidation and cools them to even temperatures within 1.5-3 hours.
Users found that the seal is more reliable than competitors' similar products, because it is flexible and can create good contact at a range of angles on different textures. The pump is relatively quiet and it only requires 12 volts to do an effective job. Lots of people loved it so much that they bought another one as a gift.

Whilst this is pretty quiet, it does make a little bit of noise. It looks nice, but isn't the easiest to tuck away, so you have to be ready to give up some countertop space to it. As you can imagine, this is more of a small-capacity storage and you'll probably drink the wines quicker than you would with a proper cabinet cooler. This means that there's no UV protection, so you're best to drink your wine a little quicker.
How We Researched
We have a page dedicated to the details of how we test our appliances. We like to have in-person, ongoing experience with the products, so that we can personally vouch for them. However, in the case of wine coolers, this is tricky.
I reached out to a range of experts within the wine industry, speaking to owners of wine companies, certified wine experts, sommeliers, and cellar masters. Moreover, I spoke to realtors and interior designers to understand how to style these in the home. After speaking with industry experts, I conducted my own independent research. I looked at expert reviews and user feedback for a number of different appliances, so that I had a range of expertise and real-life feedback from each cooler. This level of research is as close to testing myself as possible.
FAQs
How to pick a wine cooler
You need to get the right cooler for your red and whites, and for different people this will mean different things.
Capacity: try to select a size that is appropriate for your collection. If your wine cooler is too small, it's redundant. If it's too big, your utilities will be much higher than they need to be, so it's a waste of space and money.
Storage: Some storage options will lie your wine on its side, others will have it at a different angle. Keeping wine on its side helps to keep the cork moist, which prevents premature aging. However, if you're a regular wine drinker, you might want an upright pump storage which helps to stop any open bottles from oxidizing.
Smart technology: smart features are a luxury, but some coolers will allow you to control the temperature, conditions, and safety of your wine from a distance.
Freestanding or built in: some wine coolers can be both, but you'll want to think about the position of the cooler in your house before buying.
Temperature zone: The cellar master I spoke to said that a single-temperature zone is fine for wine. Keeping it at one consistent temperature is the best way to store your wine. Reds tend to taste better if they're a little warmer, so if you can pick a dual zone wine cooler you can store red and white at different temperature points.
Extra features: Reversible doors, anti-vibration technology, locks, UV resistant glass, and humidity controls are all good extra features to look out for.
What is important in a wine cooler?
I spoke to Marshall Tilden III, Certified Specialist of Wine with the Society of Wine Educators to find out what to prioritize when looking for a wine cooler. He told me to focus on properly combating the 'enemies of wine': temperature fluctuations, lack of humidity, UV rays, vibration, and odors. He was also quick to emphasize the importance of displaying 'that's part of what makes wine so special', he said, 'the social aspect of enjoying it with people that surround you who share the same passion for wine'.
What temperature should I store wine at?
Wine should never go over 75 degrees, because it will oxidize. Generally, it's best to be kept between 52 and 57 degrees. Experts recommend that white wine should be between 45-65 degrees Fahrenheit with humidity levels around 70%. Red wine should be around 55 degrees Fahrenheit with a similar humidity.
Can I store wine in the refrigerator?
In the short term, it isn't a crime to store wine in the fridge. If you're bringing them down to temperature, or running out of room, it's better than nothing. Try to use a wine sealer to slow the oxidation process. Store it out of the sun, in a cold place, upright, and with a cork. Once opened, it's a good excuse to have another glass.
How should I store wine?
There are a few ways to keep your wines finer than fine, aside from having them in a wine fridge (that's a given):
Keep them cool: around 55ºF
Keep them horizontal: With the work in, lie your wine horizontally, if it has a cark. If the top is screw top, it can be stored horizontally if that will help with storage space, but is not essential.
Protect it from light and vibration: UV and vibrations can affect the natural chemicals and processes in your wine, changing the taste for the worst.
Store wine at the proper humidity: If the air is too dry, it will fry the cork out, speeding up oxidization. A higher humidity will degrade the conditions of the bottle.
---
Our Verdict
Wine does best in a dark, humid environment, at a constant cool temperature . All of the wine coolers on this list are