RH dining room ideas – 10 ways to recreate a designer space
We spoke to some top designers to find out their tips and tricks for pulling together beautiful and memorable RH dining room ideas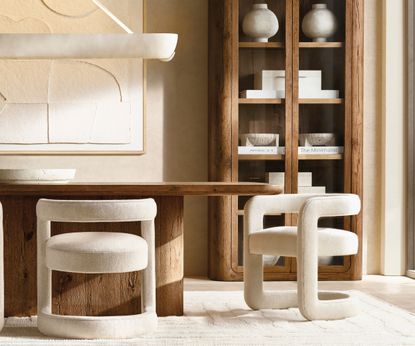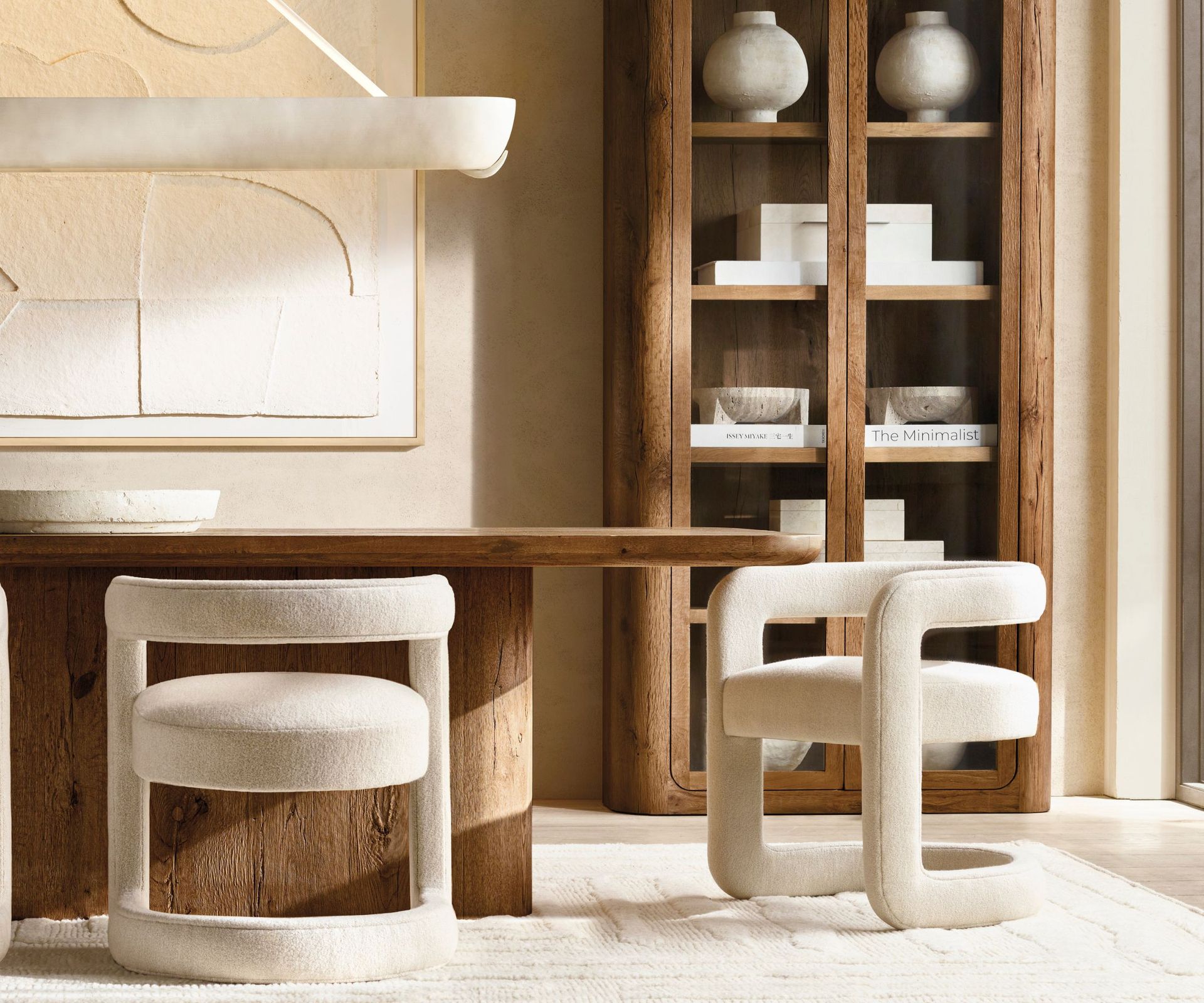 (Image credit: RH)
If you are an entertainer at heart, then these unforgettable Restoration Hardware dining room ideas are for you.
Hosting season is just around the corner and that means those dining rooms – otherwise known as the household catchall – need to be in tip-top shape before guests arrive. Whether you opt for a round or rectangle, statement chandelier or delicate pendants, bar cart or buffet, wallpaper, art or both, these spaces are sure to inspire that inner entertaining spirit.
Restoration Hardware dining room ideas
Here, we picked the brains of a few top interior designers to dish on their recipes for the perfect dining room ideas.
1. Lighten up in dim dining room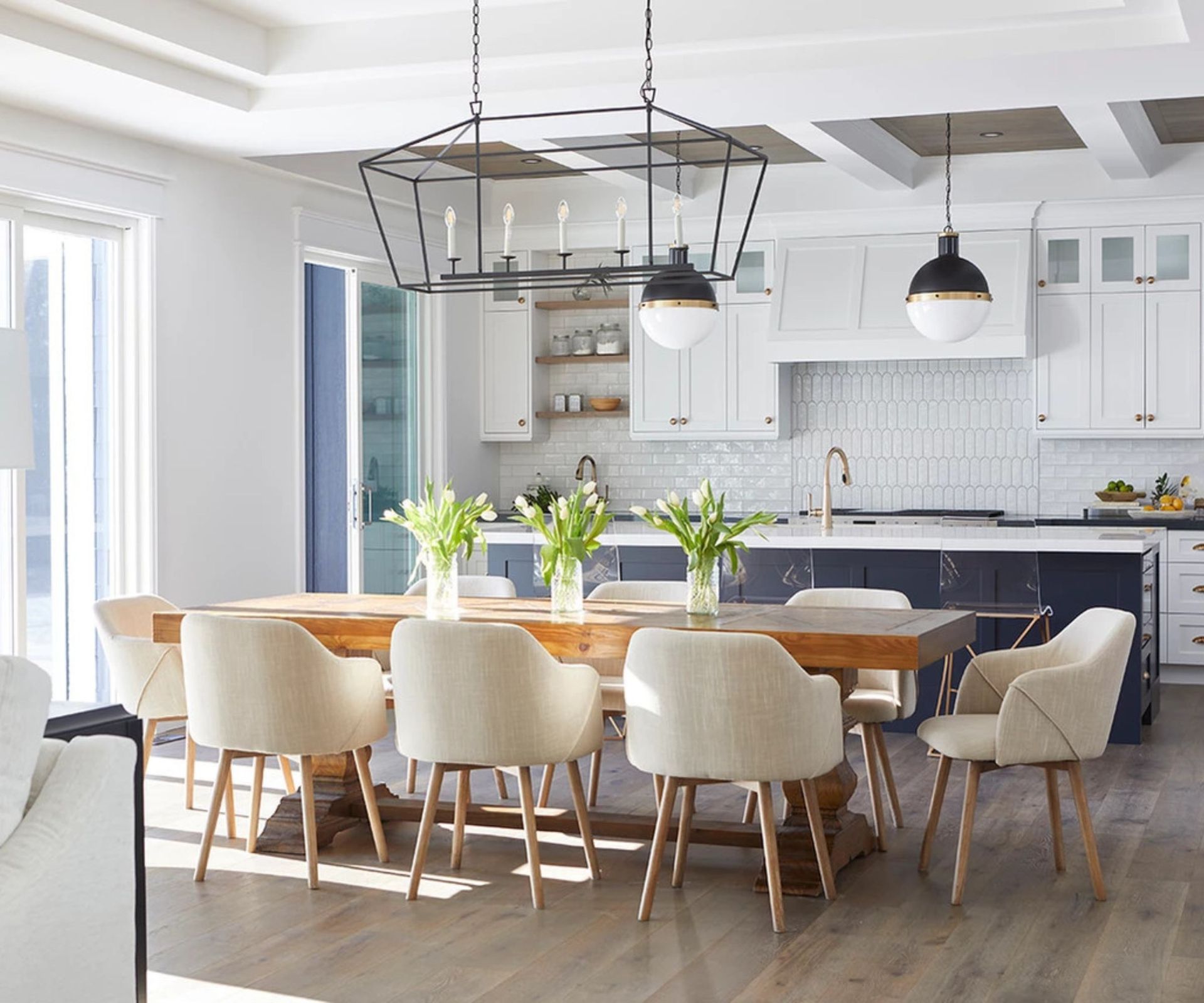 When it comes to Restoration Hardware dining rooms – lighting a dining room well is a priority. Kicking things off is senior designer of Ontario-based design firm Aspen & Ivy, Ria DaCosta explaining that 'a great dining room design should feature various light sources, from a statement chandelier to wall sconces or even table lamps to help set the ambience for an enticing dining experience.'
Fellow Canadian, Toronto-based interior designer Anne Hepfer concurs, adding, 'A statement light fixture above the table is a necessary focal point, and the jewelry of any dining room.' She points out that a statement fixture is a great opportunity to show some creativity and personality in the space. 'I believe lighting is the key element for creating flow, almost more so than furniture.' Houston-based designer Nina Magon drives the point home, 'Nothing says wow like an eye-catching chandelier above a dining table. Lighting can be such a bold element to can bring some drama into a space.'
2. Create a conversation starter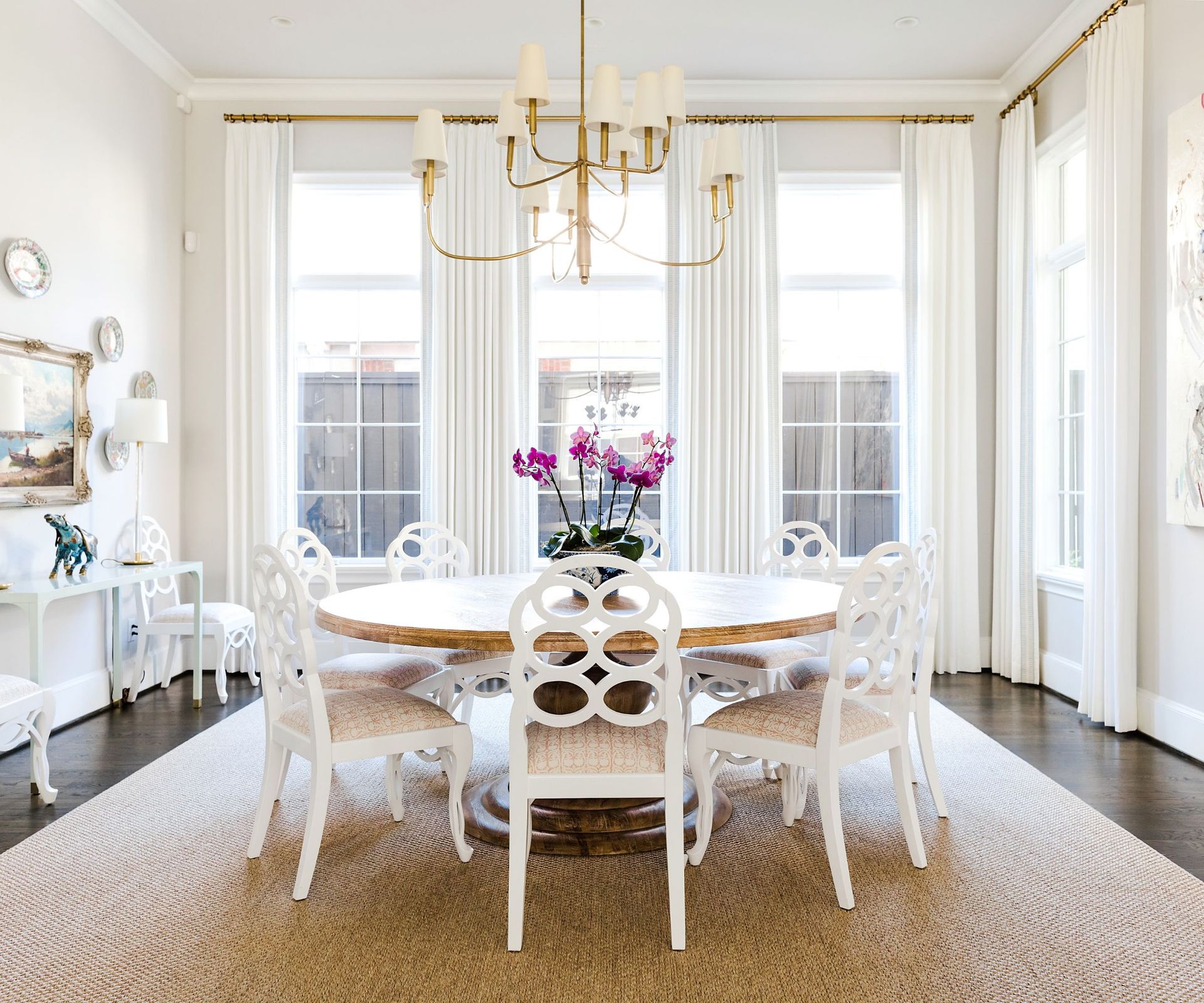 To art or to wallpaper? Hepfer prefers both. 'I use them in harmony,' she explains, 'both mediums do wonders for making a room pop!' And when this designer commits she does so in a big way.
'When I install wallpaper, I install a lot of it – for example, I might wallpaper an entire dining room (ceiling included), and, of course, art can stand on its own, but it's also dynamic when layered atop a wallpaper foil.'
Houston-based designer Katie Davis turns to wallpaper any chance she can. 'If I could put wallpaper in every room I would,' says the designer. 'Dining room wallpaper adds texture, pattern, interest – sometimes it is the art in the room and sometimes it's a background, but wallpaper brings a big serving of wow-factor in the dining room.'
3. Consider form and function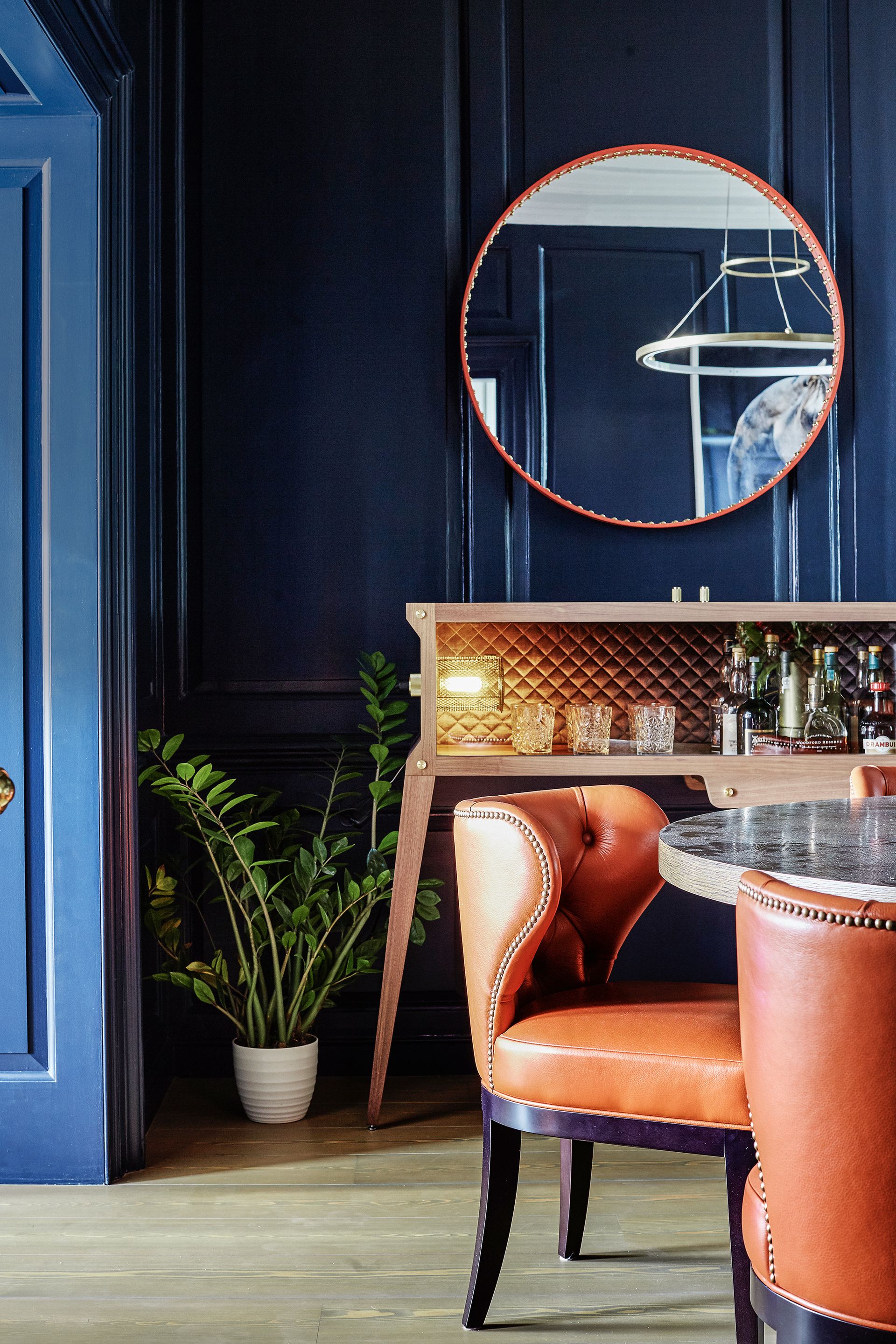 Flow and functionality are key elements to the success of every room. 'Dining rooms need to be functional,' explains DaCosta. 'In order to be complete the space needs the appropriate shape and size dining table for the room along with the number of guests who may be seated.' Dining room storage pieces like cabinets and sideboards also serve to satisfy the function of the space while also doubling as showcase pieces.
South Florida-based designer Laetitia Laurent, of Laure Nell Interiors, adds her entertaining must-have. 'I've been adding bar carts in the dining room and our clients have been loving the addition,' states the design. 'It really comes in handy when you are having large gatherings and is the perfect beauty-meets-function piece.'
4. Find a place for everything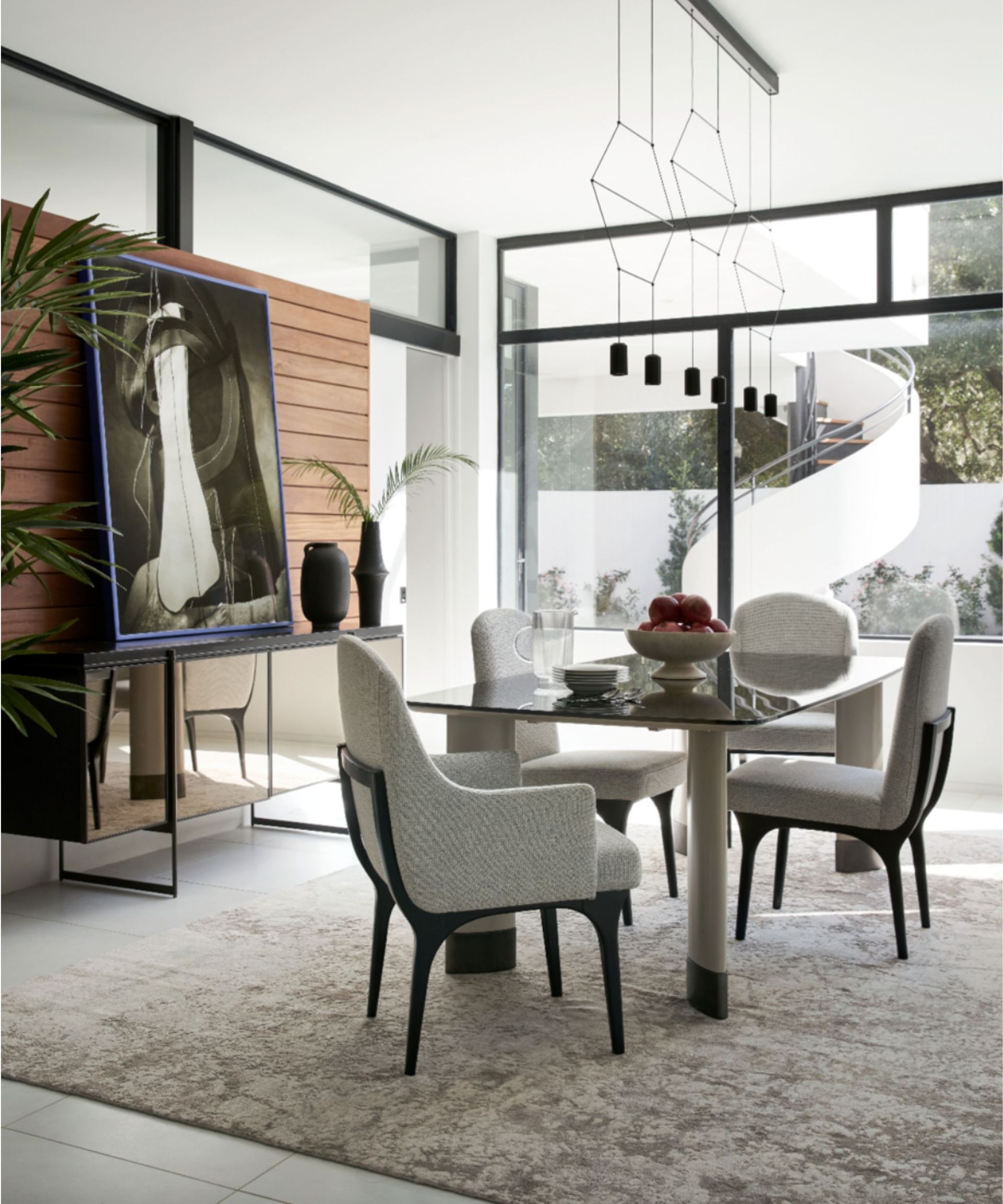 'The most important thing is making sure your measurements are spot on,' states New York-based interior designer Cara Woodhouse. 'You don't want to crowd your table with too many chairs around and you want to be sure to give your guests the most comfortable experience possible when seated – you want a minimum of 36" behind your chair to pull out comfortably and 8-12" in between chairs – this is the first step in designing your dining room.'
DaCosta adds, 'Every dining room should have a sideboard – it just doesn't feel quite complete without one.' Not only are these storage pieces practical, but they're also the perfect opportunity to make a big style statement. 'If you have an open concept living and dining space then sideboards can help define the dining area separating it from other spaces through stylish functionality.'
5. Size matters when it comes to the dining table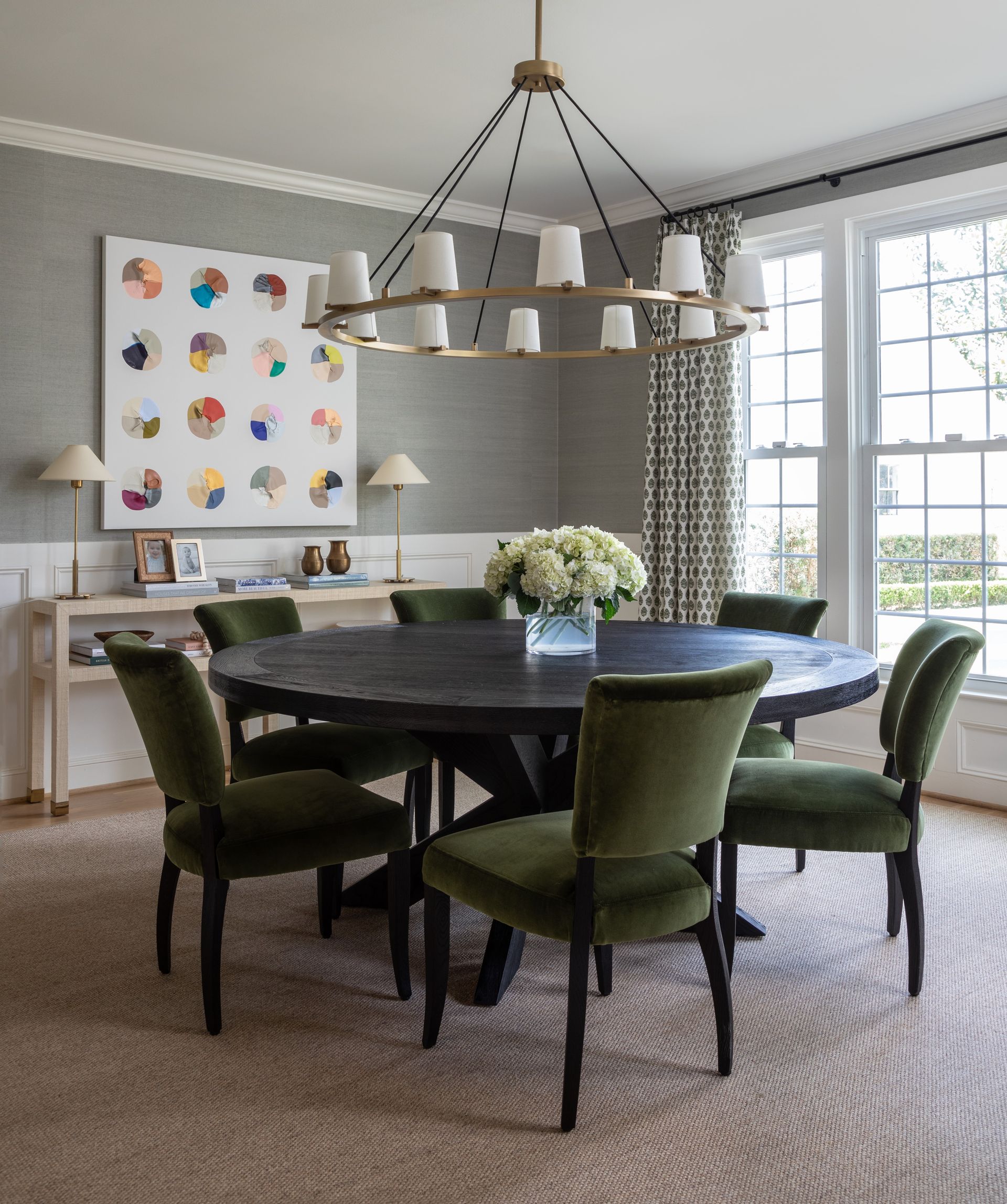 Let's talk tables – round, rectangle, square or oval, options may be endless but what's best for your space?
'I tend to start with a round dining table,' shares Hepfer. They're so conducive to conversation and eye contact with everyone seated, but overall, the function should drive the details.' Determining whether the dining room is for everyday family meals or occasional holidays and formal events is another important consideration that will aid to the feel and flow of the space.
DaCosta warns to 'make sure that the furniture is well proportioned to the space to encourage good flow. I also like to incorporate occasional seating in dining rooms so people have a more relaxed and casual place to sit before or after dining.' Davis often turns to a chic uptick on a classic style. 'We love RH's classic farmhouse style tables – the Cayden table or something from its French Contemporary collection –they feel warm and inviting.'
6. Connect through comfort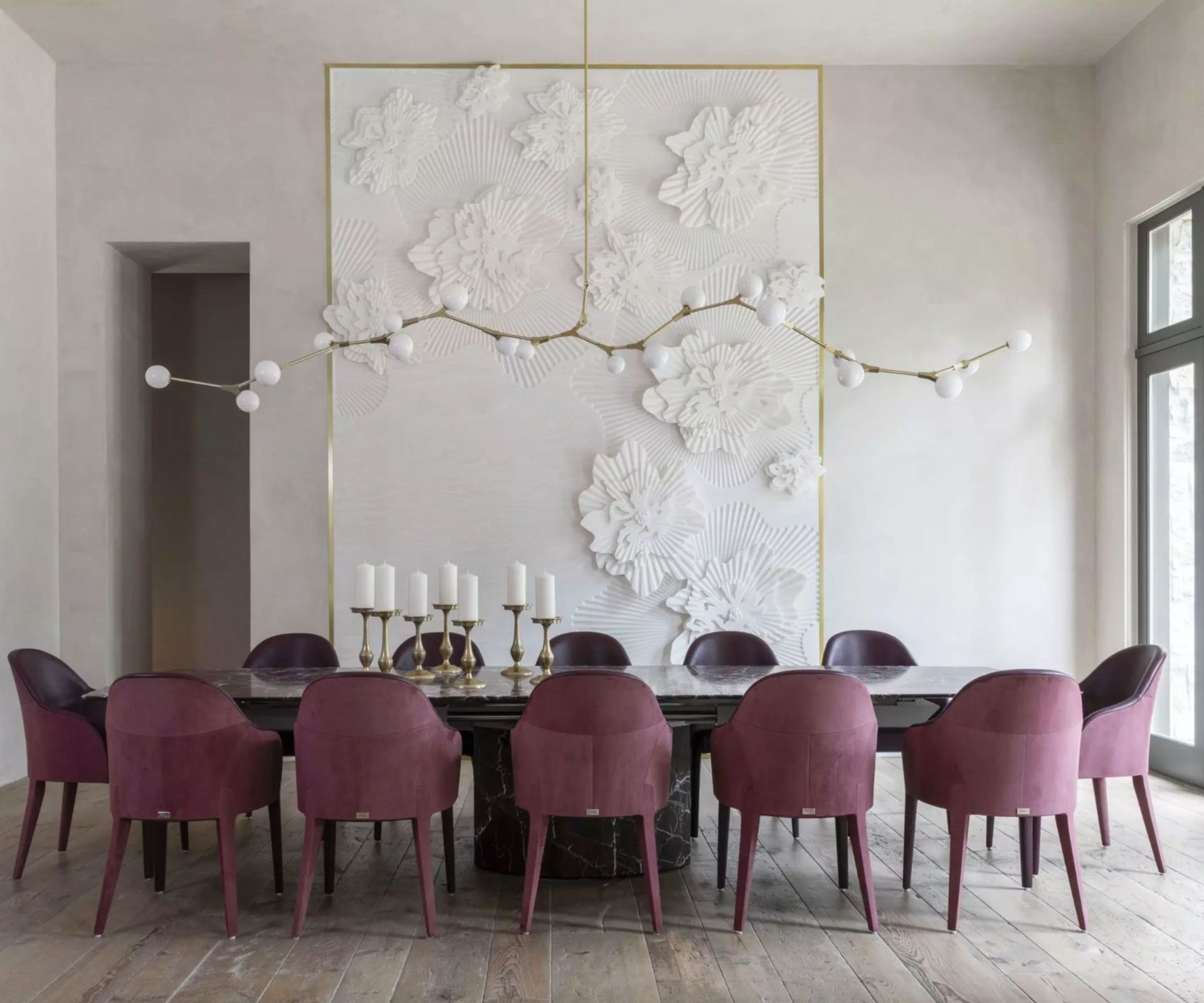 'A comfortable dining chair is what it's all about,' declares Woodhouse. 'There are too many uncomfortable ones out there so make sure you sit in many different chairs that give you comfort and the support you need.' It's no secret that options are plenty. DaCosta often defaults to a more classic approach. 'I love an upholstered or slipcovered dining chair, which gives the option to customize the fabric selections,' she explains.
7. Serve up style inspiration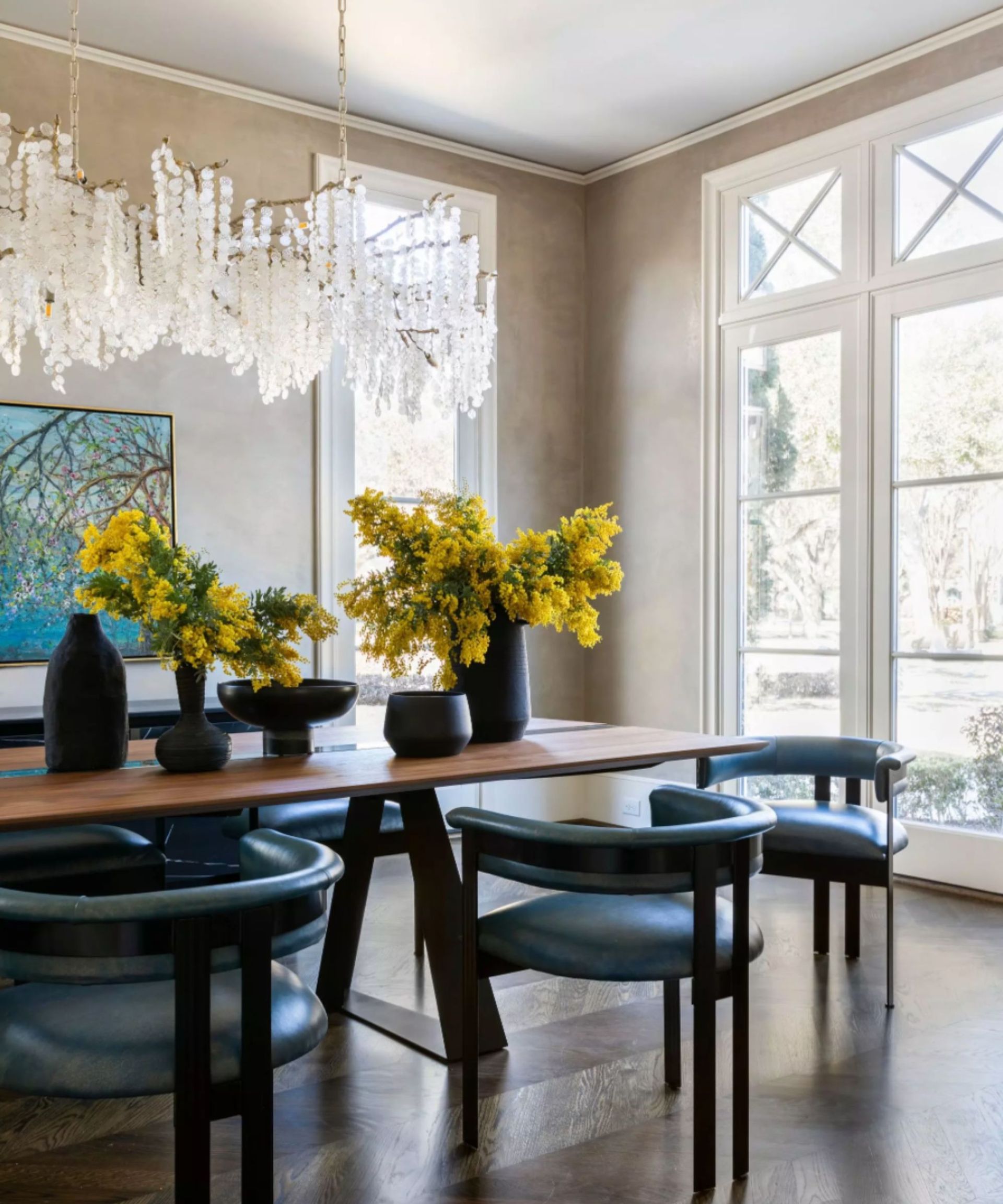 With lighting, chairs and tables taking their positions, it's time to consider the important details that make a dining room that much more tantalizing – dining table decor, of course. 'You definitely need some beautiful serving ware,' encourages Woodhouse who loves a touch of natural stone or brushed metal to her tabletop displays. 'I love having beautiful dishes and flatware accompanied by interesting serving plates and platters, and I also love a linen napkin with stone napkin rings for formal or informal dinner parties.'
DaCosta agrees, adding, 'table linens and centerpieces are the necessary finishing touches to complete any great dining room – for the ultimate optimizing, put together a deliberate palette or materials and colors for your table linens, like napkins, placemats, and table runners, along with a direction for your centerpiece which should be sculptural, a group of decorative vase, or the soft glow of candles.'
8. Take risks with design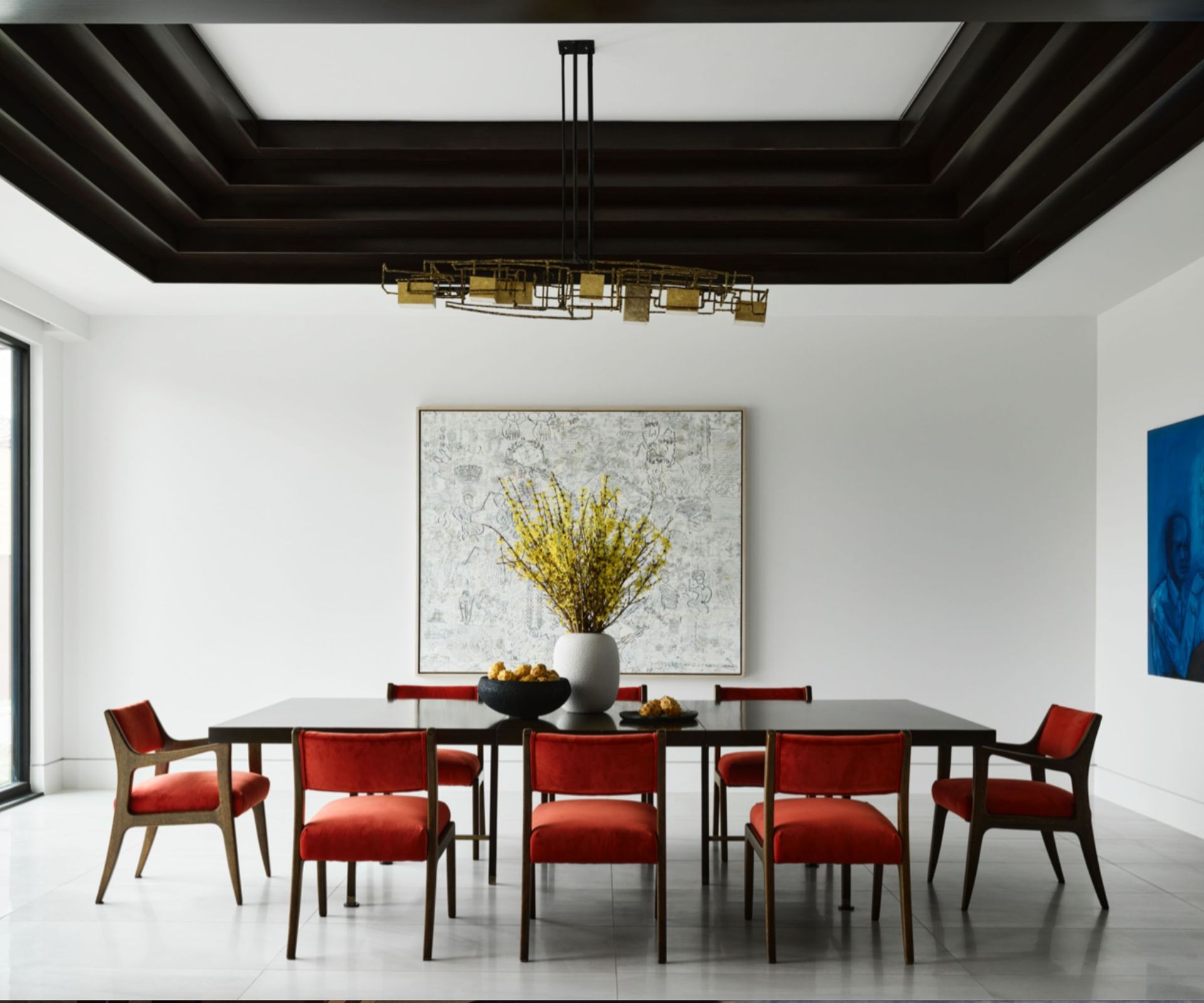 The dining room is the perfect space to take some bold design risks. 'It can be fun to use different but complementary fabrics on the chair seats and backs,' suggests Hepfer who loves to use chair upholstery as her medium for injecting an eye-popping color in an otherwise subtle scheme. 'I've introduced dining room color schemes in cobalt blue, Kelly green, and lemon yellow, and they're always a client favorite,' shares the designer.
DaCosta also loves a mix-and-match design scheme. 'Consider putting a fabric on the chair seat that differs from the fabric on the chair back – mix and match your chairs so that the host chairs – those at the heads of the table – are a different style than the others.
DaCosta's playful mismatched approach even extends to the table itself. 'I often mix and match materials like pairing a metal base dining table with stone top with upholstered chairs that have wood legs – this is how you achieve a truly customized and unique looking dining room.'
Laurent shares her recipe for keeping things alive with layers of interest but also cohesive, 'I like to mix styles of tables and chairs but I make sure all the pieces are going to the same party, so I create commonality through customization,' she explains. 'I might refinish some antique chairs in a new color to match the table for example.'
9. Turn to nature
New York-based designer Laurence Carr turns to nature for her entertaining essentials. 'Visually we strive for stunning aesthetics but also the following biophilia and lighting,' says the designer, who is well-known for creating well-designed spaces through flora and fauna.
'The balance in maximizing natural light and providing flexible lighting solutions, and thoughtfully integrating plant-life in interior design are timeless ways to encourage wellbeing through the healing power of nature, cleaner air, and the meditative care of plants.'
Carr stresses that the addition of 'natural elements like plant-life, blooms, cooking herbs or even the visuals of nature landscape has myriad positive benefits that are too-often overlooked when entertaining guests in a dining room.'
10. Put the focus on material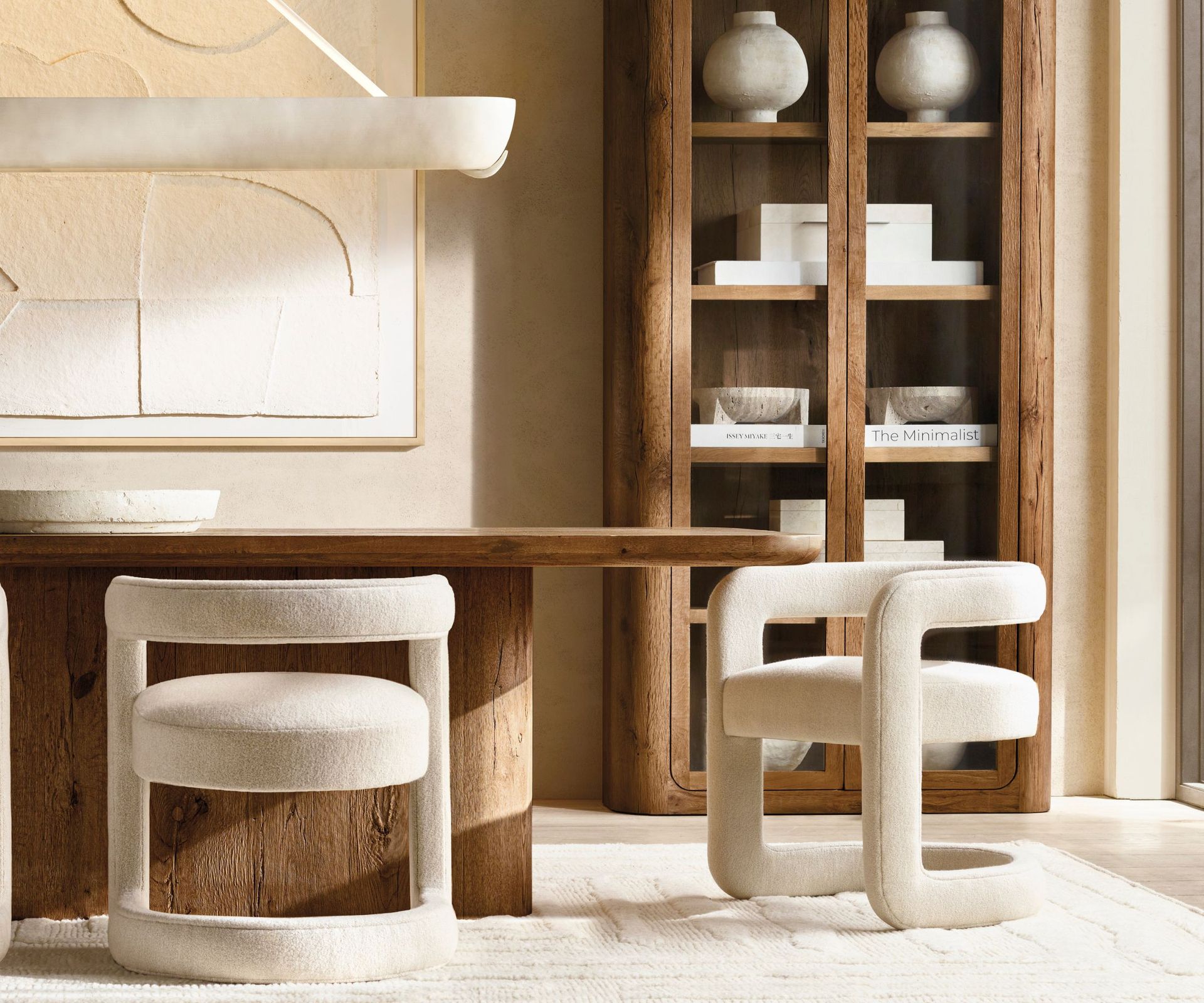 Philadelphia designer Maria Viola-Kuttruff turns to the art of the material mix when making a statement in a dining room. 'We almost always mix materials,' says the designer. 'A room will quickly become visually stagnant if you only use one type of materiality for the occasional pieces, but mixing in woods, glass and metal will allow a space, especially a dining room, to look and feel more curated and thoughtful.'
DaCosta adds that curation is key within a dining room. 'I'm drawn to the curated look of RH,' states the designer. 'I love that each piece looks intentionally collected, carrying a uniqueness only recognized as RH – it's like acquiring antiques or custom designed pieces without having to rummage through endless antique shops.'
Sign up to the Homes & Gardens newsletter
Decor Ideas. Project Inspiration. Expert Advice. Delivered to your inbox.
Cara is a freelance design and lifestyle writer, editor, and stylist currently residing in London. Formerly the principal style editor at Luxe Interiors + Design, she now is a regular contributor to Architectural Digest, Domino, Wallpaper, and The Wall Street Journal, among other publications.