Best landscaping shrubs – 10 varieties to add instant impact and interest to your yard
Introduce color and texture to your landscaping with these hard-working shrubs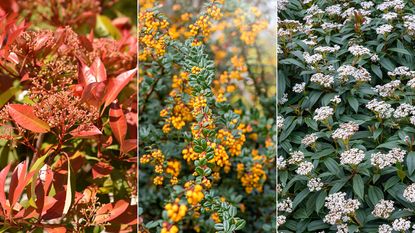 (Image credit: Getty Images)
When looking for reliable, general landscaping shrubs, start by considering the needs of your space. Look at the exposure to sun, areas of shade, existing trees and shrubs and available water sources.
The next step is to look at your design style and how you want to use the landscaping shrubs. Think hard about the colors and textures you want to introduce, whether you need shrubs for structure and contrast. Then look at flowering times and other seasonal interest. Do you want your shrubs to have one starburst season of interest, or keep evolving through the year?
You might want to aim for successional planting with some landscaping shrubs for spring flowers, followed by summer blooms and then include some to round up the year with fabulous fall color. Don't forget the ornamental value of berries and evergreen shrubs for winter interest to hold your landscaping design together. And last, but absolutely not least, do you want to attract pollinators and wildlife for added interest? Of course, there are some fantastic all-rounder shrubs that will do all of these things and these are great value. Whatever you go for, choosing the right landscaping shrubs will make a real impact on your yard.
10 landscaping shrubs for spaces big and small
When choosing landscaping shrubs, it's also important to think about whether you want a single specimen as a focal point, or a mass or grouped planting.
Whether you need a shrub for shade, a fast-growing shrub to create privacy, or a scented flowering shrub for near a seating area, there are plenty to choose from in our selection.
1. Spirea x vanhouttei (bridal wreath)
Best for: Informal hedging and mixed shrub borders
Height: 6-8ft
Spread: 4-6ft
Hardiness: USDA 4-8
Spireas are very versatile shrubs, with early summer flowers in abundance that are loved by pollinators and often good fall foliage color too.
There are many cultivars to choose from to suit a wide range of garden uses. Perhaps the best known is Spirea. x vanhouttei, one of the most popular shrubs at Nature Hills.
With a real cascade of arching branches, covered in small white flowers in late spring and early summer it looks great tumbling over a plain fence.
There are many other compact spirea cultivars – try 'Goldflame' (available at Nature Hills) for its golden tinged foliage, or pink flowered 'PowderPuff' (also from Nature Hills) in containers or at the front of borders. Most spirea grow on a range of soils in full sun to part shade and need little pruning.
2. Nerium oleander
Best for: Coastal landscapes, informal flowering hedges
Height: 10-18ft
Spread: 8-12ft
Hardiness: USDA 9-11
Evergreen, with gorgeous, long lasting summer flowers in white, pink and red, this is great as an informal hedging plant and is used widely in public landscaping.
These easy-to-grow, low-maintenance shrubs are tolerant of drought, heat, wind and salt. They don't require much fuss or feeding and tend to be pest and disease free too, but they are borderline hardy in colder areas, so might need winter protection.
While good planted en masse, oleanders can also be pruned into a standard small tree shape to suit more formal landscaping ideas. However, all parts of the plant are toxic, so don't plant near backyard playground areas or seating.
3. Photinia x fraseri
Best for: Evergreen hedging and boundaries
Height: 12-15ft
Spread: 8-10ft
Hardiness: USDA 7-9
For a reliable evergreen privacy shrub with a difference, try the red tinged photinia 'Red Robin' or 'Red tip'. The first flush of spring growth emerges a really vibrant coppery red which gradually turns into a classic dark green.
With white spring flowers this makes an attractive boundary with an average growth rate, so it requires pruning in spring and summer for a more formal hedge or just annually for a more relaxed look.
4. Hebe
Best for: Low, informal hedges and coastal gardens
Height: 3ft
Spread: 3ft
Hardiness: USDA 8-11
Hebes are compact shrubs so are a good choice for small backyards. They have small evergreen leaves and attractive, long-lasting, pollinator-friendly summer flowers. They work hard through the seasons, are easy to care for, and suited to most well-drained soils, although they can get leggy if they are not in full sun.
There are many varieties to choose from, with variations in leaf color from gray green to purple tinged (eg 'Caledonia') or with cream variegation (eg 'Silver Queen') and flower colors from white through to purple. They look good planted in groups, but also as individual plants to provide structure and color in mixed borders.
5. Euonymus fortunei
Best for: Medium height screening and evergreen contrast in borders
Height: 6in-6ft
Spread: 20in-5ft
Hardiness: USDA 6-9
Euonymus is a great evergreen stalwart, with small leaves, good for many different locations.
There are many color variations from golden green ('Emerald n Gold') to cream edges ('Silver Queen') and variegated ('Golden', available from Fast Growing Trees). Some have a tall, upright habit, while others are spreading and prostrate.
Use them for privacy hedging or as evergreen contrast in sunny or part shady borders. Unusual choices might include the low growing E. fortunei 'Kewensis' that grows in sculptural waves if left unpruned. Also 'Silver King' (available from Nature Hills) for upright hedging options.
6. Pittosporum tenuifolium
Best for: Evergreen structure, mixed borders
Height: 3-35ft
Spread: 3ft-25ft
Hardiness: USDA 8-11
Tall, silver or bright green leaved pittosporums are great for planting at the back of sunny borders as screening shrubs. With a loose upright habit, they make a good backdrop for other shrubs and flowering perennials.
The tiny, scented flowers are an added bonus. A compact cultivar, good for smaller spaces, is neatly rounded 'Tom Thumb'. With purple foliage, it is best in full sun to bring out the coloring. This is great as a pause point in mixed planting or in containers flanking a garden path or entrance. It can also be grown as an informal low hedge.
7. Camellia
Best for: Acid soils and winter flowers
Height: 8-10ft
Spread: 8-10ft
Hardiness: USDA 4-11
If you want a shrub for winter flowers, the camellia is the queen of the season. The lush, elegant, colorful blooms appear when there is little else in flower. There are many different types of camellia to choose from in shades of white, pink and red and they can be single or double-flowered, formal, peony or anemone style. The earliest flowers appear in the Sasanqua group, such as 'Yuletide', available from Fast Growing Trees.
Camellias are bold, elegant shrubs, suited to acid soils and shadier areas with glossy dark evergreen foliage that keeps them working through the rest of the year. Plant as a flowering hedge, or grow them as single, elegant specimens in the ground or in containers. Fertilizing camellias will also encourage them to bloom well.
8. Cotoneaster adpressus
Best for: Ground cover in sun or part shade
Height: 1-2ft
Spread: 4-6ft
Hardiness: USDA 4-7
There are a huge range of cotoneaster shrubs that work well in large and small yards, but the spreading, ground cover types are some of the most useful landscaping shrubs.
With shiny, small, dark green, close-growing deciduous leaves, that make them great for suppressing weeds, they also bring spring flowers and dark red winter berries. This really enhances their value as ornamental plants that are great for wildlife too.
There are many good cultivars, including 'Little Gem', 'Nan-shan' and 'Tom Thumb'. Also worth considering is the cranberry cotoneaster C. apiculatus.
9. Pyracantha
Best for: Training against a wall, as intruder boundaries
Height: 3ft-8ft
Spread: 4-6ft
Hardiness: USDA 7-10
Pyracanthas make tough, thorny boundary plants. As landscaping shrubs, they work well grown against a wall, clipped and trained to the desired shape, or grown as a low hedge or freestanding landscaping shrub.
While we might first think of them for the profusion of brightly colored fall berries that last into winter, it's easy to forget their other seasonal attributes – a profusion of white early summer blooms (making them a great plant for pollinators), and small evergreen leaves.
Typically, pyracanthas have bright red berries, but there are also cultivars with orange and yellow fruits and compact varieties too.
10. Viburnum davidii
Best for: Year round interest, mixed shrub planting
Height: 2-3ft
Spread: 3-4ft
Hardiness: USDA 7-9
There are many great viburnums to choose from but V. davidii ticks many boxes on the landscaping shrub wishlist. With textured, ribbed foliage, evergreen in milder areas, spring flowers and blue fall berries for wildlife, this is a good performer in mixed borders right through the seasons.
Plant male and female pairs of this to ensure you get the berries. Medium height and quite compact with a neat domed shape these look best planted in small groups for more impact. They tolerate most soils and shadier areas, so would work well on the edge of a woodland area. 'Use these versatile plants where you want to define your space with a cool ribbon of color,' say the experts at Nature Hills.
Pruning viburnum correctly will ensure you get the best chance of maximum flowers and berries the following year.
What is a good landscaping shrub to plant next to a house?
Hydrangeas are great ornamental shrubs that will tolerate moderate direct sun and part shade and the gorgeous flowers in pink, white and blue have a long season of interest from late summer to fall. Many look good even as dried specimens left on the plant through winter.
Grow either as single specimens, in groups or as an informal, flowering hedge. Use them in flower beds under windows or outside entrances as a shrub for the front of the house.
Recommended hydrangeas are 'Annabelle' (available from Nature Hills) for the large white pompom flowers and also hybrids of Hydrangea quercifolia, the oakleaf hydrangea, a North American native species, with a range of cultivar sizes available and good fall foliage color.
Which flowering shrubs are best for landscaping?
It's hard to beat rhododendrons and azaleas for their shrubby flower power. With colors ranging from yellow through to orange, pink, red and purple, these really turn up the heat in mid spring to early summer, some with gorgeous scent too. The only catch is that they need acid soil conditions, so shady, mixed woodland planting areas is the most suitable location for them.
If you have a site like this in your yard, choose a combination of larger and smaller evergreen and deciduous hybrids. There are thousands of different cultivar choices, so look to your local nursery to advise on the best choices for your zone. Azaleas in the Northern Lights, bred by the University of Minnesota, are well known for cold-hardiness to -30˚F.
---
If you buy your favorite landscaping shrub as a bare root option, they are best planted in the fall through October and November, when the soil is still warm, but before any frosts. The young plants will have time to build a strong root system over the winter months in cool, damp soil.
Any young shrubs will need watering for at least the first year, until they are well established. However, if you buy a pot grown shrub, it's easier to get away with planting shrubs later in the season, but they will need regular watering, especially through drought conditions.
In her years of gardening, Camilla has designed planting schemes for gardens large and small in and around London, written about plants and how to grow them, and worked on BBC gardening TV shows in the UK. She's also works as a therapeutic horticulturist, teaching growing for wellbeing and mental health.