Backyard playground ideas – 10 ways to create a fun area outdoors that kids will love
Keep children happy and engaged while spending time outdoors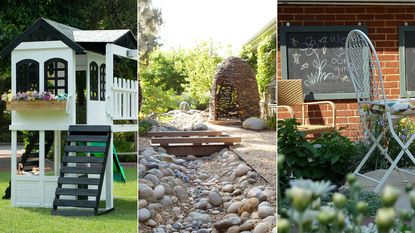 (Image credit: Easy Tots; Bay Tree Design; The Ardent Gardener)
Guaranteed to engage the children for hours, encourage creativity and provide an outlet for excess energy, a backyard playground is worth considering whether you're planning a simple yard update or a complete redesign.
What's more, you don't have to compromise on your backyard style either as each playground idea can be adapted to suit your plot, local climate and preferred choice of finishes and materials.
A well-designed backyard playground area can help stimulate imaginative play, engage the senses and develop a child's confidence, as well as provide opportunity for physical exercise. 'Children grow and change and thus need environments that can adapt with them and pique their interests throughout the seasons and years,' says Lisa Howard, designer at Bay Tree Design. 'Most children's landscapes can be integrated into the overall yard with messier activities sited away from main spaces. They can be beautifully designed spaces that build your children's self-esteem, skills, and sense of self.'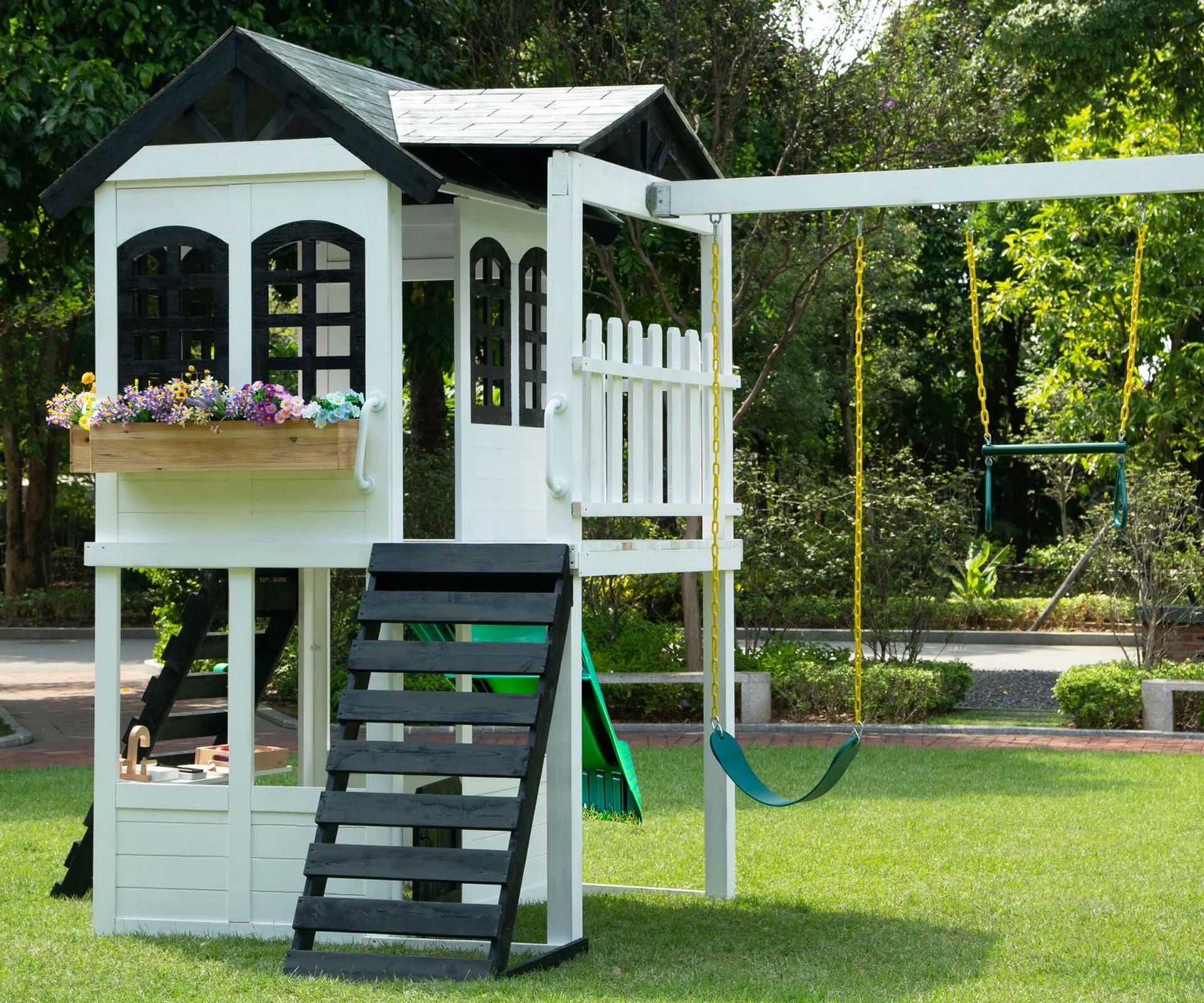 10 backyard playground ideas for every size plot
Whether outside space is tight or plentiful, these fun backyard ideas for kids will engage children of any age. 'Making sure the play space has a sensory component, activity options, possibility for imaginary play and places to relax are key in making a good play area,' explains Kelsey Mellman, Director of Product Management at EasyTot.
1. Create opportunities for hands-on play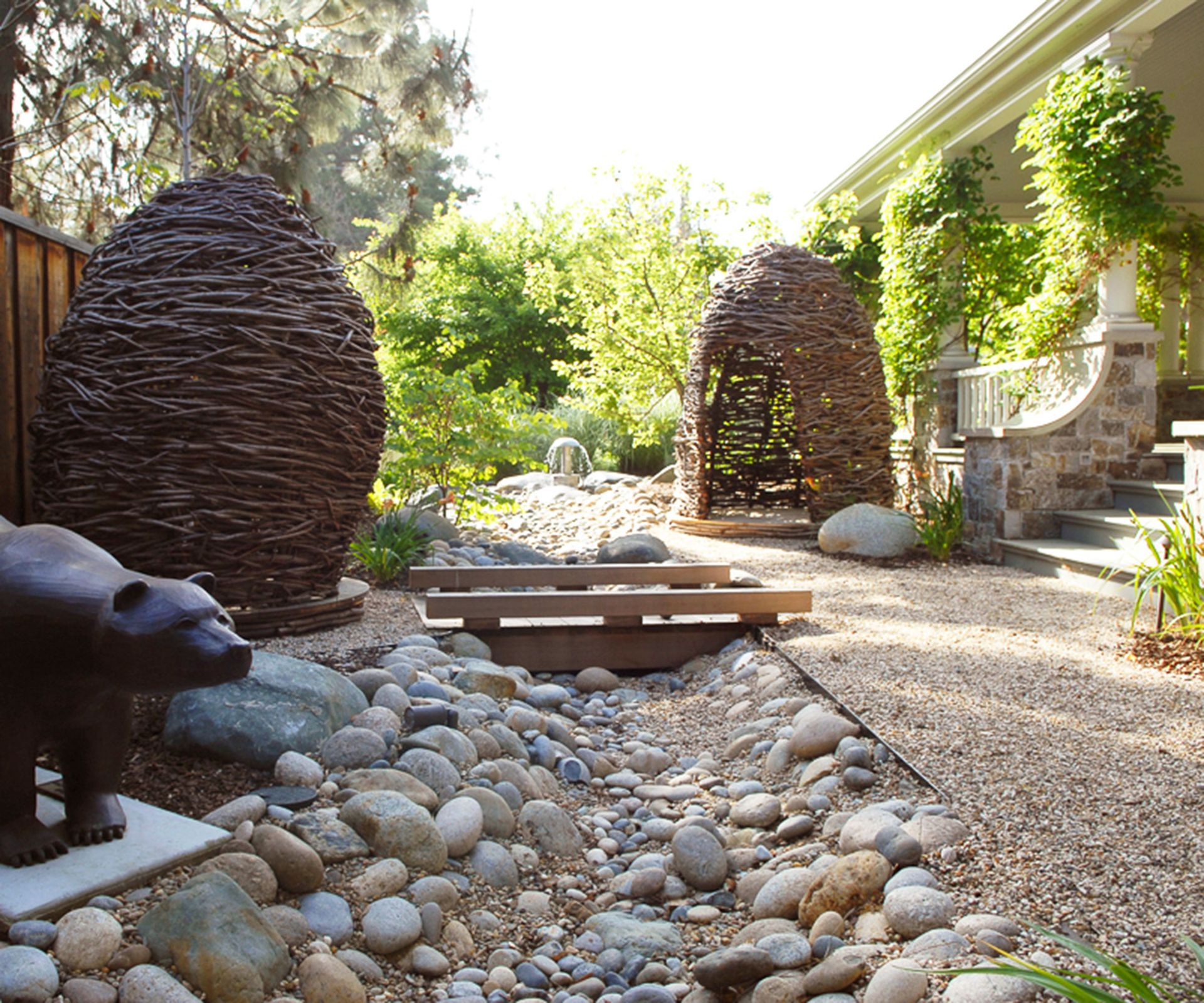 Designing a play space with natural materials will instantly have an irresistible appeal and visual charm but there are other hidden benefits for children too.
'Elements that make for stimulating and engaging children's play areas include using malleable materials with water and tools,' explains Lisa Howard. 'A sand box or a dry creek with easy access to water such as a pump, and tools such as shovels, molds, small animals, and sieves, provides children with endless opportunities to manipulate the materials building dams, castles, mud pies, volcanos, and anything else their imagination suggests.'
These kinds of backyard landscaping ideas don't have to be large or dominate the whole yard either, as this project shows where a side yard area has been transformed into a much-loved play place.
A real stand out feature of this project is the standing woven cocoons. 'Children like smaller spaces that they can claim as their own and act out their ideas from playing house to being on a pirate ship,' says Lisa. 'It is best when these objects are abstract so that children can put their own ideas onto the object and play out their imaginations.'
2. Introduce color and sensory surfaces to a play area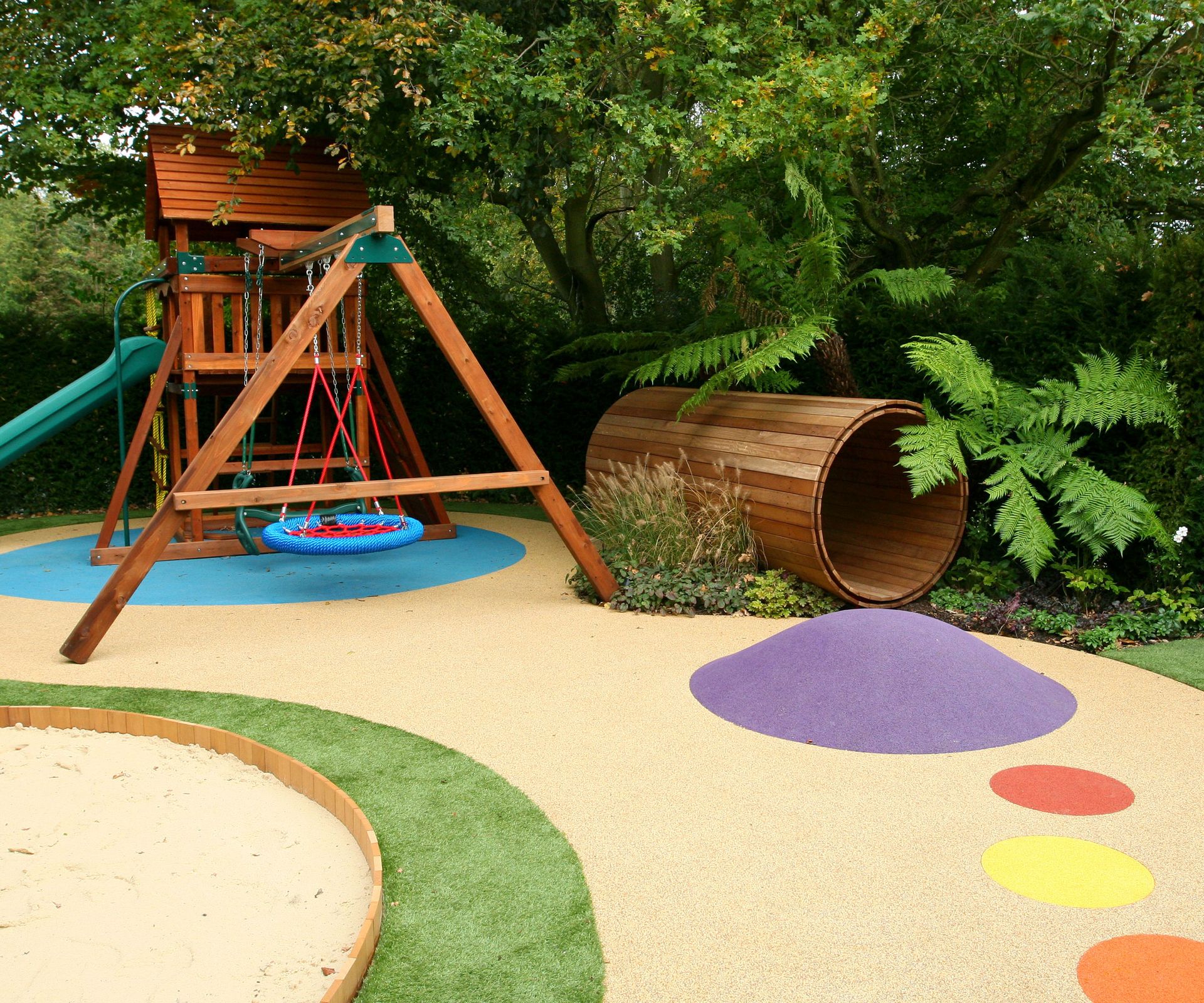 Choosing practical but fun play surfaces can be the make or break of a successful backyard play area. The need to be long lasting, mud free and forgiving for bumps, scrapes and falls can make choosing a ground cover option tricky. Fortunately, if you're curently considering how to landscape your backyard, there are a few innovative options out there that can be mixed and matched creatively to make a varied and engaging play space.
Soft rubber crumb surface has become increasingly popular in commercial and municipal playgrounds and is gradually making its way into residential projects. Impact absorbing rubber crumb – derived from recycled industrial waste rubber mixed with a urethane binder – is usually wet poured on site on top of a stable rubber crumb base. Depths can be varied to provide more cushioning in key areas – such as the at end of slides or under swings – and colors easily mixed to create playful and personalized designs. Once laid, the surface is weather and temperature proof, resistant to mold and algae growth and can be brushed and cleaned with a garden hose when needed.
In the playground area pictured, artificial grass was chosen to edge the play area and blend it into the leafy surroundings. Much more resilient than turf, this no-grass backyard idea looks smart year-round and can be swept and washed down if needed.
When it came to choosing timber to construct the tunnel, designers Jac Wac and Neil Dunster from The Garden Builders chose carefully. 'We used lengths of hardwood Balau,' explains Jac. 'A hardwearing material it's better than softwood or Western Red cedar. It also has a deep russet glow.' Nestled amongst lush and robust planting, featuring large tree ferns, herbaceous perennials and ornamental grasses, the tube creates excitement and intrigue.
3. Tailor a play set to fit a small yard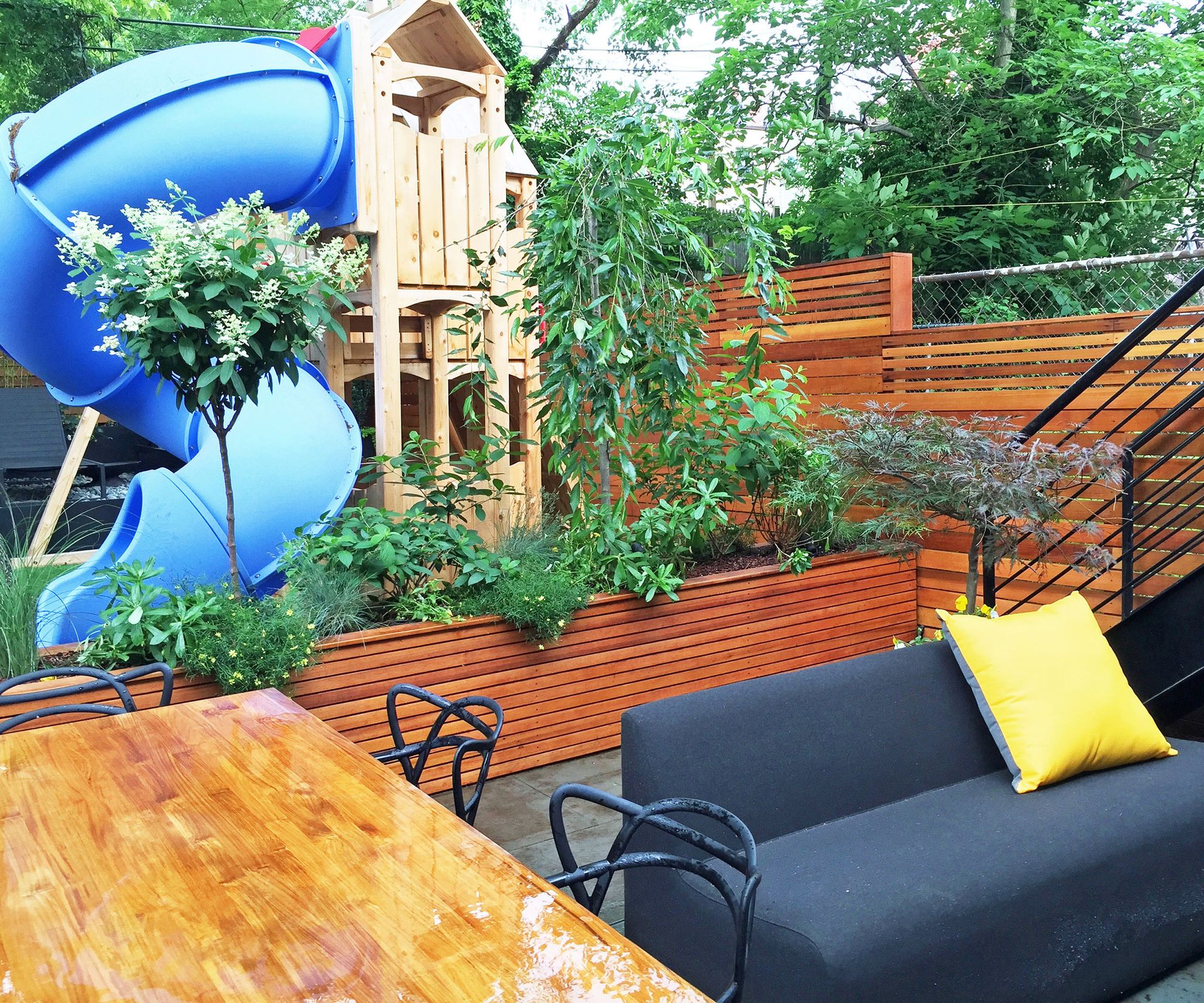 Small backyards can still provide plenty of play opportunities, if thoughtfully planned and positioned. 'Outdoor play sets can be a great way to make the backyard a more welcoming destination for the entire family,' says designer Amber Scott Freda. 'We had this one custom-built for a backyard in Brooklyn by a company that offers a wide range of versatile add-on options, including slides, swings, rope ladders, and climbing walls.'
Siting it across the bottom of the modern backyard and partially screening with herbaceous perennials and trees all with within wood-clad raised garden bed makes it even more inviting and helps to integrate it into its surroundings.
'We also provided a soft space for the kids to play on with the addition of artificial turf all around the play set,' adds Amber.
Don't forget to include some practical backyard lighting too if you want to ensure your children will be able to use the play space in the evenings.
4. Make trees a feature of your play space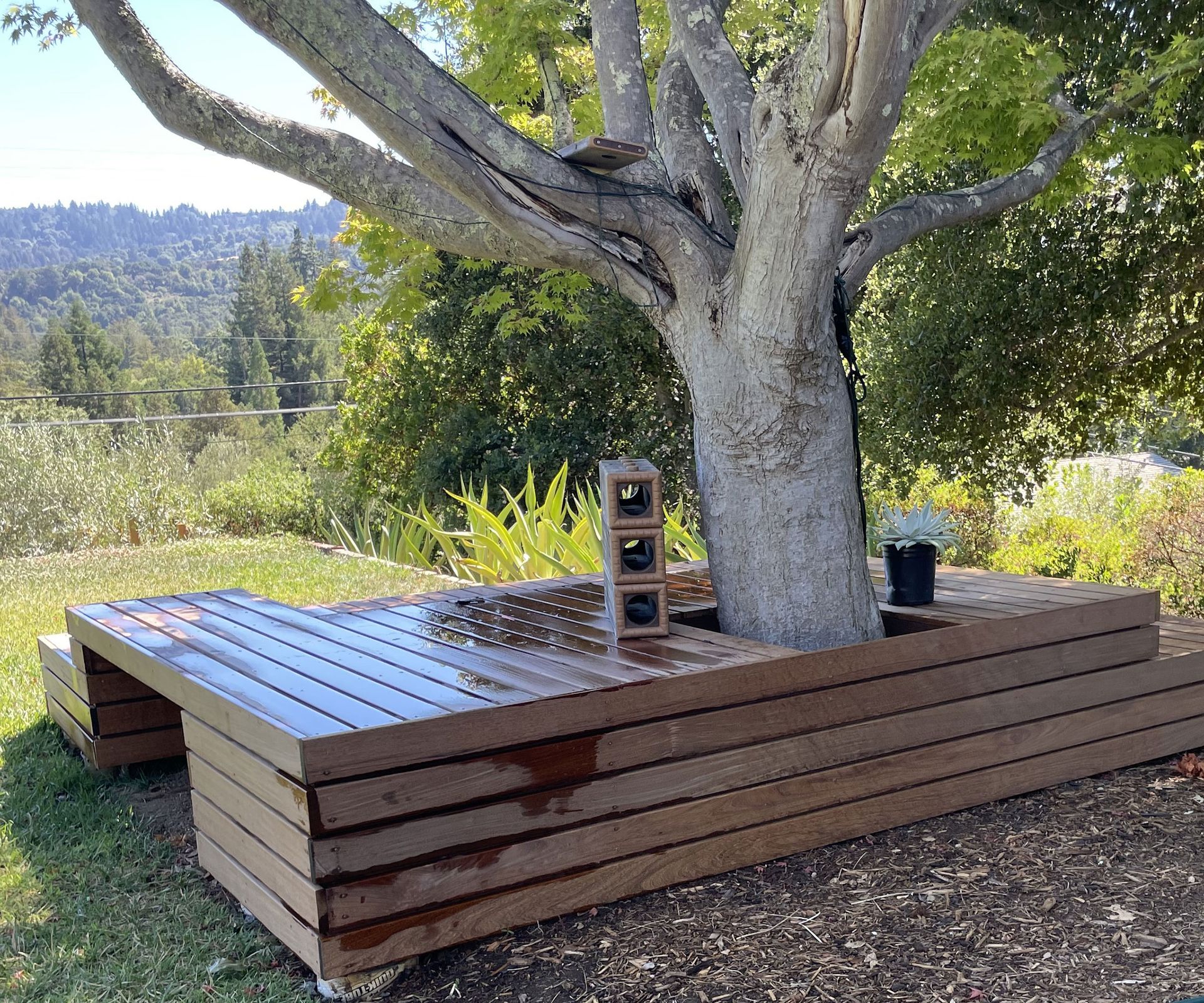 Making a secret camp in the garden has always been popular, particularly if it is high up where you can 'spy' on others, so be sure to harness this idea when creating any play zone.
'Children are always looking up to adults and enjoy the opportunity to look down at adults and their surrounds,' says Lisa Howard. 'Providing a "perch" where they can see from up high such as a treehouse, raised deck, high boulder, climbable tree, or other element provides physical challenges and emotional developmental benefits.'
Mature trees are not only brilliant for climbing and creating viewing platforms, but are also valuable for shade and supporting swings and slides. 'Most children need an object that allows them to swing, jump, or slide,' continues Lisa. 'These objects help them develop their sense of balance. We often incorporate clips for swings and hammocks that can be added to posts on decks, trellises or play features.'
5. Lay multi-purpose playground paving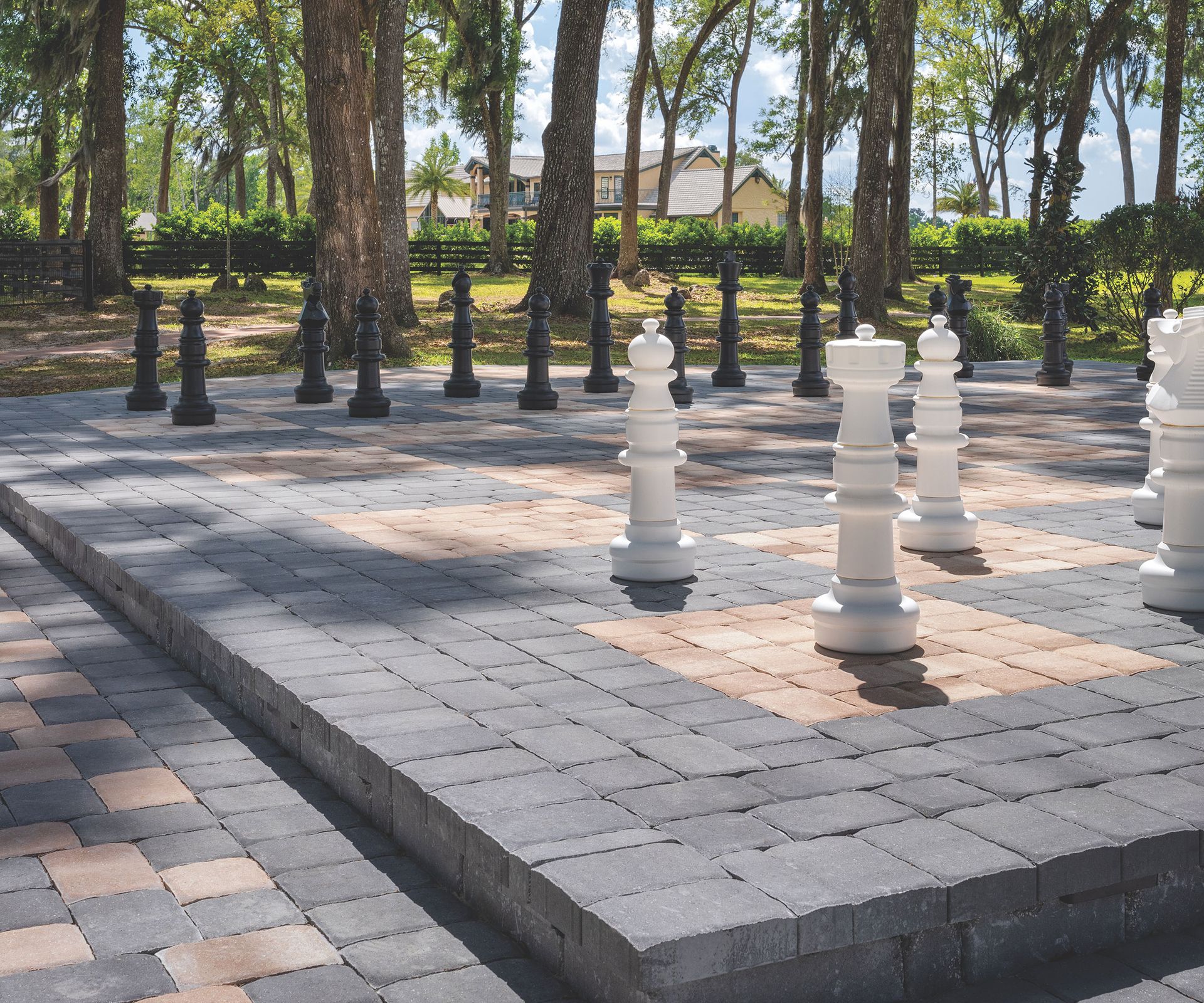 If you want to get the most from your patio, then have some fun with your paved backyard areas. 'Outdoor games are becoming requested additions in many outdoor spaces,' says Joe Raboine, Director of Residential Hardscapes at Belgard. 'You can create an outdoor version of just about any indoor game, such as outdoor chess or checkerboards. You can create life-size chess and checkerboards with pavers in varying colors or styles.'
For permanent installations set concrete or stone pavers into your existing patio or pave a new area near to the seating area. If you are looking for a more temporary solution, invest in some black and white vinyl tiles that can be laid out and gathered in as and when needed.
Outdoor chess pieces come in a range of sizes too, so do your research before installing the playing board to make sure proportions are right. Choose from plastic pieces weighted with sand and/or water, robust fibreglass or lacquered wooden pieces for a classy finish. This MegaChess giant set of chess pieces from Amazon is suitable for outdoor use and each piece is 25 inches tall.
6. Create a crafty corner for kids on a backyard patio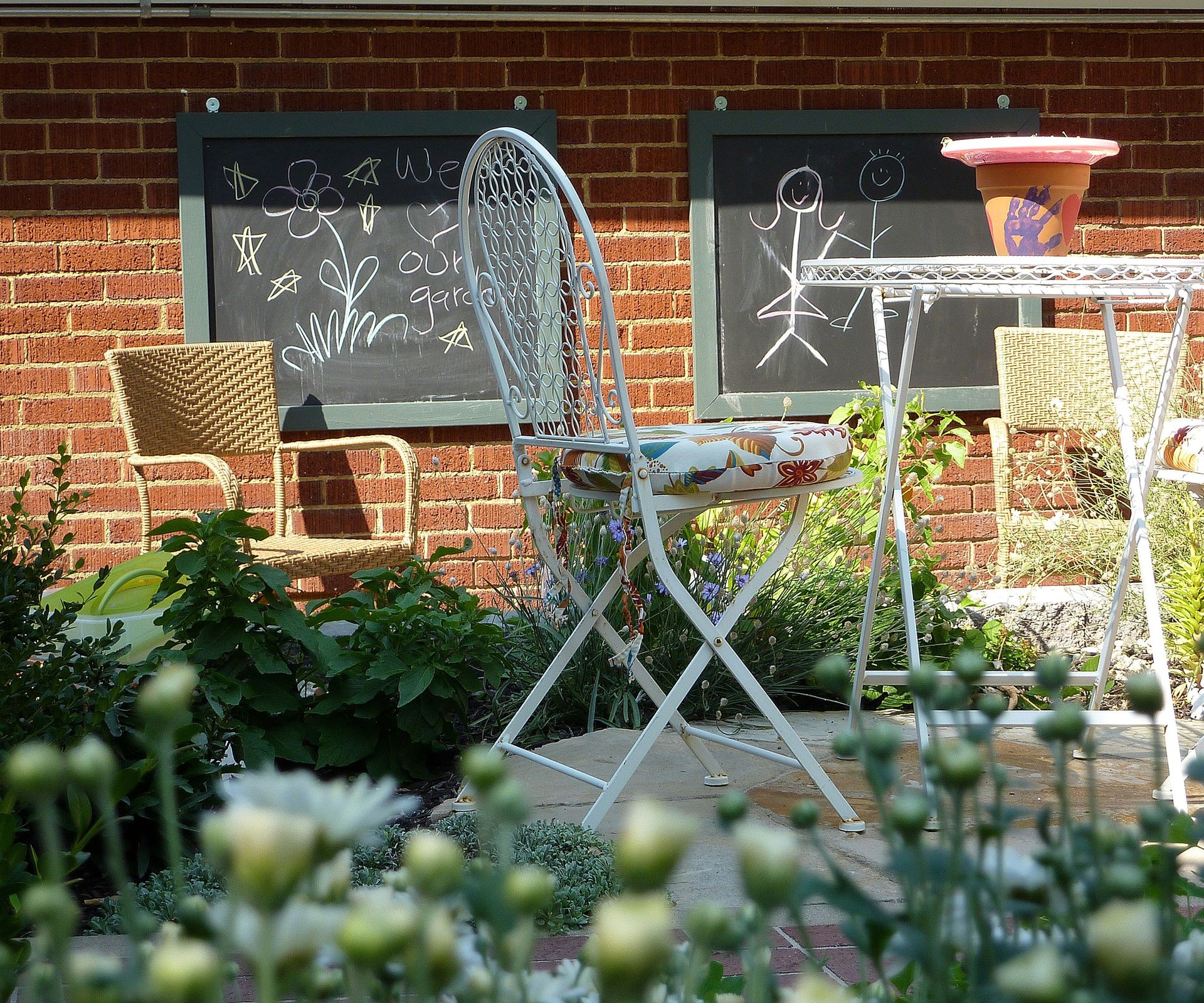 Tempt children to feel at home outside by giving them their own dedicated, quiet spot. Laurie Van Zandt, better known as The Ardent Gardener, did just this for a client and it was a huge success.
'The homeowner wished to create a space just for her daughters, that integrated into the garden as a whole. We put outdoor chalkboards on the back wall of the garage, created a little seating spot to eat lunch or do crafts. Plants were specifically selected for names that would appeal to kids – such as Goblin Gaillardia, Firecracker penstemon, Little Bunny pennisetum, Lamb's Ear, Sneezeweed, Pussy Toes and Cupids Dart and their names written on cute frog-shaped labels.'
A neat bistro set is ideal for a set-up like this. Affordable and readily available, they are ideal for young family members and space efficient – perfect for making use of tight corners and spots nestled amongst planting. Providing weatherproof storage also helps to ensure there are plenty of games, drawing materials and toys close to hand. Look for a storage trunk that can double up as extra seating or a shelved cabinet that sits snugly against the wall, providing a handy display surface for prized natural finds.
7. Add a wipe clean art board to your play space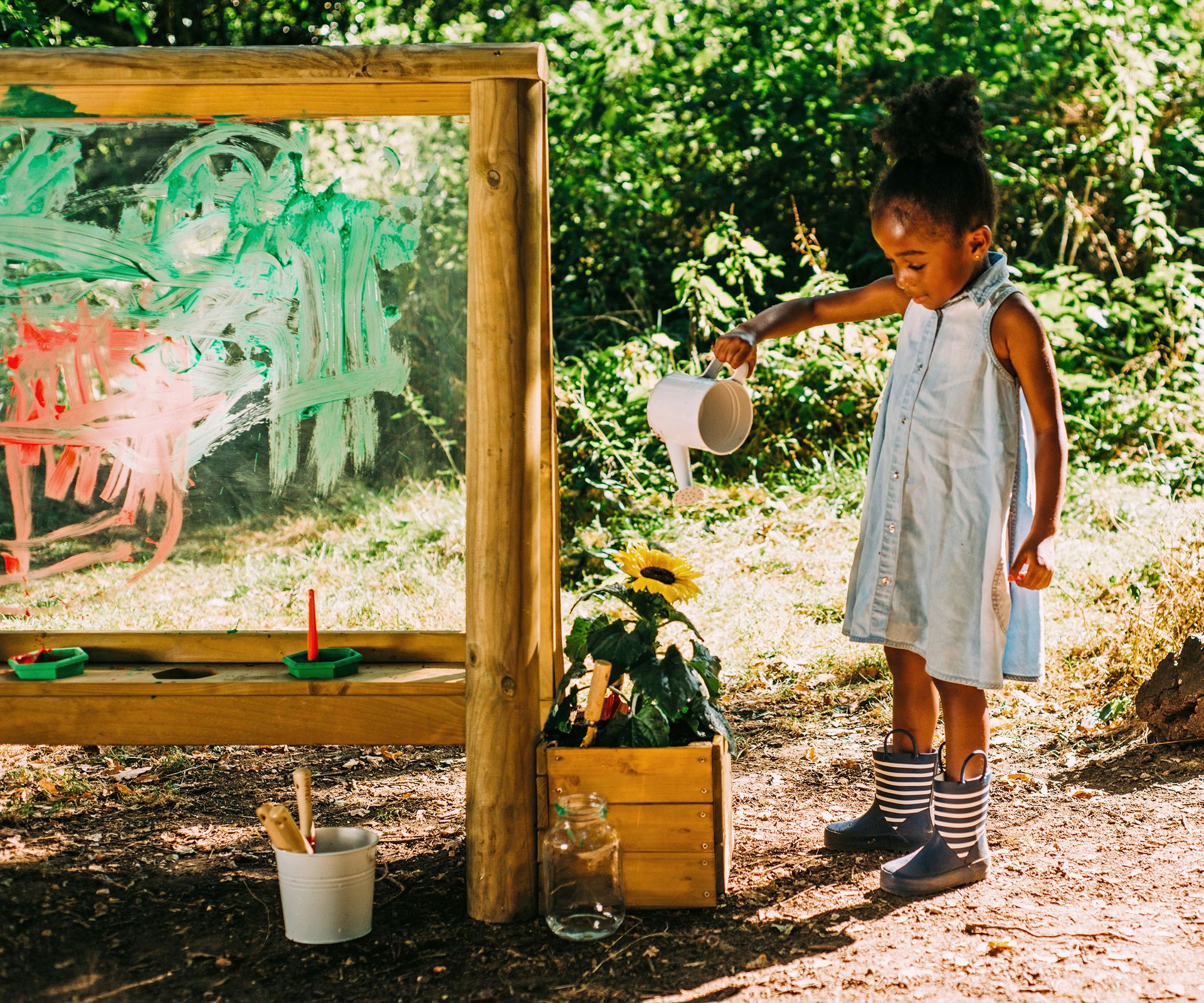 Active, messy play is one of the best ways for children to explore and learn and a safe, backyard play area offers the perfect location. Largely forgiving of any spills, stains or over enthusiastic mark making, it's a great place to let little ones be creative without worrying about the aftermath.
'Healthy active play that sparks the imagination is the most engaging form of playtime,' says David Woodman, Director of Product Development and Compliance, at Plum Play. 'A play area that is focused on sensory experiences and encourages exploration will stimulate children. The combination of STEAM inspired learning (combining science, technology, engineering, the arts, and math), and active play is stimulating for children because it encourages them to be creative, builds their confidence through tinkering and backyard exploration and promotes a love of the environment for little, green-fingered gardeners.'
Mud pie kitchens, water and sand tables, water play stations and wipe clean easels will keep children of all ages engaged and amused, no matter what the weather or season.
This indoor/outdoor adjustable acrylic panel easel from Amazon is a similar look to the design pictured. Or this inflatable indoor and outdoor easel from Amazon would be ideal for smaller spaces as you can easily pack it away when not in use.
'When placing a large play feature within the garden, it's important to consider safety perimeters,' continues David Woodman. 'Place play equipment in an area of the backyard that's easy for the supervising adults to see, so whether watching from the kitchen window or whilst tending to the vegetable garden, grown-ups can supervize their little one's playtime.'
8. Make room for some water play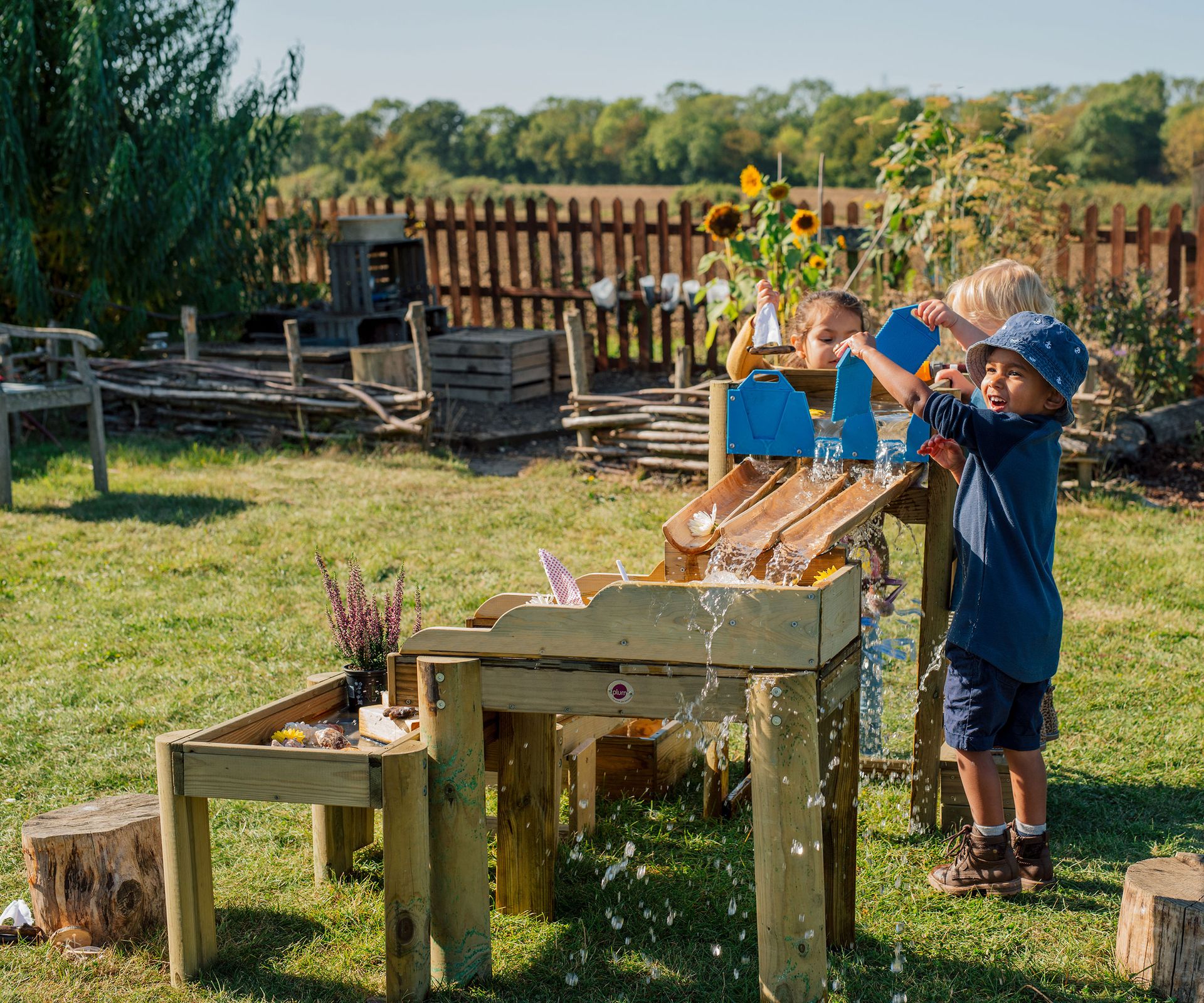 In hot weather, nothing is more inviting than a safe play area to splash and paddle in. Perfect if you have toddlers and kindergarten age children, even a modest-sized area can provide hours of amusement with no threat of mud and grass being traipsed back on to the deck and in the house.
At its most basic level, you can opt for a simple sand and water table, such as this Best Choice Products 3-in-1 Activity Table from Amazon. Or, if budget and space allows, you could go for a more permanent solution in the form of a built-in splash pad. These forgiving, and slip-free surfaces can be teamed with a whole host of water jets, sprays and interactive features so you can tailor your space to suit the site and your children.
'With zero-water depth, the kids can be outside playing and having fun without having to watch them like a hawk,' says John Foraker, owner of My Splash Pad.
When it comes to choosing surface designs and colors, there are endless possibilities. 'Some people like a splash pad to blend in and others want it to stand out with wild colors or bright safety surfaces,' says Jon.
It's always worth seeking expert input if choosing a permanent wet play area. A sunny, level spot is a must but there are other practical considerations too. 'It's usually best to have the wet area close to the home for easy access to a safe electrical source out for the pump, UV light, and other components,' says Jon. 'If a more distant spot is preferable, the pump, filter, chlorinator, UV light can be installed in a small housing by the splash pad. These can then be landscaped around, and you do not even know they are there.'
If you live in a hot climate, don't forget to incorporate some backyard shade ideas into your space to ensure children are protected from harmful UV rays. This could be a simple patio umbrella or sail shade over a play area, or you could look at positioning something like a water table under the shade of a large tree.
9. Incorporate a secret digging spot in your deck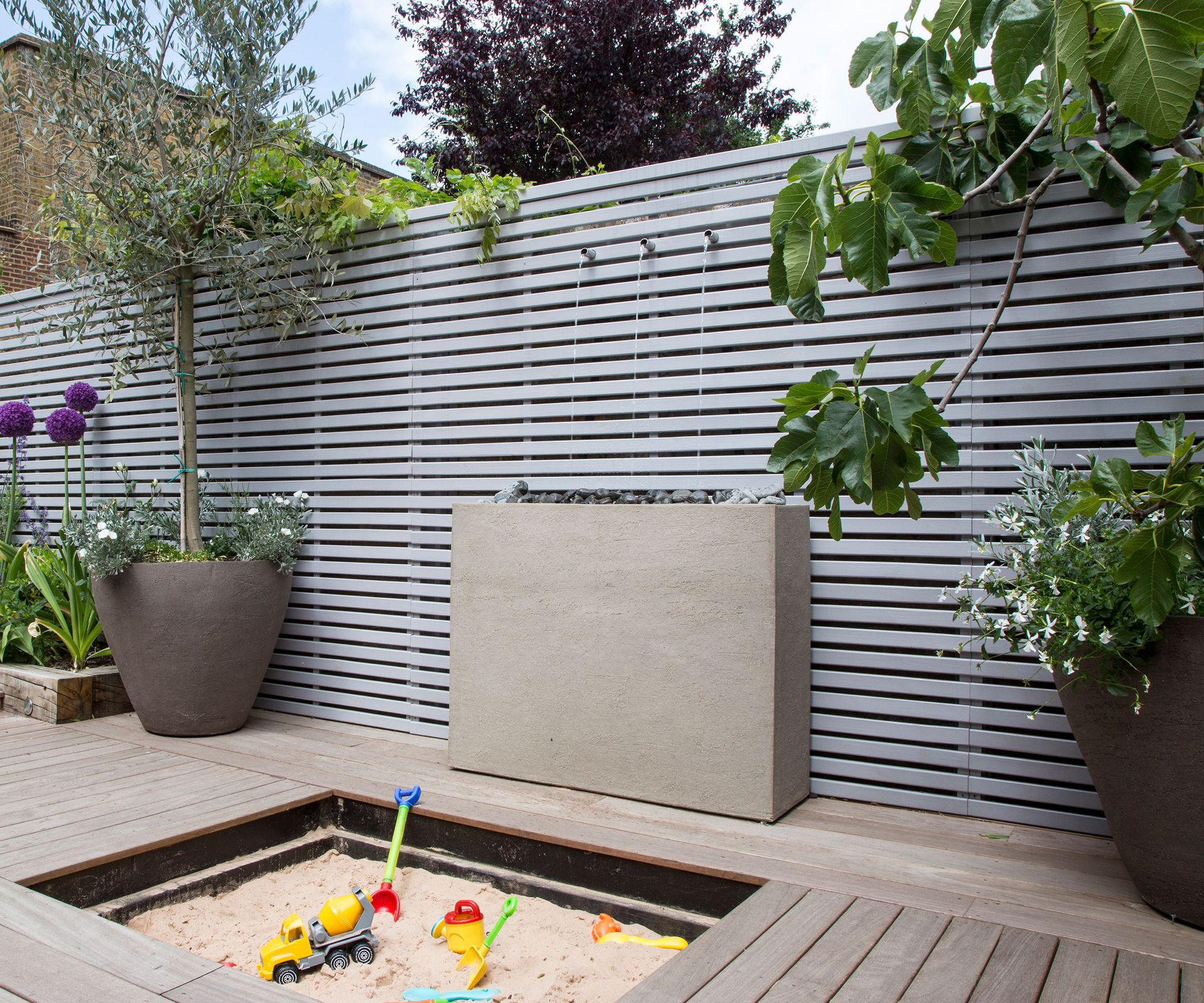 Whether it's mud pies, a gravel patch or the tiniest sand box, digging and shaping natural materials has a never-ending appeal. Occupying the hands and imaginations of all ages, these areas offer endless opportunities for construction, mark making, vehicle and small world play, developing fine motor skills and strengthening muscles.
While there's no doubting the physical and educational value these play features have, they are not necessarily the most attractive part of the garden. They can also take up valuable floor space, which can be a problem in smaller townhouse backyards, courtyard gardens and roof terraces. But before you talk yourself out of adding one of these to your to-do list, take a tip from designer Robert Myers and hide it away.
In this urban backyard, a much-loved sandbox is cleverly hidden below the timber decking. Covered seamlessly by a section of deckboards, it can be lifted out when in use and replaced ready for scooting or alfresco dining.
10. Enchant and make a miniature world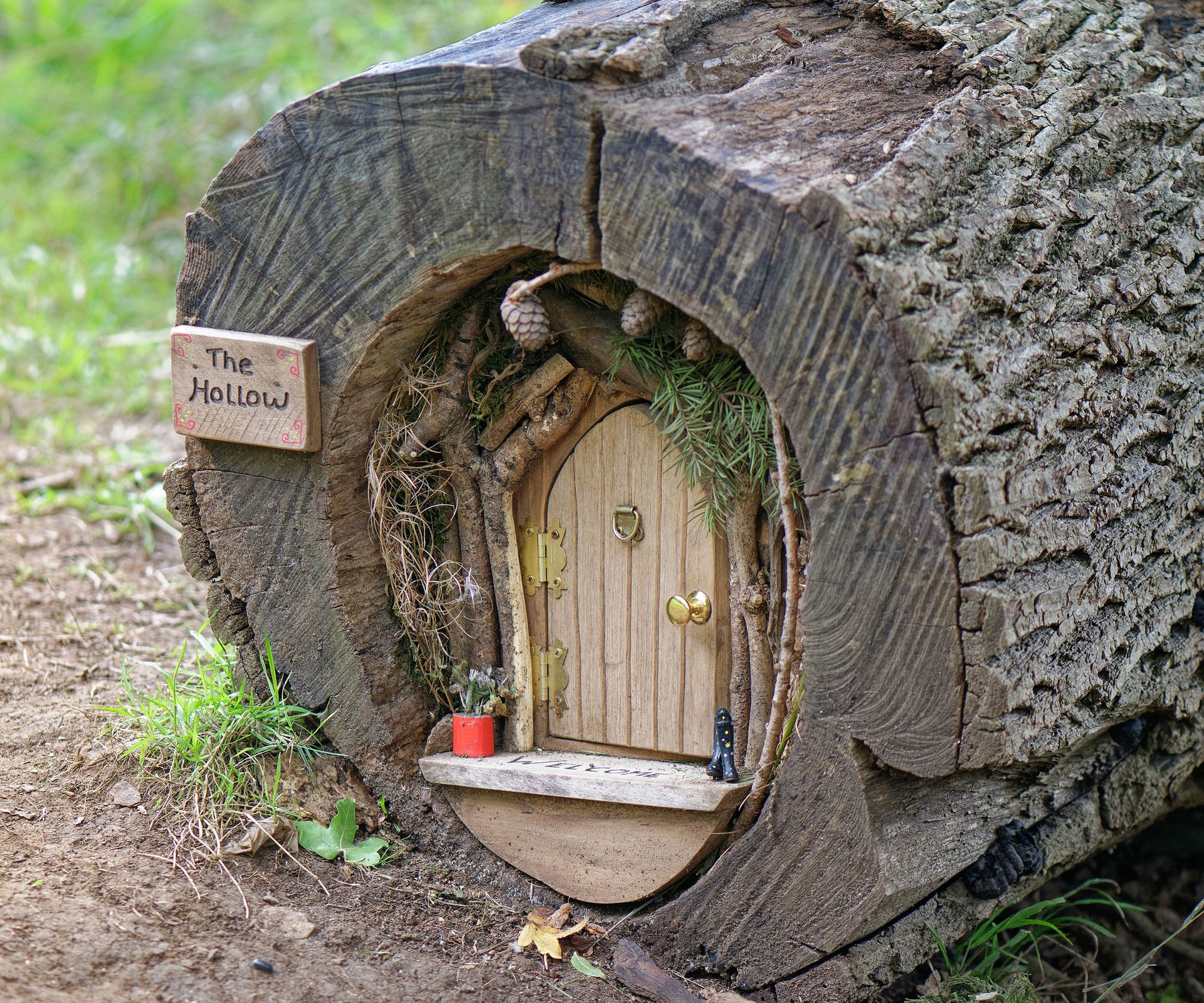 Having a huge amount of outside space isn't essential for imaginative play. Sometimes even the tiniest detail can provide hours of entertainment. Ignite children's imagination – young and old – by helping them to create a fairy garden filled with homes for the 'little people'. With just a little creative magic, flowerpots, logs, old gumboots and birdboxes can be re-imagined into enchanting tiny dwellings full of individual charm and personal touches.
'Try and create a natural looking habitat for your fairies by using natural plants, moss and small colored stones,' says Jennifer Handley, owner of The Fairy Garden. 'Position your fairy house in secluded and shady areas and go foraging in the woods for acorns, conkers and teasel heads and have fun getting creative.'
How can you create a good play area in a small yard?
'Yards do not always have to have a lot of space to create a functional play area,' says Kelsey Mellman, Director of Product Management at EasyTot. 'In order to maximize the space, a main attraction piece such as a playhouse should be centered in the backyard to provide maximum room for the swings and slide. Loungers, bean bag chairs, or a teepee (to escape the summer heat) on the outskirts of the play yard can provide seating for children to read outside, play games and be a spectator as their friends/siblings play.'
'Backyard play ideas like a mini golf set, a bowling set, or ring toss set are perfect to keep the kids busy – and grown-ups can join in the fun as well. An inflatable pool can double as a ball pit or sensory tub. You can fill it with sand, water, balls etc to create a sensory experience that will keep the kids busy for hours. You can add a sand play set or gardening set to make it extra fun.'
How can you build a simple DIY playground?
It doesn't take much to kickstart a backyard playground. While play apparatus such as climbing frames, slides and swings are great for physical play they can dominate the garden view. Consider substituting with mature trees, felled trunks, chunky log stepping stones or large boulders instead. A sandbox enclosed with logs makes for a place to build and play with vehicles while doubling as casual seating.
Loose parts play is another valuable resource that can be pretty inexpensive. 'In many projects we often try to incorporate a "work" space with a patio and/or sturdy table with storage nearby,' says Lisa Howard, designer at Bay Tree Design. 'This space becomes the workshop corner where children can build dens with large sticks, do woodwork, paint, or build with large blocks or tree cookies.'
No matter which playground features you opt for, it pays to plan the area before starting work. 'Kids' play areas tend to do best when landscaped specifically for the purpose,' says Ryan Farley, CEO of LawnStarter 'Otherwise, things like mud areas, sand boxes, and high traffic around a dedicated play structure can wreak havoc on established landscaping. You might consider using mulch, turf, or other materials like this for play areas, and focus on hardy and low-maintenance planting around the perimeter.'
---
Well-designed backyard playground ideas can be a real asset to an outdoor space, helping to keep children active, entertained and mentally stimulated.
While big-ticket items such as jungle gyms, trampolines and built-in water features such as splash zones will be an investment, there are plenty of ways to create an engaging play space for less. A small area where kids can play, use their imagination and even get muddy (and not be worried about the mess they make), can often all be that's needed to encourage them to spend more time outdoors.
Sign up to the Homes & Gardens newsletter
Decor Ideas. Project Inspiration. Expert Advice. Delivered to your inbox.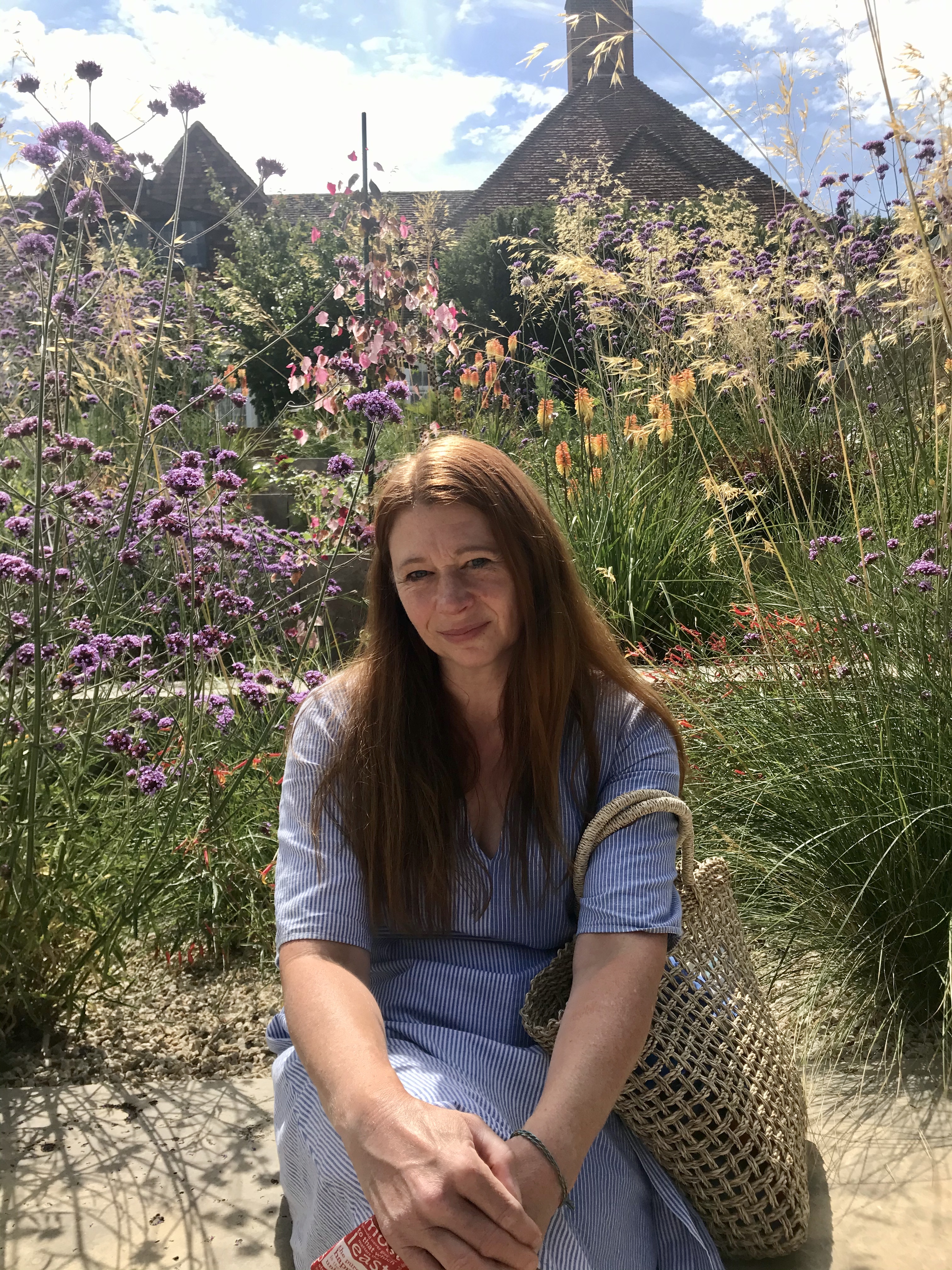 Jill Morgan has spent the last 20 years writing for Interior and Gardening magazines both in print and online. Titles she has been lucky enough to work on include House Beautiful, The English
Home, Ideal Home, Modern Gardens and Gardeningetc.com. Although much of her career has involved commissioning and writing about reader homes and home improvement projects, her
everlasting passion is for gardens and outdoor living, which is what she writes about for Homes & Gardens.