Best plants for around a pool – 10 perfect options for a private backyard paradise
From leafy shrubs to fabulous flowers, these picks will give your pool area a beautiful, botanical touch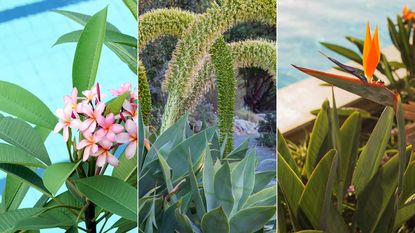 (Image credit: (From left to right) Wimage72 / Alamy Stock Photo – Saxon Holt / Alamy Stock Photo – Galina Oleksenko / iStock / Getty Images Plus / Getty Images)
Sign up to the Homes & Gardens newsletter
Decor Ideas. Project Inspiration. Expert Advice. Delivered to your inbox.
Thank you for signing up to Homes & Gardens. You will receive a verification email shortly.
There was a problem. Please refresh the page and try again.
Plants are a must-have for any outdoor space – backyard pools included. In fact, without them, pools can risk looking bare, boring, and uninviting.
Surround a backyard pool with architectural foliage, colorful flowers, or lofty trees, and the space can instantly be transformed from drab to fab. And not only will such botanical beauties add to the aesthetic appeal, but plants can also offer other benefits, such as creating a natural privacy screen or a source of shade while you swim.
10 pretty planting picks for your backyard pool
Consider these top options for your poolside planting scheme.
1. Fountain grass
Best for: Low-maintenance screening
Type: Ornamental grass
Mature height: 1-4ft
Mature spread: Up to 3ft
Hardiness: USDA 3-10
Fountain grasses, also known as pennisetum, are beautiful ornamental plants that are well-suited to pool areas in modern backyards. There are different varieties available, from the show-stopping pink-and-purple Pennisetum setaceum 'Fireworks' (available at Nature Hills) to the compact Pennisetum alopecuroides 'Hameln' (also from Nature Hills) which can be grown in large containers. Most are drought-tolerant plants.
As well as fountain grass, landscaping expert Gene Caballero also recommends maiden grass and blue fescue – 'popular choices that add elegance and movement to a pool area.
'These grasses are low maintenance and can withstand varying weather conditions. Regular watering and occasional trimming in late winter or early spring will help maintain their appearance,' he adds. What's more, ornamental grasses such as these can be planted to create a natural screen that's perfect for upping the sense of pool privacy.
Gene Caballero is the Co-Founder of GreenPal which has been described as Uber for lawn care. With over 25 years of experience in the landscaping industry, he has developed a deep expertise in all aspects of general landscaping. From designing and creating outdoor spaces to maintaining and enhancing existing landscapes, his knowledge spans a wide range of landscaping techniques and practices.
2. Indian hawthorn
Best for: Spring-flowering shrub
Type: Evergreen shrub
Mature height: 3-6ft
Mature spread: 3-6ft
Hardiness: USDA 8-10
Rhaphiolepis indica – an evergreen shrub – is another recommendation from Gene for year-round beauty and privacy. And in spring, it offers clusters of fragrant flowers. Although it's native to Asia, it's not an invasive plant. It does well in full sun.
Gene suggests boxwood and Japanese yew as alternative options for your pool landscaping. Like Indian hawthorn, they will also maintain their lush foliage throughout the year and provide a natural screen around the pool.
For all three, Gene recommends regular watering and occasional pruning to maintain their shape.
3. Bird of paradise
Best for: Eye-catching flowers
Type: Herbaceous perennial
Mature height: Up to 30ft
Mature spread: Up to 4ft
Hardiness: USDA 10-12
Hailing from South Africa, bird of paradise is often grown as a statement indoor plant, but it also makes a beautiful poolside choice if you live somewhere warm enough. Their bright blooms, reminiscent of birds, are sure to turn heads, and their large, luxuriant leaves are attractive, too.
'Optimal growth of these plants can be ensured by planting them in well-draining soil,' says pool expert Nathan Sapio of Discount Salt Pool. 'Regular watering is essential, especially during dry spells, to maintain a consistently moist soil without allowing it to become waterlogged. Periodic fertilization throughout the growing season promotes abundant blooming.'
Plant them where they'll get plenty of sun, whether that's in the ground or as part of a poolside container garden.
4. Queen palm
Best for: Creating shade
Type: Evergreen palm tree
Mature height: 20-50ft
Mature spread: Up to 25ft
Hardiness: USDA 9-11
Palms are a classic choice for tropical-garden flair, and this variety, also known as Syagrus romanzoffiana, is a favorite with its slender trunk, large, arching leaves and fast-growing nature. In spring to summer it produces cream-colored blossoms, followed by orange fruits.
Native to South America, it likes a sunny spot with sandy, slightly acidic soil. 'Regular watering and occasional trimming of dead fronds are necessary to keep them healthy and visually appealing,' advises Gene. You can buy queen palms from Fast Growing Trees.
Top tip: Some areas consider the queen palm an invasive plant, so double-check before planting it in your yard.
5. Banana plant 'Basjoo'
Best for: Large leaves
Type: Evergreen perennial (in warmer climates)
Mature height: 10-15ft
Mature spread: 10-15ft
Hardiness: USDA 5-11
'One of the best plants to turn your pool area into a backyard oasis is the Musa 'Basjoo' [available at Fast Growing Trees], commonly known as the banana plant,' says landscaping expert Janna Bradley of Landscape Management Network.
These large, clumping perennials will give the space privacy while transporting you to a tropical paradise, Janna continues. 'These plants thrive in full to partial sunlight and require moist, well-drained soil.'
While there are other types of banana trees available to buy, 'Basjoo' has the advantage of being cold-hardy, tolerating temperatures down to -10˚F if protected with mulch. However, this fast-growing plant doesn't produce edible fruit, unlike varieties such as Musa acuminata (which, due to its compact size, can be grown in pots).
Janna is the Co-Founder and COO of Landscape Management Network. With more than two decades of experience in the landscaping industry, Janna began her professional journey in the industry by co-founding TBG Landscaping, a company that rapidly grew to hundreds of employees and millions of dollars in revenue. Aside from helping run operations at LMN, Janna is an avid outdoors enthusiast and gardener.
6. Fox tail agave
Best for: Stunning succulents
Type: Evergreen perennial
Mature height: 4-5ft
Mature spread: 6-8ft
Hardiness: USDA 10-11
'Agave plants are stylish and architectural and resist chlorine and salt, which are common around pools,' says gardening expert Tony O'Neill. 'These drought-tolerant plants need minimal care – just ensure they are in well-drained soil and get plenty of sun.'
Colm Walsh, the Owner of Swimming Pool Kits Direct, particularly recommends Agave attenuate, native to Mexico (and available to buy from Fast Growing Trees). A striking, disease- and deer-resistant plant, it's otherwise known as fox tail agave due to its long, arching flower stalk. It can reach heights of 5ft, Colm adds, meaning it can assist in creating privacy.
Tony O'Neill is an accomplished gardening expert, author, and educator. With a passion for simplifying gardening practices, he has inspired a wide audience through his popular YouTube channel and website SimplifyGardening.com. Tony's expertise empowers individuals to cultivate thriving gardens and connect with nature.
7. Star jasmine
Best for: Flowering climber
Type: Evergreen perennial
Mature height: 15-20ft
Mature spread: 6-8ft
Hardiness: USDA 8-11
Available to buy from Fast Growing Trees, star jasmine is a beautiful choice if you're looking for a climbing plant to train up a wall, fence, or pergola beside your pool. It's well-loved for its springtime white blossoms with their mesmerizing fragrance, and as it's evergreen, its glossy green leaves look good all year round.
'I like that this plant requires little maintenance; you won't need to constantly cut it or fertilize it,' says Colm. 'Once a year will do, and you're set to go.' For best results, plant it in well-draining, slightly acidic soil in full sun to partial shade.
8. Frangipani
Best for: Scented flowers
Type: Evergreen/deciduous shrub (depending on variety)
Mature height: 5-10ft
Mature spread: 3-5ft
Hardiness: USDA 10-11
'Frangipani thrives in direct sunlight, and its lovely flowers will greatly charm your pool,' says Colm. These blooms have a similar fragrance to star jasmine. Its large leaves are easy to clean up should they fall into the water, Colm adds.
Also known as plumeria, and available to shop from Fast Growing Trees, this Hawaiian plant needs plenty of warmth to thrive. However, it can be grown in pots and brought indoors for winter in cooler regions. Once established, it's drought- and salt-tolerant.
9. Hens and chicks
Best for: Mat-forming succulents
Type: Evergreen perennial
Mature height: 4-6in
Mature spread: 6in-2ft
Hardiness: USDA 3-8
Hens and chicks, also known as houseleeks or sempervivum, are robust, rosette-forming succulents that come in a range of colors depending on the variety. They work equally well in pots as they do in rockeries, dry gardens, and gravelled areas next to a pool.
They barely need any maintenance at all. 'Water them sparingly and ensure they have well-draining soil,' says Tony. If you don't, they can quickly succumb to root rot, which can kill them.
10. Canna lily
Best for: Fiery color schemes
Type: Tender perennial
Mature height: 2-8ft
Mature spread: 1-6ft
Hardiness: USDA 7-10
This perennial is a surefire way to bring any pool area to life. It has exotic-looking blooms in hues of red, yellow, pink, and orange and large, paddle-shaped leaves, some of which are variegated (try 'Bengal Tiger'). Not only do they look beautiful, but they will also attract hummingbirds and butterflies to the space.
Cannas do best in moist, well-drained soil, with lots of sunshine. In cooler climates, the rhizomes can be lifted and stored over winter to protect them.
What are the best planting picks for a pool area in full sun?
For tropical flair, try hibiscus, cannas, or bird of paradise. Or, for Mediterranean charm, why not plant up lavender, rosemary, and other fragrant and drought-tolerant herbs near your pool? There are also plenty of beautiful flowers for pots in full sun if you're looking to create a container display.
What are the best container plants for a pool area?
Most plants can be grown in containers as long as you provide proper drainage, ensure the pot is the right size, and avoid the common container gardening mistakes. Look for compact varieties of plants to make maintenance easier.
Try planting succulents in pots, which, because of their tough nature, will tolerate a spot of neglect from the watering can should you forget. Coleus, with its vibrant foliage, is another pretty pick. For stunning summer flowers, you could also consider agapanthus, which performs best when its roots are slightly restricted.
---
As always when choosing plants, the best options for your pool area will be those that thrive in the environmental conditions – from the soil type to the amount of sun and shelter the space gets. As well as this, they need to create the aesthetic that you want to achieve, as well as being low maintenance, as Tony points out.
Speaking of maintenance, it's also worth thinking about how often plants shed their flowers and leaves. A pool net will help you fish out any that fall into the water, but to make less work for you, it's best to avoid small-leaved, deciduous shrubs or any other plant that is prone to making a mess.
Sign up to the Homes & Gardens newsletter
Decor Ideas. Project Inspiration. Expert Advice. Delivered to your inbox.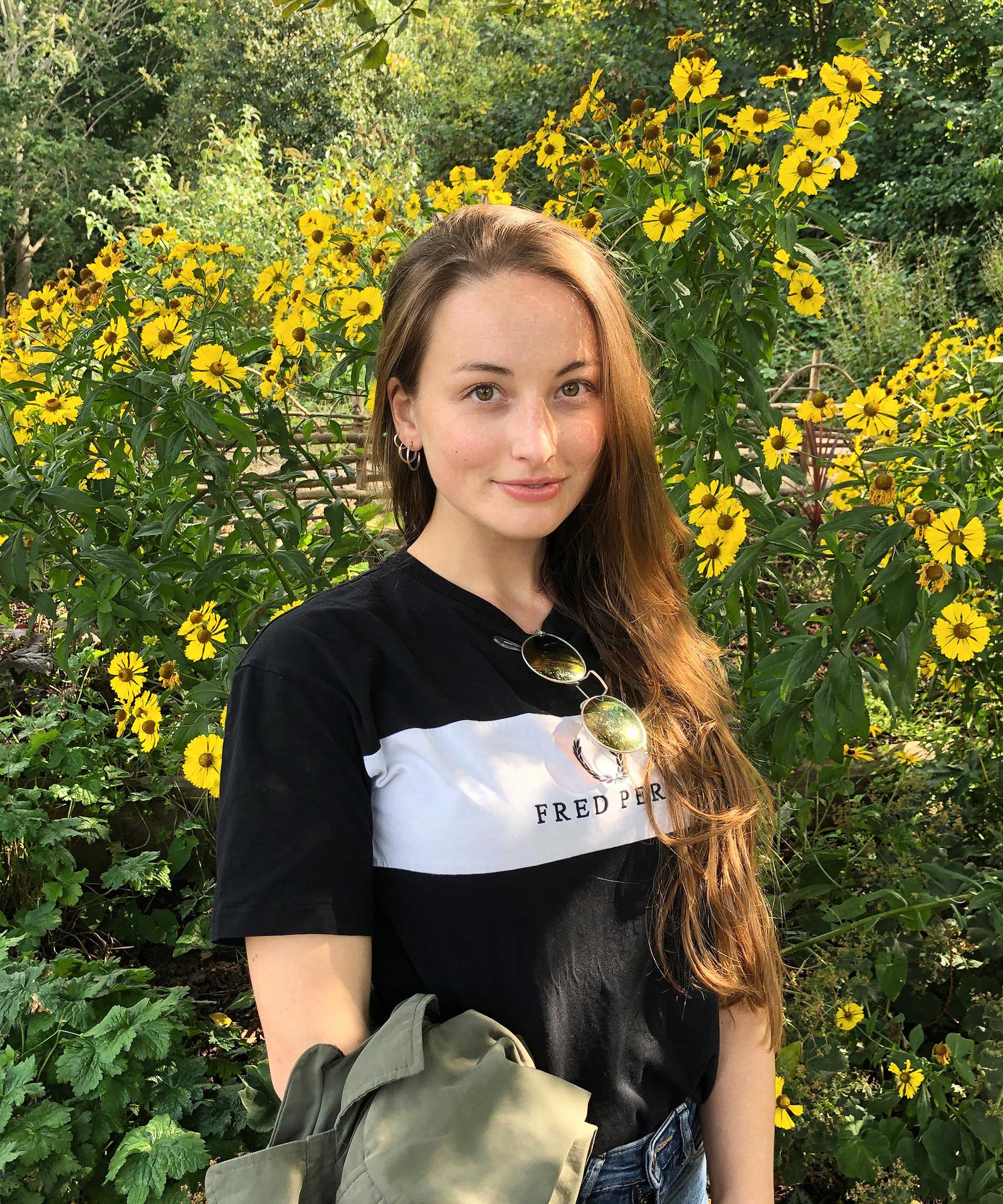 The garden was always a big part of Holly's life growing up, as was the surrounding New Forest where she lived. Her appreciation for the great outdoors has only grown since then; over the years, she's been an allotment keeper, a professional gardener, and a botanical illustrator. Having worked for Gardeningetc.com for two years, Holly now writes about plants and outdoor living for Homes & Gardens.