Deck edging ideas – 10 of the best ways to add a stylish finishing touch
Choose deck edging ideas that let you landscape your project for a professional looking finish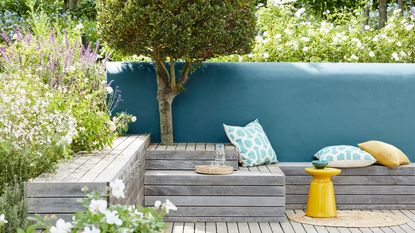 (Image credit: Little Greene)
Deck edging ideas are often overlooked at design stage, but they are just as important as all the other details of a deck, giving it a finished, smart look. Without them, even the most well-designed decking projects can feel a little unfinished, especially if they butt against a wall or fence with no defining feature to sign off with at the edges.
Frame your decking with the right edging, though, and it will create a seamless and professional-looking finish, as well as adding a personal touch that's uniquely yours, so that your deck won't look like every other one on the block.
There are lots of brilliant deck edging ideas to finish off your deck ideas. Try adding a patterned border, lighting panels, low-growing plants in beds to soften edges or built in seating. We've rounded up 10 of our favorite deck edging looks below.
Deck edging ideas
It's worth considering deck edging ideas at design stage, since they can be matched to both deck railing ideas and even deck color ideas. That said, deck edging needn't be in timber – edging can be in contrasting materials, too. Below, we explore the options.
1. Mix up deck materials to add more interest
Using a carefully thought out mix of quality materials to create a decked area will transform a small space. This courtyard garden features a timber deck flanked with beds of herbaceous plants and ornamental grasses to soften the edges.
The dark timber deck has been charred (rather than stained) using a Japanese technique and contrasts beautifully with the hazy planting spilling over the edges. There are steps down to a sunken garden with a tiled mosaic patio that means the deck is raised to show it off better.
This backyard is a great example of how to mix contemporary materials and eclectic planting to create a deck that's full of contrast and character.
2. Try a modern patterned border
If you are looking for pool landscaping ideas with decking, defined deck edging can look attractive. Both composite and timber deck edging can be a great choice for a pool, offering a laid-back yet smart look. It's the perfect opportunity to add a distinctive border too with a design detail that will transform your deck into something special.
When it comes to poolside it's best to choose deck edging that doesn't become slippery when wet. This distinctive geometric border has integrated non-slip inserts that add a pretty decorative edging to your deck making it practical as well as pretty.
'When cutting timber to use as an edging board, always make sure you have a sharp saw blade to give a nice clean cut,' says Ross Crouch of Gripsure. 'If you can, miter any joints so you have no exposed end grain. Any timber that's in permanent ground contact should either have an appropriate level of pressure treatment or a protective coating applied.'
Instead of horizontal patterned deck edging, why not consider a vertical border to add an alternative decorative detail to your deck that's both eye catching and unusual?
3. Soften hard deck edges with planting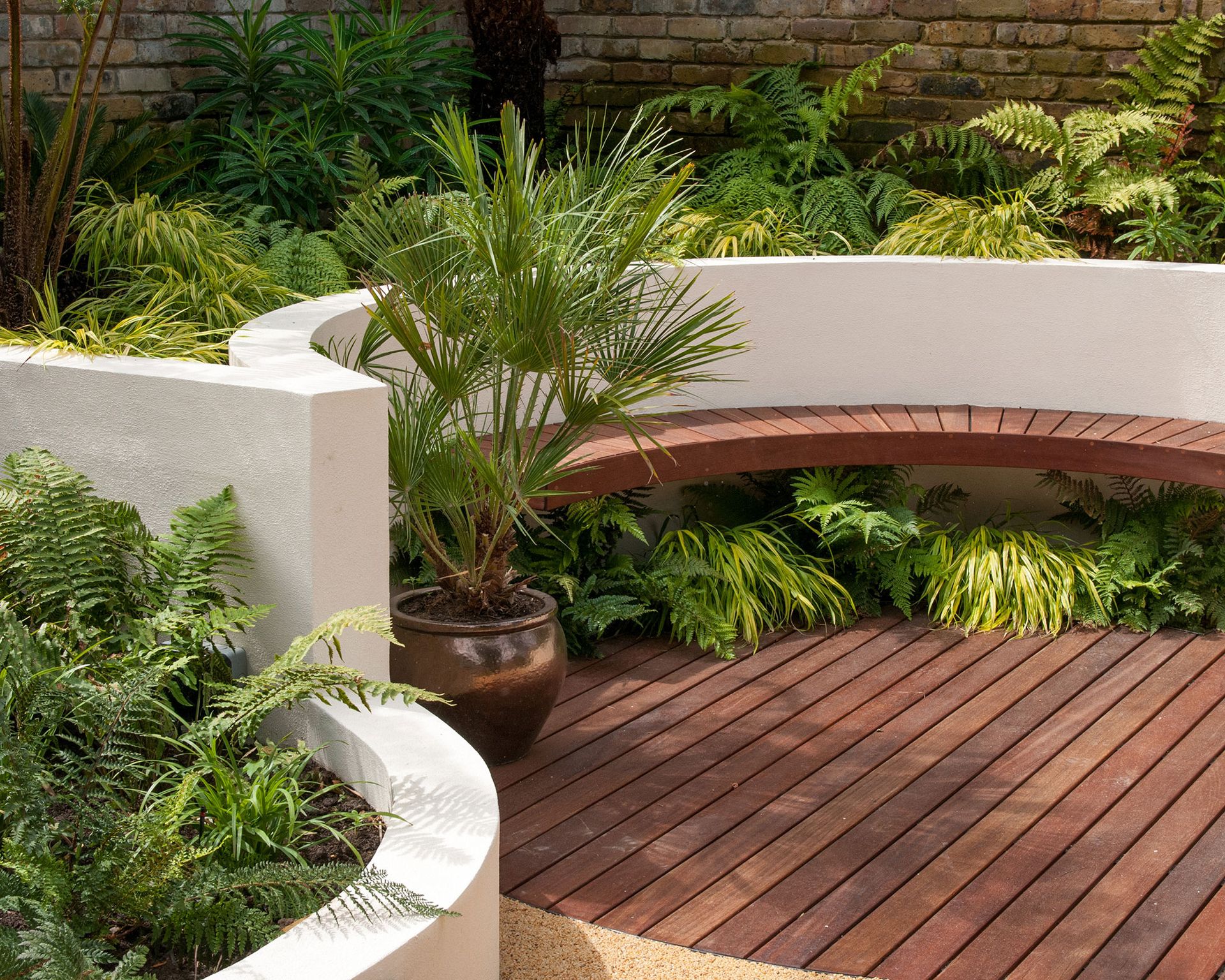 There is a big trend for curves right now and you can pick up on this by combining decking edging design and deck planting ideas. This style looks more organic than the straight lines of square or rectangular decks, fitting more naturally into an unstructured garden shape. Even better if your curved deck is bordered by swathes of soft planting to blur the edges.
'Shade loving Japanese forest grass and a mixture of evergreen ferns are used in this garden to soften the hard edges of the decking, walls and the areas under the built-in seat,' explains garden designer Catherine Clancy.
'Use mostly evergreen plants, with different shades of green to provide a soft texture around your decking. Grasses provide an extra softness to any planting, and there are plenty of shade loving low-growing grasses to choose from that work well for deck edging ideas like Japanese forest grass Hakonechloa macra 'Aureola', Carex 'Ice Dance' and tall moor grass (sesleria autumnalis).'
4. Insert light panels for an ambient setting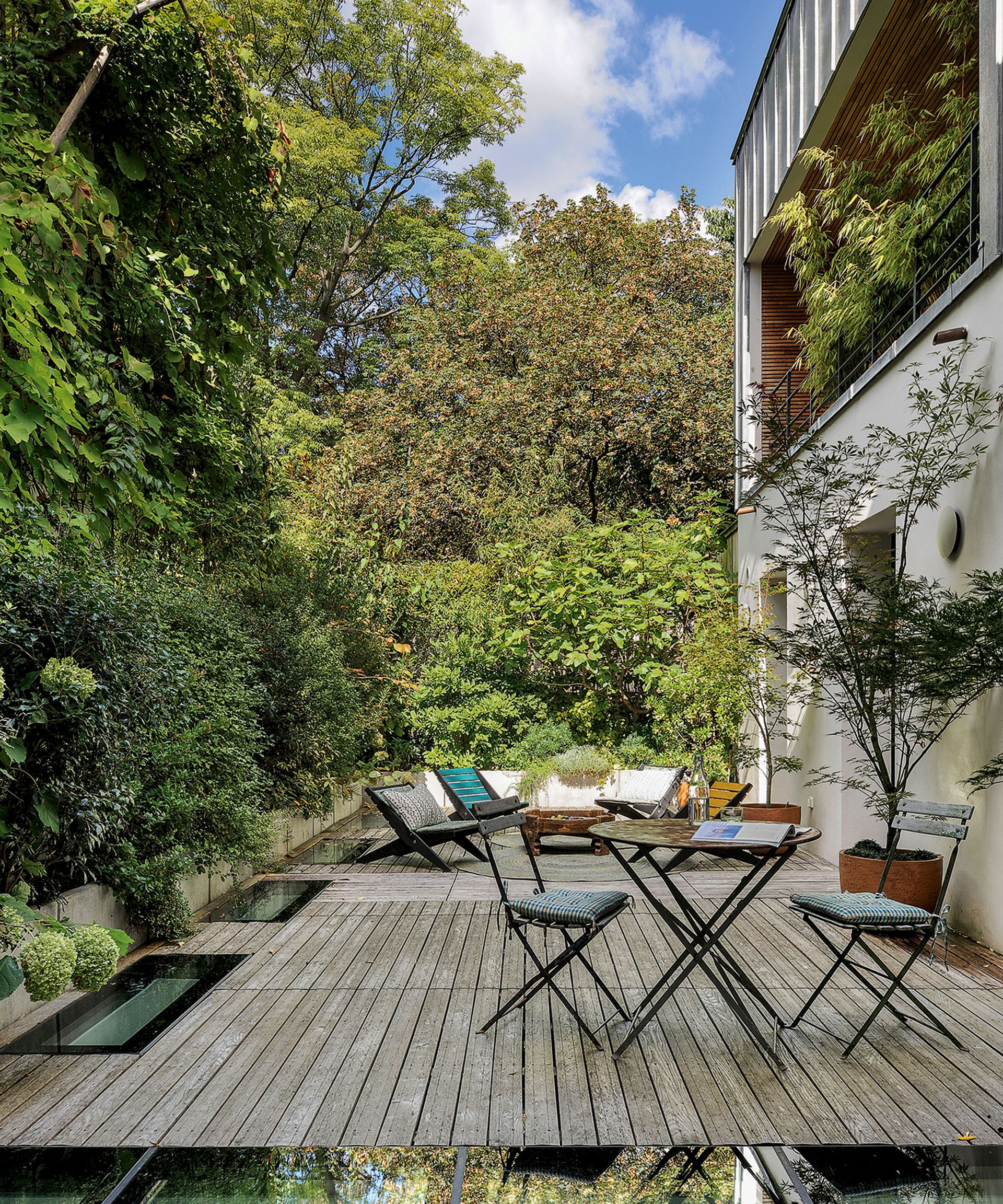 If you have a roof terrace with a deck think about adding some glass roof panel lights as a stylish edging idea. They are built to walk on while flooding fantastic levels of natural daylight into the interiors below. This reverses at night if the room below is lit – creating secondary backyard lighting ideas.
Creating a border can turn your deck edging ideas into more of an eye-catching and individual feature. Roof panel lights add a neat edge that introduces a designer feel and enhances your enjoyment of your deck space at night so it's a good investment. As well as being practical they also help to throw diffused light through your planting for a magical touch in the evening.
5. Edge the deck with neat borders
You could play safe and opt for a uniform area of decking. Or you could try adding planting beds into the deck's structure for a more interesting approach that looks super smart while at the same time maxes up your growing space. After all, you can never have too many plants.
Add a geometric element by using clipped box to create a framework for your border areas then introduce structure and texture with a mix of planting to fill in the detail. A bed of smooth stones is one of our favorite deck edging ideas, adding an interesting element as it works as a backdrop to enhance a display of sculptural foliage such as these pointy leaves.
This combination of deck edging ideas creates the perfect spot for your yoga mat.
6. Use pavers to border a deck area
'All materials in gardens (especially small ones) benefit from definition and this is often easiest with an edging detail,' says garden designer Kate Gould. 'This could be brick, stone or even metal. Whatever you do, make it strong and bold, and be sure that the finish looks crisp and neat as it's such a key highlighting feature.'
In this wonderfully original garden design by Kate a section of ipe decking is inserted into an area of limestone paving, and edged by planters and seating. The wooden decking area becomes the central attraction, in the same way as a rug works in an interior design scheme.
For small garden decking ideas, all spaces are important, and deck edging ideas can be used as a focal point and even as a way of making the area look bigger. 'Here the bench is cantilevered,' explains Kate, 'so the floor continues underneath making the space feel larger and allowing lighting to be incorporated.'
7. Turn decking into a dream design feature
'When designing this wraparound sky garden for a penthouse project, we decided to zone separate areas, mixing decking and tiles together,' explains Linda Levene, co-founder and design director of LLI Design.
'For the decking we chose an ipe hardwood, in two tones, one lighter and the other edge piece, darker. We wanted to create something more interesting than just linear planks for the decked area and achieved this by mixing the different tones of decking to form a grid pattern, which added visual interest and visually connected to the architecture of the building, creating a seamless aesthetic.'
Soft but purposeful outdoor lighting adds another dimension to the deck at night, helping to extend the view from the interior. 'This was especially important when creating the lighting scheme for the deck as the penthouse had glass on three sides,' says Linda. 'We gently washed the low-growing planting with warm white, spike lights in the planters, and added drama by uplighting specimen plants and trees emphasising their form, structure and texture.'
8. Edge raised decking to add the standout factor
If you want to create a deck walkway in your backyard it needs to be enhanced by its surroundings as a simple drop down to the grass or planting beds will look unfinished. Stage your raised deck in the right way and it will become the focal point of your garden.
Use a combination of low level planting beds, reflective water pools and sections of smooth stones to create a contemporary look that will really help your deck stand out. You can also use a variety of white, gray and black stones to get a contrasting effect for your deck.
These deck edging ideas are further enhanced if you introduce a contrasting shade of wood to run down each side of the decking walkway.
9. Integrate a pergola into your decking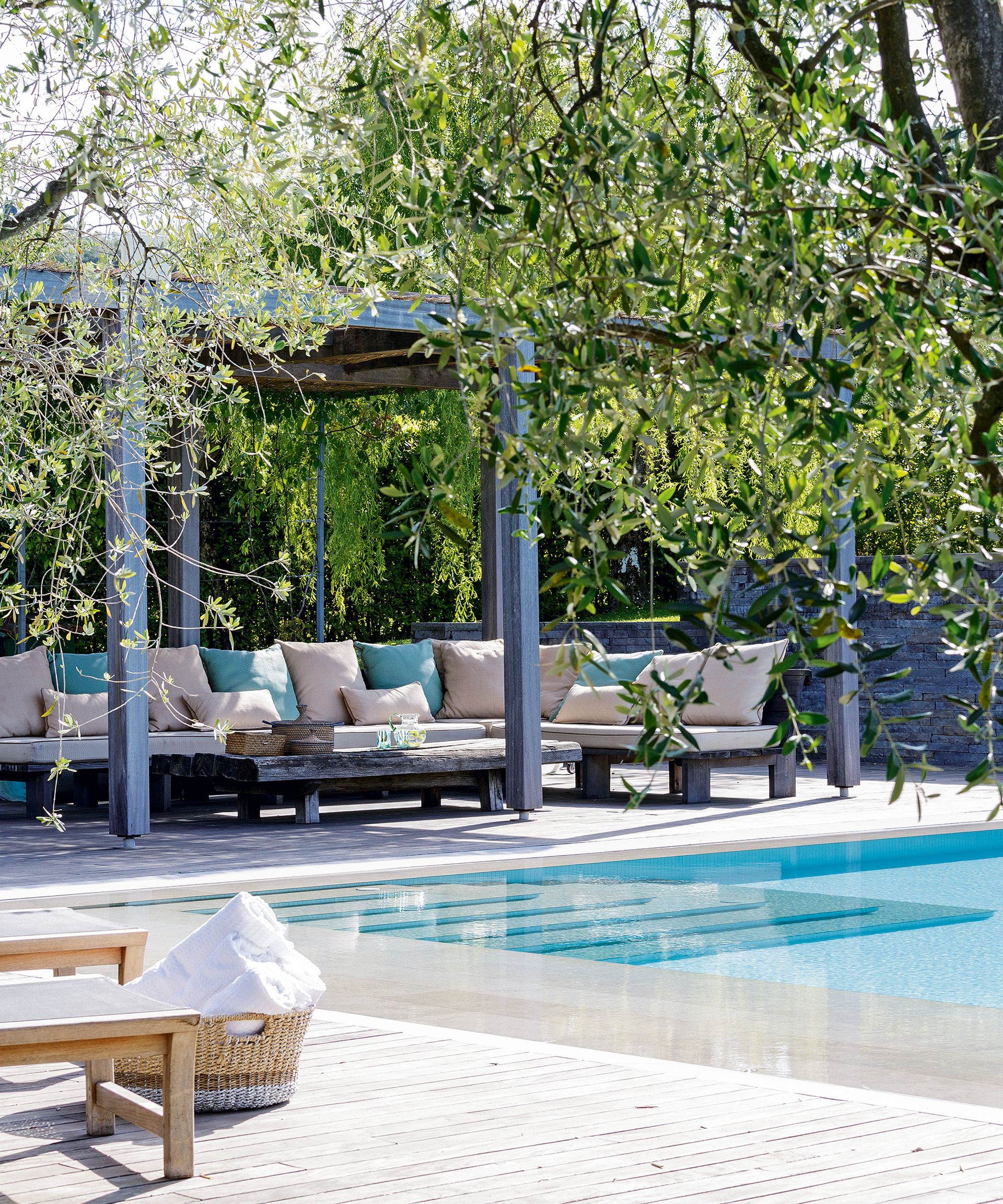 Pergolas are one of the best deck edging ideas to upgrade your space into more of a destination than just somewhere you walk through. It's a great idea for poolside decks too.
You can buy easy-assembly decking kits that include integral pergolas to transform your deck into a stylish living area. They come complete will everything you need to create a beautifully crafted decking area with integral pergola and require no foundations or advance preparation.
Sounds like a great idea to take your deck edging ideas up a level.
10. Build in matching seating for a co-ordinated look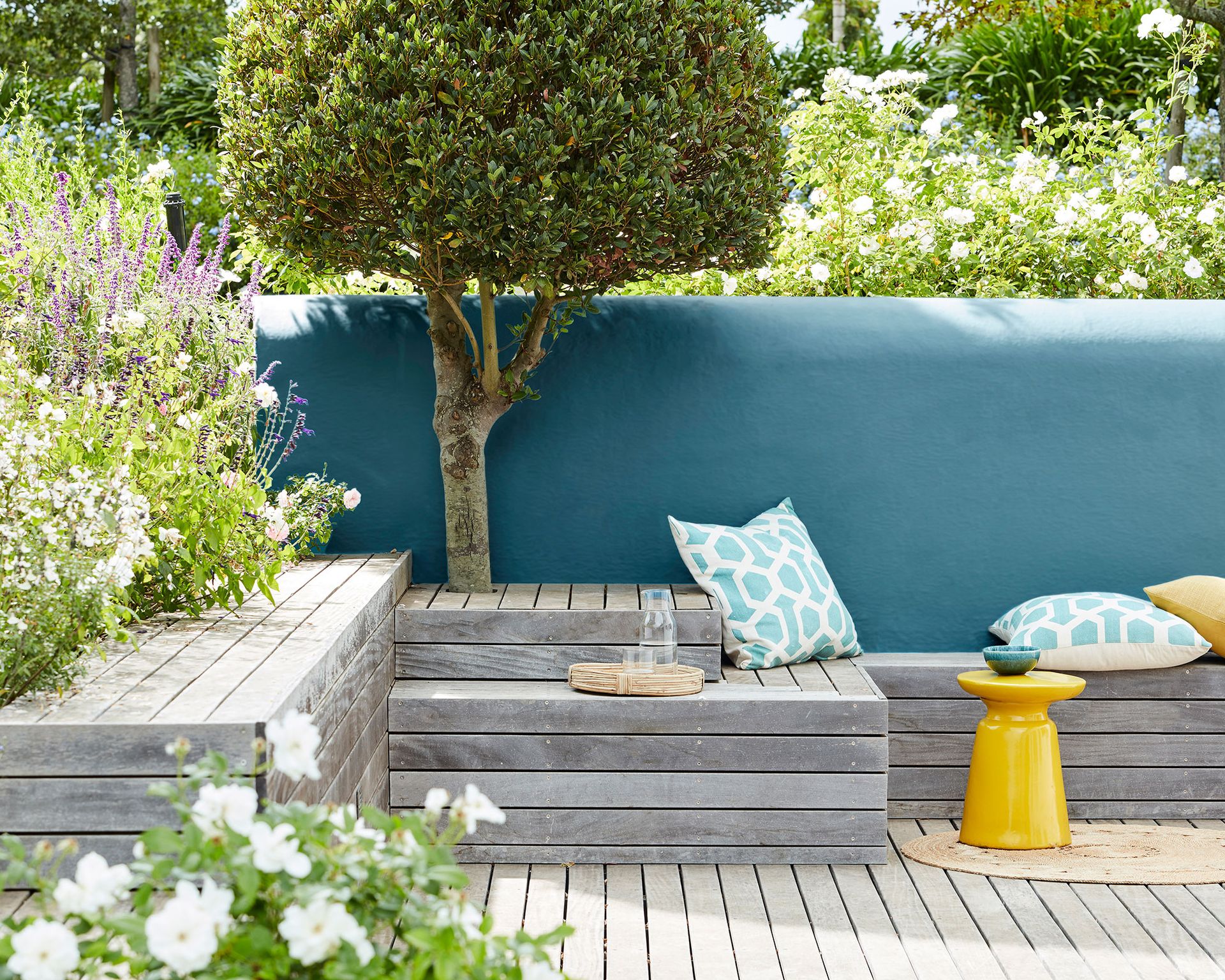 A design that combines seating and plants is one of our favorite deck edging ideas that's perfect for the backyard. Using the same wood for the deck, seating and planters creates a coordinated look that's both practical and stylish. Be sure to sand the wood to avoid splinters and treat it to make sure it lasts.
Building in matching seating to your deck looks spectacular. Not only can you create seating easily using your decking boards, it's also an affordable option and you can customize it to include storage space under your seats for cushions and other garden equipment. This is a great idea for small gardens.
Then all you need to do is paint the backdrop in a stunning shade and add some co-ordinating accessories.
How do you edge a deck?
In addition to using deck edging ideas like integral seating, low level planting and lighting panels, you can also create a border around the edge of the deck with fascia boards to give an attractive finish. Corner trims are also available.
Durable edge and corner trims let you cap-off edges, corners and exposed areas of decks or steps, enabling you to seal your new decking area for a smart finish.
Another effective method of finishing a deck surface is to install a trim board around the perimeter. Also known as picture framing or racetrack decking, this is the technique where perimeter boards are laid parallel to the edge of the deck frame, in areas where the ends of the decking boards are exposed.
Perimeter boards cover the butt ends of your deck, which gives a smarter appearance and serves as a contrasting edge trim. Do it well and adding a border to the perimeter of a deck is a great way to up the quality a notch.
What can I put around the bottom of my deck?
The trim known as skirting offers most decking projects a perfect edging solution, allowing you to cover the side of the boards and the exposed subframe, resulting in a well-made deck. For raised projects, it's even possible to stack skirting trims on top of one another to get to the necessary height.
Although your deck is the real star of the show, no deck design is complete without skirting and there are lots of deck edging ideas to choose from. Proper deck skirting allows for ventilation to guard against mold and rot. The deck skirt disguises the area beneath an elevated deck and can also provide cover if you intend to use the space below for storage.
Deck skirting can be made of lattice, wood, stone, or several types of composite materials to add a lovely design element.
Sign up to the Homes & Gardens newsletter
Decor Ideas. Project Inspiration. Expert Advice. Delivered to your inbox.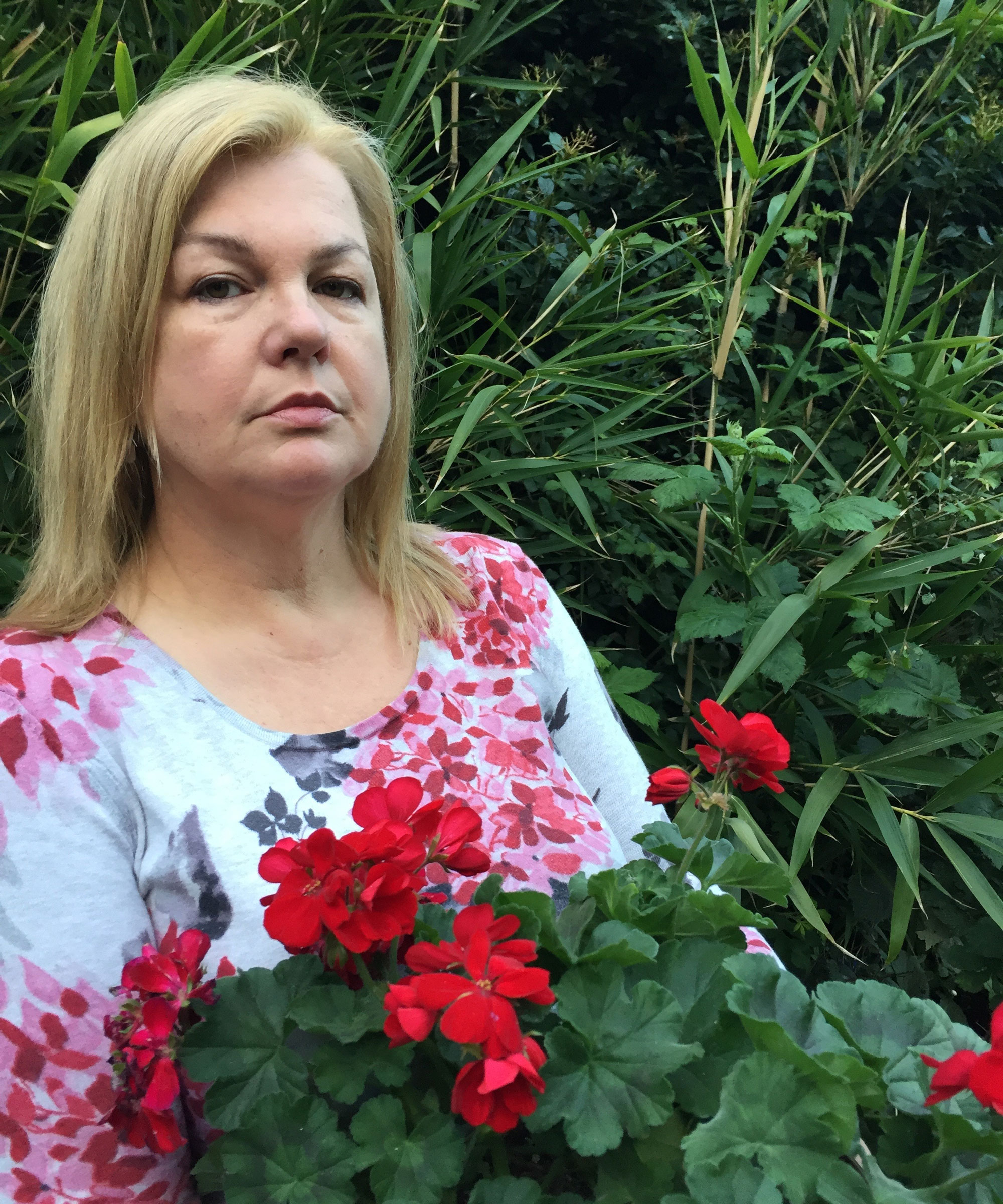 Lifestyle journalist Sarah Wilson has been writing about flowers, plants, and garden design and trends since 2015. Having already studied introductory garden and landscape design as well as a course in floristry she is currently adding to her list of qualifications with an RHS Level 2 course in the Principles of Plant Growth and Development. In addition to homesandgardens.com and livingetc.com she's written for gardeningetc.com, Modern Gardens and Country Homes & Interiors magazines.