12 fall front door decor ideas – for a stylish seasonal display
From classic pumpkins to cozy area rugs, fall planters and decorative wreaths, style your front door to perfection this fall with our inspiring decor ideas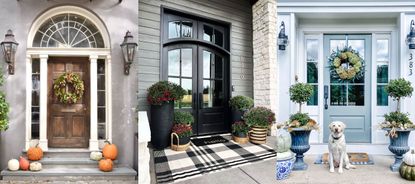 (Image credit: @homeonfernhill | @ourpnw_home | @thecharlestonlens)
Fall front door decor will work to create an inviting ambience for you, your family and guests, as well as create an elegant and fun design feature that celebrates the changing of the seasons.
Decorating your front door is one of the easiest ways to embrace outdoor fall decor ideas, and these decorative additions can really help set the tone of the fall decor ideas that adorn the inside of your home, too.
Create a warm welcome with fall front door decor ideas
From gorgeous gourd displays and pumpkin towers to fall wreath ideas and hanging baskets, we've rounded up some of the prettiest fall front door decor ideas for the ultimate inspiration for your own display.
1. Enrich the space with plenty of cozy texture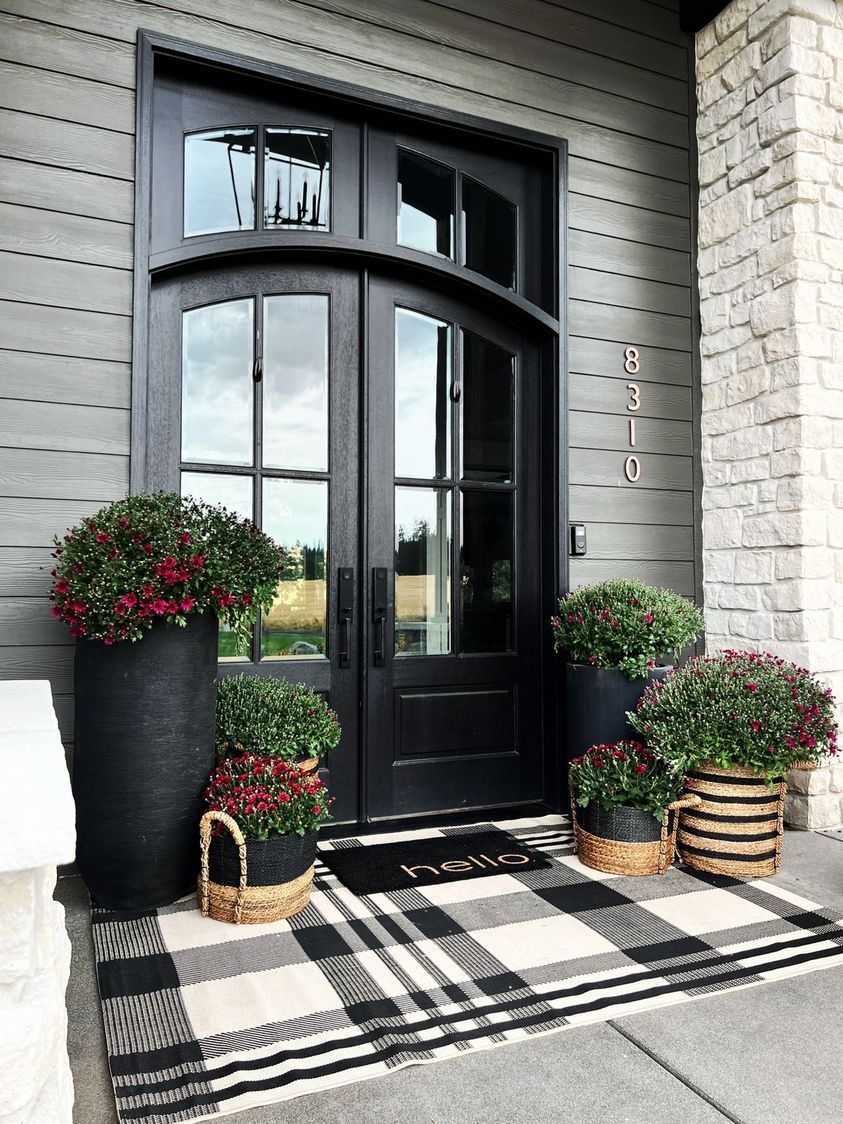 Just as we like our guests to feel cozy and welcome inside, there's no reason that can't start upon arrival at the exterior.
Layer benches or seating with cozy blankets in autumnal hues, place an area rug down for a textural touch, and stack logs in a rustic basket to indicate the promise of a warming fire inside.
Inspired by snug fall living room decor, extending these tactile, textural elements to your front door and the surrounding area will only make for a more inviting and cozy welcome into your home during the colder fall and winter months.
2. Introduce rich, fall hues to your front door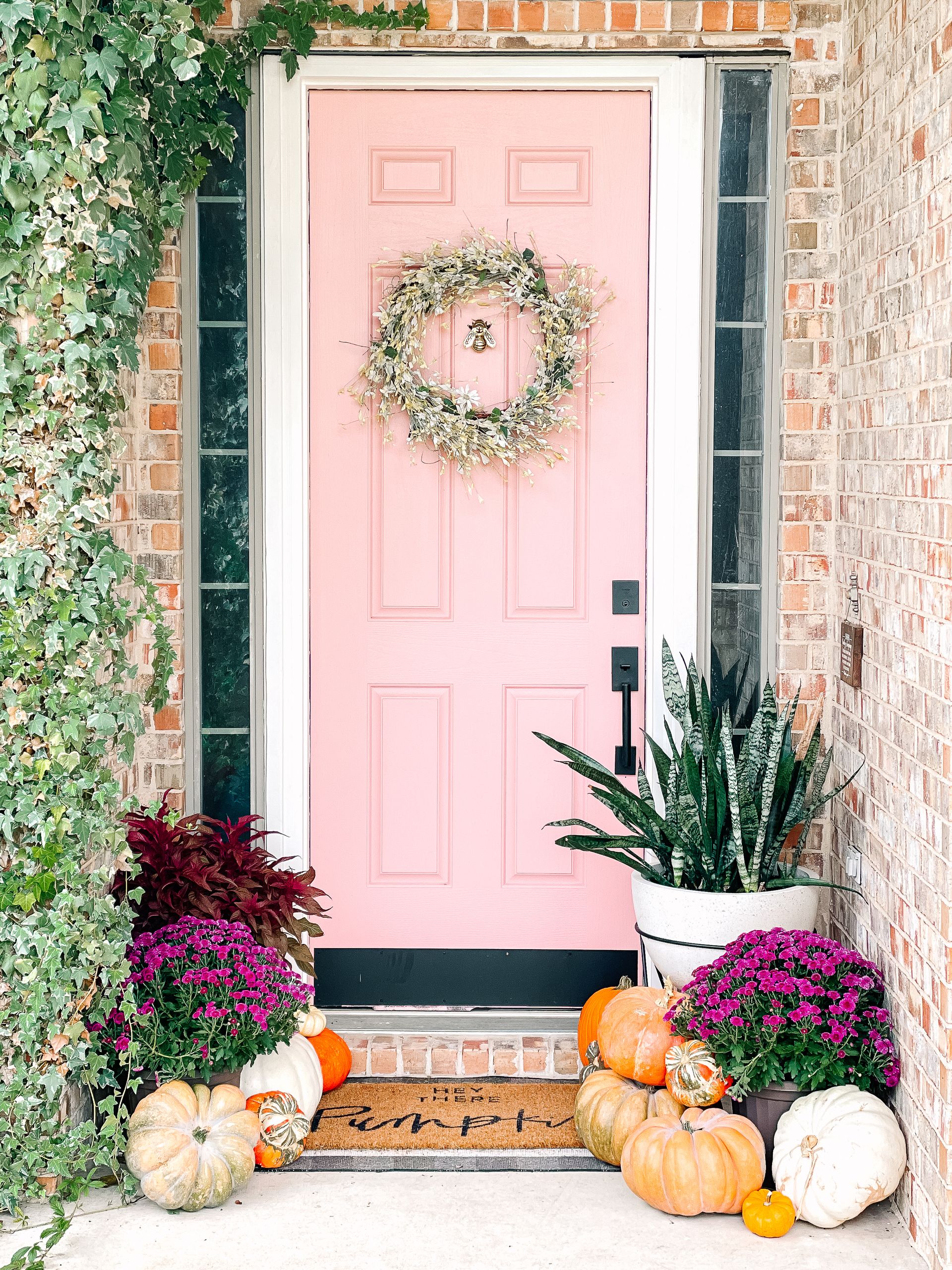 When you start decorating for fall, one of the first things to think about is your fall color scheme. And specifically, you might like to think about new front door color ideas.
Whether it's channeling fallen leaves with burnt orange and ochre, sunrise pinks, or adding green to make up for its loss in nature, the autumnal colors are all-important.
'With the changing of the seasons comes the change of the front door,' says Meggie @meggie.taylor. 'Our pink front door was inspired by a door in Charleston, South Carolina, that we came across on our first anniversary trip.
'Fall is the perfect time to bring in a few richer and deeper colors, so to do that we chose mums from a local nursery, while the snake plant helps pay homage to my home (Arizona).
'I chose to mix up the pumpkins this year with white, green and orange hues; I like to blend traditional and funky for a contemporary look.'
Meggie finished the look with a cute slogan door mat.
'What better way to welcome people than to change out the door mat? "Hey there, Pumpkin" is the perfect greeting and sets the tone for our vibe at home... Friendly and fun.'
3. Use garlands to decorate planters or urns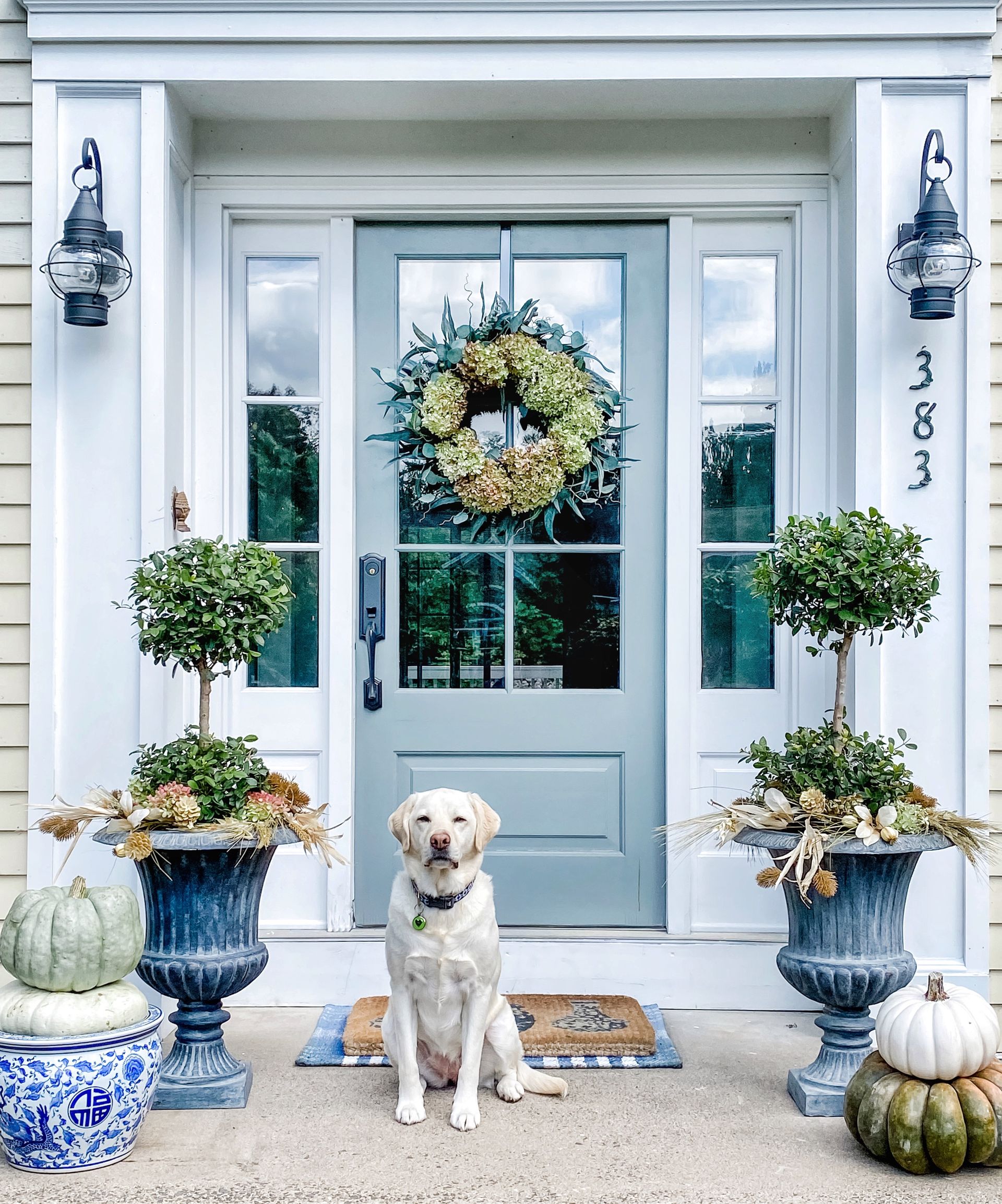 Decorate your all-season planters or urns to add an autumnal warmth for fall. Simply add a garland of dried grasses and botanicals to celebrate the arrival of the new season.
The beautiful scene above was created by Pamela @homeonfernhill. She says: 'Use muted tones for simple fall front door decor.
'Tuck hydrangeas into an existing wreath, add a garland to the base of an urn. Then stack Cinderella pumpkins in a Chinoiserie planter for a little extra whimsy.'
4 Choose fall flowers for pots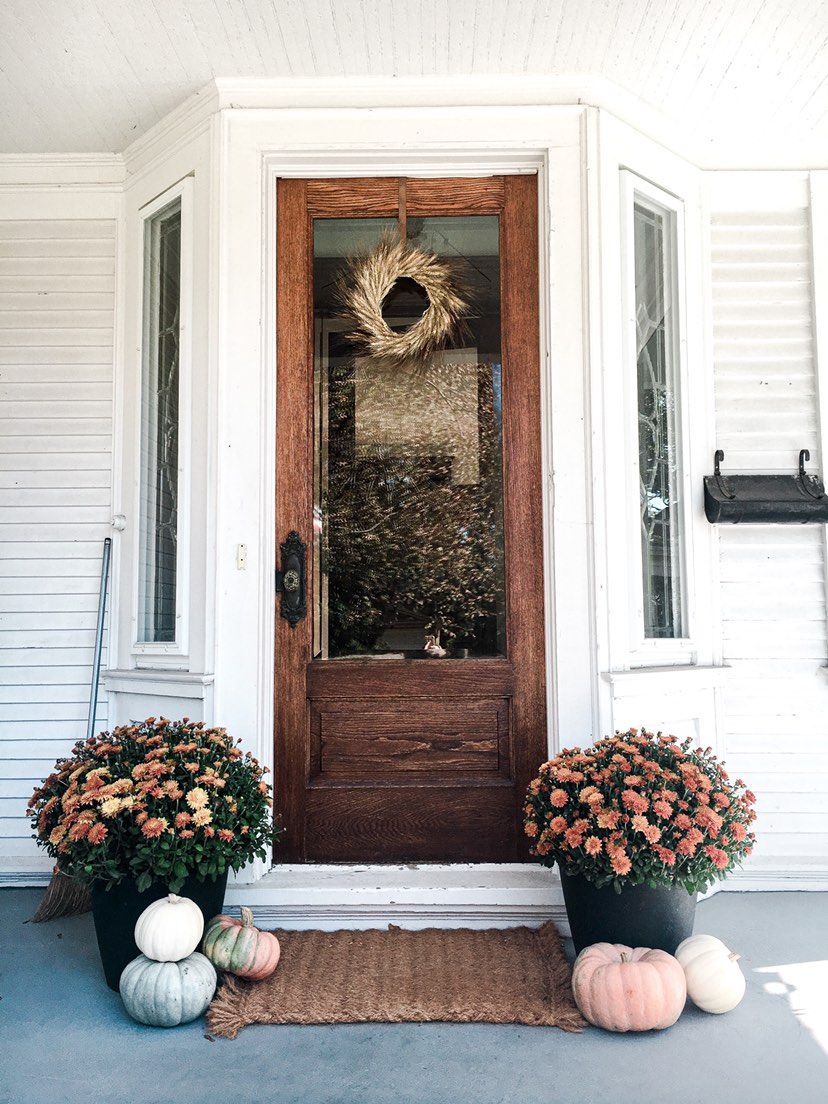 Chrysanthemums, or 'mums' as they are often called, are one of the most popular fall flowers for pots to display.
They bloom in a range of rich colors, including orange, red, purple, as well as yellow and white, so are excellent for adding warmth to your front door or porch area.
Caitlin @sweetlifeonfourth created a simple but effective fall front door decor display with mums as the main focus.
She says: 'When I saw these muted, beautiful rusty-orange mums last year, I knew just how I wanted my front porch to look: simple, calming and whimsical.
'Creating a welcoming and lovely fall front porch doesn't need to be complicated. Pick a loose theme with colors and textures that speak to you, and layer just a few pieces around your entryway.'
She continues: 'I always start with the focal point, which are of course some big, statement fall florals. In this case I used mums because they are so classic – but you could use many different things like dried grasses, ornamental cabbages, or deep hues of coleus.
'Hang a fall wreath on your door, something preserved and simple. I thrifted this dried wheat wreath years ago and love it anew every year.
'Pick a rug that reflects the season – jute is a great option in fall – its texture and earthy color grounds the whole look. (I got this adorable fringed one from Target a few years ago.)
'Finish with as many or little pumpkins as you like. I always think less is more. For my front door, heirloom pumpkins were the natural complement to my mums. Arrange them asymmetrically to bring interest and a touch of the slightly imperfect to the space.'
5. Dress up a multi-seasonal wreath with autumnal picks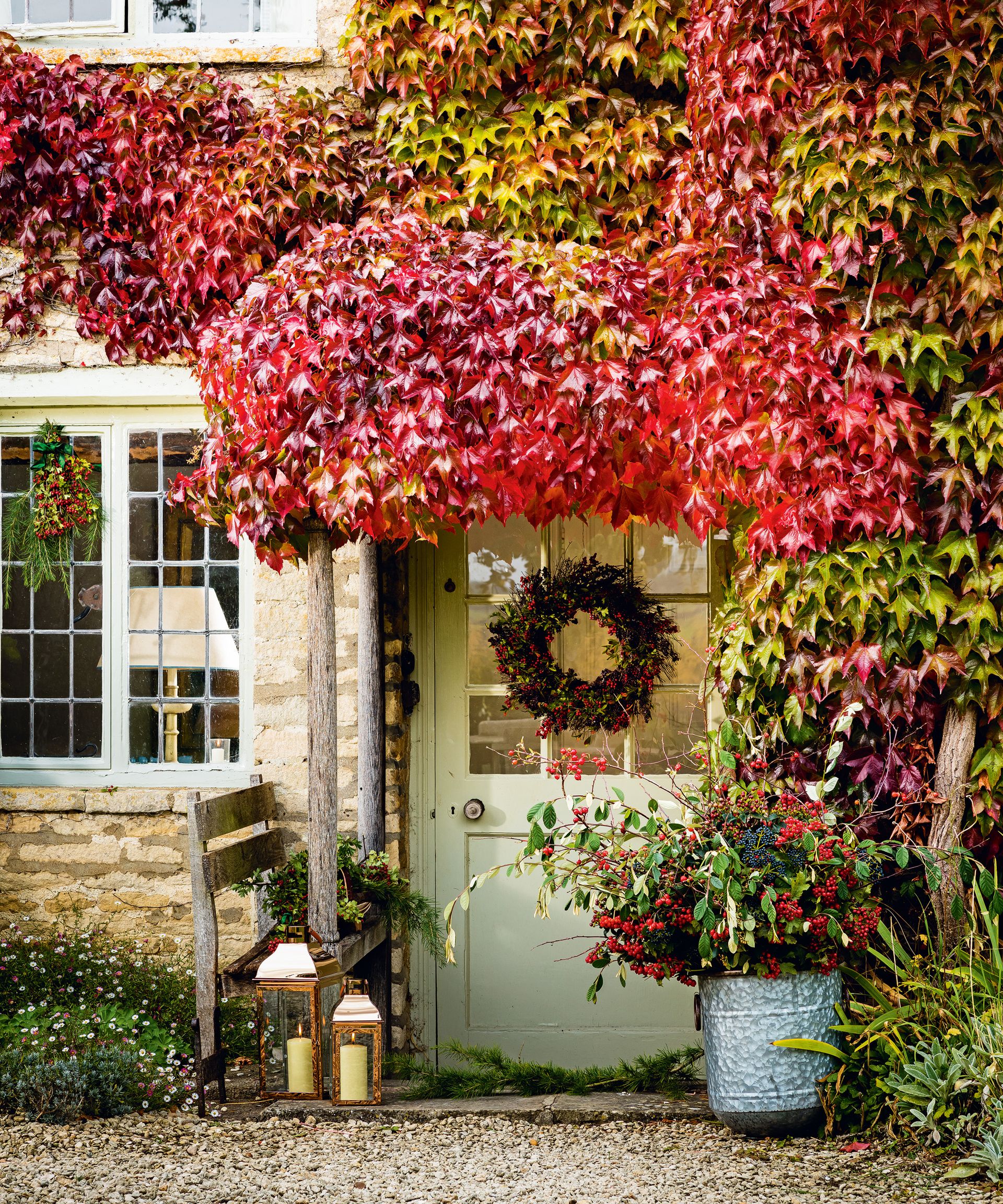 Wondering how to start decorating for fall? Marian Parsons, of missmustardseed.com, suggests to keep things simple and colorful.
'Decorating for fall is easy, because you can put out some pumpkins and mums and hang a festive wreath on the door and call it a day,' she says.
'I select a boxwood and twig wreath as a base, which is neutral and transitional. I also saw potential to add things (and take them away) to make it suit specific seasons.
'For fall, I added a few fall picks and faux mini apples to give it more color. I'll just remove the picks when the season transitions to winter.'
6. Style your door with symmetry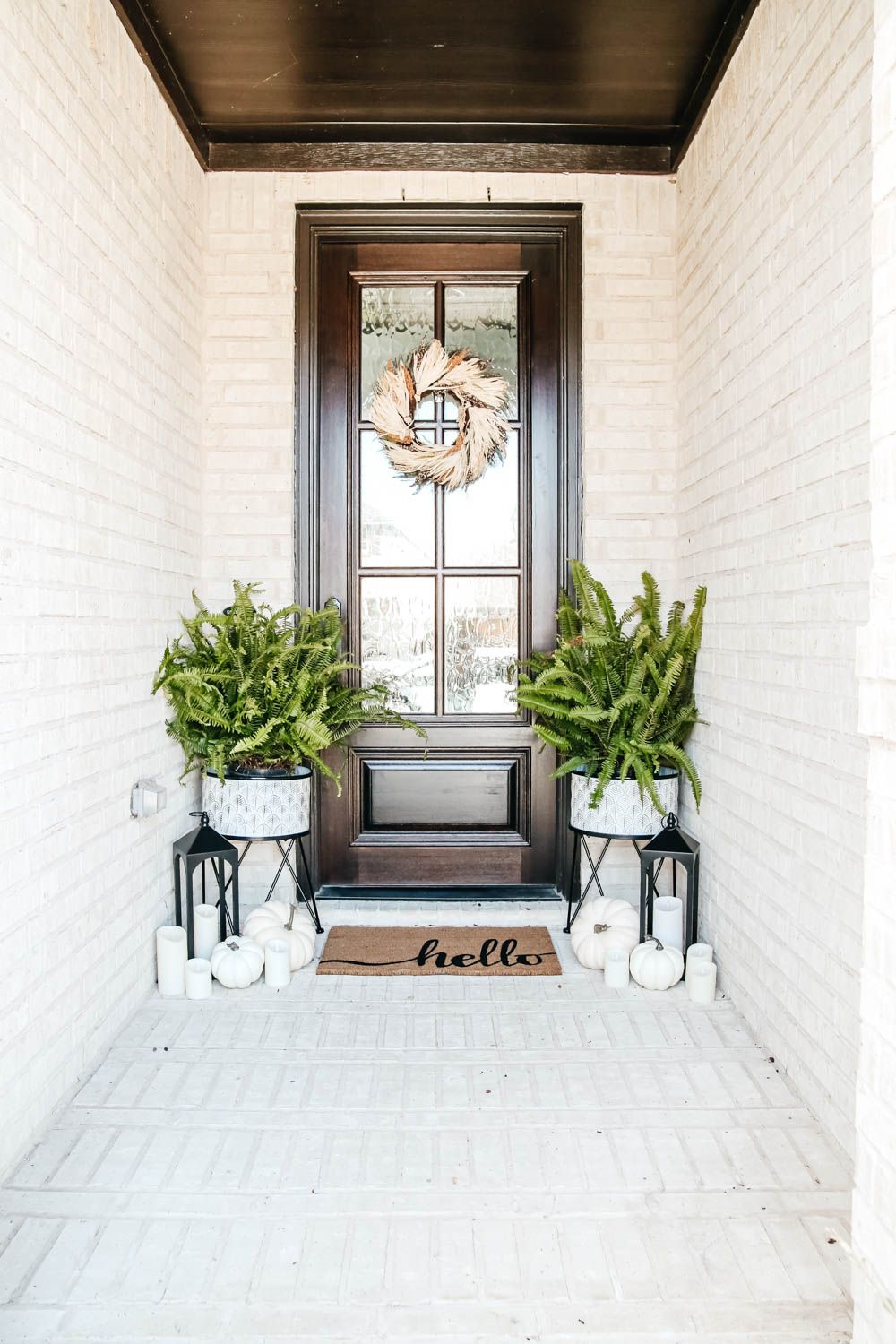 Make your potted plants or flowers create extra impact by using the art of symmetry.
Symmetry in interior design is an effective way to create smart spaces indoors, and can also be utilized for your outside space.
Rebekah, of A Blissful Nest, created a visually appealing fall front door decor display by using symmetry along with height.
She says: 'I love having ferns on my porch for fall. They are super full and really fill the space.
'I used textured planter stands, and I love the height they added. I just placed the ferns in their pots right into the base. You could always add some moss to the top to cover the pots but because these ferns were so full I didn't think they needed it.'
She continues: 'I love a large-scaled wreath. I always go up in size on these for more visual impact. The little husks popping out look just like corn stalks. I love the variation in color and it is so rich in texture.'
Rebekah also suggests to add warmth with lanterns and candles, commenting: 'My love for lanterns and candles runs deep. I use them on almost every porch I decorate. They are classic and really add warmth to a porch. These black lanterns are tall and skinny and tuck in nicely to the sides if you have a narrow porch.
'I love that you can buy sets of flameless candles like these that have a remote. It makes it super easy to "turn on" your candles on your porch at night.'
And, of course, don't forget your pumpkins. She adds: 'I tucked in some white pumpkins for a little seasonal flare on this porch and it is the perfect neutral base for when you want to add some Halloween decor.'
Rebekah Dempsey, the voice behind A Blissful Nest, is a published author and has been an interior designer for more than 20 years. After graduating with an interior design degree from the esteemed Fashion Institute of Design and Merchandising, she worked for high-end residential design firms in Los Angeles, California before starting her own design company.
7. Double up on wreaths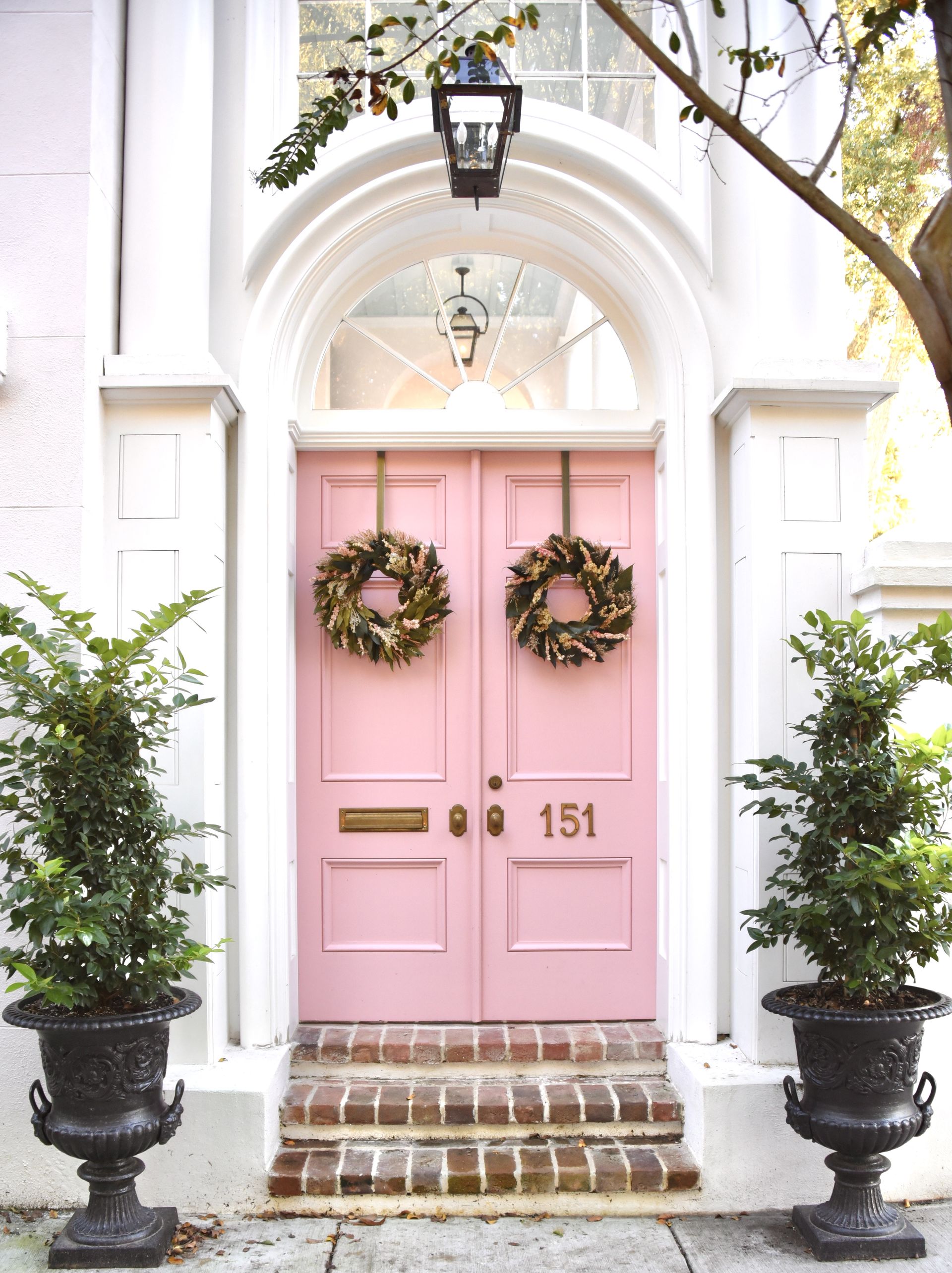 This bold yet elegant doorway is well known in Charleston thanks to its head-turning pop-of-pink hue.
Its fall styling, captured on camera by @thecharlestonlens, shows how a grand doorway can be elevated further by doubling up on autumnal wreaths.
Finish with large planters filled with tall trees for a simple yet upscale finish.
8. Paint the door for a cozy country look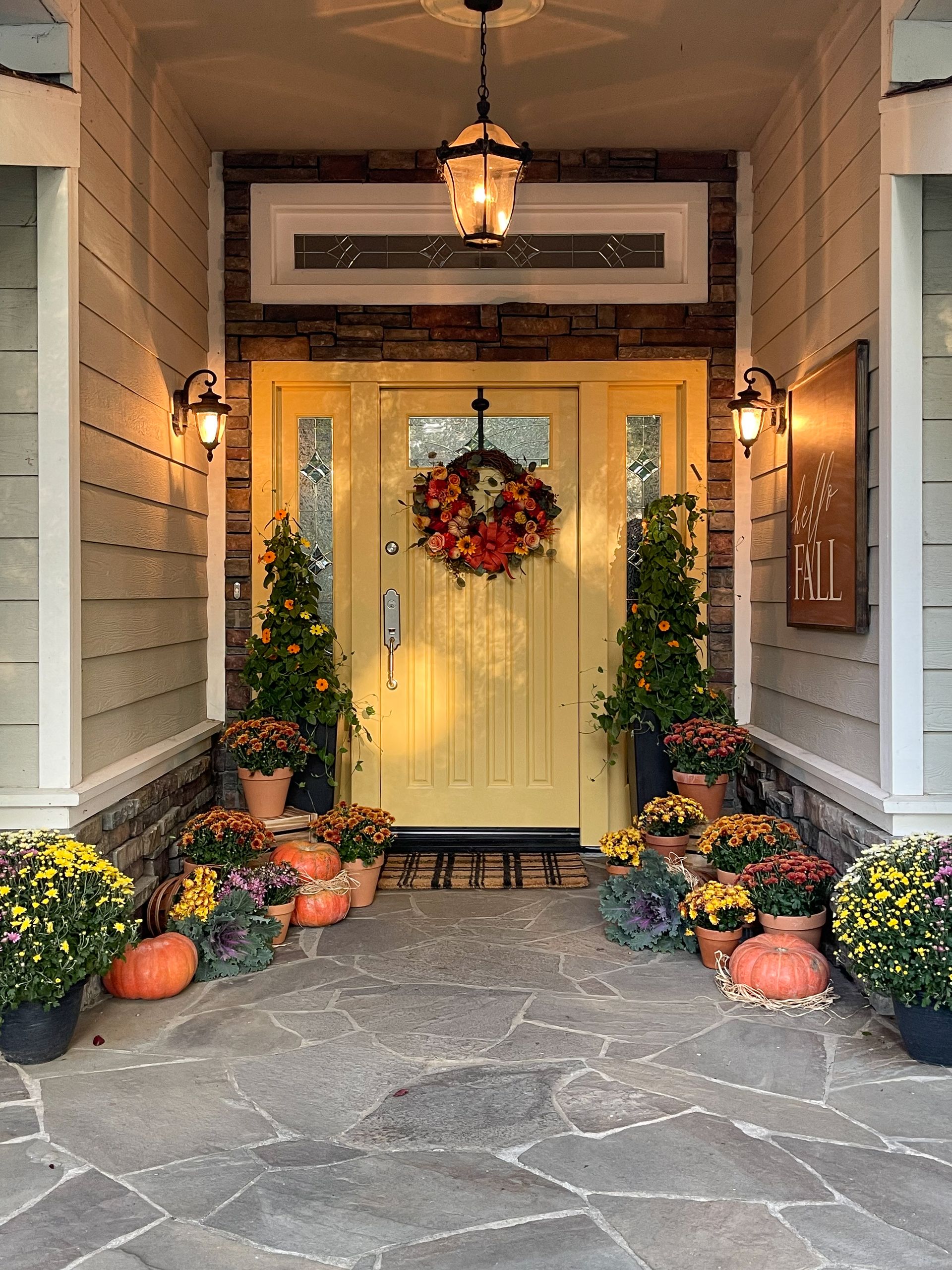 Create a cocooning country vibe with lots of florals, lanterns, a welcoming sign, a wreath bursting with the colors of autumn, and a checked doormat.
Don't forget that painting a front door can make the perfect backdrop for your fall front door decor.
'Decorating my front door for the seasons is one of my favorite things to do, and fall is one of my favorite seasons, so decorating my front door and porch for fall is pure JOY for me,' says Jodie of @jodie.thedesigntwins.
'It is usually the first thing I do to mark the start of the fall season every year and something I really look forward to. I usually start by choosing a new color. (A side note: In my passion for color and change I have painted my front door 14 different colors in the span of the past 4 years.)
'The mustard color is called Rust by Benjamin Moore. I love decorating with all the colors of fall and using lots of mums, pumpkins, gourds and natural elements to reveal fall's rich, natural glow.'
9. Hang a statement wreath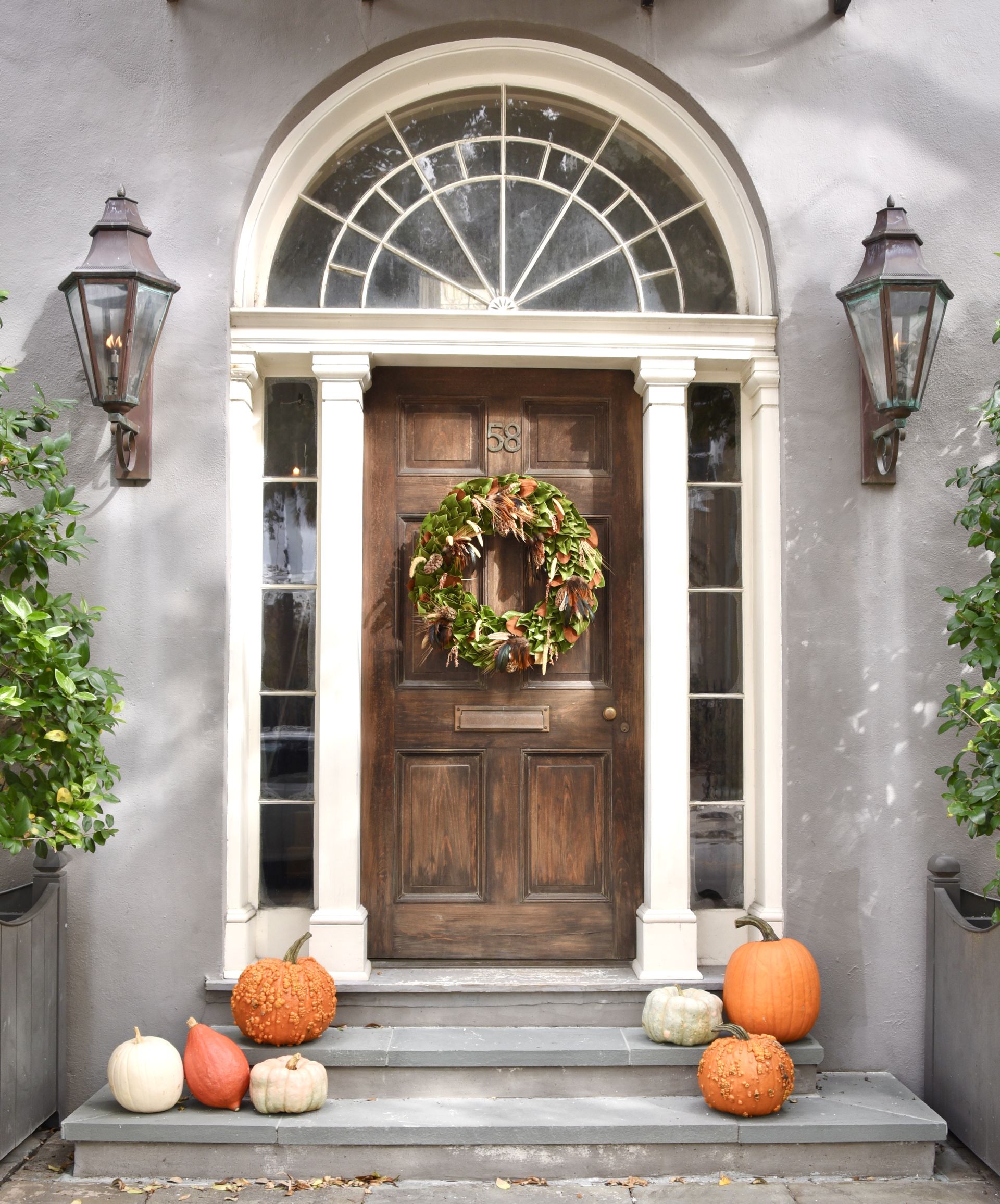 Make a fall wreath as a mainstay of an autumnal front door scheme.
The beautiful door decor pictured above, caught by @thecharlestonlens, shows how a simple scheme can be hugely impactful with a statement wreath as the focus.
'For me, wreaths are all about three things: color, scent, and texture,' says Whitney Bromberg Hawkins, CEO and co-founder of FLOWERBX. 'We want our wreaths to capture the spirit of what's happening outdoors, whether that's burnt orange and auburn leaves at the start of the season or scented pine and dried citrus as autumn turns to winter.
'Wreaths are one of my secret weapons for at-home styling, as they are endlessly versatile – working as well over a fireplace or for fall mantel ideas as they do on a front door.'
Whitney adds: 'When it comes to fall, I am obsessed with the rich new palette we have to play with, filled with rust, terracotta, and burgundy, colors that remain timeless year upon year as we approach the colder months.'
Whitney Bromberg Hawkings
Ex-Senior Vice President of Communications at Tom Ford – now, Flowerbx founder and CEO – Whitney Bromberg Hawkings has extensive knowledge of the floral industry, and set-up Flowerbx to deliver best-in-show florals to the front doorsteps of customers across the globe.
10. Add hanging baskets filled with fall flowers and foliage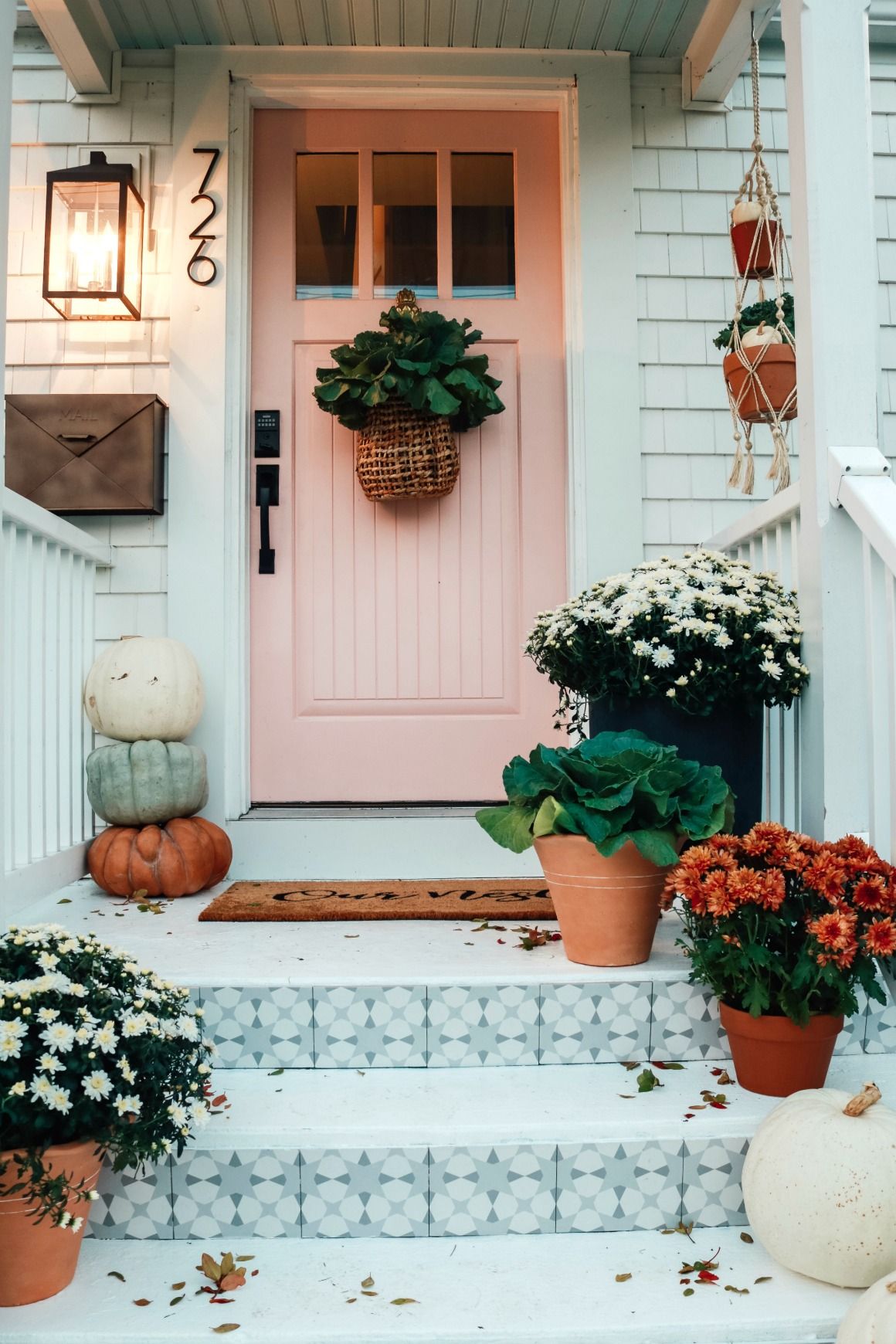 Looking for a pretty alternative to a wreath? Try the best plants for hanging baskets fixed to your front door.
The rattan basket oozes an inviting, textural aesthetic perfect for fall, and you can fill it with large, leafy greens for an earthy, rustic look, or flowers for a postcard-pretty look.
Further enhance your doorway, as Brooke from Nesting With Grace did above, by adding pumpkin towers and potted mums to your front steps or porch. We also love how she's popped mini pumpkins into her hanging pots for extra autumnal flair.
11. Pile up the pumpkins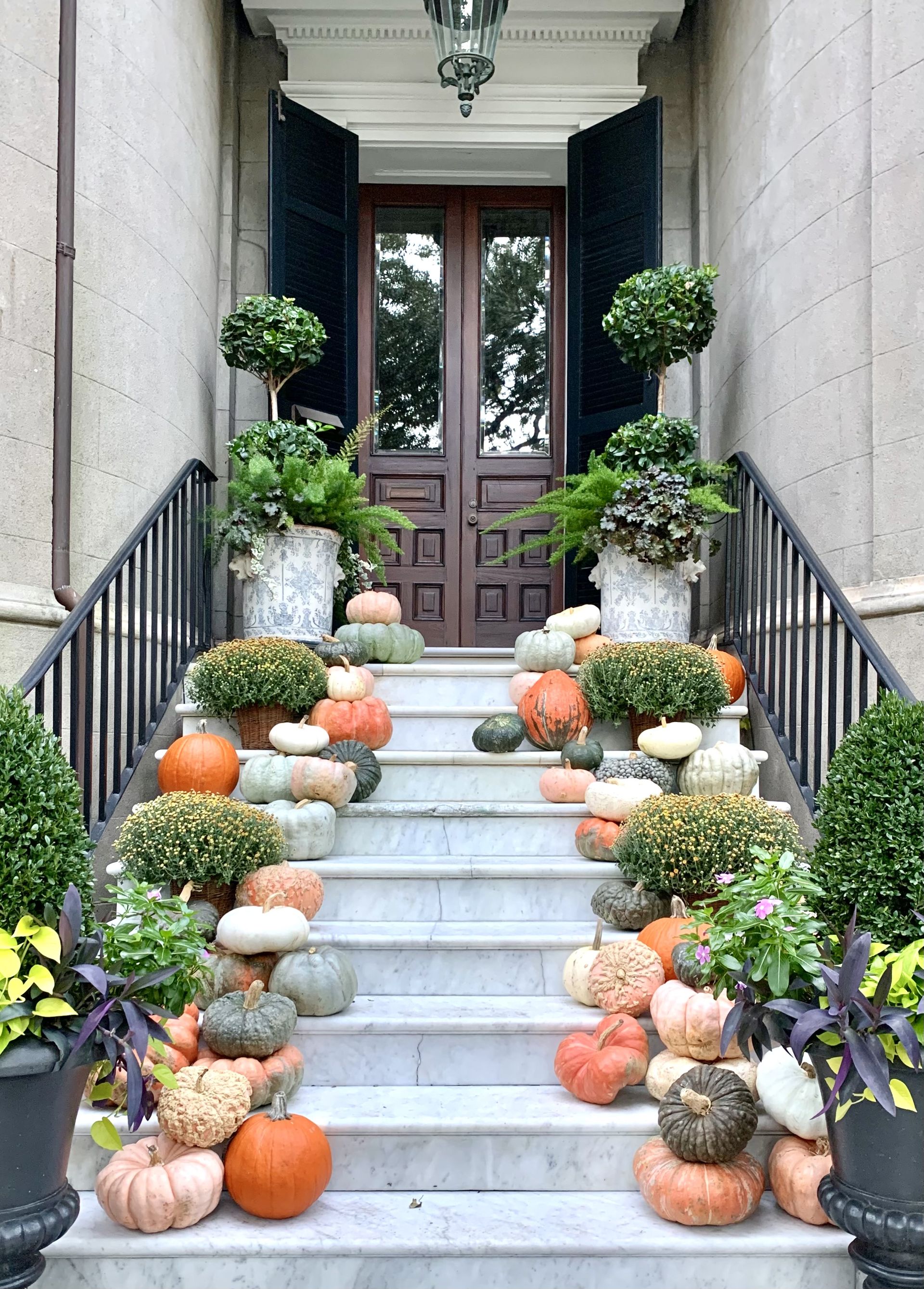 If your home is accessed via a flight of steps, make sure they stand out by decking them with a host of pumpkins.
This impressive house in Charleston optimizes its grand entrance with gourds in all shape, colors, and sizes, creating an impressive visual feast for passersby.
Whitney Bromberg Hawkins, CEO and co-founder of FLOWERBX, says: 'Pumpkins and gourds have a life beyond Halloween and, believe it or not, can be an endlessly chic way to style your home during the fall months.
'I love to swap vases of flowers out for miniature varieties for a unique take on fall table decor ideas, or dot them along the stairs leading to my home to give a tasteful yet timely nod.'
12. Keep your decorations simple and neutral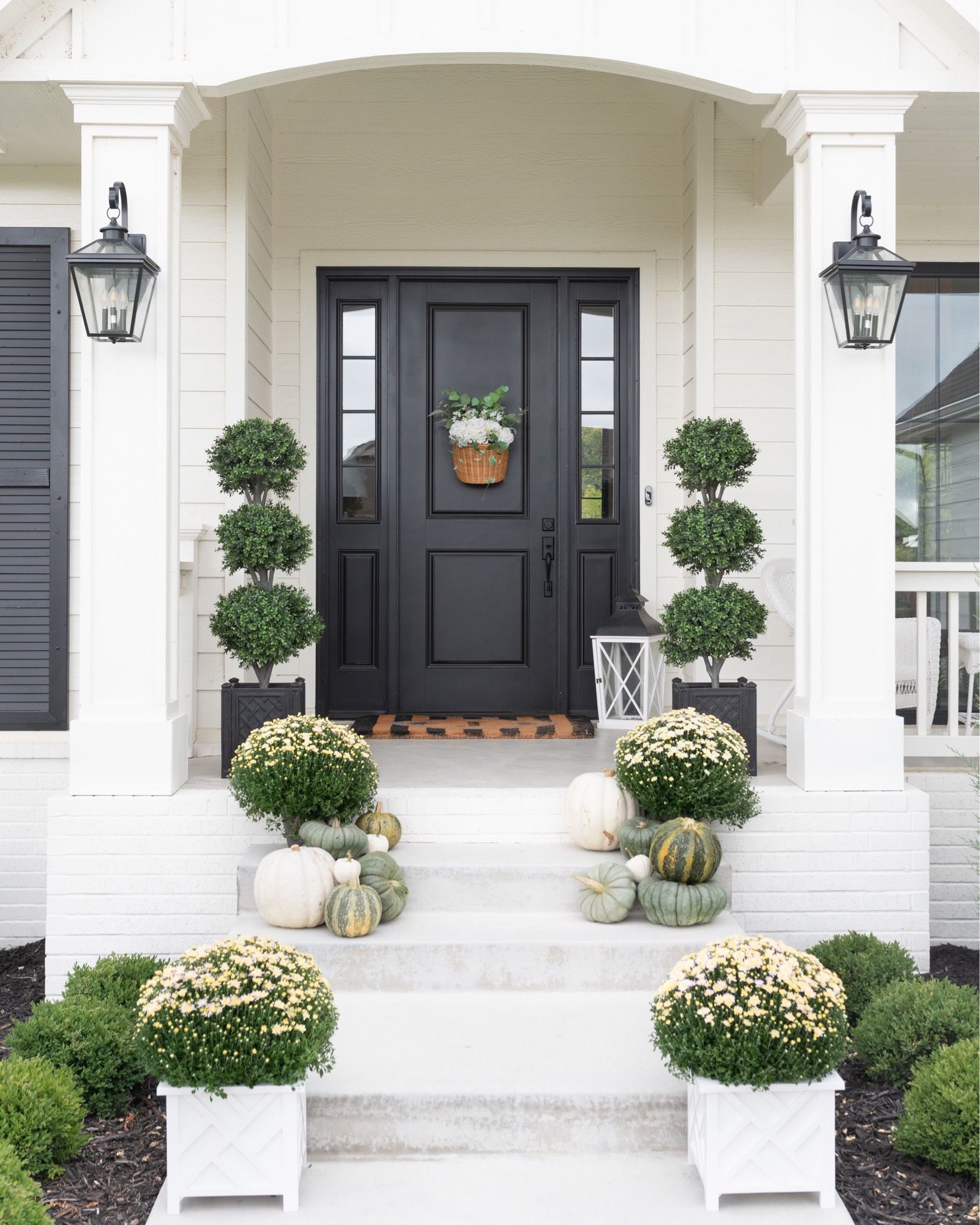 For a sleek, contemporary theme that's anything but twee, keep the color scheme neutral – think cream, white and green with natural textures like jute and rattan thrown in for added warmth.
Pretty box planters, potted mums, and green and white pumpkins keep the above scene by @thebrokebrooke chic and refined.
Brooke says: 'As a little girl growing up, I always remember my mom decorating our front door decor for every changing season!
'I wanted to create that same warm, inviting feeling to welcome people to our home. The basket on the door makes it easy to update for the flowers in season.
'We also love to go to the pumpkin patch every year as a family and add the mums and pumpkins to our front entry. I hope to pass along these same sentiments to my children.'
Shop some of our favorite front door fall decor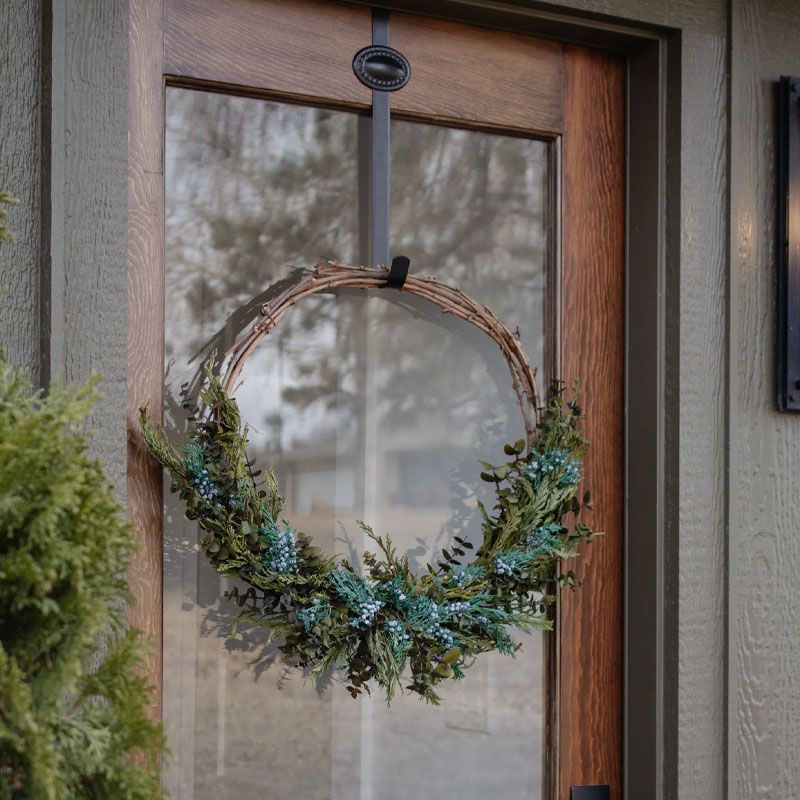 Preserved Juniper and Cedar Pinecone Forest Wreath
Hang this fall wreath on your door or above your mantel, and let the natural, fragrant greens fill your home with the delightful aroma of nature.
Brighten your doorstep this fall season with a stylish autumn leaf doormat design, handmade from natural fibers.
FAQs
How do I decorate my front door in the fall?
A wreath that's bursting with rich autumnal hues is a chic and inviting way to decorate your front door in the fall.
A hanging basket is also a lovely option, whether filled with large leafy greens, dried botanicals or fresh flowers.
Jerad Gardemal, Founder and Principal Designer of JF Gardemal Designs, says: 'To elevate your fall front door decor and introduce some unexpected options, consider decorating with olive leaves, eucalyptus, dried pomegranates, wheat, or tie a wide monogrammed sash on the bottom of your fall wreath.
'Hanging a wide ribbon behind the wreath outside your home is also a lovely option.
'A simple gold wreath of olive or eucalyptus leaves either easily transitions from fall into the holidays with a ribbon or sash change. This is always an elegant choice.'
What do you put on the front porch in the fall?
You can keep your fall front porch decor as simple or as detailed as your mood dictates.
Why not start by adding some potted mums for a burst of autumnal color. You can go further and create an autumnal cluster of goodies to celebrate the season; scatter pumpkins in a rustic manner around your pots for an organic look.
'A favorite look for exterior fall decor is monochromatic pumpkins,' says Lauren Harmon, Interior Designer at JL Design. 'Forego traditional orange and incorporate varying shades of green or cream with your gourds for an on-trend look.'
Foraged foliage, seasonal produce and dried flowers and grasses are also a beautiful mix for an autumnal scene.
What can I put on the front door instead of a wreath?
'A cornucopia filled with berries or vines hung with a wide burlap ribbon on your front door is a lovely alternative to a wreath for fall,' says designer Jerad Gardemal.
Whitney Bromberg Hawkings, meanwhile, likes to get creative with hand tied bouquets.
She says: 'One of the most exciting things about fall is how creative the season allows us to be. As we bid farewell to summer varieties, autumn brings a new form of floral dazzle.
'Jeweled tones, richly colored foliage, and branches of scented eucalyptus and berries are all the order of A/W, and can be used in a multitude of ways to create impactful arrangements.'
---
'A current trend we're loving right now for autumnal front door decor are wreaths with dried botanicals,' says Lauren Harmon, Interior Designer at JL Design. 'If taken care of properly and kept out of direct sunlight, they can be reused for many years.'
We explore decorating with dried flowers further in our dedicated piece.
Sign up to the Homes & Gardens newsletter
Decor Ideas. Project Inspiration. Expert Advice. Delivered to your inbox.
Ruth Doherty is an experienced digital writer and editor specializing in interiors, travel and lifestyle. With 20 years of writing for national sites under her belt, she's worked for the likes of Livingetc.com, Standard, Ideal Home, Stylist and Marie Claire as well as Homes & Gardens.