Garden party ideas – 20 inspiring looks for outdoor celebrations
Garden party decor just got colorful! Celebrate occasions large and small with an outdoor gathering styled for good times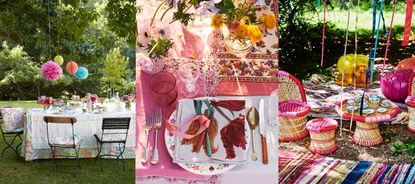 (Image credit: Future)
Garden party ideas are the perfect way to celebrate the warm weather in style.
In the middle of summer, you'll want to spend every moment possible outside. Whereas in the fall, sometimes nothing can be better than cozying up around a fire with friends to enjoy the crisp air. There are ways to make a garden party decor work for (nearly!) any time of year or space available.
So, from intimate moments to family extravaganzas, we've curated our favorite garden party decoration ideas for every type of party.
Garden party ideas
Whether you're simply taking the family outside for dinner, or hosting a big group of friends, bringing things outside creates a new and fresh dynamic for your garden party ideas. And unlike garden decorating ideas, which will make your space feel unique year-round, these ideas will create a celebratory feel, whatever the occasion.
1. Narrow down your theme
Deciding on a theme or color scheme early on can be a good starting point when it comes to planning a garden party. It can be as broad or as specific as you like - from roses and chintz to a Mad Hatter's tea party - but having a theme can help to pull the party decor together visually and be a big help when picking out tableware, food and decorations.
'Why not choose a seasonal color scheme based on the color combination of flowers in your garden,' says Jo Jeffery, Head of Brand Development at Talking Tables. 'For our shoots we also try to use in-season produce – so while you may only want a few blooms for a couple of bud vases, why not think about what's currently flowering. And the same goes for food too.'
'And try to make use of items you already have when it comes to tableware and party decorations, or consider a trip to a thrift shop which can give something once-loved a new life too. It might also create some talking points for the table.'
2. Organise a table plan
Choose a sturdy outdoor table, positioned on a sound base so that it stays stable. Avoid using the lawn if there has been a lot of wet weather, as chair legs might sink into soft ground. Or consider laying a temporary deck using a few wide timber planks laid lengthways.
If your garden table won't stretch to a larger number of guests, then consider a temporary solution. Long trestle-style tables are easy to set up outdoors and several can be joined together if you need to seat a crowd. Cover up with extra-long white table cloths, prettied up with colorful runners along the center. Once the party is over, tables can be folded and stored away in a garage.
3. Sort the seating arrangements
Make garden chairs comfier for guests by adding extra seat pads and cushions and a few knits and blankets to keep things cosy as the sun goes down. Having a stash of folding chairs on standby in the garden shed or garage is always useful too, should you need to seat extra numbers or any last-minute guests.
'Create a magical setting for a summer's evening with cushions, throws and candlelight,' says Susie Watson. 'It's always a lovely idea when eating outside, to mix odd chairs from indoors. I love using our upholstered library chairs alongside a Gustavian chair or two. It will add color and interest, creating a jolly and welcoming look.'
'The color palette for my fabric collection is inspired from the plants in the garden, never be afraid to mix the bright colors alongside the calming tones; they always look wonderful, almost like a flower bed in the middle of the lawn.'
4. Give the table a focal point
Garden plants and flowers in rustic terracotta planters make a pretty table centrepiece, lined up along the length of a table. Using taller items like pot plants, pitchers filled with florals or cake stands piled high with fancies will give a table arrangement extra height and creates an eye-catching focal point. Or consider using the space above a table for decoration and stringing paper pom poms from the branches of a tree to bring an extra pop of color.
'Just because the sun sets, doesn't mean your party needs to,' says Mary Claire Boyd, Fair Director at Spirit of Summer Fair. 'Consider draping outdoor festoons or fairy lights amongst trees, shrubs or adorned on fences to create a pretty and effective way of keeping your party going long into the night.'
'Alternatively, candles (real or battery operated) create a wonderful atmosphere and ambiance when dotted around in lanterns or hurricane jars and citronella candles not only provide a fresh aroma but are great for repelling pesky bugs and insects.'
5. Mix and match tableware
Finding matching tableware to accommodate extra guests can be tricky, but opting for an informal mismatched scheme in jolly brights and clashing florals is an easy way of getting around the problem. Different sets of china can be put together to provide extra place settings, mixing plains and patterns in cheery colors that will bring a relaxed charm to any table.
Using vintage crockery is another easy way of stretching out tableware so that there is plenty to go round. Look out for pretty floral tea cups, saucers, plates and serving dishes at thrift shops or garage sales, building up a characterful collection of mismatched pieces that are perfect for bringing out for parties or special occasions.
6. Make easy table settings
Using in-season blooms is an inexpensive way of decorating a garden party table and breaking down a large arrangement into separate smaller posies will make your flowers go further.
For an informal display idea, recycle old glass jam jars to display mini posies in. Wrap with brightly colored ribbon and stand one at each place setting. They also make lovely keepsakes for guests to take away afterwards.
7. Try a quick trick with cutlery
Give vintage cutlery and utensils a new lease of life with vibrant colors spray-painted on the handles. An easy way of co-ordinating mis-matched sets, go for a color combination that complements your table theme and then hand-tie knife, fork and spoons together using lengths of colored bakers' twine finished with a bow.
For quirky place setting markers, create personalized rosettes for guests using remnants of fabric and offcuts of colored ribbon. Glue a circle of stiff card on to the front of each rosette and inscribe with guests' names in a fancy font.
8. Set up a drinks station
Create a makeshift bar that can be stocked with bottles and glassware so that the main table doesn't become too crowded. Use a sturdy table covered with a colorful cloth and set in an easy-to-access spot so that guests can help themselves.
'Being an attentive host does not mean you have to do it all,' says Mary Claire Boyd. 'Having an area for guests to help themselves to drinks is an easy way to make sure you're not spending all day topping up glasses or mixing cocktails.
'A drinks station or table with spirits, glasses, ice and mixers means guests can get creative and make their own concoctions. You can even have a couple of drink dispensers filled with ready prepared cocktails.'
'Similarly, if you have the time to prepare salads and food in advance, try to do so the night before and then let your friends and family serve themselves. By preparing a few dishes ahead of time, you won't be hidden away in the kitchen missing the fun outside.'
9. Organize a breakaway area
Set up a few easy chairs away from the main table area where guests can go to sit and chat or enjoy some quiet time away from the hubbub of the party. Add a parasol or makeshift canopy that will provide shelter from the sun when it's at its hottest.
'Plan for all weathers,' advises Mary Claire Boyd. 'It's always good to have a wet weather plan, should it decide to take a turn for the worst. Do you have space to continue the party inside? Alternatively, can you pitch up a gazebo or marquee in your garden? Think about the "what ifs" so you have a plan B if needed.'
'A basket of blankets or throws hung across the backs of chairs also makes it easy for people to grab and use if the evening turns cooler. And a few floor cushions situated on outdoor rugs provide an alternative and inviting place to rest if there are not enough chairs.'
10. Set the mood after dark
Plan garden party lighting ideas that will take your table from day to night and create a magical mood outside. Position pillar candles and lanterns along the length of your table, ready for lighting after dark, adding nightlights at each place setting to give extra sparkle.
'For the perfect finishing touch, place connectable string lights overhead to create a magical atmosphere all around,' says Claire Bassett, Senior Product Manager at Lights4fun. 'From a singular power source, attach the string lights to overhead branches, shepherd hooks or the beams of a pergola and swag each string back and forth to light up your garden party.'
'The warm glow will radiate across your space and create an enchanting ambience so you can celebrate after dusk. Finally, add solar bulbs either to the string of fairy lights or surrounding tree branches, securing them in place with fishing wire. The flair of color will create a rich, vibrant display, perfect for hosting summer celebrations.'
11. Set up for a playful outdoor tea party
What could be more magical than an afternoon tea party surrounded by friends and the beauty of nature? For an outdoor dining idea with whimsy and wow-factor, position a portable table under a tree in a secluded part of the garden and use the branches overhead to suspend paper pompoms over the table – the perfect garden party idea for a playful festival feel.
Layer the table with patterned linens and top chairs with plenty of eye-catching seat-pads cushions. Bring the table to life with jugs of fresh flowers and arrange treats on tiered cake stands for a classic afternoon tea feel – these will also bring height to your spread, too.
12. Create a pretty place setting with vintage finds
For a quirky, homespun look which is easy to create, why not use what you have and layer up a selection of vintage floral, block-printed and lace-edged tablecloths with mix and match crockery, glassware and cutlery? For a feminine flourish tie cutlery with ribbon and dot about plenty of freshly cut garden flowers.
13. Create a fabric awning
A garden awning is a perfect shade garden idea against the midday sun during summer lunches – for a pretty country twist try making one using classic striped fabric as demonstrated here by Susie Watson Designs.
'I have always wanted to create an awning on the terrace to shade from the sunlight whilst we eat or read the newspaper,' says founder Susie Watson. 'Our Pale Rose Ivory Wide Stripe seemed like the perfect understated cotton; sophisticated and subtle, the stripes really do suit any outside space. The towering hollyhocks echo the colours of the jolly tassels, the ideal tone to transition from early spring to high summer.'
14. Choose a practical and stylish drinks trolley
The drinks trolley has made a huge comeback in recent years as more and more of us are discovering the delights of home entertaining. Rather than keep your drinks trolley indoors, why not bring some glamor to your garden party by wheeling it out of the dining room and onto the patio as a portable garden bar idea?
Make sure your trolley is fully equipped by loading it up with flutes, gin glasses, drinks, an ice bucket and coasters. Add in your favorite aromatic herbs in pots so that you can have a freshly picked supply for your summer cocktails and don't forget some candles to create that magical atmosphere after dark.
'Beautiful bar cart ideas make a perfect focal point when styled with wine glasses, flutes, goblets and tumblers all of different heights. Buff your glassware so it sparkles and add your linens and some seasonal flowers. As the sun moves around the garden you can easily reposition the trolley wherever you wish,' says Mark Winstanley our chief creative officer at The White Company.
15. Decorate a chair with ribbons
Creating a beautiful effect when fluttering in the breeze, tying ribbons to a chair is an easy and inexpensive way to bring a playful touch to garden party decor.
French-style cafe chairs are an easy design to fasten them to and will also give a relaxed feel. Pick out ribbons to co-ordinate with the colors in your table linen and choose different widths for extra interest, you could also add in floral sprigs, too.
16. Add floral flourishes
No garden party table would be complete without freshly cut flowers. There's no need for an extravagant bouquet, just a few stems are enough to add a floral flourish, in fact, sometimes less is more. Set in a handy holder, these glasses from Sarah Raven make perfect mini bud vases – you could leave them grouped for a focal point or alternatively place one at each place setting.
For a mid-summer color pop try a combination of hot pink cacti dahlias and yellow fennel. If you're thinking of growing your own flowers for cutting then be sure to do your research on planning a cut flower garden.
17. Decorate with edible flowers
Decorating garden party food with edible flowers is a fitting finishing touch for a summer spread that is guaranteed to bring sparkle to an al fresco celebration. Try using them to decorate a show-stopping cake for an eye-catching centerpiece, or floating them in arrival drinks – they can also be used in salads, too. If you're thinking of using flowers to decorate food then it's important that they are certified as edible – be sure to do your research first and to buy them from trusted specialist suppliers.
18. Don't forget the party games
Outdoor living rooms are the perfect space for hosting games night. Outdoor games are a great garden party idea that all the family can enjoy. There are plenty of sets to buy online from classics such as croquet and French boules to oversized versions of indoor favorites like Jenga, chess and Connect Four. Alternatively, if you're feeling crafty, you could create your own garden party game idea such as this simple ring toss game made by filling a retro fruit crate with colored bottles ready for looping with ribbon-bound hoops.
19. Set the mood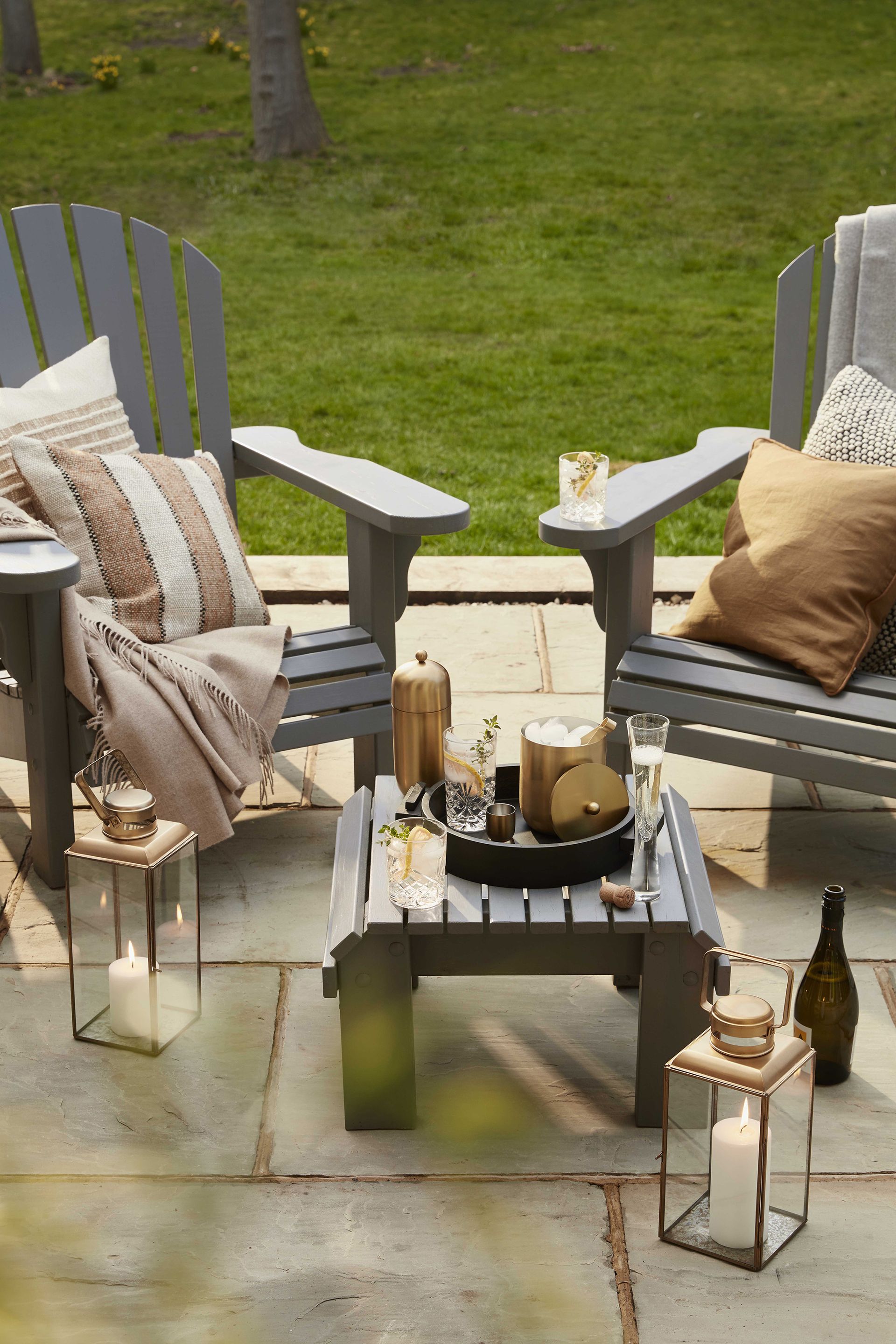 If you're planning on hosting an intimate gathering on the patio then factor in plenty of outdoor lighting ideas and cozy textiles to create a magical atmosphere after dark. 'When entertaining outdoors you want to ensure the set up is stylish and comfortable, almost like an extension of the home, says Suzy Humphreys, founder of Layered Lounge.
'Adding light throws and cushions in summer fabrics and colours adds texture and coziness on chillier evenings. I also like to dot lanterns and candles around the garden as the gentle glow of candlelight adds a real sense of occasion and will beautifully highlight your al fresco bar or dining table.'
20. Keep the kids entertained
When hosting a garden party for all the family it's important to keep the little ones entertained, so consider styling up a secret area especially for them. For a relaxed, playful look, why not choose a vibrant boho theme? Begin by laying down colorful patterned rag rugs (brilliant for disguising dirt and stains) and then add in miniature rattan furniture and a selection of Moroccan pouffes. Great indoors as well as outdoors, leather pouffes are easy to wipe clean if marked by little grubby hands. For a fun finishing touch tie colorful ribbons from branches overhead.
21. Choose a patriotic theme
Whether you're thinking Memorial Day decor, 4th July decorating ideas or even celebrating Queen Elizabeth's Platinum Jubilee party ideas, creating a red, white and blue color scheme can be a great way to make your garden party ideas suit not just patriotic occasions, but all occasions. Adorn the front of your home, or just create red, white and blue table decor out in the backyard.
How can I decorate my backyard for a party?
The best way to decorate your garden for a party is to first think about what type of occasion you will be celebrating. Once you have that important element nailed, consider budget, color schemes and whether your garden party decorations will need to be waterproof or child-friendly.
How do I throw a garden party?
Throw a garden party in any style you desire, but one of the most special things about taking things outside is the joy of al fresco dining.
Take a traditional dinner party and move the fun outdoors. Menu-wise, why not choose summer recipes that can be cooked on the fire or in the oven, depending on how the mood takes you. Plus, this outdoor dining idea is a lovely, family-style way of entertaining.
For decorating your table outside, complement the season with your color choices. Dress the table with simple linens, terracottas and recycled glassware for an earthy, eco-moment. If you have kids running around, swap in hardy melamine platters and plastic glassware that look like the real deal.
Demarcating zones is a great way to add intrigue and intimacy to a garden party.
If, when designing your garden, you have entertaining in mind, then consider using flowers and shrubs to define various sections. Planting beds can add a sense of privacy to smaller seating areas. Add in some herb pots here, too, for a natural way to scent a cozy area.
Tasha Green, Director of Weaver Green, suggests to, 'create hidden areas to escape the madding crowd. Create simple wooden brackets and attach them to walls and fences to use as hanging structures for textiles (large bull clips are perfect for a non-permanent attachment).'
Alternatively, invest in a tent or marquee for an opulent feel. This is an especially lovely idea at a birthday, to create a focal point for gathering.
How do I keep my guests comfortable at a garden party?
Comfort is everything for your guests, especially when you're outside and will be lingering until the last rays of sun have faded away.
While seat and bench pads are of course useful, few of us will have the right number of chairs when throwing bigger garden parties. Instead, make use of your square footage and make the ground a new comfort zone, as in the outdoor living room idea shown above.
'We use lots of lovely outdoor scatter cushions, floor cushions and outdoor rugs to take the hard edges off,' says Tasha Green, Director of Weaver Green. 'Make sure your textiles are outdoor-proof and quick drying. Then they can be left outdoors with no ill effect.'
Keep guests warm with outdoor fireplace ideas or fire pits. Add chic, modern country charm to your garden party by looking to unusual ways of displaying practical necessities.
A foraged branch strung up with rope, or perhaps across where a hammock would usually hang, is the perfect place to display blankets.
Attach stylish leather loops to throws in complementary colors. They'll look pretty during the day, and when evening rolls around, your guests will know exactly where to head to for an extra layer.
Sign up to the Homes & Gardens newsletter
Decor Ideas. Project Inspiration. Expert Advice. Delivered to your inbox.
Pippa is Content Editor on Homes & Gardens online contributing to Period Living and Country Homes & Interiors print issues. A graduate of Art History and formerly Style Editor at Period Living, she is passionate about architecture, creating decorating content, interior styling and writing about craft and historic homes. She enjoys searching out beautiful images and the latest trends to share with the Homes & Gardens audience. A keen gardener, when she's not writing you'll find her growing flowers on her village allotment for styling projects.