How to make a backyard more private without a fence – 5 screening solutions to try
These clever solutions prove that you don't need a fence to screen your backyard from view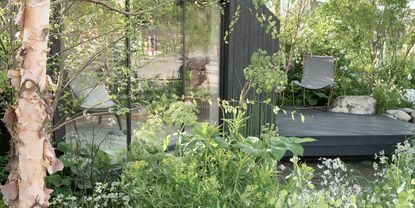 (Image credit: Jacky Hobbs/Future)
Creating privacy in your own backyard is important for enjoying your outdoor space in peace and seclusion. The go-to for most backyards if you want to make the space your own is a strip of traditional fencing, which can sometimes feel intrusive, dark and enclosed.
The good news is there are plenty of creative solutions to enhance the feeling of privacy in your backyard without having to use fencing. If you're overlooked by neighbors or want to block out an ugly view but still want to keep your yard secure, there are alternative backyard screening ideas you can try to switch up your space into a more private retreat.
Our expert suggestions are all you need to find out how to make a backyard more private without a fence, while at the same time helping to pull together the whole look of your yard.
5 ways to make your backyard more private without a fence
Whether you want a much softer look by beautifying your boundaries with planting, add an ornamental screen for patio privacy, or obscure your yard from neighbors, these expert tips will boost the privacy of your backyard.
1. Create a natural privacy screen
Plants are always a great way to create more privacy in your yard without needing to put up a garden fence or man-made structure that could make the space less appealing. Go for a layered look if you like things natural or a more structured geometric design if you're a fan of clipped and contemporary.
'Plant fast-growing shrubs in the ground, or you can even plant them in pots that you can move around,' says Miguel Camperos, VP of operations at SunVara. 'This can help block prying eyes while maintaining the natural appeal of your yard, plus it means you can place them strategically.'
Choose reliable evergreen shrubs for year round color. 'I suggest using plants like Cryptomeria japonica, Leyland cypress, and junipers, which are all fast growing specimens,' says New York-based landscape designer Jonathan Fargion. 'Dense planting at the edge of the property will provide a nice thick layer.'
Other evergreen options include Prunus laurocerasus, which is a broadleaf evergreen with a nice white flower in spring, or boxwood, adds Jonathan. 'Alternatively you can plant taxus baccata, which is a fantastic evergreen plant that can take sun and shade, and you can shear it to make it look like a continuous wall.'
Jonathan grew up in Milan, where he got an MA in environmental architecture from Politecnico di Milano. His academic and professional experiences took him from Italy to Israel, and Hong Kong to Lisbon, ending up in New York. He has a specialization in ornamental horticulture from the New York Botanical Garden, and designs outdoor spaces, whether urban, countryside, or coastal. He has spoken at NYU Casa Italiana, the New York Botanical Garden, and Montclair University to share his experience, and give talks about ecology and gardens.
2. Go for a vine-covered lattice or trellis
Adding lattice or trellis panels are another option to create privacy with a visual barrier between your yard and neighboring ones, while also adding a beautiful and natural element to your outdoor space. As well as boundaries, place them strategically around your backyard landscaping to create zones that are more secluded and intimate for dining or lounging.
Let vining plants grow over them for a soft unstructured look. 'Installing trellis or lattice around your yard is a perfect solution for privacy,' says Ben McInerney, a qualified arborist and founder of Home Garden Guides. 'Grow climbing plants like jasmine that look great but are not too thick and allow good light penetration.'
Other good choices of climbing plants include climbing roses, honeysuckle and clematis to create a living screen that can be scented too if you choose the right plant varieties. These are some of the best plants to hide a garden wall too. One of our favorite climbing plants for scrambling over trellis is the 'Iceberg' rose, available from Nature Hills.
'I usually like to mix in English ivy, which is evergreen so provides privacy all year round, with a deciduous climber like Virginia creeper, that features great fall color, and a flowery climber like clematis,' says Jonathan Fargion.
3. Choose decorative screen panels
The use of strategically placed screens to block a view or make a gathering space more private is a common design trick for overlooked spaces. Featuring ornamental lazer-cut patterns and made of materials such as metal, like this decorative privacy screen panel from Amazon, they add a design element to the garden too.
'Decorative accents are an often lesser-known design feature that can serve as an alternative to a traditional fence,' says Joe Raboine, VP of design at Belgard. 'Decorative screen panels come in a wide range of styles and colors, offering an option to complement every backyard design style. They allow light to pass through so they don't entirely close off a space.'
In his current role, Joe oversees the Belgard Residential Program. Joe strives to promote the idea that outdoor living is not only a good investment for homeowners but can also fundamentally change lives for the better by bringing people together. Joe started his career as a contractor over 25 years ago.
4. Frame your perimeter with a hedge
Choosing one of the best privacy hedges will help to create a more secluded yard, and will quickly solve the problem of being overlooked. They can be grown to the height and thickness you desire without the legal restrictions usually encountered when installing a fence.
'This method of landscaping for privacy is effective throughout the year and is rarely prohibited by local ordinances about plant height,' says Trevor Lively, president of Blue Jay Irrigation. 'You can create privacy between yards using fast-growing columnar evergreens like Italian cypress, arborvitae, or a clipped privet hedge.'
Adding a hedge also makes your garden more sheltered. Choose one of the best hedges for wildlife and you will also attract nesting birds and other mini-creatures.
You don't have to have a dense hedge either. 'Hedges made from shrubs like boxwood, yew, or arborvitae [thuja] can create a natural fence that doesn't block too much light,' says Brock Ingham, owner of Bigger Garden. 'You can also opt for a layered hedge that allows light to filter through.'
5. Screen with trees
Trees really add something to a backyard but are particularly useful when it comes to the issue of how to make a space more private without a fence. The best trees for privacy not only offer a beautiful, natural way to screen your yard, but also provide structure and interest all year round.
While fencing and walls are good for practicality and security, trees offer a softer way to achieve this, and are perfect for pairing with more solid boundaries. 'A client of ours created a backyard oasis but the neighbors' house was going to have a full view into the yard,' says Ben Neely, owner of Riverbend Homes in the Austin, TX area.
'The topography meant that we needed to block about 15-20 feet above the ground, so we planted fast-growing trees called willow hybrids. They are deciduous trees so they do loose leaves in winter, but they're sprouting leaves again by February. Within a year they fully blocked the view into the backyard and have continued to grow substantially ever since.'
If your yard is on the shady side it's a good idea to opt for a deciduous tree. 'Keep your backyard private from a neighbor's second-story window or terrace by planting a deciduous shade tree, which, depending on the species, can grow anywhere from 25 to 60 feet in height,' says Trevor Lively. 'The canopy provides welcome summertime shade on a deck or patio. Trees that lose their leaves in winter allow more light into the home during these months.'
---
Ultimately, creating backyard privacy without a fence is all about finding the right balance between functionality and aesthetics, as well as being mindful of the environment and local zoning laws.
With the right design, it's possible to create a private backyard without stretches of fence on display, so it feels more like a green retreat.
Lifestyle journalist Sarah Wilson has been writing about gardens since 2015. As well as homesandgardens.com she's written for Gardeningetc.com, Livingetc.com, Easy Gardens and Modern Gardens magazines. Her first job on glossy magazines was at Elle, during which time a visit to the legendary La Colombe d'Or in St-Paul-de-Vence led to an interest in all things gardening. Later as lifestyle editor at Country Homes & Interiors magazine the real pull was the run of captivating country gardens that were featured.