How wide should a raised garden bed be? Expert advice for picking the perfect size
The ideal width for your raised garden beds will depend on how far you can reach. Our experts advise on the best options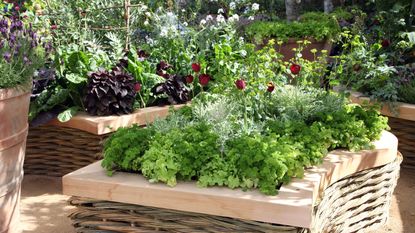 (Image credit: Alamy/Ros Drinkwater)
Raised beds are a great way to grow a huge range of plants in your garden, yet they do need to be practical. That means choosing the correct width of a raised garden bed to make it fit for purpose.
If you are looking to build them for the first time, you may be thinking just how wide should a raised garden bed be? Well, make it too wide and you won't be able to reach the middle, too narrow and you will really be limiting your growing options. A width of four feet is generally regarded as the recommended maximum.
When you are putting together your raised bed ideas, put real thought into the sizings of the structures. Here we look at what is the right width for a raised garden bed and why it is important to get those measurements right.
How wide should a raised garden bed be?
Mis-judging the size is a common raised bed gardening mistake and it can be a costly one to make. When it comes to building a raised garden bed it takes time and effort and you may need to purchase materials as they are often made of repurposed wood, brick, stone, or pre-made raised garden bed kits – such as the Lakeside Collection Raised Garden Bed Set available at Amazon.
Steve Bradley, gardening expert for Homes & Gardens, says the use of raised beds 'continues to expand for a variety of reasons' including with people who have limited mobility or no soil in their backyard. He warns that the width should be considered as important as how tall a raised garden bed should be, adding: 'If you have to climb onto the bed to reach the middle, then the bed is too wide.'
Steve has written (or co-written) over 40 practical gardening books, and was commissioned to update some of the world's best-selling gardening books, The Expert series, originally written by Dr David Hessayon.
Over the years, Steve has also written for most of the popular UK gardening magazines, including Amateur Gardening. He is a member of The Garden Media Guild and has a vast knowledge of gardening and enjoys sharing it with listeners to BBC local radio. He is a resident gardening expert, answering listeners' questions during live gardening phone-in shows.
When it comes to how wide a raised garden bed should be, it is all about accessibility. You want to be able to reach all parts of the raised bed, so if you make the bed too wide you are creating problems for yourself. Not only will you struggle to maintain the central areas, but you can damage the bed as a result.
Lindsay Miller, horticultural writer for Gardener's Supply Company, advises: 'To avoid soil compaction, choose a width that allows you to reach all plants without stepping into the bed. Remember, you'll need to reach in to weed, water, and harvest. If you can reach plants from both sides, a width of 3-4 feet is fine.'
You should always be able to reach halfway across the raised garden beds so you do not ever have to tread on them. A width of four feet is a maximum for raised beds that are freestanding and can be accessed from all sides. However, if the bed is against a wall or building then it should be only two feet so you can reach all the way across it. There is no point having a really wide bed if you cannot reach all parts of it.
Lindsay Miller is a horticultural writer for Gardener's Supply Company and lives in central Vermont. She has a master's degree in Natural Resources and has been a research biologist, environmental regulator, flower farmer, and writer.
Minimum width of raised garden beds
Make the beds too narrow and you are restricting the amount of space you have and what you can grow in the raised garden beds. If the bed is less than 1.5 feet wide then that could limit you to just one row of plants that are able to be grown in that space. At 1.5 feet and above you should be able to have two rows of plants growing happily in that space without being cramped and competing for space, water, and nutrients.
While the width of a bed will dictate how many plants you can put in there, it is the depth of a raised bed that will have an impact on your choice of plants. If you are considering raised beds as part of your vegetable garden ideas, then remember the importance that both height and width of those beds will have on what you can plant in them.
When to use narrow raised garden beds
It is generally regarded that four feet wide is the maximum size for raised beds to be used by adults. That figure, however, will need to be reduced if the raised beds are planned to be used either by children or adults with mobility issues or in wheelchairs.
Raised beds are commonly used to help encourage children to start gardening, such as in a school vegetable garden or kitchen garden. If the raised beds are designed for children, then that needs to be reflected in the size. The width of a raised bed for children should be closer to two feet wide to ensure they can reach into the centre of it.
Adults with mobility issues may not be able to reach as far into the beds, so the width should be reduced from four feet down closer to three.
If the raised beds are intended to be used by wheelchair users, then it is recommended that they are 2-3 feet wide for adults. How deep a raised garden bed should be will also be affected if they are to be accessible for wheelchair users.
How wide should the gap be between raised garden beds?
If you plan to have more than one raised bed as part of your vegetable garden ideas, then you should consider the practicalities of using the space. You want to be able to easily get between any beds to access them, be able to take gardening tools with you, and have space to remove any waste.
Mary-Kate Mackey, a multi-award-winning garden writer, advises the minimum width for garden paths between multiple raised beds would be two feet wide. She says: 'Ideally, the pathway between raised beds should be wide enough to allow your wheelbarrow to roll there in order to maintain the beds.'
The width of the path will need to increase if users have mobility issues or wheelchair access is required. Paths for wheelchair users are recommended to be closer to four feet wide and you may have to take into consideration the turning circle if there is no access at both ends of the raised garden beds.
---
Raised garden beds are an excellent option for gardeners and offer real advantages over growing plants in the soil. They should only be as wide as you can comfortably reach, usually four feet wide if you can access both sides, and narrower if there is only access on one side or it is designed to be used by children or people with mobility issues.
Remember that the width will dictate what you can plant and take the paths into consideration when planning a kitchen garden or if you're thinking of starting a vegetable garden using raised beds.
Sign up to the Homes & Gardens newsletter
Decor Ideas. Project Inspiration. Expert Advice. Delivered to your inbox.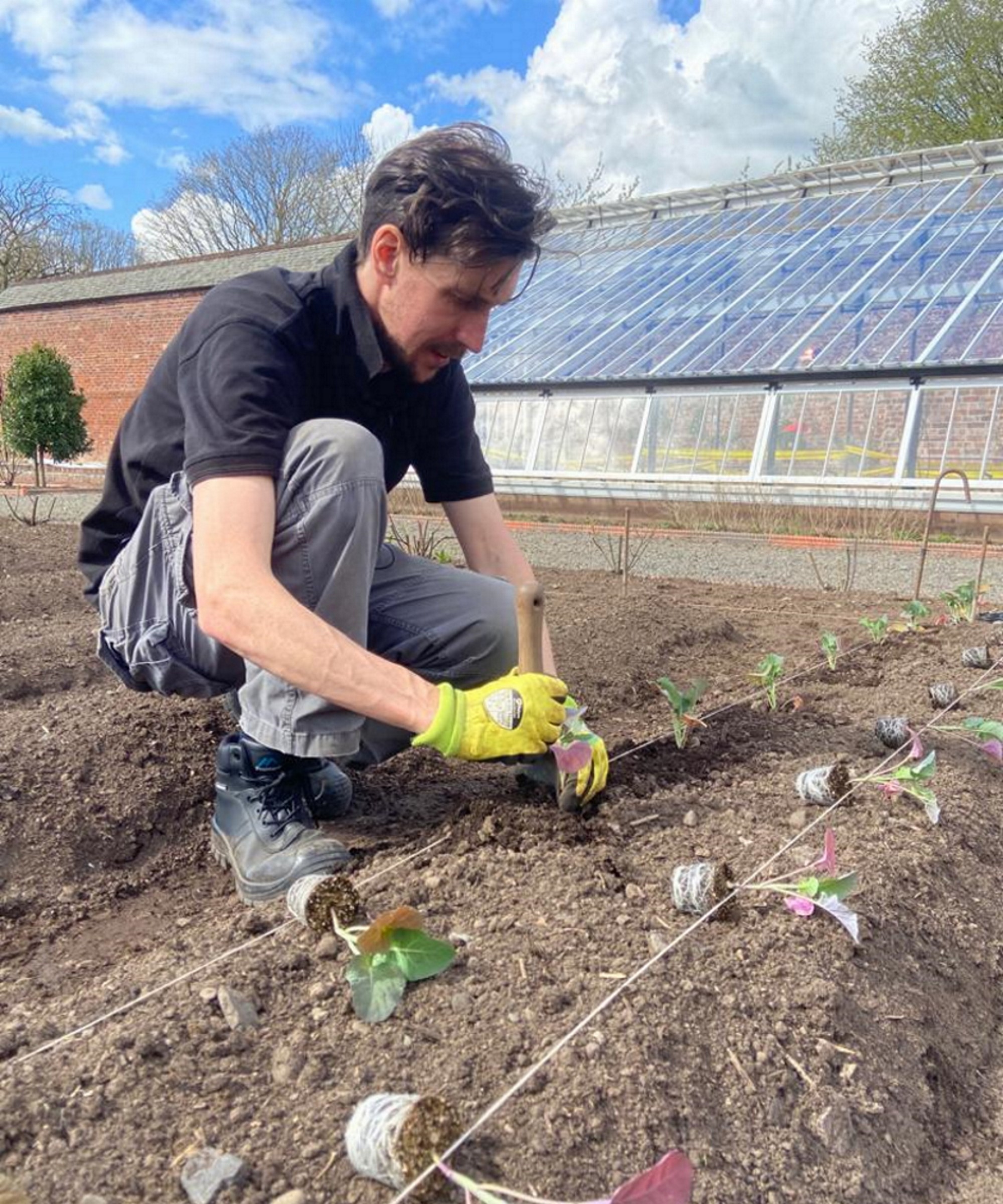 Drew's passion for gardening started with growing vegetables and salad in raised beds in a small urban terrace garden. He has gone on to work as a professional gardener in historic gardens across the UK and also specialise as a kitchen gardener growing vegetables, fruit, herbs, and cut flowers. That passion for growing extends to being an allotmenteer, garden blogger, and producing how-to gardening guides for websites. Drew was shortlisted in the New Talent of the Year award at the 2023 Garden Media Guild Awards.