Should a patio go right up to a house? Experts advise on the best location for your paved space
The right location for your patio will depend on a number of factors. Here's what the experts have to say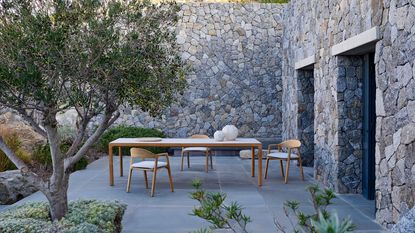 (Image credit: Go Modern Furniture)
Sign up to the Homes & Gardens newsletter
Decor Ideas. Project Inspiration. Expert Advice. Delivered to your inbox.
Thank you for signing up to Homes & Gardens. You will receive a verification email shortly.
There was a problem. Please refresh the page and try again.
Q: I'm adding a new patio to my backyard and am considering the best place to build one. Should the new patio go right up to the house, or is it better in terms of drainage and overall landscaping to site it somewhere else in the yard?
A: Patios are wonderful home investments. They allow you to enjoy all the benefits of being outdoors, surrounded by indoor comforts. Although they can be costly to build, their many uses and benefits make them a worthwhile project to consider.
When building a patio, they are typically designed to go right up to the house. There are, however, some important building requirements and placement considerations that may make a separate patio more compatible with your space.
Should a patio go right up to the house?
In most cases, it makes sense for a patio to go right up to a house. Whether you have a large or small patio, they are usually designed as an extension of the home and expansion of the available living area. For this reason, it's better for your outdoor living space to flow directly from your indoor living space.
A patio attached to your home provides the easiest access to the area itself and to indoor amenities for ease of use. Most homeowners intend to use their patios for outdoor dining and entertaining, and if the space is close to your home and easy to access, you're far more likely to use it.
This is also more convenient when it comes to amenities. If your patio is close to your home, it is far easier to install things like patio lighting, heaters and electrical sockets that make the space more versatile and comfortable.
That doesn't mean it's not possible to build a patio away from your home, but for the majority of backyard landscaping projects, a patio will work well when next to a house.
What to consider when building a patio against your house
Although having your patio attached to your home is the most common arrangement, there are still several conditions to fulfill to get it right. If you don't have the right space or resources to attach your patio correctly, it's best to consider alternatives.
Drainage considerations are key to protect your home from water damage. Landscaper Kevin Wilson notes that 'hard surfaces such as patios act as large areas for water catchment. So dealing with this water in a responsible way is key to prevent maintenance problems.'
'When building a patio right up against your home's exterior wall, you must make sure that water doesn't pool around this area as it can cause structural problems down the line,' adds Dan Eastman, co-owner of DFW Stained Concrete, a flooring contractor based in Dallas, TX. 'This is why proper grading and soil compaction are essential before laying any pavers or stones for your new outdoor living area. Additionally, using quality patio flooring materials such as concrete pavers with excellent permeability will ensure water flows away from your home rather than collecting near its foundation.'
One way to improve drainage is to have your patio materials slope away from your home at a level of around 2%. Kevin Wilson explains how to calculate this ideal slope when creating your levels. 'We're going to take our length, convert it into inches and then times that by 2%. Measure down from the benchmark heights to achieve the 2% [slope].'
Ryan Farley, CEO of LawnStarter, also has this advice: 'Properly integrating the patio with your home's existing drainage system or installing suitable surface drainage features like a French drain or channel drain can also help manage water runoff effectively. Always remember, the key is not to obstruct the natural flow of water but to guide it away safely without causing damage or inconvenience.'
If your proposed patio space does not allow for any of these requirements to be met, it's best to consider alternative placement to protect your home. Challenges like moisture build-up and incorrect slopes can be tough to resolve before construction of your patio and are easier to avoid by building your patio away from your home.
When should a patio be built away from the house?
There are a few instances where building a patio away from your home makes the most sense, apart from the construction concerns.
The first is lack of space. Depending on the layout of your home and backyard, you may have more space to build a patio away from your home. If you want to get the most use out of the space, it's better to place it in the best position rather than limiting yourself by attaching it to your home.
Building a patio away from your home also allows you to make the most of the sunlight in your yard or frame the best possible view. Evening sun is ideal for sundowners, and shady spots can allow you to enjoy your patio in comfort during the hottest parts of the day.
'Although a patio can certainly go up to a house wall, where space permits I prefer to bring spaces intended for lounging or entertaining a little further out,' says Chrissy Arsenault, owner and designer for Live Original Design. 'A hard surface butting up against another hard surface (particularly a tall wall) can look harsh or uninviting, and in general I try to draw the user out of their homes and away from technology any everyday stresses. Allowing for a flower bed between the house wall and the patio will soften the look of the space and taller patio planting will help to scale down the visual height of the wall beside your sitting area. Overall, this can create a more inviting user experience.'
The verdict
For ease of access and the true indoor-outdoor living feel, having your patio go right up to the house makes good sense. However, if you cannot meet the building requirements to protect your home, or you have a better patio spot in another part of your backyard, it may be better to avoid any potential patio mistakes and consider a stand-alone patio elsewhere.
Sign up to the Homes & Gardens newsletter
Decor Ideas. Project Inspiration. Expert Advice. Delivered to your inbox.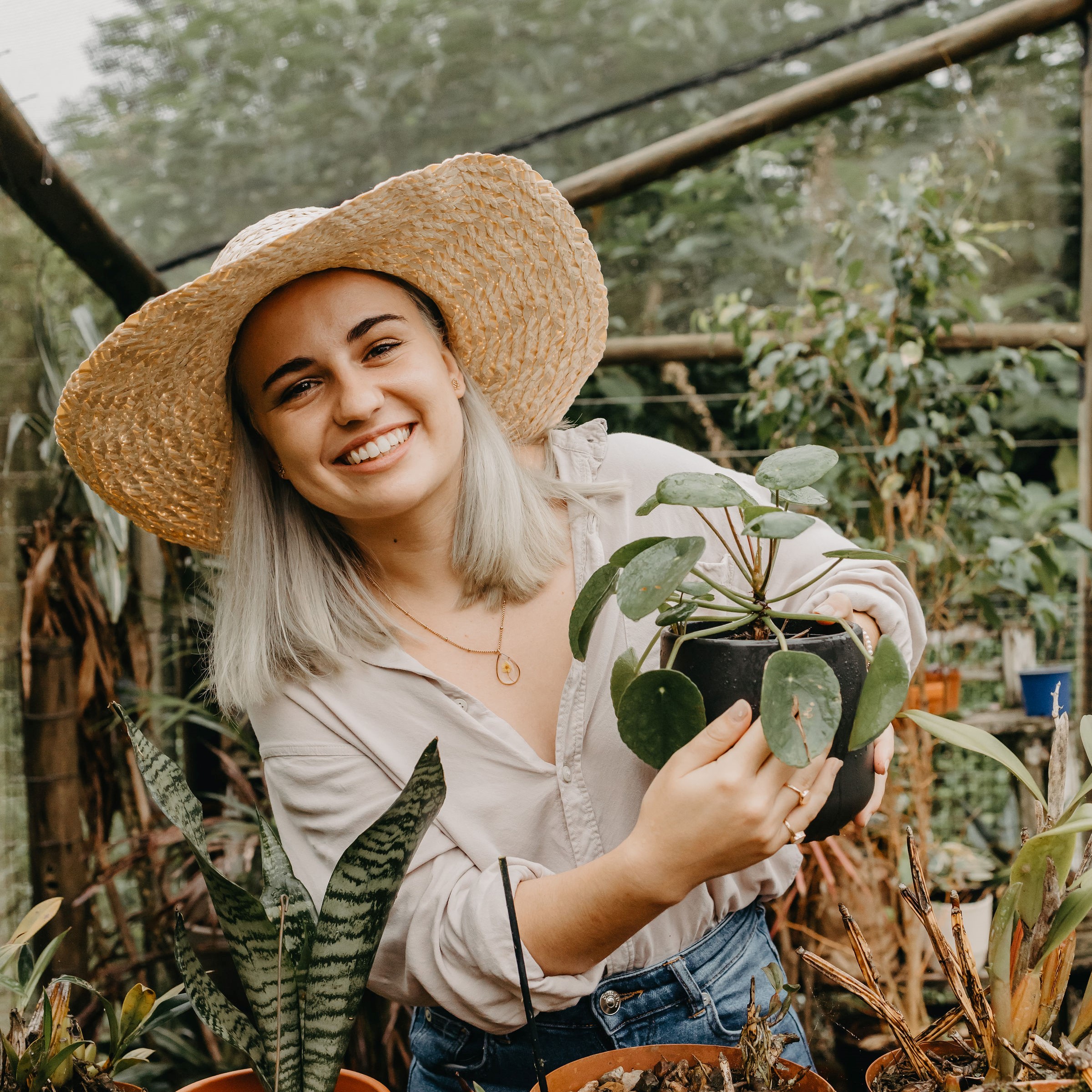 Contributing Editor, Gardens
Madison is a garden writer and editor, covering all things outdoors and lifestyle. After completing a BA in History and Political Science, she transformed her years-long passion for plants into a career writing for both digital and print publications. As garden editor of several print titles, Madison focuses on trends and developments in the continuously expanding gardening industry. When not typing away at her desk, she tends to her ever-growing houseplant collection and travels frequently, photographing and reporting on gardens around the world.