Types of gladioli – 12 top varieties for color and flamboyance
Inject some stylish color and height into your summer and fall borders and pots with our favorite gladioli varieties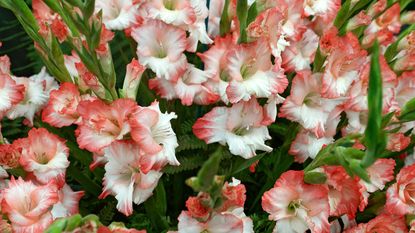 (Image credit: Shutterstock / Gardens by Design)
Gladioli are fast reclaiming their spot on the horticultural catwalk. Just as we've seen dahlias shed their old-fashioned image over the past few years, glads are now increasingly in demand.
Always a showy plant, they have long been associated with rockstars and performers while also winning many a horticultural accolade with their stunning blooms. So, while they have never completely fallen from grace, perhaps in these straightened times, we're all in need of the rich colors and pure glamor that they bring.
Planting gladioli in spring will give you the perfect foil for late summer and fall gardens. With their strong vertical form, and an extraordinary range of colors to choose from, there are types of gladioli for every garden. They have an exceptionally long flowering season too, typically starting in June, and the corms lend themselves perfectly to successional planting so you can have blooms on repeat right through to October.
12 of the best gladioli to bring color to your yard
These fabulously flamboyant flowers are making a comeback. Good for cutting or making a big statement in the garden, they put on a great summer show. Get up to speed with how to plant gladioli bulbs and then include them in your designs when you are planting a flower bed, or thinking up container gardening ideas for a little bit of garden glamor.
With the increasing enthusiasm for cut flowers, gladioli more than tick all the boxes when planning a cut flower garden too. The flowers have a long vase life, with the buds opening from the bottom of the stem to the tip of the flower.
As color trends go, the most in demand this year are warm red and coppery tones with a slightly more natural appearance.
1. Gladiolus 'Charm'
Hardiness: USDA 5-10
Height: 30in
A nanus variety that is very much pretty in pink. The stems bear open, candy-colored blooms with paler throats, and look great when used as a plant for pots.
Plant in larger groups, in full sun or towards the front of a border, where you can admire them up close.
Flowering through July and August, these combine well with combine with taller types of gladioli, or softer mounded companion flowers like Geranium 'Roseanne'.
2. Gladiolus 'Mon Amour'
Hardiness: USDA 8-11
Height: 40in
This tall gladioli is very subtle in its coloring with the palest pink-white petals lightly shaded with tinges of yellow.
Good for more formal garden design, where you might plant it with a climbing rose as a backdrop. Or simply try it if you have a cutting patch.
3. Gladiolus 'Prins Claus'
US Hardiness zones: 5-10
Height: 30in
A hardy variety with gorgeous, unusual lipstick print markings on the white flowers, this nanus form is a great addition to mixed borders with a pink, white or purple garden color scheme.
Good for including in your vertical garden ideas among lower growing lavenders and salvias, or for contrast with eryngiums and dahlias.
Like most nanus types, the blooms are looser and quite open, showing off the cerise pink markings at the base of the petals.
4. Gladiolus 'White Prosperity'
Hardiness: USDA 8-11
Height: 3ft
A classic pure white gladiolus that would fit perfectly into a white garden scheme, the tall stems are packed with elegant, frilled blooms that contrast perfectly with the typical bright green, sword-like foliage.
It's a very popular choice as a cut flower and ideal if you're growing flowers for a wedding.
If you grow it as a cutting garden flower, plant corms in succession from May through to June and you will be able to wow friends and guests with a bouquet of these blooms through to September.
5. Gladiolus 'Claudia'
Hardiness: USDA 5-10
Height: 30in
The Gladiolus nanus types are by definition not as tall as the more traditional cultivars and work well in more natural-style planting schemes as they don't need staking.
They look good towards the middle or front of a border, are better suited to growing in pots and also don't need staking.
Team hot, deep red 'Claudia' with cannas and dahlias for a sizzling end of summer show. Plant between March and May for flowers from July to October.
6. Gladiolus 'David Hills'
Hardiness: USDA 5-10
Height: 30in
With slightly more natural-style, unfrilled blooms, the warm orangey tones of 'David Hills' are great for providing strong verticals in a mixed border.
Team with taller summer daisy flowers such as heleniums and flat topped achillea interspersed with daintier salvia flowers to keep your flower patch airy and light.
A tall gladiolus hybrid, this is hardy and will multiply in areas where the soil is not allowed to dry out.
7. Gladiolus 'Espresso'
Hardiness: USDA 8-11
Height: 47in
Probably the darkest shade of all gladioli, and so wonderfully dramatic and elegant. The buds are very dark, opening to a slightly warmer, burgundy velvety tone. 'Espresso' combines well with other lighter colored gladioli, but also makes a standout companion in a mixed border.
Picture in amongst magenta pops of Lychnis coronaria and darker pincushions of Scabiosa 'Black Knight' with ribbons of white Gaura Lindheimeri 'Whirling Butterflies'. Makes a long-lasting cut flower.
8. Gladiolus 'Robinetta'
Hardiness: USDA 5-11
Height: 24in
With deep pink blooms this is described as 'a currant red ramosus gladiolus with ivory stripes in the throat'.
It's a popular choice for planting in borders as well as pots for summer and fall planter ideas. It's also great for combining with vibrant dahlias or growing as a cut flower.
Plant corms from March through to May for flowers from July to October.
9. Gladiolus papilio
Hardiness: USDA 8-10
Height: 36in
A really beautiful and unusual type of gladoli, with slightly drooping bell-shaped flowers flushed with muted tones of purplish green appearing from July to September.
Also known as the butterfly gladiolus, there is a yellow-flowered and a ruby-colored form too. It's native to the South African highlands and looks good combined with prairie type ornamental grasses.
These are small bulbs, winter hardy and will multiply in the right moisture-retentive soil conditions, but it's worth giving them a good winter mulching. Plant in a sunny situation about 4-5 inches deep and three inches apart.
10. Gladiolus communis subsp. byzantinus
Hardiness: USDA 6-10
Height: 36in
If you fall for gladioli this summer, this is one for fall planting. With tall, airy stems, and much more naturalistic flowers, these are perfect for adding a pop of magenta color to cottage garden borders.
They bloom earlier, from late April through to June, making a good contrast with alliums and other early summer flowers. G. byzantinus makes a great cut flower too.
11. Gladiolus albus
Hardiness: USDA 5-10
Height: 18in
A hardy species for fall planting, these open, lily-like blooms are breathtakingly elegant and a lovely addition to the early summer garden.
Flowering from June, this is a shorter species and doesn't need plant supports. It's perfect for running through a mixed border to accompany taller lilies and roses.
We recommend mulching after planting to protect new shoots against late frosts.
12. Gladiolus tristis var. concolor
Hardiness: USDA 7-11
Height: 3ft
This south African native has typical gladiolus flowers, although the more open creamy yellow blooms are slightly smaller.
It's a really elegant plant and blooms a little earlier than other types of gladioli and also has a lovely evening fragrance, so is an ideal choice for planting near a seating area or patio.
However, it is borderline hardy, so grow in a pot, to bring outside during the summer months and protect in a frost-free place over winter.
How long does it take for gladioli to flower?
Once you have planted gladioli they should flower approximately 12 weeks later. So, corms planted in late spring should start blooming at the height of summer.
However, to ensure continuity and quantity of blooms through to fall, plant a handful of corms every couple of weeks from May through to July.
Early flowering types such as Gladiolus byzantinus, G. albus, or G. nymph should be planted in fall and will flower from May.
Do all types of gladioli come back every year?
Gladioli can be perennial bulbs in the right climate zones, particularly the species gladioli that naturalize in their native landscapes.
These include Gladiolus byzantinus, which is reliably perennial in most gardens, returning and multiplying year on year.
Although some varieties might be billed as frost hardy, beware of prolonged winter freezes. There are several ways of looking after gladioli after flowering – a good winter mulch can help to protect corms, otherwise lift and store them over winter, or grow in pots.
---
Whether you're looking to grow cut flowers for the first time this year or want to add some striking blooms to a cottage garden scheme, gladioli are certainly worth adding to your planting list.
With their statuesque forms and showy colors, they are guaranteed to turn heads wherever you plant them.
In her years of gardening, Camilla has designed planting schemes for gardens large and small in and around London, written about plants and how to grow them, and worked on BBC gardening TV shows in the UK. She's also works as a therapeutic horticulturist, teaching growing for wellbeing and mental health.