What is polyrattan? Discover why it could be the top choice for your outdoor furniture
If you're buying outdoor furniture, you should consider polyrattan. Here's why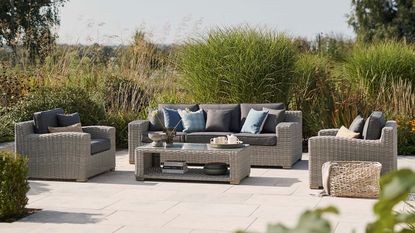 (Image credit: Kettler)
Today's outdoor furniture comes in a great range of materials so it's easy to complement your yard as well as follow your preference between more traditional and contemporary styles. Some materials, like wood, metal and rattan have stood the test of time as trusted outdoor furniture options, but the newer choice of polyrattan has become a favorite of many.
While polyrattan has a look that's like that of rattan, it's a distinct material and one that comes with its own attributes – and they might suit you down to the ground.
We've put together the information you need to understand what polyrattan is, and what its benefits and drawbacks are when choosing the best outdoor furniture for your backyard.
What is polyrattan?
Polyrattan is synthetic rattan. In other words, it's a manufactured material. It's used for outdoor furniture including sofas, armchairs, sectionals, and coffee tables, and creates woven designs that look elegant and are appealingly tactile and soft to the touch.
Polyrattan is stylish and comes in subtle neutral shades that can fit any style of garden and planting color scheme. It also creates comfort, so it's ideal for furnishing outdoor living spaces that provide the perfect spot to linger and enjoy the yard, as well as to entertain guests.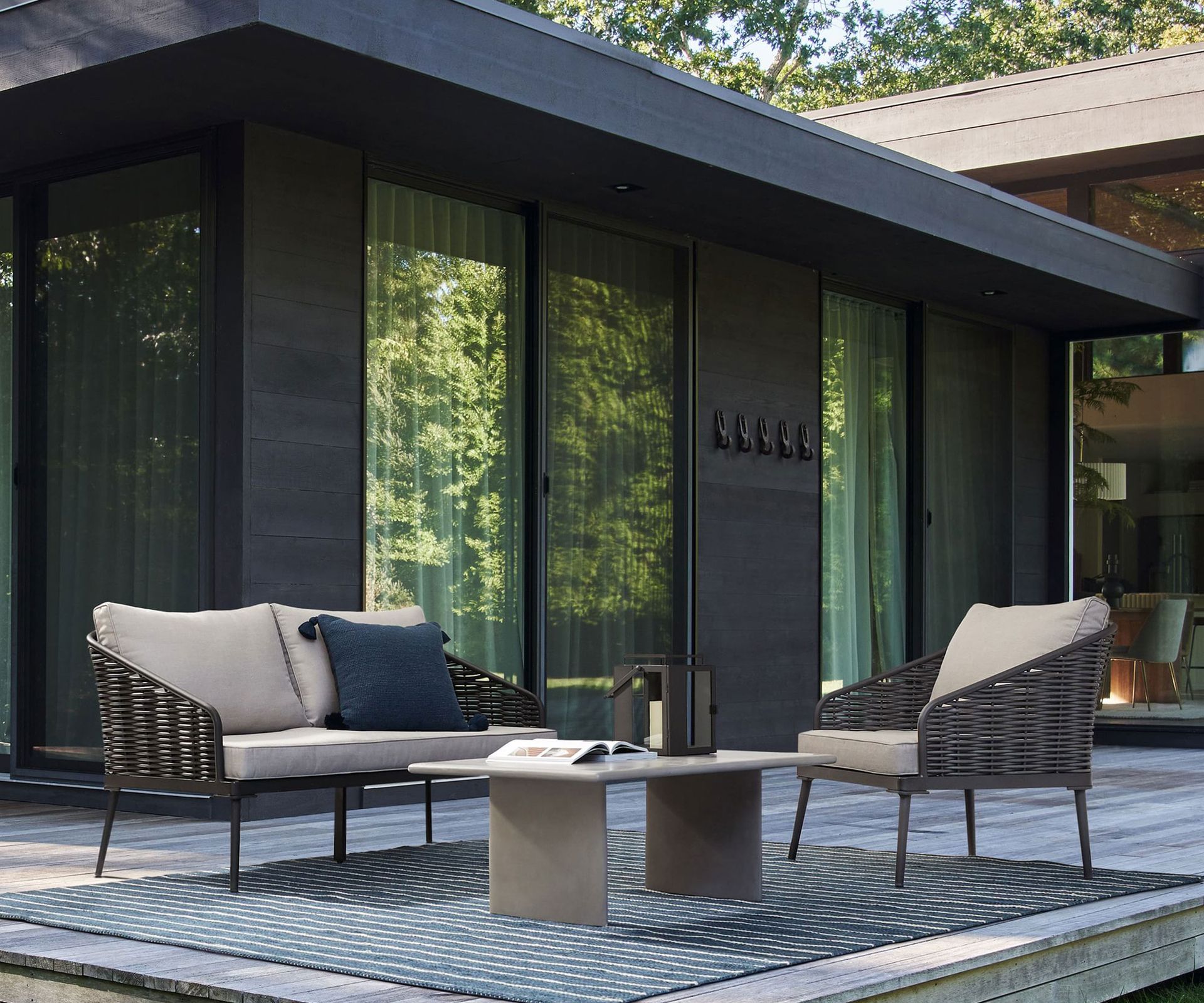 Is polyrattan the same as rattan?
Polyrattan has similarities to rattan because it is used to make woven outdoor furniture. But it isn't the same as rattan because it's a synthetic material where rattan is a plant the stems of which are woven to make items such as furniture and baskets.
You'll find polyrattan under a variety of names, including all-weather wicker, synthetic wicker or PE rattan, so you can easily distinguish it from the natural material and avoid making an outdoor furniture mistake. Whatever it's called, you can be sure what you're buying has a rattan furniture look but different qualities to rattan.
While polyrattan looks like rattan and is comfortable like rattan, too, it offers superior durability to rattan. It doesn't need the maintenance furniture made from natural rattan does, and it doesn't suffer the same damage from UV light and the weather.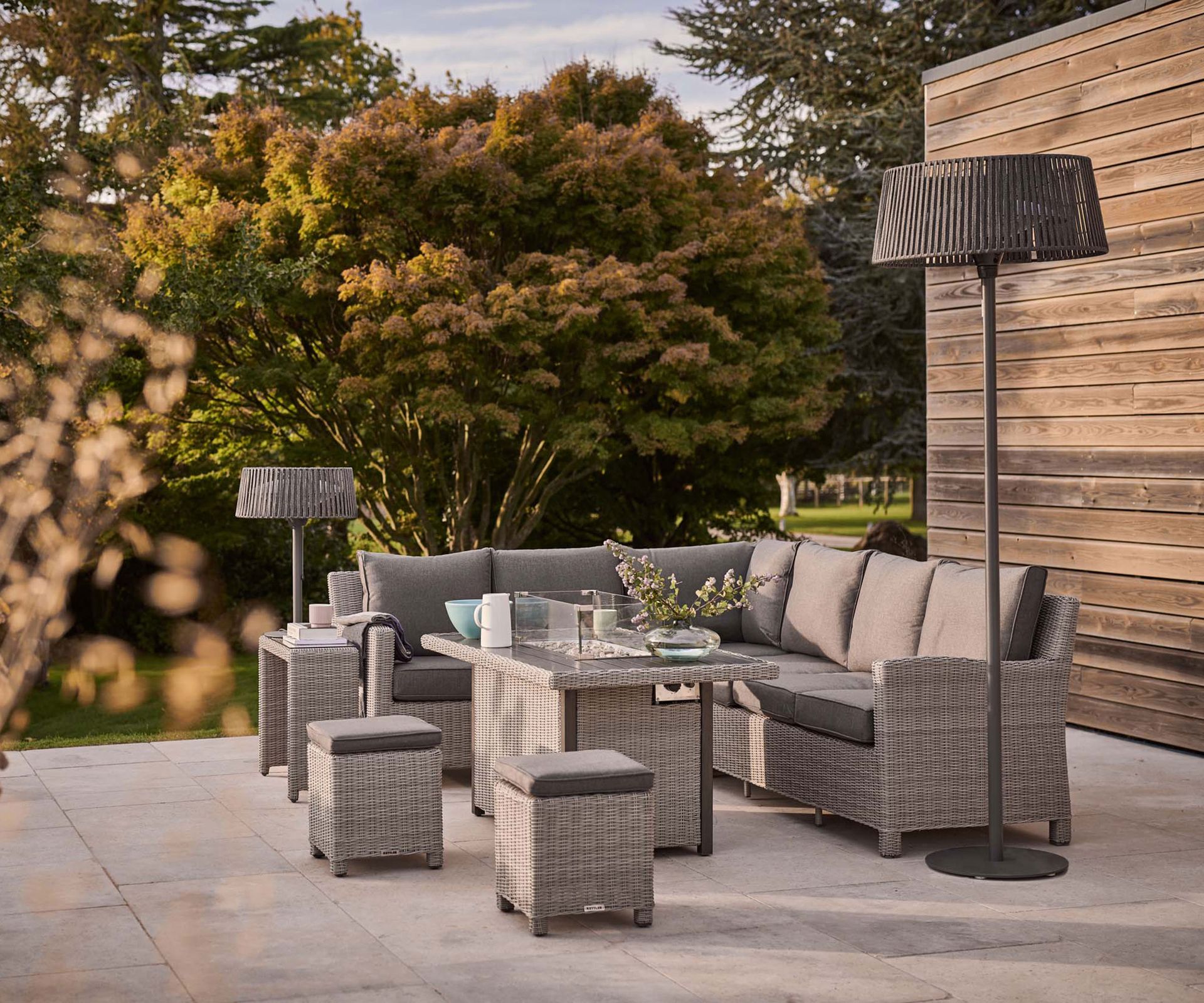 Pros of polyrattan
Polyrattan offers plenty of advantages for outdoor furniture. Here's the need-to-know if you're replacing your outdoor furniture:
Your location won't hold you back when it comes to investing in it. 'Polyrattan is a great weather-resistant, durable material that can withstand different climates,' says home expert Kimberly Greenwell of My Southern Home TV.
Concerned that a synthetic material might be brittle? Polyrattan is tear resistant as well as feeling soft and supple.
Furniture made from polyrattan will look good for longer although it's subject to UV light. 'The man-made material will not fade when exposed to direct sunlight,' says Kimberly.
One of the ways in which it is distinct from rattan is that polyrattan won't be dried out when exposed to the wind and the sun; these elements make the natural material brittle.
'Polyrattan is moisture and water resistant,' says Kimberly. Because it's synthetic, it won't be affected by rain and humidity (distinguishing it from natural rattan which can rot or become mildewed if not correctly cared for).
Another bonus of polyrattan is that it's super low maintenance. All that's necessary is cleaning but you can skip tasks such as the sanding and restaining wood can need, for example.
Polyrattan doesn't heat up, so seating is comfortable even if the sun is powerful.
As for cost, polyrattan can be a budget-conscious choice when compared to wooden outdoor furniture.
You can leave polyrattan funiture outside in winter in theory but bear in mind that manufacturer advice on this does vary. This is because the frame that supports the furniture could rust depending on what it's made from (see more on this below).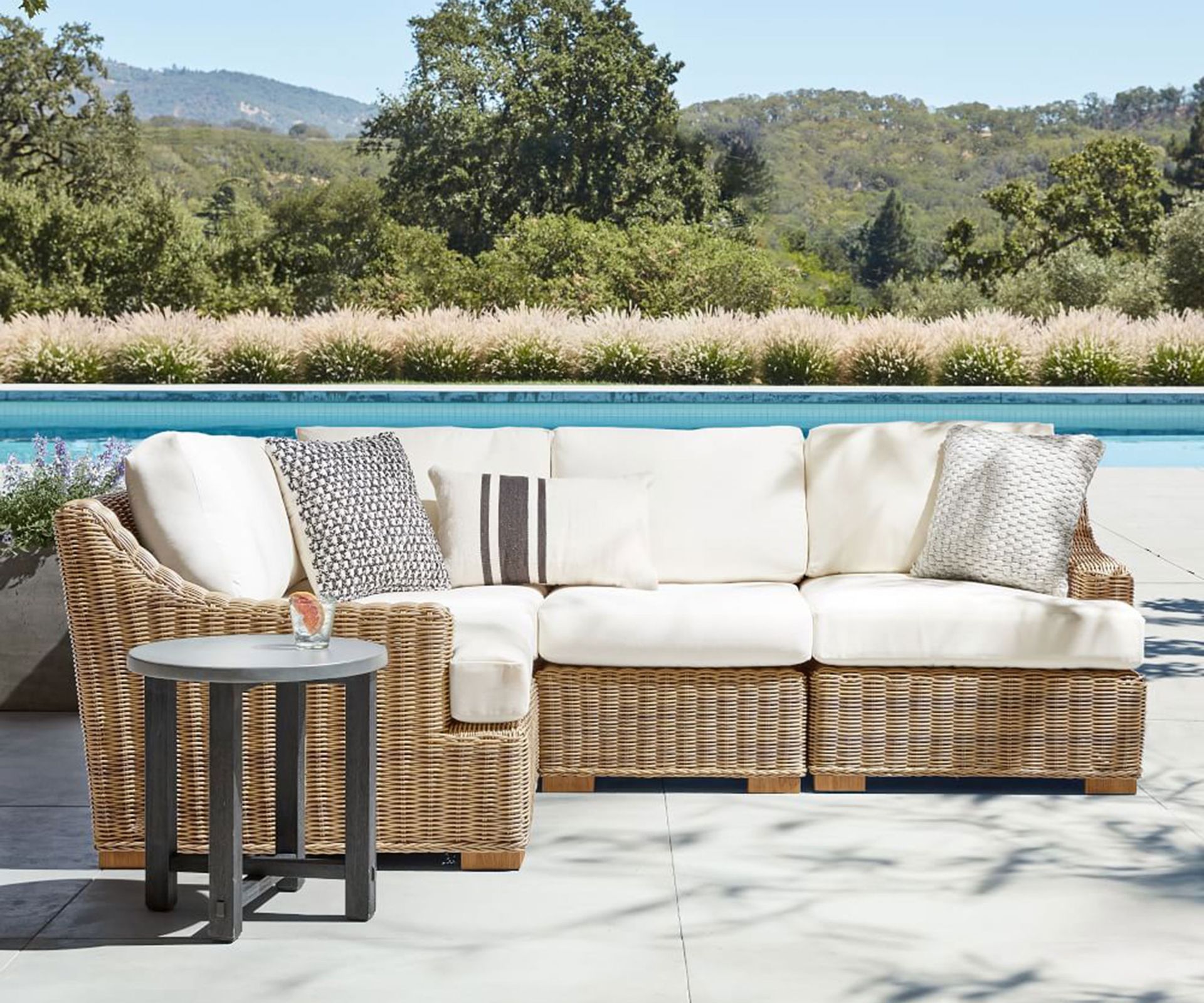 Cons of polyrattan
Polyrattan does have some downsides. Take a look at the details:
It's made from plastic. If you want to reduce the amount of plastics you purchase because of environmental concerns then it isn't the right choice for your yard.
Polyrattan can become stiffer in cold conditions. It will soften up again as it warms, and become as supple as it was, however.
If you want to make a patio look expensive, the most convincing rattan look comes from higher-end polyrattan furniture, while cheaper designs may betray their synthetic origins.
Bear in mind that although the polyrattan of furniture made with the material is weather resistant, the frame may be less so and cheap versions can rust. Look for powder-coated steel or aluminum for the frame.
FAQs
Do you have to maintain polyrattan furniture?
All outdoor furniture requires at least some maintenance, and that includes polyrattan. However, that's largely limited to cleaning it of any dirt, debris or bird droppings that outdoor furniture inevitably accumulates.
The process for cleaning outdoor furniture made from polyrattan is very straightforward and you can typically use a hose to rinse it, or a special woven furniture cleaner that's non-foaming. Do check manufacturer's instructions, however, so you don't void any warranty.
In the winter, check manufacturer's advice on whether polyrattan outdoor furniture can remain outside; this really depends on the frame material as cheaper frames can rust. Covering the furniture with purpose-made covers in the colder months is a good idea if it does remain outside.
How long does polyrattan last?
'A set of polyrattan furniture should last at least five to seven years depending on how it is cared for,' says home expert Kimberly Greenwell of My Southern Home TV. You can find polyrattan furniture sets with a warranty for this period of time.
Look after the furniture well, though, and it can last longer. For durability, look for designs with powder-coated steel or aluminum frames to prevent rusting reducing the furniture's lifespan.
---
Although not a problem confined to polyrattan, think furniture weight if you want to move your patio furniture around too. Opt for an aluminum frame for polyrattan furniture that's easier to maneuver.
Sign up to the Homes & Gardens newsletter
Decor Ideas. Project Inspiration. Expert Advice. Delivered to your inbox.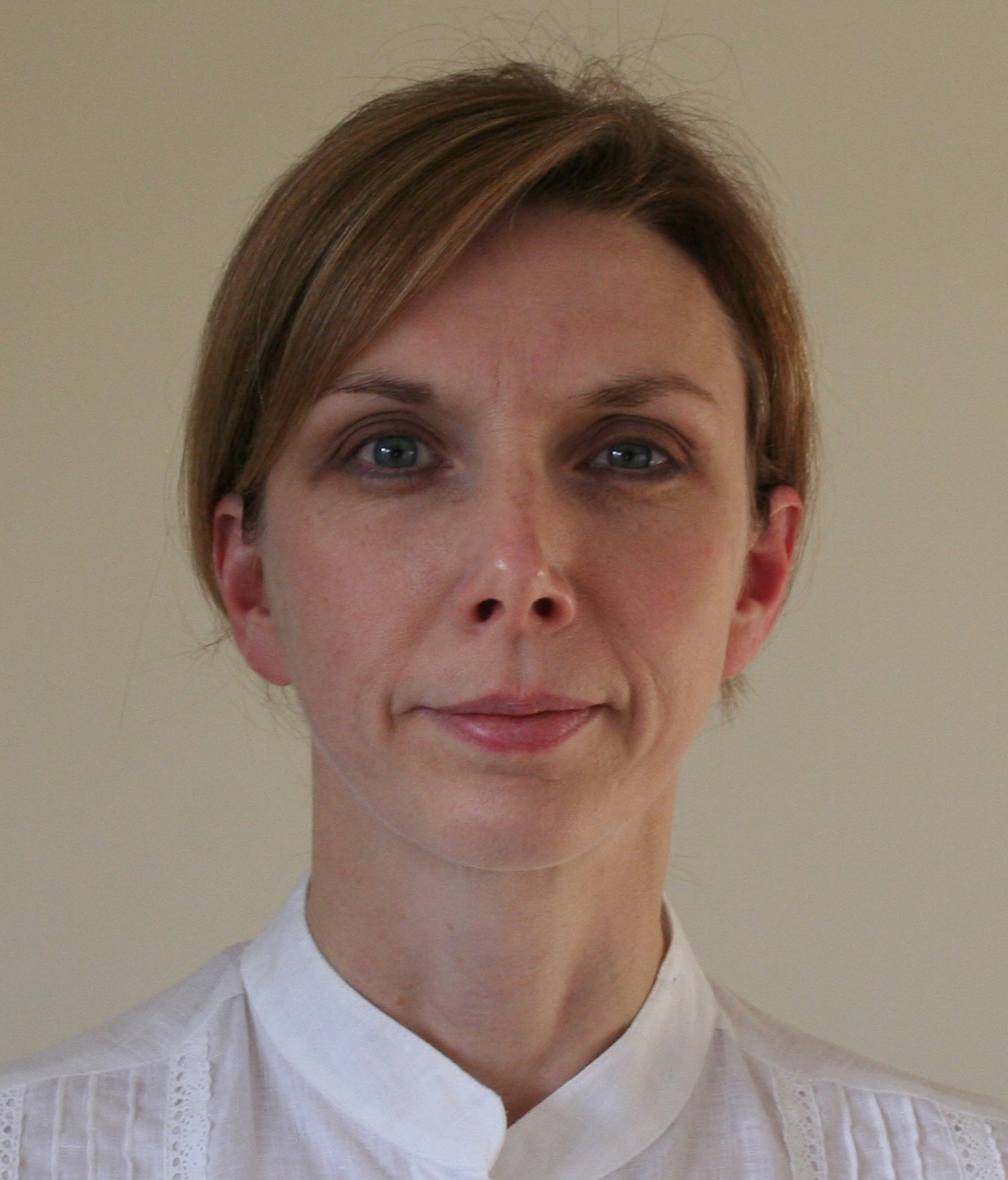 Sarah is a freelance journalist and editor. Previously executive editor of Ideal Home, she's specialized in interiors, property and gardens for over 20 years, and covers interior design, house design, gardens, and cleaning and organizing a home for H&G. She's written for websites, including Houzz, Channel 4's flagship website, 4Homes, and Future's T3; national newspapers, including The Guardian; and magazines including Future's Country Homes & Interiors, Homebuilding & Renovating, Period Living, and Style at Home, as well as House Beautiful, Good Homes, Grand Designs, Homes & Antiques, LandLove and The English Home among others. It's no big surprise that she likes to put what she writes about into practice, and is a serial house renovator.