Why is my deck paint peeling? Experts pinpoint the problems – and the solutions
Frustrating and aesthetic-obliterating, peeling deck paint needs tackling fast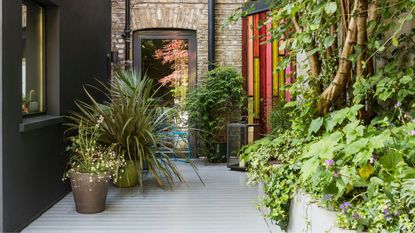 (Image credit: Alamy)
Sign up to the Homes & Gardens newsletter
Decor Ideas. Project Inspiration. Expert Advice. Delivered to your inbox.
Thank you for signing up to Homes & Gardens. You will receive a verification email shortly.
There was a problem. Please refresh the page and try again.
Is your deck paint peeling? If it is, there are many reasons why this might be happening, from simple wear and tear, to you having used the wrong type or old paint in the first place, to poor preparation or application.
Painting a deck is a big job, and it's not one you want to repeat too often. However, repainting isn't as simple as just recoating over the peeling paint.
So, whether you're considering new deck color ideas, or are having to repaint or stain a deck because the original finish is peeling, this is why it's happened, and how to stop it occurring again.
Why does deck paint peel – and how to stop it?
'Peeling deck paint is usually caused by one of three things: poor quality paint, incorrect application, or inadequate surface preparation.
'Luckily, there are a few things you can do to fix peeling deck paint and prevent it from happening in the future,' says Charlie Tack, the Trade Counter Manager from ADA Fastfix.
1. Moisture in the timber
'The biggest cause of flaking is moisture,' says Laurence Mann, director at Wood Finishes Direct. 'This could have been in the wood before application, or been soaked up afterwards via cut ends, breaks in the stain, or continuous contact with soil or foliage at ground level. Because wood is porous it can appear and feel dry, however can be holding moisture which will over time need to naturally disperse. When it is sealed in by a paint it has nowhere to go and so causes the product to lift.
'Jet washing before application can also add to this problem. It's necessary to allow the wood a period of days or even weeks to then dry fully before application.'
Equally, deck areas that are continuously exposed to very high temperatures are more likely to peel more quickly. Always use a paint that's suitable for wooden decking.
2. Low-quality paint
'The most common reason why deck paint peels is using low-quality paint,' says Charlie Tack of ADA Fastfix. 'If you're not using high-quality deck paint specifically designed to resist peeling, it's likely that your deck paint will continue to peel.'
3. Poor preparation
'We find that the two most common reasons are lack of preparation (decorating dirty surfaces or gray, denatured timber) and decorating damp/wet wood,' says Kevin O'Donnell, technical specialist at Sandtex.
'Coatings peel because they have not been able to achieve a true bond with the surface allowing it to work together with the timber substrate. It's important to be decorating either a clean, sound and dry existing coated surface, or if it's bare timber, it needs to be bright new wood. Always follow the instructions on the container.'
'There are many different reasons why deck paint continues to peel,' says Allan Jeffrey, MD of Ultra Decking. 'Poor preparation and over-application or too much paint, even cracks and holes on the deck surface can lead to paint peeling.
'If your wooden deck has water damage, rot, decay or is in an area of high humidity this will lead to paint peel. Paint does not adhere well to wet or damp surfaces and areas where the wooden deck has begun to rot or decay. Re-painting a wooden deck with these conditions is simply a waste of money. Almost as soon as the deck has been painted it will begin to peel.'
How do you stop deck paint from peeling?
Thorough surface preparation
'One way to stop your deck from peeling is to start with proper surface preparation,' says Charlie Tack. 'This means sanding the deck and removing any loose paint before applying a bonding primer and new coat of high-quality deck paint. Once the new paint is dry, you can protect it by using a deck sealer or stain.'
'We've mentioned preparation and grey denatured wood needs to be mechanically sanded back to expose bright clean wood,' says Kevin O'Donnell. 'A stiff nylon brush is good to get in the grooves. Finish off with a P180/P240 grade pad/paper with the grain to provide the best key. Dust off and wipe over the surface with methylated spirits using a clean lint free cloth to remove any residual dirt, grime and resin. Then you have the perfect surface to decorate.'
Thorough cleaning
'If it's been previously decorated and in good order, just make sure the surface is clean (mild detergent in warm water and rinse off with clean water – allow to dry), then it's a good idea to ensure a key is provided by giving the whole surface a light abrade (with the grain), dust off. Then re-decorate,' continues Kevin O'Donnell.
Wait for timber to dry
If you are cleaning a deck, 'the advice to stop this is to allow a full two days (at least) after cleaning before the application of a finish,' says Laurence Mann. 'Note that coating type products will eventually peel and flake and that oils won't as they are microporous.
Correct application of paint
Over-application is one thing that causes paint on a deck to peel. 'Follow the instructions carefully as provided by the coating manufacturer product you've selected. If in doubt ring for advice or check online support,' says Kevin O'Donnell.
Maintenance
'Whatever your finish, regular sweeping and cleaning will also help to prolong the life of the finish applied. Your decking is exposed to the elements 365 days of the year and needs a little TLC sometimes,' says Laurence Mann.
Equally, ensuring that any areas that are continuously damp, perhaps below a dripping gutter, are tackled. The wetter the wood, the more likely the deck is to peel.
How do you fix peeling paint on a wood deck?
'In terms of fixing it, you can't,' says Laurence Mann. 'The coating has failed and you'll have to re-do it. You'll have to remove the flakes and re-apply. Any loose flakes can be removed with some light sanding and then patch-repaired to refresh the overall appearance; this must be done when the wood is dry.'
'If you have peeling paint on your wood deck, the first step is to sand the area with 80-grit sandpaper,' says Charlie Tack. 'This will roughen up the surface and provide a good key for the new paint to adhere to. Next, remove any loose paint with a putty knife or scraper.'
'It needs to be removed so you are back to a sound surface. Use whatever means is easiest: scraper, sander, chemical stripper (take great care as these can be nasty and have environmental impact) or power washer.
'With power washing, note that this can force unwanted moisture into exposed bare wood; this then needs a good week to dry out before most coatings are then applied.'
There are many ways to clean a deck without a pressure washer.
'If you want to use a translucent wood stain, then anything peeling needs to be fully stripped back and start again for best aesthetic effect,' continues Charlie Tack. 'An opaque decking option allows you to take off what has delaminated but any stubborn areas of coating can be left, feathered in to avoid hard edges and then coated over to hide it.'
FAQs
Can I paint over old paint on a deck?
No, you can't paint over old paint on a deck.
'Remove and scrape away all peeling paint,' says Allan Jeffrey, MD of Ultra Decking. 'If the coats of paint are old, it's always wise to properly prepare the surface by sanding it to remove all signs of old paint and make the surface even. Once all the old paint is removed, apply two coats of an oil-based primer suitable for wood and use outdoors.
'Once dry, apply a liberal coat of acrylic wood paint suitable for use outdoors. Apply a second coat as required.
'The main cause of paint peeling from your wooden deck is poor preparation and the use of the wrong type of paint. The more preparation you do the better the results will be. The correct paint, proper tools and good preparation should prevent paint from peeling from your wooden deck.'
---
'The alternative is to consider a decking oil,' says Laurence Mann. 'These penetrate the wood surface and protect, giving a more natural appearance and will not peel and flake down the line. Oil must be applied to bare wood however and so all stain would have to be removed first. The benefit of an oil is that they are very simple to top up over time, no stripping back to bare wood, just apply a fresh coat when the wood is ready.'
Sign up to the Homes & Gardens newsletter
Decor Ideas. Project Inspiration. Expert Advice. Delivered to your inbox.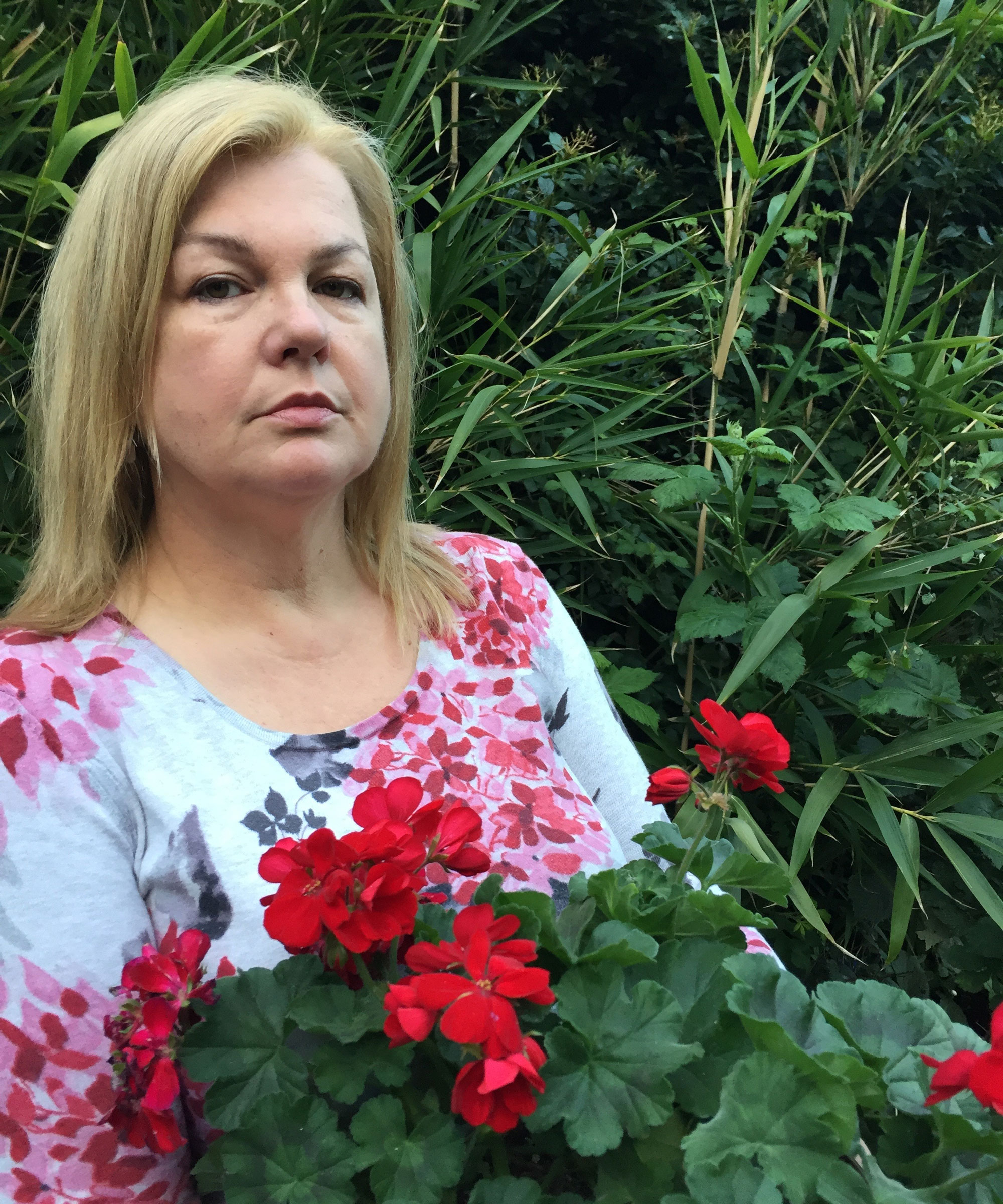 Lifestyle journalist Sarah Wilson has been writing about gardens since 2015. As well as homesandgardens.com she's written for Gardeningetc.com, Livingetc.com, Easy Gardens and Modern Gardens magazines. Her first job on glossy magazines was at Elle, during which time a visit to the legendary La Colombe d'Or in St-Paul-de-Vence led to an interest in all things gardening. Later as lifestyle editor at Country Homes & Interiors magazine the real pull was the run of captivating country gardens that were featured.