Explore this secret garden near the heart of Bath
See how the owners transformed this once neglected and overgrown garden into a relaxing, productive and characterful green oasis in historic Bath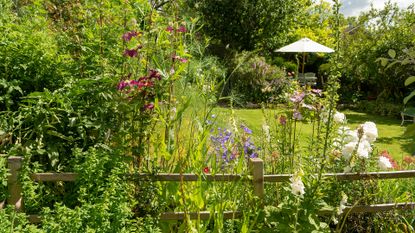 (Image credit: Peter Chatterton)
Sign up to the Homes & Gardens newsletter
Decor Ideas. Project Inspiration. Expert Advice. Delivered to your inbox.
Thank you for signing up to Homes & Gardens. You will receive a verification email shortly.
There was a problem. Please refresh the page and try again.
For centuries, Entry Hill served as the main route between the heart of Bath and the South West of England, with Roman to Georgian visitors seeking to benefit from the city's famous mineral waters.
The houses that line it serve as a reminder of its past importance – not least Stone Lea Cottage with its proud castellated parapet. Built from Bath stone, this Grade II-listed end-of-terrace property dates back to the early 19th century.
When Nyla Abraham and her husband Paul Sadler moved in during 2013, the garden stretching out behind it, however, was far from proud.
See: Garden ideas – inspiration and ideas for outdoor spaces
Find out what they discovered when they cut back overgrown shrubs...
The hand of the owner responsible for the castellated parapet on the house can also be seen in the turret-like outhouses in the corners of the garden. But when Nyla and Paul moved in, these intriguing little buildings were hidden from view.
'The garden had become pretty overgrown by the time we moved in and the little turrets came to light as we cut back shrubs. But the buildings weren't in the best state of repair and Paul had to do quite a lot of work on them before they could be used,' says Nyla.
They are now an essential part of the garden, with one used for storage and the other fitted with a reclaimed sash window and used as a potting shed.
See: Shed ideas – create an outdoor oasis with these smart storage solutions
The couple's efforts to prune back shrubs, such as spirea and laurel, also revealed four apple trees, all of which had stood for many decades. These created breathing space around a mature magnolia that had effectively sealed the deal when the couple were house-hunting.
'The magnolia was one of the reasons why we bought this place,' laughs Nyla. 'It's so lovely in spring.'
Today their garden in Bath is the perfect place to eat and relax, grow fruit and vegetables, and keep a small flock of Pekin bantams.
'This was our first garden, and we didn't have a plan for it, but found ourselves getting excited about plants,' says Nyla.
'After a couple of years, we started to consider its design and think about ways we could introduce a bit of privacy, and eventually we split the garden into three parts.'
See: Kitchen garden ideas – easy ways to get started
The section furthest from the house is also the sunniest, making it the perfect spot for growing fruit and vegetables, including figs.
Once an old shed that obscured one of the turrets had been removed, Paul set about building a series of easy-to-maintain raised beds, edged with old pieces of stone found around the garden.
See: Planning a kitchen garden - from designing a layout to picking plants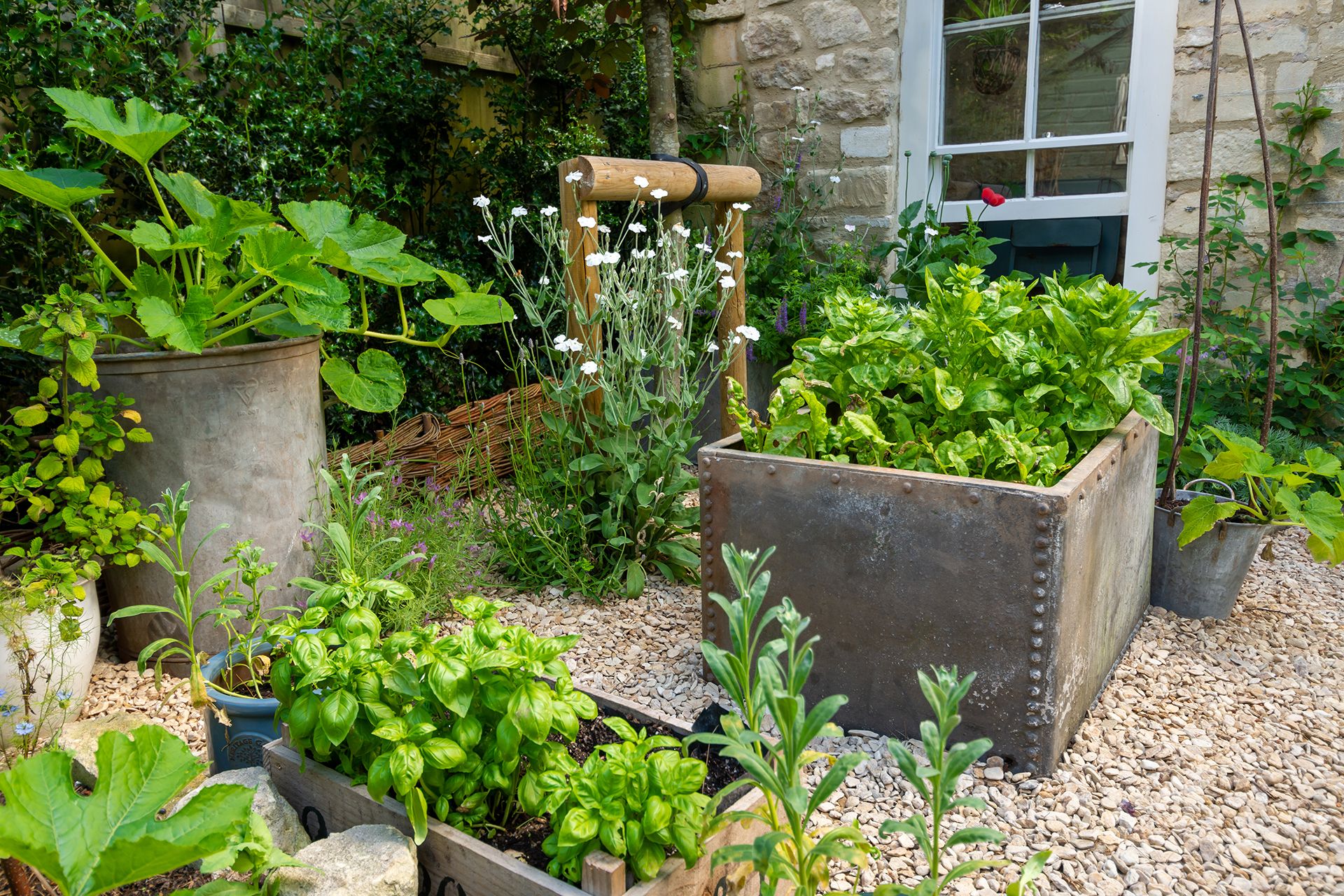 At the same time, attractive, galvanised metal items, such as water tanks, dustbins and even a hip bath, have been repurposed as deep containers for plants.
'I love my quirky containers and having the satisfaction of taking something that is no longer fit for its original purpose and using it for something else,' says Nyla.
Paul's carpentry skills have been put to good use in the creation of a garden shelter with a shingle roof, from which Nyla loves to hang bunting.
See: Pergola ideas – wonderful ways a pergola will add shade, privacy and style your backyard
He also built a curved moon gate that divides the lawn from a 'secret garden' at the back, along with a potting bench incorporating an old kitchen sink and row of compost heaps.
The middle section of the garden has retained many of the shrubs that were in place back in 2013, although pruned to a much more manageable condition.
These are combined with a relaxed, wildlife-rich area beneath a variety of trees, including Victoria plum, quince, crab apple, a weeping birch and hawthorn.
Planted around these are perennials such as nepeta, knautia, penstemon and salvia. A sheltered section is inspired by holidays to Cornwall, with crocosmia, kniphofia and a Chilean myrtle tree providing rich color in September.
The lawned area near the house is surrounded by roses, with Michaelmas daisies providing interest later in the year. Here, there is plenty of room for the bantams to forage and enjoy dust baths, with one section of the grass left a little longer to encourage clover and other wild flowers.
Along the side of the house is a shady spot that is home to ferns, while a 'theatre' for displaying succulents has been created from a cold frame fitted with shelves.
The gravelled area by the conservatory is the perfect spot for al fresco breakfasts, surrounded by potted plants. An old wooden barrel creates an attractive water butt and a stand for the display of rockery plants.
See: Cottage patio ideas – create a pretty spot for relaxing and entertaining
Seating areas have been created at every opportunity so that they can enjoy the simple pleasure of being outside in the fresh air, watching wildlife and feeling miles away from the busy city centre close-by.
A metal table and chairs is carefully positioned on the gravel area outside the house to make the most of the perfume of a climbing rose, while an outdoor clock ensures they don't lose track of time.
Collecting interesting objects has long been a passion for Nyla and Paul, whose garden provides a home for an assortment of finds, ranging from tea pots filled with plants, to decorative metal objects suspended from brackets.
The couple's move to Bath has given an unexpected outlet for their creative energies and an endless source of joy.
'The more we've got into gardening, the more we've wanted to learn about it,' says Nyla.
'When we first moved here we were thrilled to have a garden to make our own, but we never dreamed just how important a part it would go on to play in our lives.'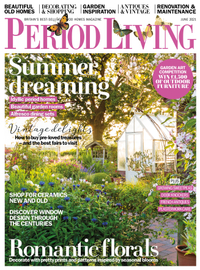 This garden is taken from H&G's sister brand, Period Living magazine.
Subscribe to Period Living for more inspiration. A subscription provides you with all you need to know about caring for and improving a traditional house and garden.
Sign up to the Homes & Gardens newsletter
Decor Ideas. Project Inspiration. Expert Advice. Delivered to your inbox.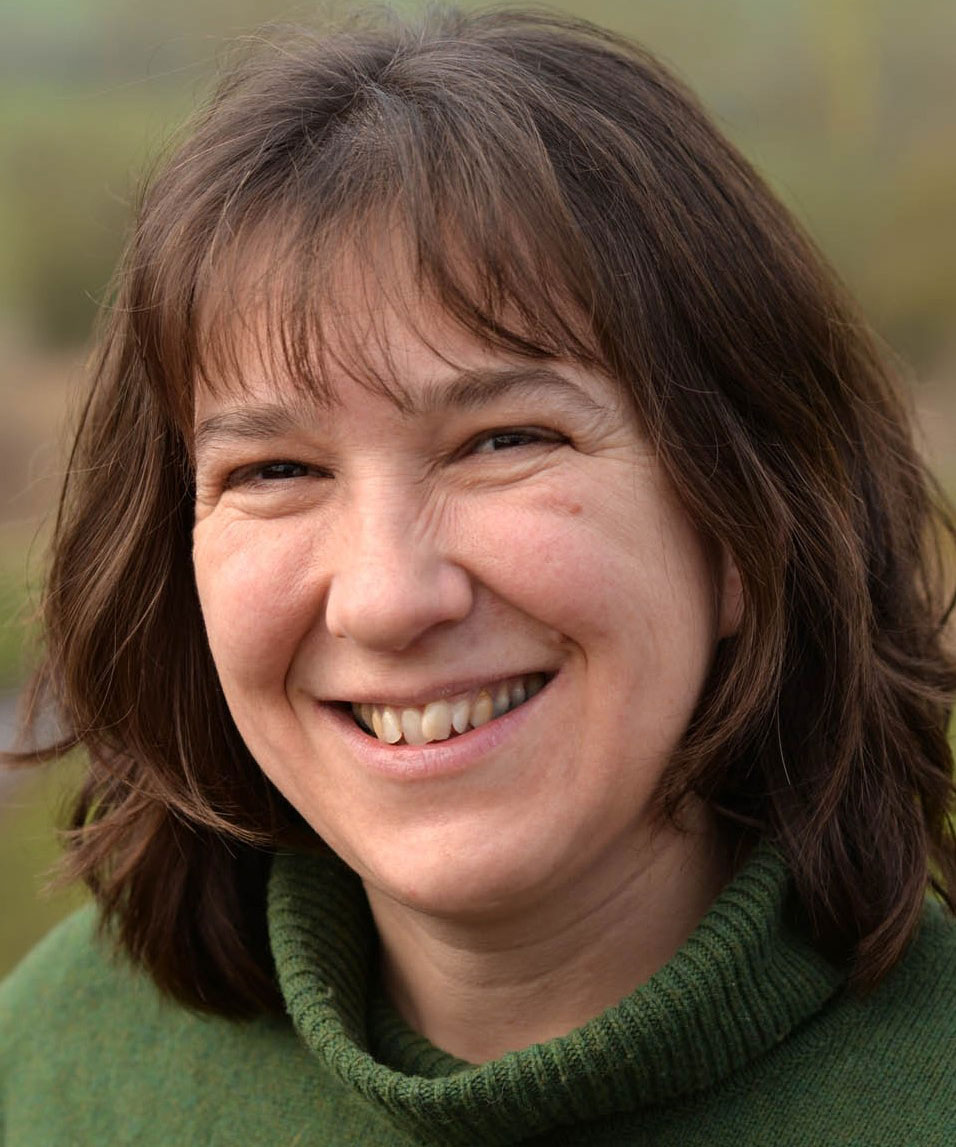 Sue Bradley writes about gardening, food and wildlife, and the fascinating people who are passionate about these subjects, for a variety of magazines. She served a newspaper apprenticeship and worked on local and regional titles in the West Country before becoming a freelance features writer. She's a member of the Garden Media Guild and the Guild of Food Writers.