Thatched roof guide – the historic craft making a comeback
Evocative of the countryside and days gone by, a thatched roof is a treasured original feature, and can also make a charming roof for a new home or garden room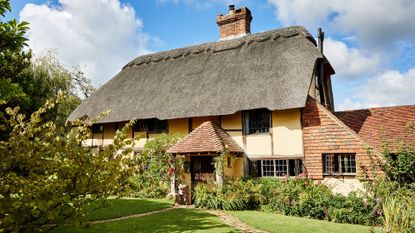 (Image credit: Future / Brent Darby)
A thatched roof is a rare and treasured design feature, and is a much romanticized rural idyll.
Thatch has been used as a roof covering for millennia, and was the dominant material across much of the UK and Europe up to the late 19th century. A large number of charming thatched properties remain today, and for fans of chocolate box cottages, they make up some of the world's best homes.
The material was also used by early settlers in the United States, although the practice largely diminished over the following centuries.
While today thatched roofs are not a common sight in the US, they do exist across the country. Indeed, the craft is believed to be growing in popularity for new homes, eco houses and garden room ideas due to the current eco home improvements trend towards using more natural materials.
Types of thatched roof
There are a number of different types of thatched roof, but they vary depending on the local vernacular.
Straw has been used to thatch for centuries, although alternatives found across the continents include water reed, heather, bracken, bulrush, marram grass, flax – and even wood chips and potato stems!
Here are some of the main types:
Long straw roofs look shaggy – not cropped like the reed types – and their eaves have hazel stitches.
Water reed roofs are traditional in wetland areas. The eaves generally overhang less than with straw roofs and surfaces appear uniform. Ridges may be of sedge.
Combed wheat reed is actually straw laid like water reed. Eaves are not dressed, but cut (so stalks have angled ends).
How do you repair a thatched roof?
A thatched roof ridge will need renewing several times in between rethatching of the main coat, and is typically required every 10-15 years.
It also gives the opportunity to strip thatch around chimneys to reveal masonry defects that represent a fire risk. All junctions, including flashings and mortar fillets, must be left watertight.
Localized areas of decay, such as channels worn where rainwater runoff concentrates, may be repaired with new thatch, along with damage caused by wind, birds or small animals. This can prolong the life of thatched roofs and avoid more costly replacement.
Netting may be used where thatch is prone to bird and animal damage. Moss, lichen and fungi do not have to be removed, however.
How long does a thatch roof last?
A straw or water reed thatched roof may last for at least 30 years but will eventually need rethatching when the fixings are near to the surface and open to water ingress.
How to rethatch a roof
Rethatching of water reed usually entails stripping the existing roof back to the timbers. With straw, however, a new surface coat is usually fixed – or 'sparred' – over existing base coats, taking care to avoid a build-up of excessive thicknesses of thatch.
It is important not to strip roofs where a rare medieval smoke-blackened thatched roof survives. Modern screw fixings are less damaging to ancient timberwork than metal crooks.
Consult an architect, surveyor or engineer over any structural concerns before work starts.
Select a reputable thatcher working in the local tradition who does not automatically replace long straw with reed.
Regional variations in thatching materials and styles have evolved over the centuries, so it is vital to perpetuate these, not only to retain local diversity but to avoid problems with durability.
Problems with thatched roofs
One of the main problems with owning a thatched roof is that there are occasional shortages of materials, usually due to a poor harvest. In such times, consider timely, localized repair rather than complete rethatching to extend the life of a roof by several years.
Roofs with more extensive wear can be protected using a thin coat of combed wheat reed or long straw with surface fixings (known as a 'rick coat'). While a thin rick coat might last about three years, a thicker coat may last up to ten.
A flush ridge might be considered rather than a raised block ridge. Flush ridges require less material, last as long as block ridges and were commonly the traditional ridge type.
Are thatched roofs a fire risk?
The most common cause of thatch fires is inappropriate installation, or irresponsible use of wood-burning stoves.
Such is the level of risk, there is now a trend towards removing wood-burning stoves from thatched cottages and reinstating inglenook-type open fires. The presence of a wood-burning stove needs to be declared when seeking building insurance to avoid invalidating any claims.
Other fires in thatch are caused by unsuitable fuel or kindling, the blocking of flues by birds' nests, and the ignition of tarry deposits due to inadequate cleaning of flues, chimneys, spark arrestors or bird guards.
Deep multi-layered thatch increases fire risk by hiding defective chimney stacks and reducing the height of the stack above the roof surface.
This provides a shorter distance for embers exiting the top of the stack to fall before reaching the thatch.
Options include raising the height of the stack or reducing excessive thicknesses of thatch (with listed building consent, where required).