This house showcases truly joyful color and pattern play – it's the epitome of a happy home
This Bahamian home is a joy to behold – at every turn there are colors, patterns and moments of repose that just feel good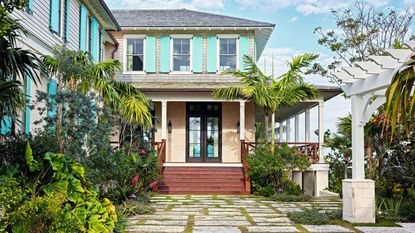 (Image credit: Noe Dewitt/Otto)
Sign up to the Homes & Gardens newsletter
Decor Ideas. Project Inspiration. Expert Advice. Delivered to your inbox.
Thank you for signing up to Homes & Gardens. You will receive a verification email shortly.
There was a problem. Please refresh the page and try again.
Approaching this family home located at the top of a hill in Hope Town, Bahamas, you'd be forgiven for thinking it had stood here for generations thanks to its weathered clapboard frontage and green shutters.
However, it is newly built – twice over, in fact. Its Canadian owners, a couple with four grown children, commissioned the build in 2018, after holidaying here for decades. But disaster struck when Hurricane Dorian hit the island, leaving the near-completed house severely damaged.
'It was an emotional time,' says its American interior architect Andrew Howard. 'But the storm made us re-evaluate everything. There is something humbling when you have to start again – we were determined to make it even more joyful.'
That sense of joy, which Andrew says is a reflection of its dynamic owners, can be seen throughout, from a vivid color palette to a selection of energetic patterns, layered with informal finesse.
Known for his playful but practical approach to coastal interiors, Andrew says that he was compelled to think outside the box with this project, largely because the owners favored whitewashed tongue-and-groove panelling throughout.
'Vibrant wallpaper is an important part of my box of tricks, so without that option we had to think of alternative ways to create depth,' he says. Together with his colleague Lindsey Waters, who sourced fabrics and trimmings, he conceived schemes that blend florals with geometrics, primary colors with pale, and densely patterned mosaics with natural materials. Combined, they provide a softly contemporary take on the tropical landscape beyond.
'One approach is to go super simple and let the views do the talking, but we preferred to allow inside and out to "co-mingle",' he says. 'The trick is to mix scale when you are going for pattern. Big and bold is great, but that needs to be tempered with small scale repeats to give the eye a roadmap of how to look around a room and appreciate it.'
Though colorful interiors are part of his stock-intrade, Andrew says that a well-designed home should convey the personality of its owners. 'I'd much prefer someone to enjoy my work and ask 'who the heck did that?', rather than identify it as an Andrew Howard interior,' says the designer. 'I never have a set aesthetic. I wanted this home to feel as if it had evolved over time.'
This is also a hardworking home that needed to withstand the rough and tumble of copious house guests and plenty of outdoor activity. 'That's why off-white walls are a good choice – the woodwork can simply be wiped down, which is useful in a hot, dusty environment,' says Andrew. 'But at the same time, we didn't want to sacrifice on pretty; we craved elegant interiors that felt good on the eye.' The answer, he says, was to opt for durable indoor-outdoor fabric for seating, reserving more delicate fabrics for cushions and curtains – which he describes as the 'rock stars' of a scheme.
'I like to start with the biggest pattern on the curtains and then add in smaller repeats,' he says.
Furniture placement plays a key part in the easy flow, with generous rugs delineating open-plan rooms. Throughout, there's a sense of easy elegance in homage to life on this island.
'There's one convenience store, no police officers and people get around on golf carts,' he says. 'You come here to recharge, reset and be inspired. It's the kind of place that adds ten years to your life.'
Much like the joyful interiors of this home.
Interior design / Andrew Howard
Styling / Helen Crowther
Sign up to the Homes & Gardens newsletter
Decor Ideas. Project Inspiration. Expert Advice. Delivered to your inbox.