Minimalist architecture and simply beautiful interiors are a match made in heaven for this Florida home
Blue skies and azure seas provide all the color required for this stylish minimalist home – here's the architect's perspective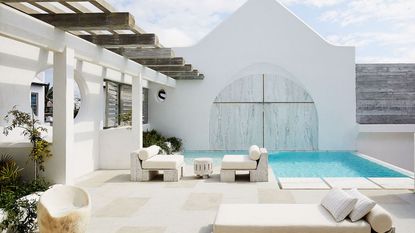 (Image credit: William Abranowicz)
Sign up to the Homes & Gardens newsletter
Decor Ideas. Project Inspiration. Expert Advice. Delivered to your inbox.
Thank you for signing up to Homes & Gardens. You will receive a verification email shortly.
There was a problem. Please refresh the page and try again.
In the perfect marriage of architecture and interior design, this Florida home's cool white exterior walls are matched on the inside with a minimalist and monochromatic interior design that brings a sense of calm to the whole space, inside and out. One of the world's best homes, the 2020 new build has been constructed in a relatively small plot, just 80 feet by 80 feet. But as architect, Jeffrey Dungan explains, 'Sometimes restraints like this can force you into a creative direction you would have never imagined.'
It was a direction that turned out to really make the space unique and defined its aesthetic. Dungan's clients had given him carte blanche with the architecture of the new home, saying they didn't want to limit the creative process, but to see what Dungan would do if left alone with the process. Needless to say, they were delighted with the results.
'One thing that I enjoy trying to create is a sense of history that seems to have grown over time,' says Dungan, explaining his approach. 'Different styles from different eras blend together.'
How do you design interiors that are equally as appealing and striking as the home's exterior? In this case, it was a matter of getting Atlanta-based Beth Webb on board. Webb's monochromatic and organic interior schemes have created a zen-like sense of calm inside and around the home, that really complements its fine exterior.
Take the tour, to discover how architecture and interior design went hand in hand here to produce a balanced and beautiful living space, and discover along the way that monochromatic schemes can indeed be exciting.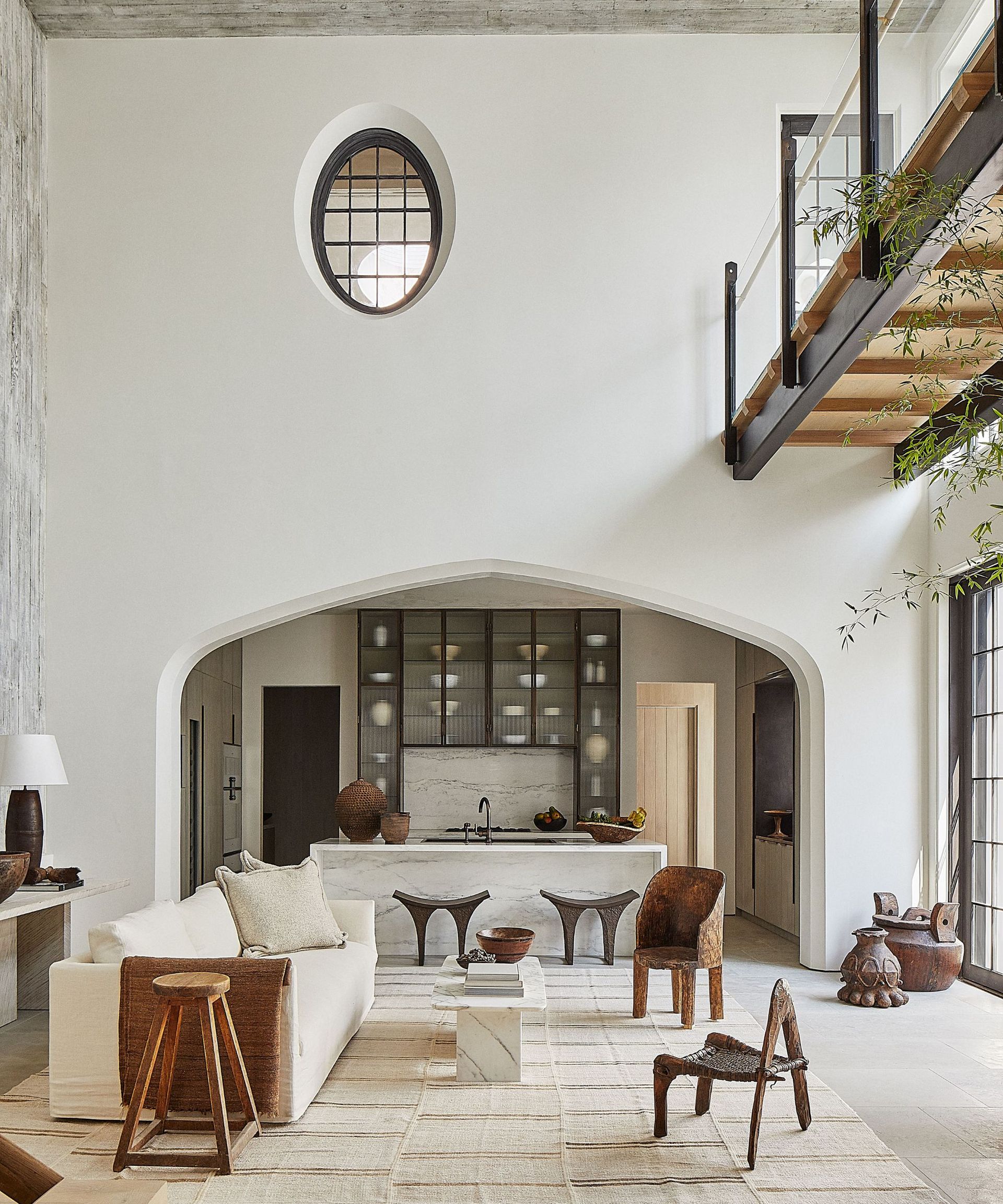 Living room ideas here, in the open-plan main space, continue the themes set by the home's exterior. With whitewashed walls, textured concrete and wood finishes, the sharp expanses of steel-framed glass are just gently softened by the warm, organic tones of natural wood furniture.
'I think in any good house, the architecture and the interiors have a dialogue between them that needs to be congruent in some way,' says architect Dungan. 'For example, it can be a contrast of masculine and feminine elements. Because of the indoor-outdoor nature of this home, it was a given that many of the materials and forms from the exterior would find their way inside as well. In some ways, the house feels like an old ruin where someone took glass and made parts of the interior space. To me it's playful in some ways, but the architecture is a little serious in some others. I like that contrast between the two. I think it creates a little bit of mystery of what this thing is really.'
The working part of the kitchen is positioned through an archway, reminiscent of Spanish revival homes, towards the back of the main living space. Kitchen ideas continue the monochrome theme, with white walls, black framed cabinets, and a backsplash and imposing island, both made of Asian statuary honed marble, of which 70 slabs were ordered for the project as a whole. 'Since the home is located in a very hot climate that is also hurricane prone, the key materials we worked with were concrete and stucco, but we also played around with other kinds of finishes like tiles and wood and even different methods of concrete textures,' adds Dungan.
The unusual island stools are also B.D. Jeffries, their form providing another perfect Zen moment between living room and kitchen.
Another angle of the living room reveals a striking textured wall behind the sofa, which is made of board formed concrete, with a limewashed finish. Beth Webb's design decisions are in perfect keeping with the exterior aesthetic, but the unusual choices of textured and organic materials elevate the otherwise monochromatic scheme, adding interest and understated luxury.
The rough-hewn wood chairs are from B.D. Jeffries and create a delightful contrast with a sleek marble coffee table is by Sublime Original. The sofa is by Verellen, lamp and stool from A Tyner Antiques, and the vintage rug is from Keivan Woven Arts.
Staircase ideas are important in a home that uses clever changes of levels to maximize its smaller footprint. Indoor and outdoor steps define the space (as above in the main living room) and are central to the architectural design.
'I thought one of the really fascinating parts of the house was working with the railings both inside and outside,' says architect Dungan. 'On the interior, we created a steel and glass rail system from scratch which turned out to be quite complex to work with. We made many models and prototypes. It was a unique application and mind bending process, but fun to solve the puzzles.'
The dark walls in the home bar area create a change in mood, and one that's perfect for this cozy and sociable space. Home bar ideas include an organic rough hewn coffee table paired with a dark sofa. The wall finish is Shou Sugi Ban, the Japanese charred wood finish, just one element in the many natural materials used to great effect here.
Similarly, home office ideas revolve around a wall with a dramatic dark finish. This is balanced with a gray desk and white upholstered armchairs, all from Sublime Original. Even the striking contemporary artwork, from B.D. Jeffries, sticks to the earthy and monochrome palette.
Bedroom ideas continue the white, black, gray, natural wood color scheme, yet there's nothing predictable about this dramatic space with its high vaulted ceiling of almost cathedral-like proportions. Even though this room is fairly narrow, the added height provides a sense of spaciousness. The nightstands are from Sublime Original and the vintage rug is from Keivan Woven Arts. The lamps and stools are from B.D. Jeffries.
It may be one of the smallest rooms in the house, but shower room ideas are afforded the same level of detail, and luxurious finish, as the rest of the property. Dark-veined marble lines the whole of the walk-in space, creating a cocooning effect. The steel-framed ribbed glass doors reference the exterior architectural details, while of course the color detailing – or lack of it – champions the monochrome tones of the interior design elsewhere in the home.
It's all in the detail with this basin and vanity alcove. More gloriously veined marble provides the substantial counter top, while the oval form and scalloped edge of the mirror, and a single Florida palm leaf slightly soften the look. They are the perfect finishing touches.
Anyone looking for inspiration and courtyard garden ideas, can't fail to be wowed by this tranquil backyard setting. Here in the ground-level courtyard, water from the second-floor infinity pool flows down a marble slab into a smaller pool nestled beneath floating stairs. The sculpture, displayed to great effect on a quirky diving-board-style plinth, is from Jerry Pair & Associates.
'I really wanted to give the owner some private outdoor spaces via courtyards that were at different elevations. We ended up with three terraces, each one about 12 feet higher than the last,' says architect Jeffrey Dungan. 'There is a lot of movement in the experience of this house – you spiral upwards through the outdoor spaces while the water invites you from one area to another.'
It's clear to see from this front elevation how architect Dungan enjoyed giving the new-build a sense of history gathered from different eras, while still creating an unique and original home. 'In this case we paired gothic elements with an otherwise more clean and spare aesthetic, he explains. 'The vibe also has some mid-century modern to it which I really love, that historic aspect.'
---
Architecture – Jeffrey Dungan Architects
Interiors – Beth Webb
Photography – William Abranowicz
Sign up to the Homes & Gardens newsletter
Decor Ideas. Project Inspiration. Expert Advice. Delivered to your inbox.
Karen is the houses editor for homesandgardens.com and homes editor for the brand's sister titles, Period Living and Country Homes & Interiors, and an experienced writer on interiors and gardens. She loves visiting historic houses for Period Living and writing about rural properties for Country Homes & Interiors, and working with photographers to capture all shapes and sizes of properties. Karen began her career as a sub editor at Hi-Fi News and Record Review magazine. Her move to women's magazines came soon after, in the shape of Living magazine, which covered cookery, fashion, beauty, homes and gardening. From Living Karen moved to Ideal Home magazine, where as deputy chief sub, then chief sub, she started to really take an interest in properties, architecture, interior design and gardening.