This old farmhouse was renovated from top to bottom so its original features shine through
Snapping up this 18th-century farmhouse before it went to auction, its owners have carefully given it a complete overhaul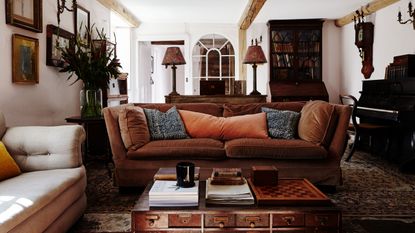 (Image credit: Penny Wincer)
This remote three-storey farmhouse is set nestled in about 50 acres of land down a long country lane. A traditional smallholding with a farmhouse and various barns, including an old dairy, it was set to go to auction until it was spotted by its owners, Anneke and Alex Lewis.
'I had never seen such charming 30-pane windows before, and it just felt as if it could be a great family project. The big problem was that we knew we couldn't compete for it at auction,' says Anneke.
Luckily, however, the vendor took a shine to the family and wanted them to have it so pulled it from going to auction. 'That sort of thing doesn't happen very often, but we are truly grateful that it did,' says Alex, who can now enjoy what is among the world's best homes.
It was clear that Alex and Anneke had taken on a big project renovating the house, with everything needing to be done, from electrics to sewerage. All was carefully undertaken and completed using traditional techniques and many original features have been left untouched to shine through the decoration.
Eco home improvements
They tackled the most pressing issues such as fitting glass to gaps in some of the windows and cutting back the undergrowth to find the back door. They then decided to move in and muddle along with what they had until they could raise the funds necessary to do the renovations.
The whole farmhouse was repointed with lime mortar, and the roof was stripped, then heavily insulated as an eco home improvement, and re-slated using the original Welsh slates.
Other measures that were taken when they were considering how to cut energy bills were fitting a ground source heating system, and carefully installing under-floor heating under original floor tiles.
Linking spaces
There were other advantages to taking their time, too. 'It is so important to live in a place before you go all guns blazing and do what you think you want to do,' adds Alex. 'To see which walls catch the morning light and where you want to sit on a summer evening. All these observations inform what you should do.'
Only three paint colors have been used for a whole house color scheme, which simplifies the spaces and improves the visual flow between the rooms. The softest blush pink for the living room, cottage hallway, and first-floor bedrooms; a faded gray bathroom idea and kitchen; and decorating with yellow buttermilk lightens the attic rooms.
This simple approach to wall color and decorating with neutrals subtly links spaces through continuity, and allows the original features of the property, furniture, and paintings to be the stars.
Kitchen
The couple had had plans drawn up for a kitchen extension, but Anneke didn't feel comfortable with increasing the proportions of the existing farmhouse. 'I felt we just needed to be cleverer with the space that we already had,' she says.
The sympathetic and simple kitchen idea was to remove a wall to get more light into the back of the house. Removing a wall between the kitchen and dining room created one generous space, lit from above through two dormer windows, one of which already existed.
With a high ceiling, the kitchen feels generously proportioned with a full-height glazed pantry idea at one end, painted in a dark green, that was built around an existing stained glass window.
The thoughtfully designed kitchen has freestanding units and an extra-long dresser, and among the other characterful farmhouse kitchen ideas is a large copper turbot fish pan that has been repurposed into a sink next to the range cooker.
Generously wide doors on this back section of the house are from the former days when it was a lean-to shed for livestock. One of the newly fitted dormer roof lanterns floods the space with light, allowing for family life to revolve around the long pine farmhouse table.
They discovered the fireplace in the corner. ''There was an old oil-fired range cooker here so we knew there was a chimney. As soon as it was removed I got busy with a hammer and revealed this simply shaped opening,' recalls Alex
The original hard-wearing flagstone stone flooring now has underfloor heating to warm this back section of the house. The stones were meticulously lifted and labeled and then relaid. 'Some of the enormous stones took six people to move as they were six feet wide and satisfyingly thick.'
The tiles have not been treated with anything and are taking on a wonderful natural buff sheen.
Living room
The farmhouse living room has been decorated with neutral colors for a calm and relaxing space.
An old woodburner was replaced with an open fire raised off the ground as a fireplace idea. 'I think raising an open fire off the floor is more beneficial as it puts the heat at body height. I designed a thick plate steel shelf for the fire to sit on, with log storage underneath,' Alex explains.
The arched window in the living room was dragged out of a hedge on the property and replaced a very bland piece of flat glass, creating a more interesting vista into the hallway.
Old family sofas are piled with velvet cushions, and inherited rugs give warmth to the flagstones.
Bathroom
The newly created ensuite bathroom has a generous freestanding tub as a bath idea, which Alex found at a salvage yard.
A clever bathroom layout idea, an internal window looks down into the kitchen and out through the dormer, letting in light. 'It's so lovely to find a bath that actually fits me, and I can open the window and enjoy the delicious smells wafting up from the kitchen below,' says Alex.
The elm floorboards are simply dressed with a sheepskin rug.
Bedrooms
The master farmhouse bedroom was created from two rooms, allowing for a bank of wardrobe doors, one of which leads to the en suite bathroom.
A wall of built-in wardrobes painted in full gloss that creates a dressing room idea provides plenty of space for the couple's clothes and helps reflect the light from the master bedroom windows. Antique rugs soften the floorboards and simple shutters seal the 30-pane windows at night.
Up in the attic are the two children's small bedrooms and a shower room tucked under the eaves. Iron beds and interesting antiques are among the attic bedroom ideas.
'It's important to plan ahead for when the children are older and their demands on the house will change,' says Alex. 'Giving them their own bathroom will allow them to feel that they can escape the grown-ups, and I'm sure the feeling will be mutual by then.'
Sign up to the Homes & Gardens newsletter
Decor Ideas. Project Inspiration. Expert Advice. Delivered to your inbox.
Rachel is senior content editor, and writes and commissions gardening content for homesandgardens.com, Homes & Gardens magazine, and its sister titles Period Living Magazine and Country Homes & Interiors. She has written for lifestyle magazines for many years, with a particular focus on gardening, historic houses and arts and crafts, but started out her journalism career in BBC radio, where she enjoyed reporting on and writing programme scripts for all manner of stories. Rachel then moved into regional lifestyle magazines, where the topics she wrote about, and people she interviewed, were as varied and eclectic as they were on radio. Always harboring a passion for homes and gardens, she jumped at the opportunity to work on The English Home and The English Garden magazines for a number of years, before joining the Period Living team, then the wider Homes & Gardens team, specializing in gardens.