Cottage staircase ideas – style inspiration for a warm and homely look
Be inspired by these ideas for cottage staircase ideas – decorating, furnishing and style advice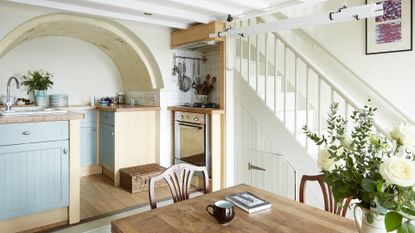 (Image credit: Future / Mark Scott)
If you are looking for cottage staircase ideas, then you've come to the right place. The cottage staircase is often a key part of a simple rustic home. In smaller cottages, the staircase is usually in a prominent place, either open to one of the reception rooms, or just inside the front door. So the cottage staircase should be sympathetic in style to the rest of the home.
Give careful thought to how you decorate your cottage staircase. It may only be a small, narrow area but if you make the most of its height it can have a big impact. And the good thing about it being a simple space is that it won't take long to give it a new look.
Looking for inspiration and ideas for a cottage staircase? Keep scrolling for tips and advice from the experts to make sure your cottage staircase is top flight, rather than low level.
See: Cottage decorating ideas – charming ways to get a characterful look
1. Keep it simple
What makes a cottage staircase special, and what are its key design characteristics?
A cottage staircase's simplicity of design is what Daniel Slowik, associate director at Sibyl Colefax & John Fowler, finds most appealing, as he explains, 'A cottage-style staircase is simple in design and sensitive to the scale of the house. I favor traditional joinery in painted wood with a painted floor, or possibly a sisal or seagrass floorcovering. A flatweave antique runner can also look very smart.'
See: Hallway ideas – stylish ways to create a welcoming first impression
Designer Vanessa Arbuthnott, whose textiles are featured above, agrees, saying, 'A utilitarian stair runner is more in keeping with rustic cottage tradition than a fitted carpet.I would choose a 100% wool over a jute type of matting as its easier to clean and softer on the feet.
'It's not necessary to use stair rods,' the textile designer adds, 'the runner can just be tacked to the wooden treads, for a simple look that's more in keeping with a cottage. In a busy household, stair runners will also keep the noise levels down as people charge up and down the stairs.'
See: Cottage ideas for a living room – for more inspiration
2. Create a place to display art and collections
A cottage staircase is a great place to hang pictures and to enjoy collections of all kinds. This simple staircase has been used to display a collection of antique Dutch wooden clogs. The rustic footwear looking perfectly at home against the part-painted treads, and bare wood where there was once a stair carpet.
See: Staircase ideas – inspirational features for treads, rails, materials and more
3. Make a feature of open-plan stairs
Rather than letting it fade into the background, why not emphasise the simple architecture of a cottage staircase when it's part of the main living space?
'The wall by the stairs is a wonderful place to hang lots of artwork from framed photos to portraits and more! A simple light paint color creates a neutral backdrop for the art and keeps the space as light as possible,' says designer Vanessa Arbuthnott. Here, a gallery wall uses the full height of the wall and adds interest to the simple wooden stairs, the spindles and banister highlighted in white paint.
See: How to decorate a staircase – design ideas for stylish staircases
4. Take a bold, sculptural approach
'Even in a cottage space a staircase can be quite a feature. If you are brave, making something bespoke and sculptural, can really add to the interest and look, not just of the hall but landing too. This staircase balustrade was inspired by Scandinavian design. Painting the floor and keeping the colour tones neutral, emphasises the feeling of space and light. A colourful rug and patterned cushions in warm rosy tones, makes this landing a fun and useful space,' says Susie Watson at Susie Watson Designs
5. Plan for a traditional look
You can't go wrong by sticking to well-established hall and staircase traditions. A grandfather clock keeps time at the foot of a smart decorative red stair runner, with the entrance hall tiled in classic black and white chequerboard tiles with a border to further emphasize the elegant proportions of the stairs and banisters. Timeless perfection.
Don't miss our cottage lighting ideas for pretty, practical solutions.
6. Choose a smart staircase for calm cottage decor
James 'Ford' Huniford who runs the New York City based Huniford Design Studio says he likes cottage staircases to be 'simple and unfussy' but also appreciates the way a staircase 'can add a nice architectural detail to a space, and become an inviting element for an entry hall.' His designs for the Bridgehampton cottage, pictured above, incorporate a smart but simple staircase in keeping with the home itself. 'I like to create an unique staircase using an interesting style of newel posts, painting the handrail in an unexpected color instead of a simple stain or using a bold pattern or stripe for a stair runner,' he adds.
7. Design a new staircase for an old cottage
If you're building a new staircase as part of alterations or renovations to a period cottage, you can be more creative with the space. The owners of this extended 17th-century cottage rebuilt and repositioned the stairs to bring together the old and new sections of the house. The door alcove to the original stairs has been repurposed with a low cupboard and display shelf. The style and decor of the new cottage staircase is simple and pared back in keeping with the original parts of the property.
Extending a period cottage? See our cottage extension ideas for more design inspiration.
8. Master a complete overhaul
Here's a sight you wouldn't expect to see on a cottage staircase - the complete works of Charles Dickens. The risers were painted by a professional signwriter to look like the spines of books, while the treads have been sanded and polished. The finished effect is most definitely Great Expectations, not Bleak House. Incidentally, the handrail for this unusual staircase came from a St John's Ambulance stretcher!
9. Decorate a traditional Victorian cottage staircase
The staircase pictured above is part of typical Victorian workers' cottage, where the stairs are seen from the front door of the house, at the back of a tiled hallway. Keeping the stairs simple allows the decorative tiles to shine.
'If you don't want carpet or a runner, it can look very effective to paint the risers and keep the treads a natural wood. This give you a opportunity to brighten the space or introduce another color,' says designer Vanessa Arbuthnott. 'Painting the treads and bannisters can create a more Scandinavian feel.'
10. Try a bold pattern
There's an understandable tendency to avoid bold patterns for cottage staircases, however they can look dramatic and effective, as Daniel Slowik, of Sibyl Colefax & John Fowler, explains, 'It's great to juxtapose the simple joinery with a bold colour or pattern on the wall. There tends to be quite a lot of wall space on a staircase so why not a big pattern? This will act to heighten the scale of the space.
'The stairs act a link between the entertaining space downstairs and the sleeping space upstairs,' he adds, 'so this should be considered when choosing the decoration. It also tends to have a prominent position, which is why it's good to go bold.'
11. Build a staircase in the living room
Courtney Coleman of New York City-based Brockschmidt & Coleman Decoration & Design says that cottage staircases 'are not grand sculptural moments, but are usually tucked away in back spaces where they are configured to fit in whatever building conditions exist – sometimes giving them meandering shapes, winders, and steep risers.'
'Often these staircases open onto family spaces like kitchens or back hallways,' adds Courtney Coleman, 'making them seem more intimately connected to private rooms upstairs. Also, the stairs are sometimes partially exposed, so there is a run of spindles or decorative brackets at the springers that give architectural detail to these back of house spaces.' As is the case above, where the stairs are right at the back of the living room.
12. Opt for a quirky cottage staircase
Courtney Coleman says that at Brockschmidt & Coleman Decoration & Design they consider that staircases' 'often-quirky shapes are very much part of the eccentric charm of cottages and bungalows,' adding, 'We love to emphasize quirky shapes – especially winders – with carpet runners. For this carriage house in New Orleans we used a very colorful striped Venetian-style carpet runner that winds around the stair landing and continues along the second floor bedroom hall. The runner is fastened along the edges with brass upholstery tacks, giving it even more fanciful detail.'
13. Don't forget the landing
The climb up the stairs in this 15th-century cottage is rewarded with the view from the window, and a close view of the property's original timber frame. The space at the top of the cottage staircase is furnished and accessorized as though it were a room in itself, with a rug, fresh flowers atop a medieval oak coffer, and a vintage throw adorning the balusters.
14. Go for a simple cottage aesthetic
The staircase in this restored 19th-century farmworker's cottage is in keeping with the simplicity of the rest of the property. The simple wooden handrail, striped stair carpet, and rustic neutral colors are the perfect choices here. A collection of prints and paintings in vintage frames are displayed to great effect and provide a transition from the downstairs living spaces to the bedrooms.
See: Cottage bedroom ideas – design inspiration for cozy restful spaces
15. Make your cottage staircase the heart of the home
The cottage staircase in this early 18th-century former wool weaver's cottage, is positioned directly opposite the front door and is part of the small kitchen-diner.
For cottage kitchen ideas, don't miss our inspiring image gallery
Painted in soft white shades, the stairs and newel posts are kept simple so as not to detract from the home's show-stopping original architectural feature - that deep arch at the back of the kitchen.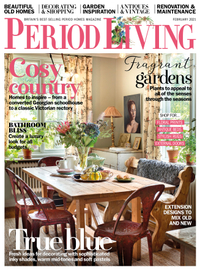 This feature was created by H&G's sister brand, Period Living magazine
Subscribe to Period Living for more inspiration Period Living is the UK's best-selling period homes magazine. A subscription provides you with all you need to know about caring for and improving a traditional house and garden.
Sign up to the Homes & Gardens newsletter
Decor Ideas. Project Inspiration. Expert Advice. Delivered to your inbox.
Karen is the houses editor for homesandgardens.com and homes editor for the brand's sister titles, Period Living and Country Homes & Interiors, and an experienced writer on interiors and gardens. She loves visiting historic houses for Period Living and writing about rural properties for Country Homes & Interiors, and working with photographers to capture all shapes and sizes of properties. Karen began her career as a sub editor at Hi-Fi News and Record Review magazine. Her move to women's magazines came soon after, in the shape of Living magazine, which covered cookery, fashion, beauty, homes and gardening. From Living Karen moved to Ideal Home magazine, where as deputy chief sub, then chief sub, she started to really take an interest in properties, architecture, interior design and gardening.