9 colors that go with red – the best pairings for this bold shade
On the surface it might be hard to find colors that go with red, but our experts have some fabulous choices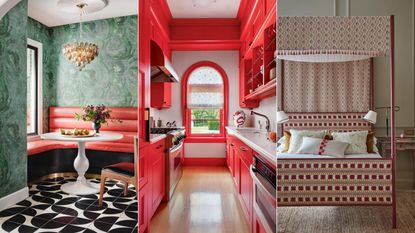 (Image credit: Maestri Studio/Stephen Karlisch / MMB Studio / James Hare)
Sign up to the Homes & Gardens newsletter
Decor Ideas. Project Inspiration. Expert Advice. Delivered to your inbox.
Thank you for signing up to Homes & Gardens. You will receive a verification email shortly.
There was a problem. Please refresh the page and try again.
Bold and punchy, red is a color you may not consider for your home as it is quite intense, though it can be used as an accent color or very successfully with other colors for balance. So which are the colors that go with red? There are plenty of red shades to choose from – if an energetic scarlet red isn't your bag, but how about a more muted shade that has a hint of terracotta? Or a rich magenta?
As with any color, it's about how you approach it and the amount you use – a bright red couch against a floral wallpaper for example will look fabulous without any other pops of red in the scheme.
'Rich red tones are lovely all year around, but especially luxurious in the fall months to reflect the tones of the changing landscape. Using red shades in a color scheme is bold – it gives the room an instant injection of vibrancy, energy, and a sense of grandeur,' says Anna Hill, brand director and color consultant from Fenwick & Tilbrook.
Colors that go with red
Seen as a challenge, there are plenty of colors that go with red including blush pink, orange, plum, and gray. It can be used to add vibrancy to an otherwise tired scheme or used as a color drench if you're feeling bold.
Our color experts and designers use it often too, so read their top tips below on what's hot with this surprisingly easy to pair with color.
1. Red and white
There isn't a color that doesn't look great with crisp white, and red is no exception. The brighter the color the better it works. When you color-drench a room like this striking kitchen, you do need a visual break.
'The entire kitchen was inspired by this vase from Raynaud, now retired; it was a limited edition,' says Matthew Boland, founder, of MMB Studio. 'I loved that although the red/orange was strong, with the white ground it felt grounded and almost neutral so I decided that we should paint the whole kitchen a version of that and do the countertops in stark white."
2. Red and pale blush
This is a great example of how you can have a fabulous burst of poppy red outside of a space but in a way that allows it to frame the room.
'The neutral undertone of light pink paints like Kensington Rose No. 22 makes them easy to combine with various colors,' says Dominic Myland, CEO of Mylands.
'Incorporating complementary shades like grey or white along skirting or cornices creates a cozy atmosphere while pairing blush with bright reds or blues creates dramatic contrast. The shade also works well on its own to create monotone spaces that are soft and timeless, highlighting the versatility of the shade. It really is like a neutral.'
Choosing a shade a neutral shade such as blush with a shade of red will create cohesion as they're from the same color family, yet on opposite ends of the tonal scale.
3. Red and black
'Strong and bold, red is a color that can deliver a real statement into your interior design scheme,' says Patricia Gibbons, design team, Sofa.com
'The trick to making it feel elegant is to create balance and harmony. Rich, sumptuous tones work particularly well when made the hero, so choosing a red upholstery fabric as the centerpiece of a room will help to draw the eye.'
Use black as your grounding shade to create a contemporary scheme that's vibrant and dramatic. You can even take it as far as choosing wallpaper that has a black background even if the design features multiple colors. Keep things minimal so the colors stand out.
4. Red and emerald green
When you're choosing your color to go with your red shade it doesn't have to be a flat matte paint color – it could be tiles or wallpaper instead. Here, this marble-style wall covering in emerald green helps to zone this bench seating area and is subtle enough not to detract from the red leather.

'When red and green are planned to sit beside each other, the complement that they can give each other can be stunning. Bold color combinations are one of the most effective ways to get your attention, but too much of a bold color can overwhelm the details of the space,' advises Katie Paulson, interior designer at Maestri Studio.
'Playing with that balance and incorporating textures and patterns along with the red and green can create a color combination that is truly effective. We softened the brighter values of the red and green by pulling in wood tones and adding warmth to the metal finishes. We knew that our best approach to using these bold colors was in knowing they would stand out but also keeping in mind that they need to feel like they belong.'

5. Red and greeny blue
If bold red shades make you want to run and hide, then consider other tones. There really are many to choose from as Anna Hill, brand director and color consultant from Fenwick & Tilbrook explains:
'For a classic scheme, perhaps for a dining room with rich woods like walnut, pair a deep red paint such as our 'Nelson's Blood' with a muted neutral. It's a neutral color with a hint of red oxide to give it a pinky/red undertone. For a more eclectic, boho vibe, pair a muted red like 'Emperor' with an earthy pink like 'Rusty Rose'. Injecting a room with bold colors doesn't have to be full on floor-to-ceiling color drench. Why not just paint the woodwork in a rich cranberry, or perhaps just the ceiling?
If you're dialing down your red then the color you choose to pair it with needs to be of a similar tone. A greeny blue like Fenwick & Tilbrook's Marram Grass will temper the red and give it balance, so your scheme will be harmonious.
6. Red and pale gray
Perhaps a color combination that you may not think of, red and pale gray is a pairing that offers elegance and warmth to a scheme
'The strong red fabrics covering this bed make a wonderfully bold statement with subtle accents of gold. This bold use of color is the perfect foil to a soft wall color, in this case, a warm pale gray. Bedrooms need to be calm spaces so color choices are very important. The bed has a canopy making it very cozy and the soft gray walls, which could be paint or a textured wallcovering, create a balanced color contrast that doesn't overwhelm, it's a very good combination,' says Saffron Hare, creative director, James Hare.
The pale gray in this charming bedroom prevents the look from feeling too stark, it's important to pick a shade that's at the warmer end of the scale – a gray with a red undertone rather than one that has blue, which would love it feeling rather too cool.
7. Red and stone
Two-tone walls have become a popular choice, and they're a great way of incorporating two shades that you love in one space. Stone is a fabulous neutral that's more than cream, but less than ochre with the bonus of being warming against white, making it a good choice for a red that's deeper with brown undertones, like this dining room.
'A great way to introduce red shades into more neutral schemes is by color blocking. Using a deeper shade of red alongside a paler neutral to balance the room and add an interesting contrast,' suggests Ruth Mottershead, creative director at Little Greene. 'Consider painting the deeper shade at the bottom of a wall and the lighter shade above, to draw the eye upwards. For example, shown here with the use of warm Elizabethan red 'Arras' with the softer 'Rolling Fog' .'
8. Red and plum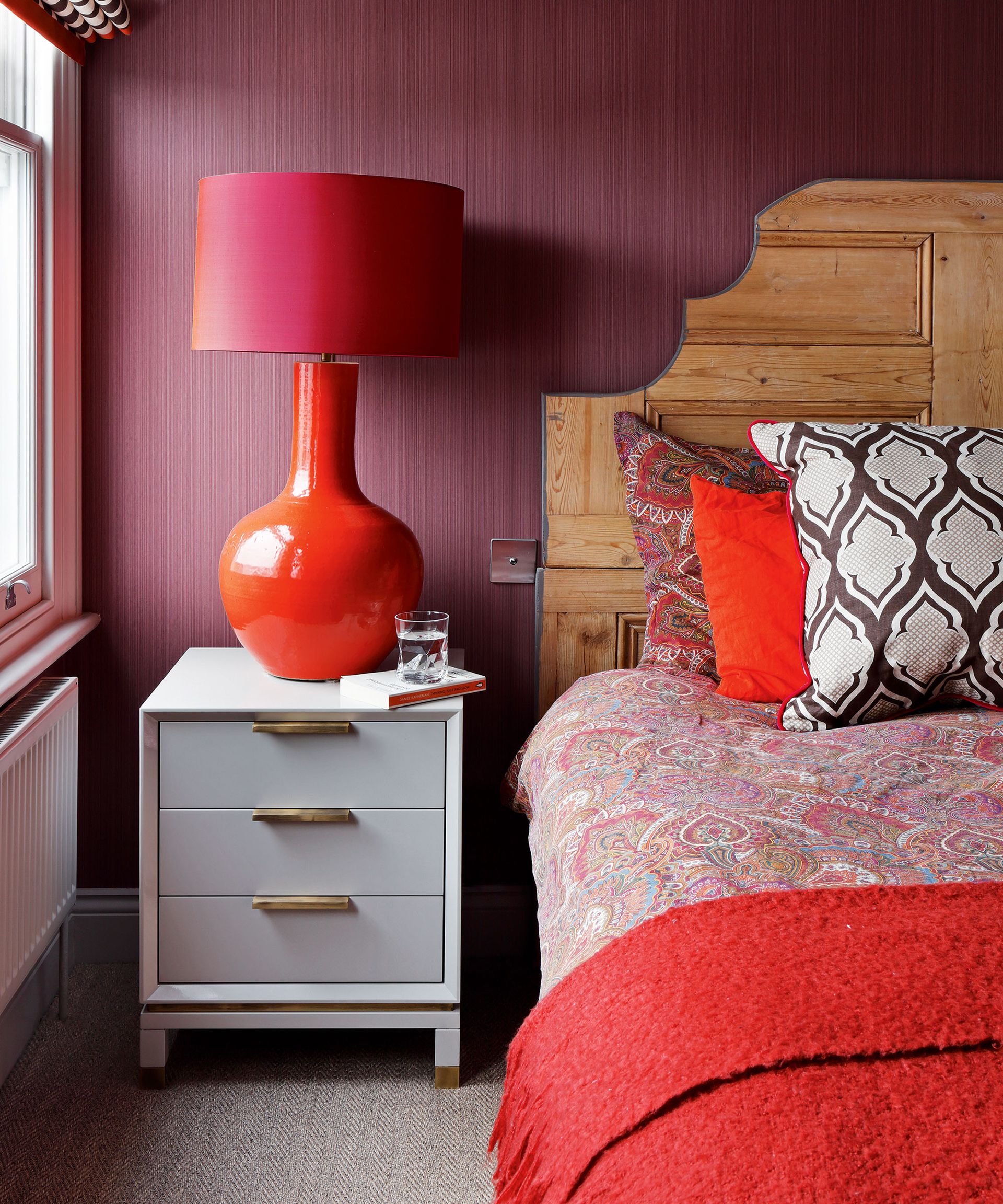 Do you have a North-facing room that feels a little cold whatever the season? A plum paint color or textured wallpaper in a warming berry shade will transform your space.
Add in splashes of scarlet as an accent for a contemporary look and consider an oversized table lamp for impact. Metallics will work well with this color combination too – brass and copper will look fabulous.
9. Red and multiple colors
If you really can't choose a single color to go with red then why not pick multiple shades? Use red as the mainstay and check out the color wheel for what looks best with it. Isabel Ladd, founder of Isabel Ladd Interiors suggests:
'Strong primary colors – like the rainbow hues we learned about in grade school are a bold choice to use with red. It's like adding more to more when pairing red with orange, yellow, green, blue, indigo, and violet. Here, red plays a dominant base color in this design scheme, with each color of the color wheel interacting to create a vivid statement in this powder room.'
FAQs
Do green and red match?
Yes, green and red match beautifully. On the color wheel, they are opposite each other which means they're complementary colors. They're a great pairing to consider because of this, and you can vary the tones to suit your scheme – from pale to dark, this combination can work successfully.
Sign up to the Homes & Gardens newsletter
Decor Ideas. Project Inspiration. Expert Advice. Delivered to your inbox.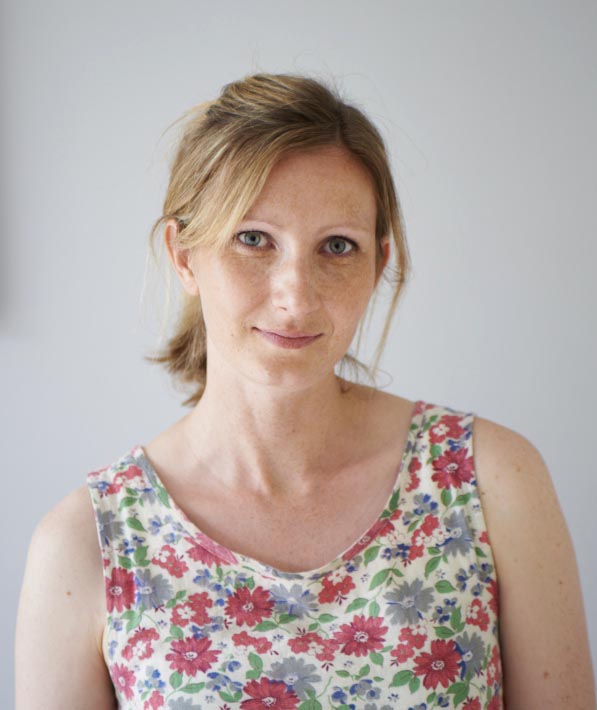 Sophie has been an interior stylist and journalist for over 20 years and has worked for many of the main interior magazines during that time, both in-house and as a freelancer. On the side, as well as being the News Editor for indie magazine, 91, she trained to be a florist in 2019 and launched The Prettiest Posy where she curates beautiful flowers for modern weddings and events. For H&G, she writes features about interior design – and is known for having an eye for a beautiful room.