These 6 paint tips will make your entryway feel welcoming, according to the color experts
From two-toned schemes to vivid hues, these entryway paint ideas are guaranteed to create a welcoming feel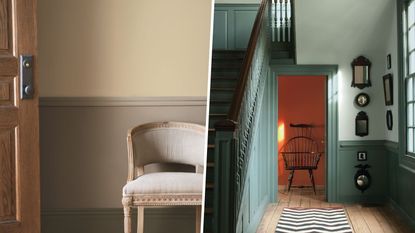 (Image credit: Benjamin Moore)
When it comes to entryways, there are so many different color schemes and styles to choose from that it can be difficult to know where to start. But it's an important part of the home that should be considered carefully to create a welcoming feeling upon entrance.
'Your hallway is the space that greets your guests as they arrive in your home, so it is a great opportunity to make a statement with your personal design style,' explains Helen Shaw, color expert at Benjamin Moore.
Entryways can often present challenges when it comes to decorating them, due to their notorious lack of natural light, but they present an opportunity to experiment with color and set the tone for the rest of the home. We spoke to the color experts who suggested six different entryway paint ideas to create a welcoming feel in the home.
1. Energize with yellow
Arguably the ultimate color to create a welcoming feel is bright yellow. While it's a bold choice that nods to maximalist decor, experts say it has the potential to bring a warming glow into the space that works perfectly as a vibrant entryway color.
'A bright peach or even yellow gives the hallway a warm, welcoming glow and will naturally bring a zest and sense of energy to the space,' explains Helen Shaw.
Helen Shaw is part of Benjamin Moore's UK division. Color expert and international marketing director, Helen and her husband Craig are founders of Shaw Paints, acquired by Benjamin Moore in 2020.
2. Opt for a two-tone look
You don't have to commit to using just one color in your entryway decor ideas. Instead, you can experiment with using two different colors for a modern and playful look. As Sue Wadden, director of color marketing at Sherwin-Williams suggests below, you can choose two clashing colors for a striking look, but you can alternatively keep things more refined by using two different shades of one color, as pictured above.
'Another great option to successfully create a colorful entryway is by pairing unexpected colors and painting your door in the brightest of the two and the walls in the darker color you've chosen. I recommend using a dark blue, and gentle red.'
With a strong background in design and color leadership, Sue Wadden was appointed director of color marketing at Sherwin-Williams in 2016, and has been with the paint brand since 1998.
3. Add drama with deep hues
A common hurdle in many entryways is the lack of natural light. This doesn't need to hold back your decor though, and you can create an equally welcoming feel in a light-lacking space.
Color experts recommend leaning into the dark nature of the room and adorning the space in a deep shade, such as a dark blue, to add warmth to an entryway. This approach also makes the rooms off the entryway feel brighter by contrast, as Farrow & Ball color consultant Patrick O'Donnell explains below.
'You could play with the limitations of a hallway lacking in light and venture into darkness with a color like Hague Blue across the walls and ceiling, which is fabulously dramatic but will make rooms leading off the hall feel lighter and brighter.'
Patrick O'Donnell is Farrow & Ball's color consultant & brand ambassador and has been with the brand since 2012. Patrick works with designers in the UK and North America, helping to bring their projects alive with the iconic, F&B color palette.
4. Paint the woodwork
Rather than painting the walls in a bold color, you can switch things up and channel a more relaxed look by painting the trims or woodwork in the entryway, as Helen Shaw suggests: 'For a more subtle look, consider a pop of color on the woodwork or to highlight an architectural feature.'
'This will add immediate visual interest for any guests on their arrival creating an eye-catching look.'
5. Go bold with blues and greens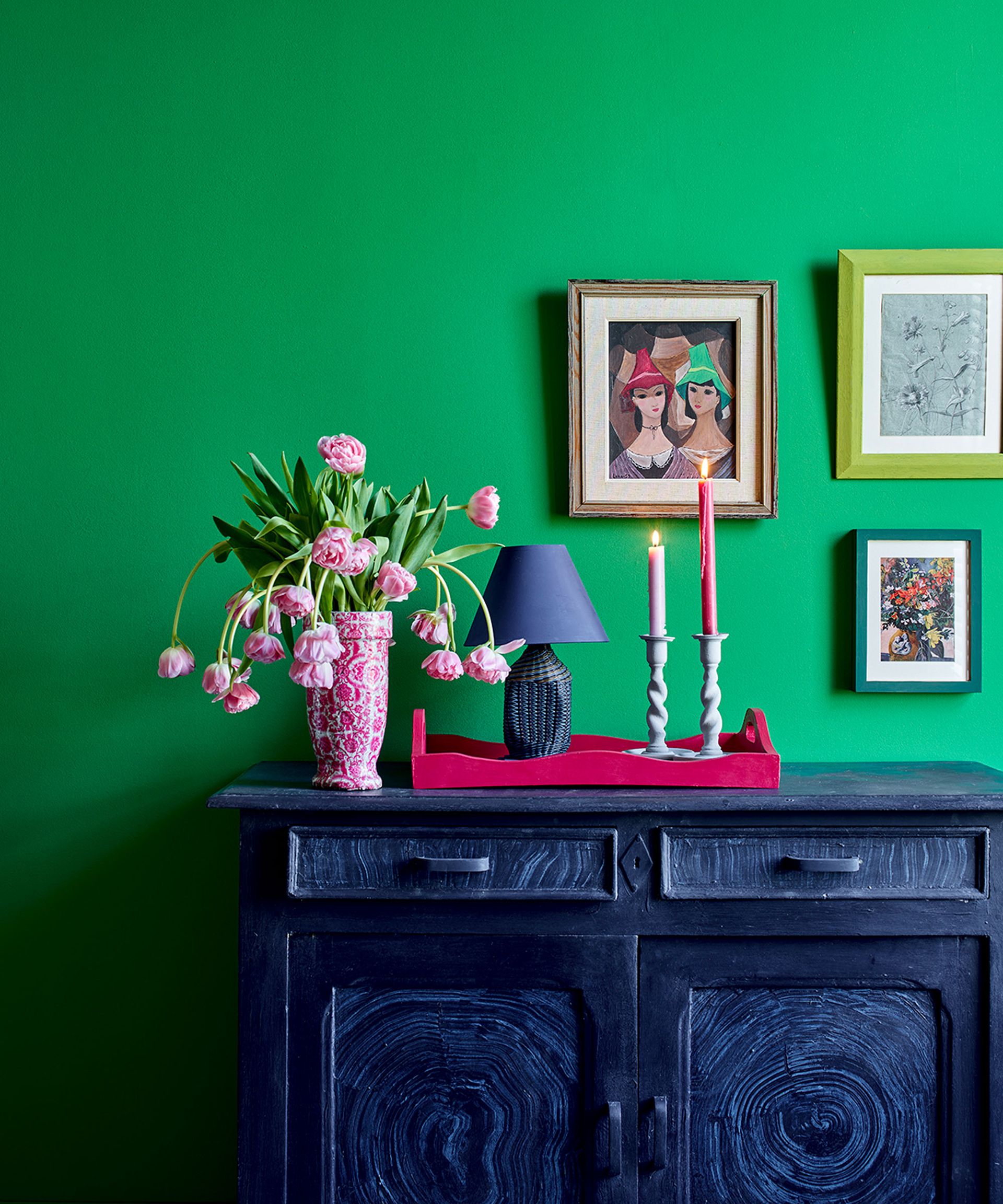 If you're a fan of bright colors, there is a range of bold hues that can be used to brighten the entryway and create an uplifting feeling, such as green.
'Sherwin-Williams' Alexandrite is a striking shade of green and when used in an entryway it sets the tone for a carefree home where bright hues and bold patterns encourage nothing but good vibes,' explains Sue Wadden.
You could also opt for a vivid blue to create a similar cheerful feel upon entering the home: 'For a joyful entrance, take a bright coastal blue like Selvedge across the walls and ceiling for a friendly and welcoming first impression,' Patrick O'Donnell says.
6. Experiment with different finishes
When it comes to choosing paint, color isn't the only thing to consider, but the finish of the paint also. From matte to gloss, there are a range of different finishes that can transform the space. Patrick O'Donnell suggests choosing one color and using this in the entryway in two different finishes for an elevated look, which he explains is also a practical choice, due to the varying durability of different finishes.
'Entryways are always high-traffic areas in the home so practicality plays a big role as much as aesthetic beauty but the two needs can sit happily side by side without compromise and to great effect.'
'An easy trick to introduce a striking and colorful look is to use one color in two finishes.' He suggests that you can 'paint the lower half of the wall' in a gloss finish while opting for a matte finish above.
FAQs
What color is best for a small entryway?
You can be just as experimental with your paint colors in a small entryway. With less space, small entryways often mean it can be less daunting if you want to channel a bold and vibrant hue. From earthy neutrals to a pop of bold orange, we have lots of ideas on the best colors for small entryways.
Can I paint the inside of the frontdoor in an entryway?
You can opt to extend your color of choice to the inside of the front door if you are aiming to create a cozy feel. Tapping into the color-drenching trend, adorn the skirtings, ceiling, and inside of the door in one hue and it will aid the entryway in feeling cohesive and inviting.
Sign up to the Homes & Gardens newsletter
Decor Ideas. Project Inspiration. Expert Advice. Delivered to your inbox.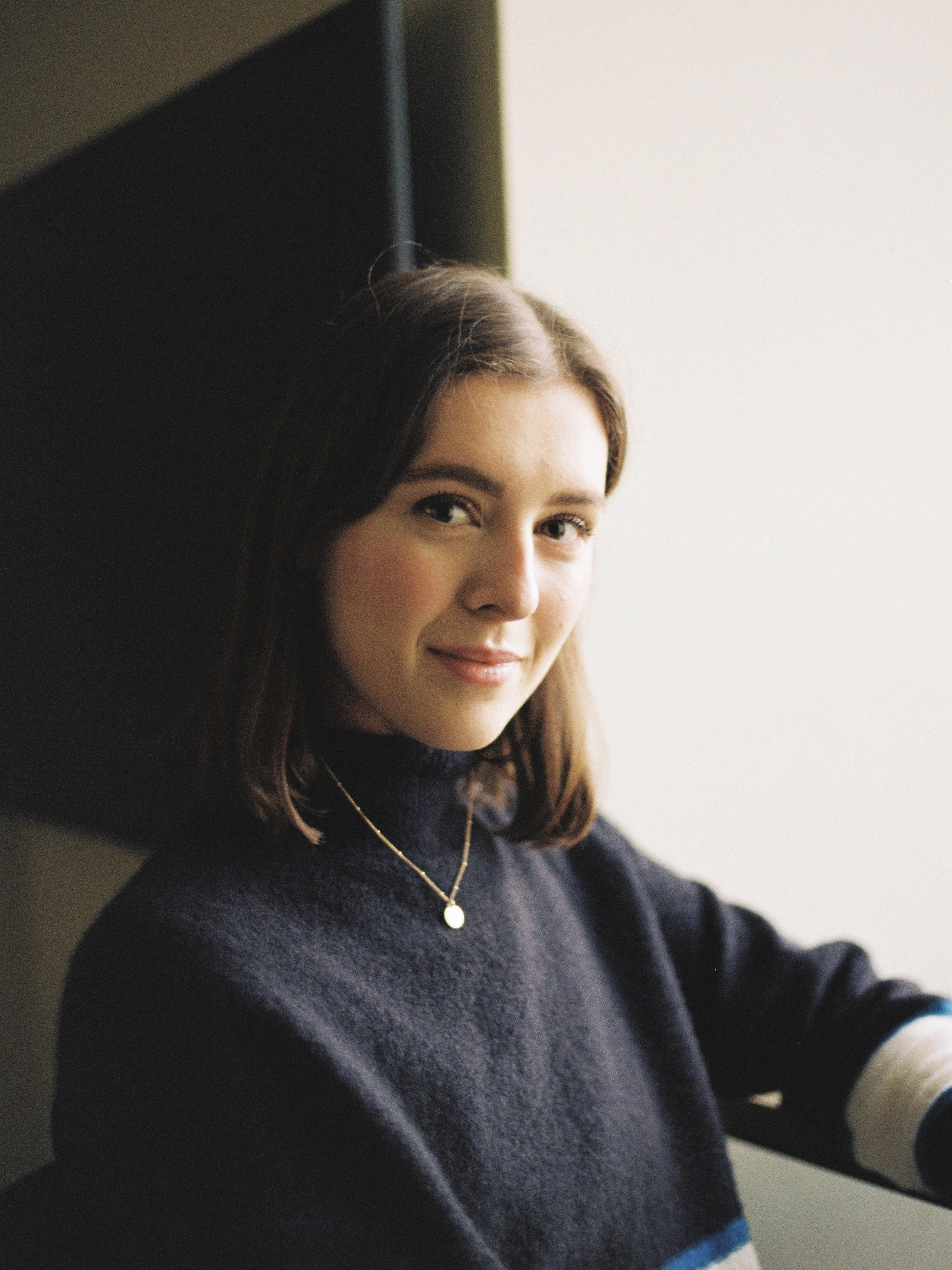 Emily Moorman is a News Writer at Homes & Gardens, working across a range of topics spanning interiors, celebrity and emerging trends. With a background in the fashion industry, Emily is well-versed in the world of design and trend cycles. Her undergraduate degree was in Fashion Communication and Promotion which she studied at Norwich University of The Arts, specialising in writing and digital communications.