7 ways to use decor to boost your mood – and avoid SAD this fall
Struggle with the shift in seasons? Me too and this year I am using my interiors to help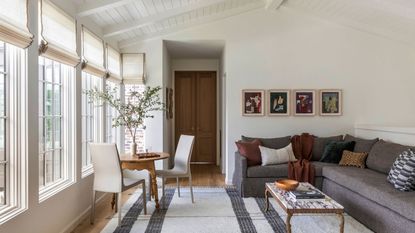 (Image credit: Julie Soefer)
I really wish I could love fall. In fact, for about three days a year, I do. When the season first starts to shift and you notice a slight change in temperature a freshness in the air and a change in colors, I love it. But give it a few weeks, when the days get shorter and the novelty of the change in wardrobe wears off, the winter depression starts to set in.
Personally, I find the most effective way to boost my mood at this time of year is to try and really lean into all the positives. And one of those for me is the shift in decor. It's like the shift in clothing, everything gets cozier and heavier, more textured and more layered and despite my dislike for the changing weather, I do love updating my home for fall. Plus, there are far more people in my home at this time of year, I host more, and socialize indoors more, so it's the perfect time of year to give my space some attention.
But rather than just follow fall trends for this year, I want the changes I make to make this change in season feel easier and more positive for me. I am not just talking about adding a wake-up light, I want to create an environment that lifts my mood and makes me feel positive about the winter to come. I spoke with interior designers for their advice on how to achieve this.
7 ways to use interior design to help with SAD
'I love to change out décor items depending on the season. Switching out your styling pieces and even soft goods are easy swaps that still make a statement. Throw pillows are the perfect way to change up texture and tone across the home. In spring and summer, linen pillows are my preference and for the fall and winter I opt for a beautiful velvet throw pillow,' explains designer Marie Flanigan.
'Further, throw blankets have the power to lighten a space in the warmer months and then add beautiful deep holiday-inspired hues in the colder months. I love a slubby, large linen blanket because it adds beautiful texture while remaining weighty. Lastly, change out your candles for a different smell. Our eyes and noses get accustomed to our spaces and small changes to the visuals and even the smell can be a mood-boosting experience.'
1. Maximize natural light in the day time
While you want the evening to feel cozy and glowy, in the daytime to really want to be maximizing all the natural light you can get. A piece of advice I so often get at this time of year is to get outside as much as possible during the day, and while that does work, getting all the sunlight you can indoors helps too.
'Sunlight positively impacts mood and circadian rhythms. Ensure ample access to natural light by using sheer curtains and by decorating with mirrors cleverly. Adding a skylight or a solar tube is another way to access one of design's most impactful elements,' suggests designer Ginger Curtis.
What I have found effective this year is to switch up the layout of my workspace, somewhere I spend most of my day so that my desk is facing a window and I can really benefit from the natural light, even on a dreary day.
Rooted in simplicity and elevated by extraordinary beauty, interiors by Dallas-based Urbanology Designs bring organic luxury to life. Their soft, modern approach allows clients to relax in the warmth of a comfortable and crafted home. Their design-forward sensibility looks beyond today's times, trends, and whims to create homes with longevity and intention.
2. Add really soft lighting at night
Another habit I have gotten into, as the light starts to fade I go around the rooms I am using and turn on any side lamps and avoid using harsh overhead lights unless I need to. I also light a few candles to really create a soft, glowing environment. It feels nice to cozy the space up at the end of each day and embrace the fact it's dark outside.
'I always suggest leaning into the seasons and embracing rather than fighting them, so as we head into fall and winter we look to create cozy, warm, and inviting spaces,' says designer Cherie Lee. 'Water and fire have captivated humans since the dawn of time, so while spring and summer lend themselves to water, fall and winter are all about the flicker of a naked flame. If you are fortunate enough to have fireplaces, look to enhance this feature within the room, but if you don't you can create a similarly inviting effect by introducing plenty of candles and lots of low-level soft lighting.'
'You may wish to consider creating a focal centerpiece to the room using a cluster of tall candles of varying heights. And don't just think about candles for the evening, in Scandinavia, it's common to light candles all day long to offer that welcoming effect.'
3. Layer up new textures
'I always recommend adding plenty of warm and cozy decorative items to help any home feel more cheerful during the colder months,' suggests Kathy Kuo. 'Plush decorative pillows in materials like faux fur and rich velvet are wonderful additions to create a cozy living room, as are luxe cashmere throw blankets and plenty of candles in seasonal scents like cinnamon or cedar (bonus mood-boosting points for a pretty vessel).'
'Accessorizing your spaces for winter also helps create the right welcoming, restorative atmosphere, thick luxurious textured throws to place over couches and occasional chairs, baskets of logs and woody foliage in rusts and browns all help create a seasonal atmosphere that hopefully offers comfort and relaxation to enhance wellbeing.' adds Cherie Lee.
Ginger Curtis agrees that 'texture in interior design is important. Natural materials like wood, stone, and bamboo can instill a sense of grounding and warmth. Soft and tactile fabrics like cotton and linen can enhance comfort and coziness. And patterns can make a difference too. Organic and flowing patterns, such as gentle curves and nature-inspired motifs, can create a sense of harmony and balance in a space. In the world of neuroaesthetics, we call these fractals.
Kathy Kuo is a celebrated interior designer and international guru within the home and lifestyle space. She has 20+ years of experience in the design industry.
4. Embrace a deeper color palette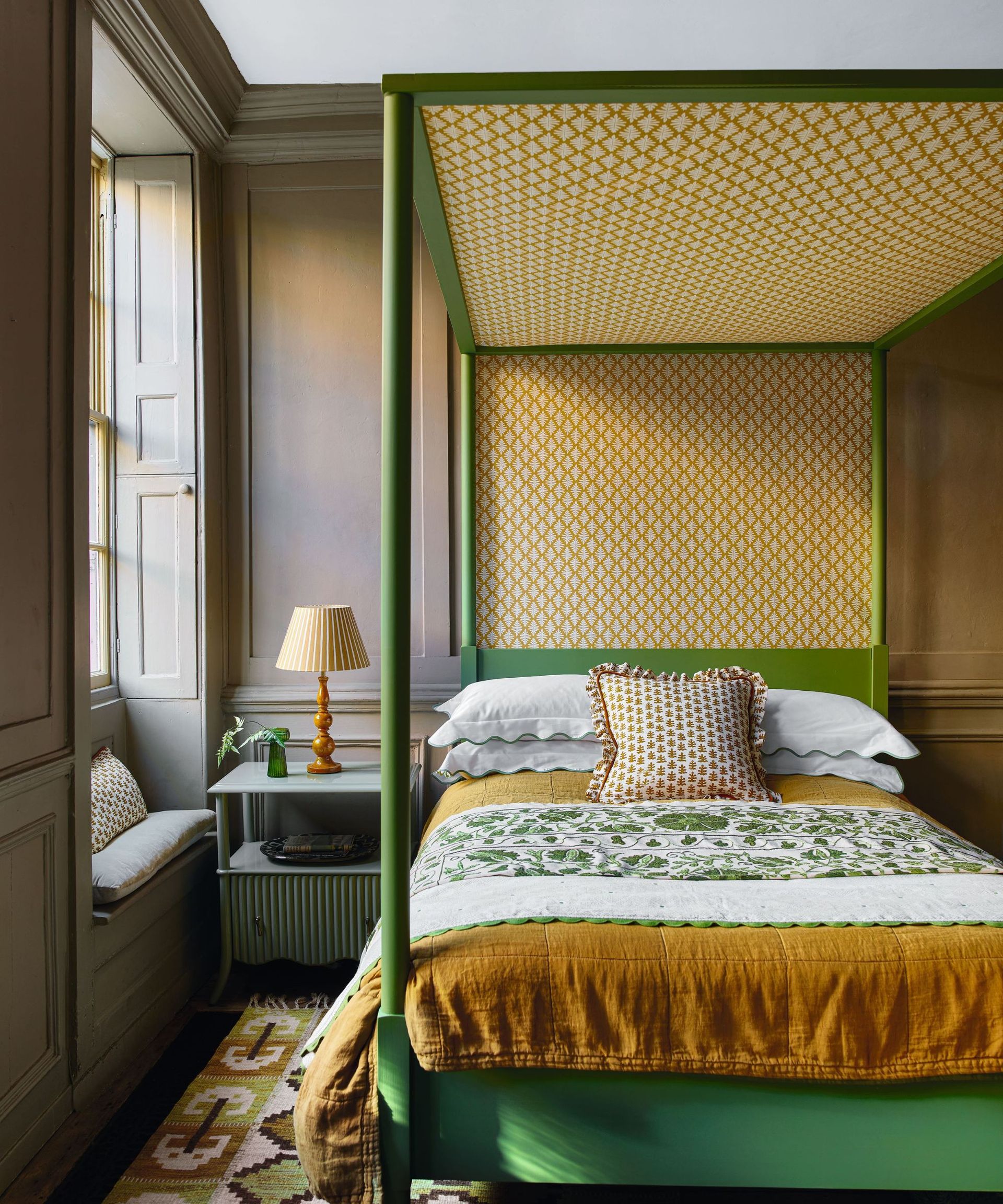 'As the nights draw in, we tend to spend more time indoors with shared conviviality around the kitchen table or snuggled under blankets on a squidgy sofa watching favorite movies, so it's important the rooms we live in boost our mood and help us decompress from our day to day,' explains Patrick O'Donnell of Farrow & Ball.
'Introduce a warming glow with a rich ochre like India Yellow, nothing says sunshine like a cheering yellow, to create a beautiful backdrop to an awkwardly lit room, or positively glow in a south-facing room drenched in autumnal light.'
While I don't necessarily intend to repaint whole rooms for the fall, bringing in some of those lovely rich hues Patrick talks of is definitely an easy way to make a home feel cozier. For me, a more low-commitment approach is with area rugs. I have a rug in most of my rooms, some I have multiple, and I do switch them around as rug trends and seasons change. I intend to switch the jute runner that's currently my kitchen rug to something that brings in those lovely warm ochre hues.
Patrick O'Donnell is Farrow & Ball's color consultant & brand ambassador and has been with the brand since 2012. Patrick works with designers in the UK and North America, helping to bring their projects alive with the iconic, F&B color palette.
5. Bring in nature
Throughout the summer months my home is filled with vases of flowers, and every room has some form of blooms from the backyard. In the winter, my backyard is less giving, however, I still look to find ways to bring in touches of nature. The textures and shapes add so much interest to a room that can be a celebration of the change in season.
'I like to Incorporate natural elements like plants, natural materials, and water features to establish a connection with the outdoors and reduce stress.' suggests Ginger Curtis. I have currently got a huge vase of branches in the center of my dining table. They are my nod to fall decor, which I like to keep as subtle as possible, but they do look lovely and, although not as colorful, they are definitely as mood-boosting as my summer foliage.
6. Declutter and organize
As Ginger says 'A clutter-free environment promotes mental clarity and reduces feelings of overwhelm. Optimize storage solutions to keep spaces tidy and organized.' And I do find a fall clean as reinvigorating as a spring clean. It also means I make use of things that would otherwise go unnoticed for another season. I was organizing my kitchen cabinets last weekend and rediscovered so much lovely bakeware that usually goes unused in the summer, I now have it within easy reach for all the baking I do at this time of year.
Having a fall declutter gives you that feeling of a fresher start to the season, a clearer and more organized space. Put away all the obvious things that you won't use in the winter months like summer clothes and shoes and get excited about switching over your wardrobe. And have a go-through of places where products like to pile up like in the bathroom or under the kitchen sink.
7. Switch the scents
I tend not to light scented candles in the summer, but in the cooler months, I do find filling my home with spicy, warming fall candles always helps to lift my mood when I am feeling indifferent towards the seasonal changes.
'Scents can play a role in creating atmosphere, so consider scented candles, even an electronic diffuser that puffs out an essential oil of your choice. Woody, spicier notes tend to work better than citrus scents in the winter months,' explains Cherie Lee.
---
Whether your mood is massively affected by the seasons, or you love this time of year, changing up your home as the weather gets colder and the days get shorter is a lovely way to embrace the fall. There are plenty of really small switches you can make that can really boost your mood and help you lean into all the positives that come with winter.
Sign up to the Homes & Gardens newsletter
Decor Ideas. Project Inspiration. Expert Advice. Delivered to your inbox.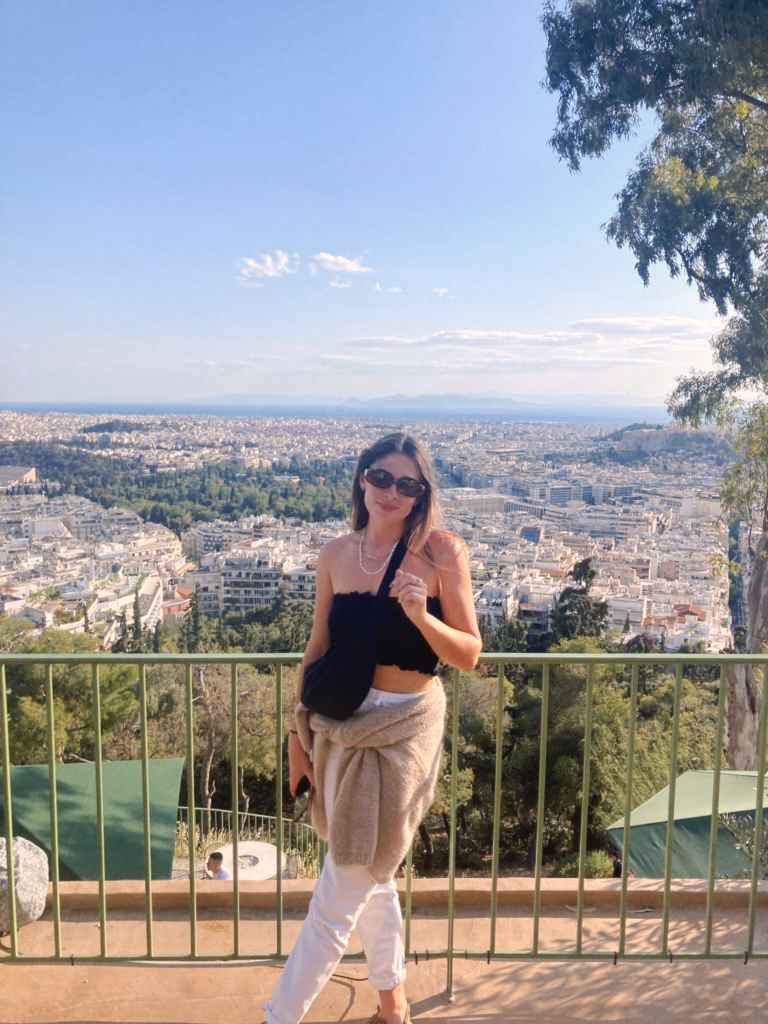 I am the Head of Interiors at Homes & Gardens. I started off in the world of journalism in fashion and luxury travel and then landed my first interiors role at Real Homes and have been in the world of interior design ever since. Prior to my role at H&G I was the digital editor at Livingetc, from which I took a sabbatical to travel in my self-converted van (not as glamorous as decorating a home, but very satisfying). A year later, and with lots of technical DIY lessons learnt I am back to writing and editing, sometimes even from the comfort of my home on wheels.