Best types of paint for children's rooms – safe and durable options for kids
Paint in a kid's room should be safe to breathe, but also hardy – so what should you specifically look out for when shopping for the best options?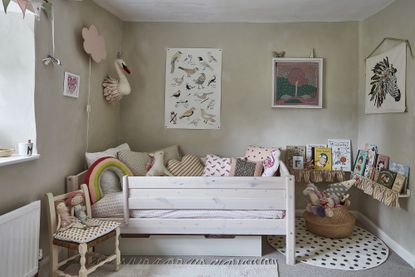 (Image credit: Malcolm Menzies )
Sign up to the Homes & Gardens newsletter
Decor Ideas. Project Inspiration. Expert Advice. Delivered to your inbox.
Thank you for signing up to Homes & Gardens. You will receive a verification email shortly.
There was a problem. Please refresh the page and try again.
If you're after the best types of paint for children's rooms, you're probably looking for an option that is tough enough to survive any knocks and marks, is easy to clean, and is safe enough for use in a room where your children spend a lot of time, either sleeping, studying and playing.
Choosing a specific paint for each room of your home is important, as every space has different purposes – such as bathrooms, which need to be able to handle lots of moisture. Paint in a child's room needs to be both safe and durable – and thankfully, there are plenty of paint options that are suitable, in terms of quality, safety and how hardwearing they are.
And you don't need to compromise on the finish when it comes to paint ideas for kids' rooms – many options that are suitable for children's bedrooms are just as stylish as the paint you'd use in any other room of your home.
Best types of paint for children's rooms
So what exactly do you need to look out for when buying paint for a child's room? We spoke to paint experts and interior designers to get their professional take on the key components your can of paint should have when redecorating a little one's room. These are the types of paint they'd recommend in order to create a healthy, easy-to-maintain, and fun space for your kids.
1. A low or no-VOC paint
Perhaps the most important consideration when deciding on the best paint for your child's bedroom is ensuring that it has a low amount of volatile organic compounds (VOCs). These are chemicals found in many solvent-based paints, which vaporize when they come into contact with the air.
'In selecting paints for kid's rooms, we strive to strike a balance between air quality – meaning low – or preferably no-VOCs, and durability,' interior designer Monica Guarnaschelli, owner at Indigo Mavens said.
Why? Trina Rogers, color consultant at Five Star Painting, explained that VOCs can be pretty damaging. 'Volatile organic compounds are added to most paints to speed up drying time, and they inhibit the growth of mold, as well as adding more durability to the final product. Unfortunately, however, prolonged exposure to VOCs can lead to headaches, dizziness, lung irritation, and other potentially serious health problems, especially for young children, pregnant women, and the elderly.'
Trina Rogers is the Color Consultant at Five Star Painting, a Neighborly brand located in Temple, Texas.
As such, a low-VOC or no-VOC paint is one of the best types of paint for use in a child's room, in order to reduce their exposure to something that has the potential to be harmful. You can now get great quality low-VOC paints from the likes of Backdrop Home, Lick, Sherwin-Williams, and Benjamin Moore (one of the best paint brands around).
Because of this, it's also vital to ensure that your son or daughter doesn't inhabit the room you're decorating too soon after doing so. 'The most critical factor in making paints safe in children's rooms is giving adequate curing time,' Monica told Homes & Gardens. 'While the paint is drying, the off-gassing of VOCs will be at their peak. Keeping little ones (or pregnant moms) away during this period is very important.'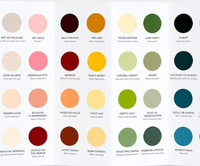 Backdrop color card | $6 at Backdrop Home
Explore the shades of Backdrop's color palette to inspire upcoming renovation projects.
2. A higher sheen paint – for durability and washability
When planning the best paint for children's rooms, another consideration (likely among all parents) is how well it can sustain any knocks, dents, and marks, and how well any such marks – be it crayons, pens, or dirty hand marks – can be cleaned off.
So what kind of paint finish is the most durable and washable? Is matte or eggshell paint better for kids' rooms? According to the experts, there's a clear winner. 'While we love the look of matte and the trending lime wash or mineral finishes, children's rooms typically demand a higher sheen paint (eggshell or greater) for clean-ability,' Monica told us.
Interior designer Kristina Phillips explained further, 'A matte finish tends to show scuff marks, and is hard to wipe clean. Increasing the sheen will ensure your paint can withstand the rigors of a well-used room.' As such, eggshell, satin, or semi-gloss are usually great options.
Kristina Phillips is a NJ-based interior designer with over a decade of experience. Prior to starting her own eponymous firm in 2020, she had been the principal designer and co-founder of K+K Interior Design for over 6 years.
If you prefer, she also suggested that, 'Acrylic based paints allow for wiping away marks without leaving a chalky residue. Or, another fun way to use paint in a kids room is with chalkboard paint, a textured paint. Designating a section of wall (within easy reach) for drawing and writing fosters creativity.'
3. Paint that isn't lead-based
Jordan Woolf, CEO of We Buy Houses In Bama shared that it is vital to 'opt for paints that are specifically labeled as non-toxic and lead-free. This ensures they are safe for children and minimizes potential health risks.'
As you may well know, lead can be highly toxic, and can cause a range of health problems – particularly so if the lead paint is damaged, chipping, or cracking.
Similarly, ensuring that any existing paint in your child's room is safe – whether it was put there by you, or perhaps a previous owner or tenant – is also something you'll want to consider when it comes to redecorating. Monica said, 'One important thing, especially in older homes, is testing for old lead-based paint. If there's evidence of lead, a special primer, or professional intervention, may be advised.'
Advising further, Trina said, 'Lead paint can be very harmful to young children, and special care needs to be given for the removal of it. Lead test kits are available in most paint and hardware stores or can be ordered online. If you have lead paint, it is highly recommended that you hire someone certified in lead paint removal to safely dispose of it.'
So if you're wondering whether you can stick with the paint that's already in your child's room, it is well worth checking its quality beforehand before making a decision.
4. Allergy-free paint
Though it may not have crossed your mind previously, Kristina explains that using allergy-free paint can also be a fantastic option for kid's bedrooms, explaining that the lack of contaminants in this kind of paint means that it's a solid choice whether your little one currently suffers with allergies or not.
'As a mother and a designer, I would always recommend using the cleanest paint possible in a child's bedroom, or any room in the house for that matter,' she said. 'After all, allergies can develop at any time, so minimizing that factor is always a good idea.'
Plenty of brands have their own allergy-free paint, but there's one Kristina especially recommends for children. 'The Eco Spec line by Benjamin Moore, for example, is Green Seal Certified and also certified Asthma and Allergy friendly by the Asthma and Allergy Foundation of America. This line comes in three finishes, and is 100% acrylic.'
5. Consider alternatives to paint
Though you may have your heart set on paint, there are other safe wall options that are also easily cleaned which you can use if you're looking for kids' room ideas.
For example, Monica said, 'Outside of paint, we also like to consider vinyl wall coverings in children's rooms. The new generation of wallpaper is incredibly durable. Some brands, including our favorite, Thibaut, can literally be scrubbed with bleach - making them an ideal choice for hardworking spaces for children.'
And in fact, many brands have their own washable wallpaper, with a specific kind of coating, which can sometimes be much easier to get clean than painted walls.
FAQs
What is the best finish for a children's room?
As mentioned, the experts advise using a paint with a satin or eggshell finish for your children's room, in order to keep it looking its best. This type of paint will be a lot easier to clean should any marks, stains, or dirt appear.
However, interior designer Emily Finch suggests that you might not want to discount a flat or matte finish if you have existing imperfections on your walls.
'I usually go for a satin or eggshell finish at most, but oftentimes even a flat or matte finish from a super durable paint line will work great,' she said. 'Flat and matte finishes will be more forgiving on imperfections within the wall texture, and can still be somewhat cleanable and scuff-resistant with today's formulations.'
But what about painting the rest of your child's room, aside from the walls? 'Semi-gloss and high-gloss, while being the most durable and easy to clean, can be a bit too shiny for interior walls, and are best reserved for baseboards, crown molding, and doors,' Trina said.
And for doors and trim, Emily explained that she uses a satin finish for even more durability, since those are very high-touch areas.
Emily Finch is an interior designer based in the San Francisco Bay Area. She is design director at Emily Finch Design Studio, and designs homes almost exclusively for families with children, meaning she regularly uses paints that are safe and durable.
Which color is best for a kid's room?
The best paint color for your child's room is pretty subjective, but you'll likely fall into one of two camps in your decision-making. Jordan explained that, 'You want to choose colors that are visually stimulating, yet soothing for children's rooms. Consider their preferences and age-appropriate themes to create a playful and enjoyable space.'
When it comes to colors, some prefer to opt for gentle, calming neutral tones – such as sage green, gray, white and warm beige colorways. These colors tend to have soothing properties, and will create a warm, welcoming space, which might be particularly appealing to parents with really little ones, such as babies and toddlers.
Alternatively, you might decide to go bright, bold and colorful – often a popular option for those with older children. If you are the latter, Emily advises, 'One tip for choosing a color that is versatile and won't feel too intense or juvenile as the kids get older is to find a shade that has some depth, or is slightly less saturated than the "Crayola" version of the hue.
'So if you're planning to paint the room green, try a sage or olive tone rather than a bright Kelly green, and you'll find it can evolve better as the child grows and tastes change.'
Trina agreed that overly bright colors can be a bit tricky for kids' bedrooms. 'Use caution with over-stimulating colors like red, yellow, or orange,' she said. 'These colors can be a bit too intense for their young brains, and they may have a hard time resting or calming down while in the room.'
---
Finally, if you're looking to paint other rooms in your home, it may also be helpful to take a look at our expert guides to the best paint finishes for living rooms, how to paint kitchen cabinets, and the best paint finishes for bathrooms.
Sign up to the Homes & Gardens newsletter
Decor Ideas. Project Inspiration. Expert Advice. Delivered to your inbox.
Amy Hunt is a freelance lifestyle writer and editor primarily covering homes and interiors, wellness, travel and careers. She was previously Lifestyle Editor at woman&home, commissioning and editing the homes, books and features sections of the website,
In 2019, she won the AOP Digital Journalist of the Year Award, for her work on womanandhome.com. Having worked in the industry for over eight years, she has contributed to a range of publications including Ideal Home, Livingetc, T3,Goodto, Woman, Woman's Own, and Red magazine.