Should you put a rug in a dorm room? Here's what the experts think
Find out whether you should put a rug in a dorm room when decorating your new college space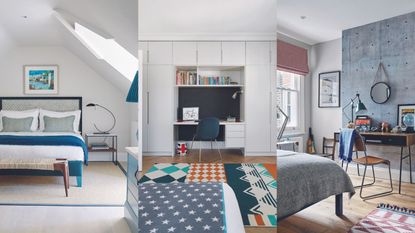 (Image credit: Future)
Moving into a dorm room can be a daunting prospect, and making it your own can make all the difference between a simple study space and a home away from home. To warm up the space you may be wondering if you should put a rug in a dorm room – the answer to which can depend on your situation and your style.
In interior design, a rug is considered one of the most important decorating ideas, helping to tie a space together for a complete look. While this is the case in dorm room ideas too, decorating with rugs could add more tasks to your to-do list in order to maintain a clean and tidy room.
Here, we have looked at both sides of having a rug in a dorm room so that you can decide if using a rug in interior design for a dorm is a good idea for you or not.
Should you put a rug in a dorm room?
Bedroom rug ideas help to warm up a space and provide a soft, cozy surface for your feet first thing in the morning when getting up early for class. In tiny bedroom ideas, rugs are also the perfect choice for adding color, texture, and visual interest to a space that may otherwise be plain or dull. With the standard dorm room often painted in plain beige and white tones, adding color through a rug is also one of the most convenient ways to make a bedroom look pretty with no damage to walls.
Dorm rooms, unlike your home bedroom, however, present a unique set of challenges. When deciding what looks good in a dorm room, there are often two people's tastes and interests to take into account. Because it is unlikely that you will know your dorm roommate until your moving day, picking a rug before you move could cause conflict if it is something your roommate does not like the look or feel of.
Furthermore, unless you are brushed up on your cleaning tips, knowing how to clean an area rug is a vital skill needed to maintain a clean room. Given that college dorm rooms can become messy quickly as you focus on studies and fun over everyday maintenance, adding a rug could add tasks to your already long and relatively new list of responsibilities.
Whether or not you add a rug to your dorm room will ultimately depend on how much you want to cover the floor in your dorm room to make the space your own, your relationship with your roommate, and if you are prepared to at least vacuum the rug semi-regularly to maintain general room hygiene
How to choose a rug for a dorm room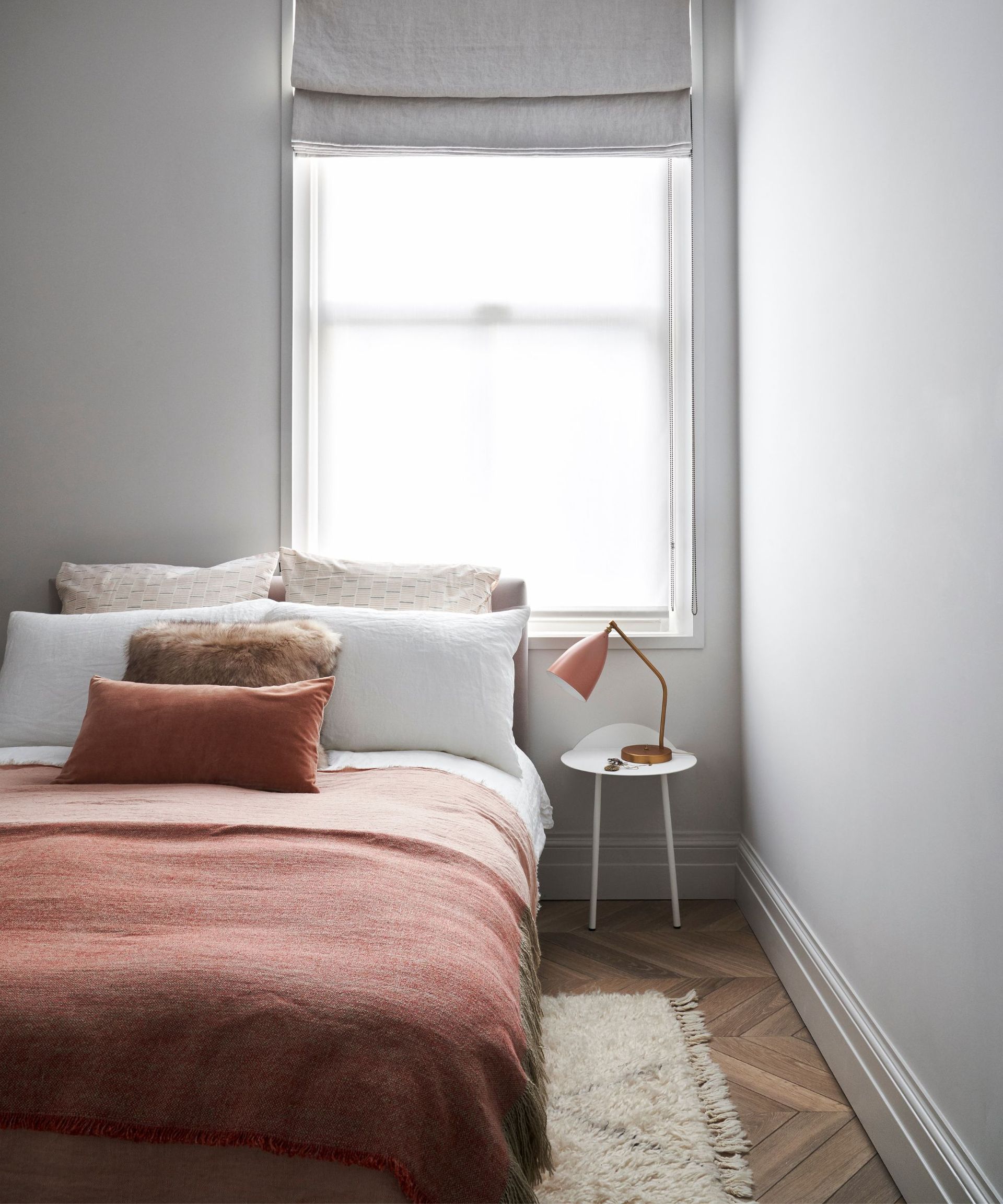 When it comes to choosing a rug for a dorm room, you should always consider the opinions of your roommate/s. Whether you choose a rug that covers the whole floor or just a small mat for around your bed will depend on their thoughts and opinions of the space and how they would like it to feel – it is their home away from home too.
Consider the colors that already exist in the space. Usually, institutional rooms use plain colors, so choosing a rug color will help to set a scheme for your room that you can complement with bedding, other soft furnishings, and decor pieces.
The final consideration when choosing a rug for a dorm room is deciding on the pile. High pile rugs such as shag rugs or fur rugs are soft but can collect dirt and dust more easily and can be hard to clean. Low pile rugs may not feel as soft underfoot but are easier to maintain, have the same warm properties as high-pile rugs, and are more convenient for moving things such as desk chairs around the room if needed for studying.
How to use a rug in a dorm room
If putting a rug in a dorm room is for you, there are a few ways to add rugs for the best effect.
1. Put a rug in a dorm room for warmth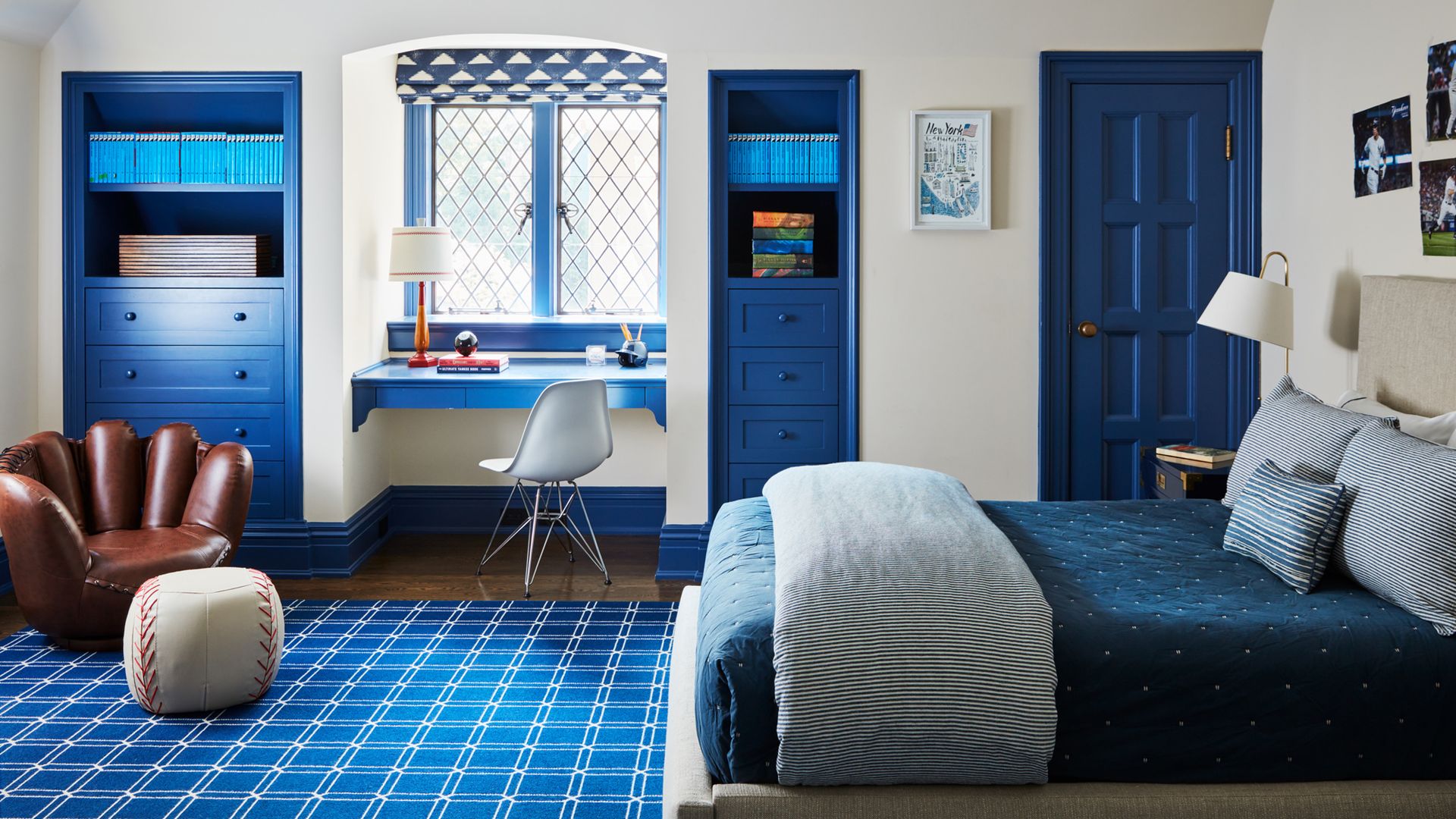 Adding a rug is not just about decor but functionality. 'Most importantly, choose a material that provides warmth underfoot,' advises Jodie Hatton, design manager at Brintons. 'Wool is an excellent choice due to its natural insulating properties. Wool rugs are also excellent at absorbing sound and preventing it from traveling to the rooms below.'
Natural rugs are also ideal when it comes to keeping your dorm room clean, Jodie adds, although knowing how to clean a wool rug is recommended for spills and occasional cleaning. 'The natural oils in the sheep fleece also make them extremely easy to maintain as it prevents direct dirt from sticking to the fiber.'
2. Use a rug in a dorm room to add color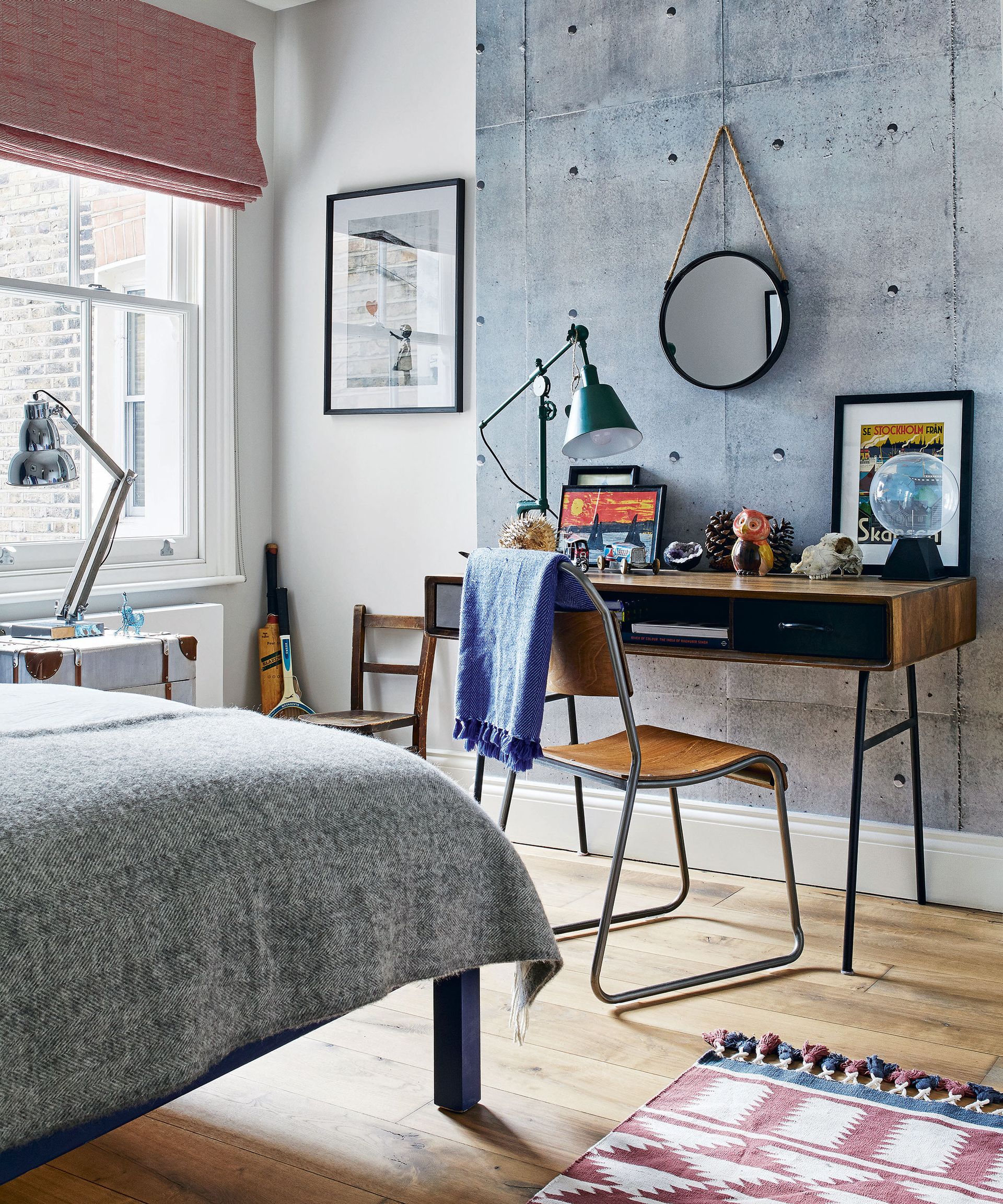 Adding color in a temporary space such as a dorm room is often not as simple as repainting the walls and ceiling, adding a rug is therefore the ideal opportunity to add color to the space and make it your own. If your dorm room is white or painted in a cool tone, for example, warm up the space with a warm-toned floor covering to channel cozy room ideas – perfect for late nights studying or relaxing after a long day.
'Similar to how dark walls can transform a small room or a patterned wallpaper can bring interest to an otherwise dull space, a patterned rug is an inspired way to make a feature of a smaller room,' Jodie continues. 'It can help to add interest and character to the room. Patterned rugs are also perfect for high-traffic areas such as hallways as they easily hide dirt.
'To create a balanced scheme, it is important to consider the composition of the colors and patterns that you're combining, as too many can easily overwhelm a scheme. As a general rule, it is a good idea to pick out just a few colors and run them throughout the rug scheme,' Jodie adds.
3. Consider a rug in a dorm room for visual interest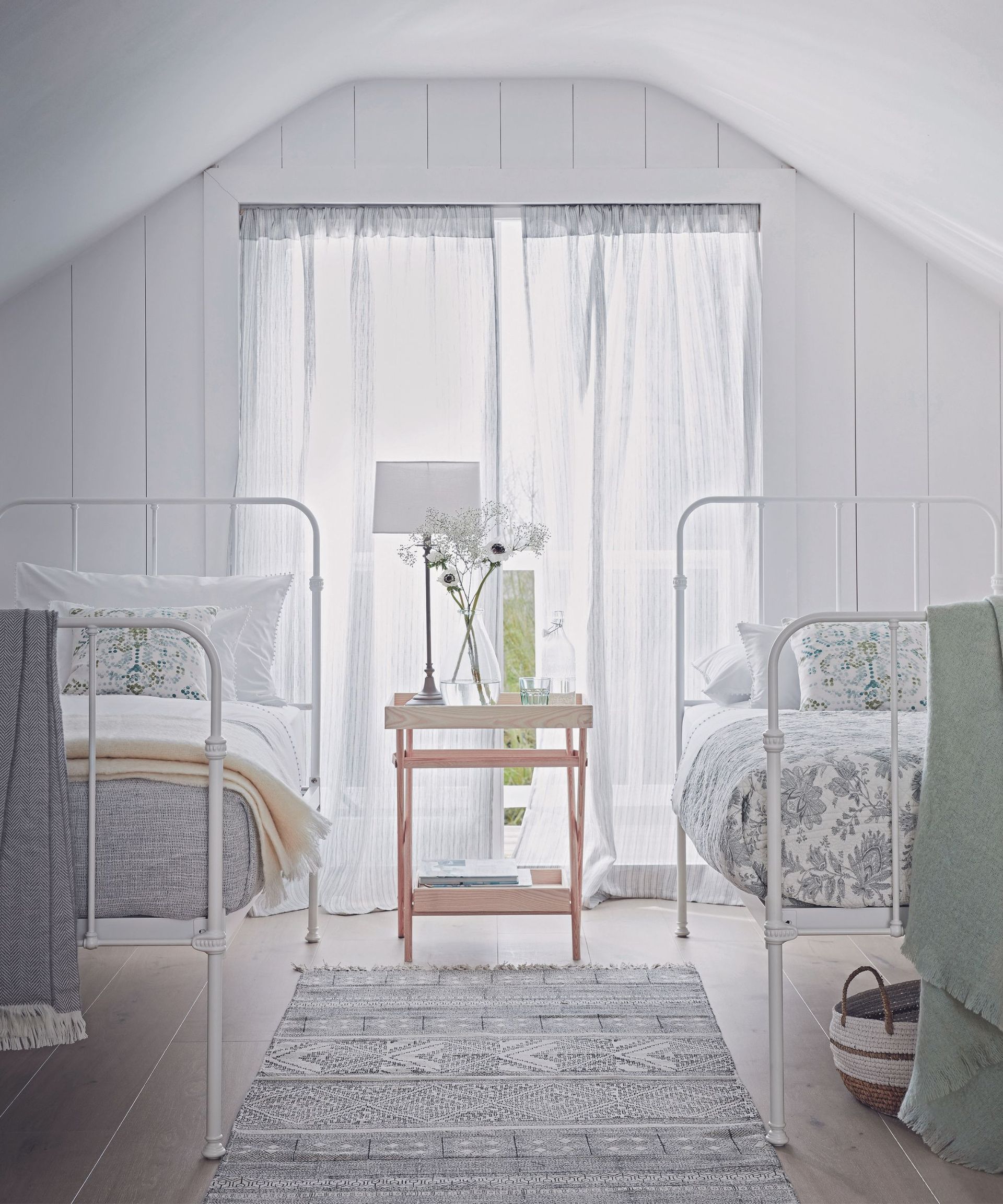 Institutional rooms are often very bland, decorated to quickly move students in and out of over the years. Adding rugs is an ideal way to add visual interest and make your room stand out from others in your halls. 'Round floor rugs create a feeling of warmth, depth, and textural emphasis when laid over carpeting, wooden floorboards, or ceramic floor tiles,' Jodie explains. 'It's an opportunity to introduce a bold color or pattern to your space. The unexpected shape of the rug will give an artistic aesthetic to the room.'
'For anyone pattern-shy, I recommend starting small with patterned pillows, a rug, an accent chair, you name it. It's all about the details, and adding eye-catching pops of the pattern is the true secret to breathing some life into a room!' suggests renowned interior designer, Jay Jeffers.
4. Layer rugs in a dorm room to add character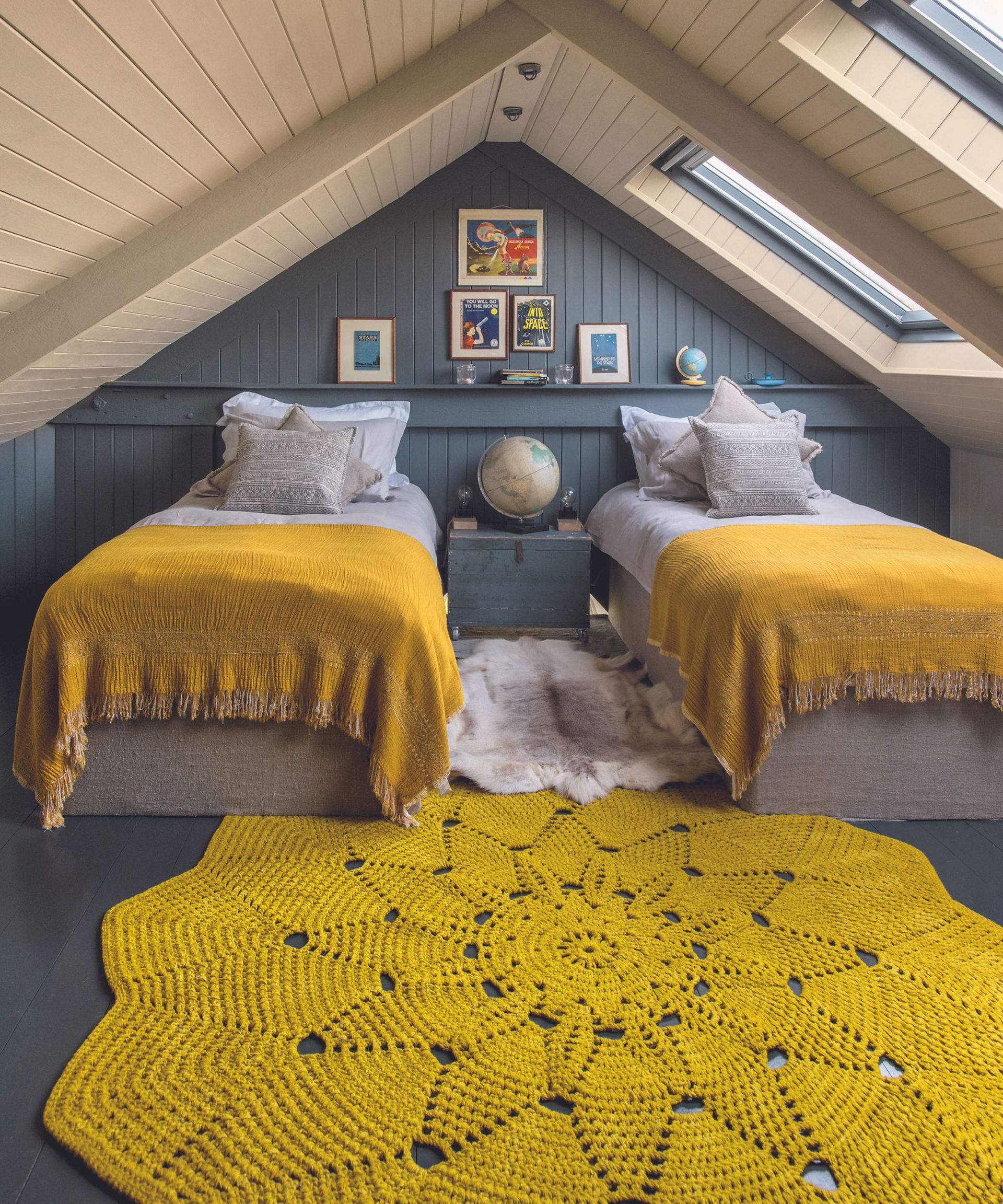 If you have decided to add rugs to your dorm room, consider layering multiple rugs for a colorful and textural statement that could work to combine your and your roommate's tastes.
'Both practical and playful, layering rugs is a beautiful way of making a design statement that is uniquely individual and allows you to express your creativity through pairing different colors and patterns. By pairing rugs together, the combination also illustrates their different weaves and prints,' Jodie says.
What is the best rug for a dorm room?
The best rug for a dorm room is a flatweave rug as they are light, easy to care for, and easily rolled up and moved when it comes to moving out at the end of the school year.
Are shag rugs good for dorms?
Shag rugs can be good for particular cold dorms than need the extra thickness to keep the space feeling warmer underfoot, however, high-pile rugs are difficult to maintain and show wear more quickly in high-traffic areas such as a dorm room, so it is better to choose a low-pile rug if possible.
Sign up to the Homes & Gardens newsletter
Decor Ideas. Project Inspiration. Expert Advice. Delivered to your inbox.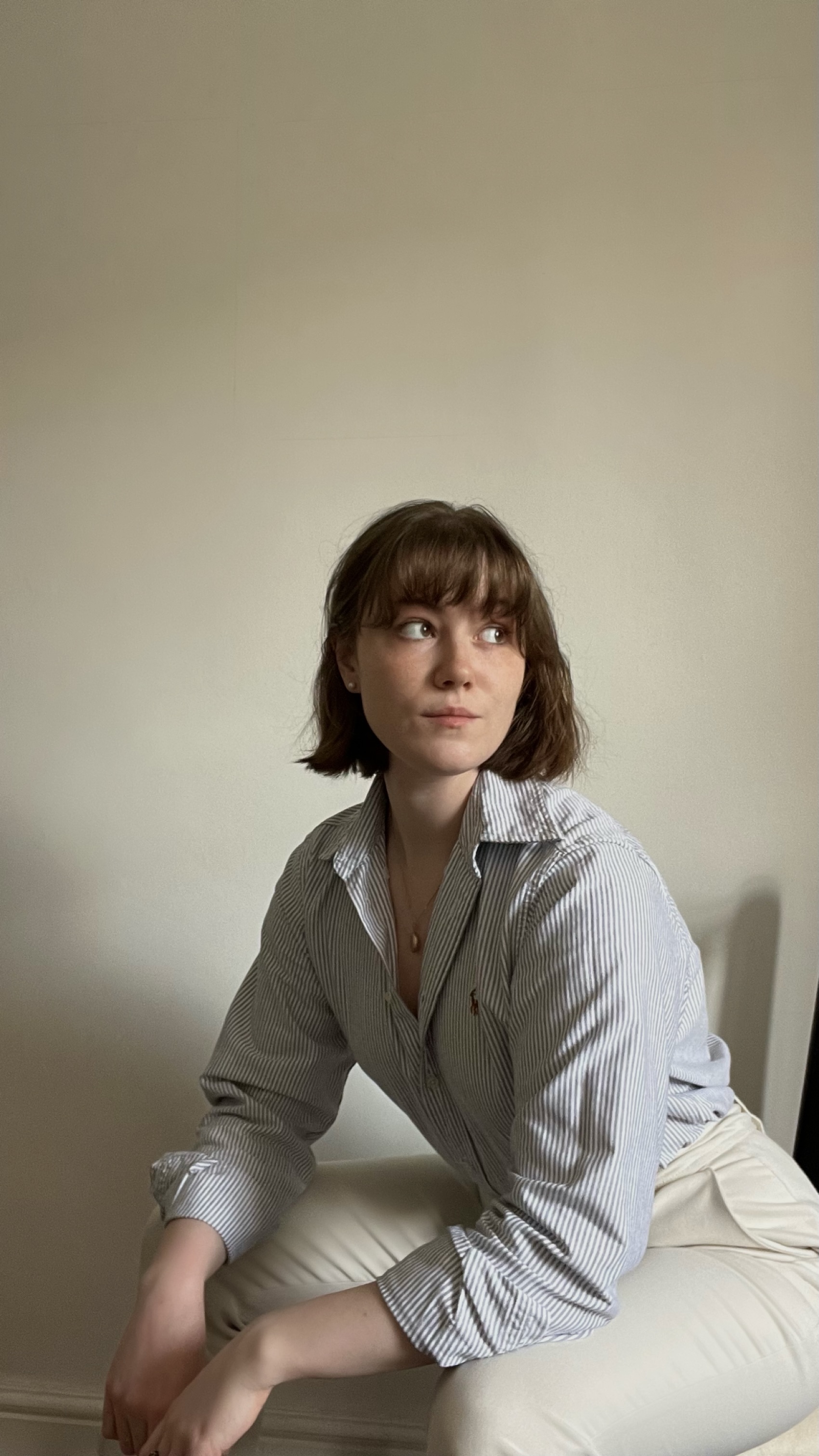 Chiana has been at Homes & Gardens for a year, having started her journey in interior journalism as part of the graduate program. She spends most of her time producing content for the Solved section of the website, helping readers get the most out of their homes through clever decluttering, cleaning, and tidying tips – many of which she tests and reviews herself in her home in Lancaster to ensure they will consistently deliver for her readers and dabbles in the latest design trends. She also has a first-class degree in Literature from Lancaster University.