What color should I paint my walls if my furniture is gray? 5 colors favored by designers
For a harmonious design scheme, we ask the experts to share their favorite wall colors to pair with gray furniture; from classic white to warming yellow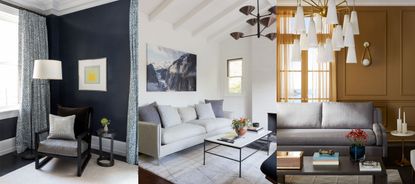 (Image credit: Ginny MacDonald Design | Genna Margolis, 22 Interiors | Arteriors)
From couches to bed-frames, armchairs, and coffee tables, gray is one of the most popular colors to embrace for furniture across the home.
Gray's versatile, neutral nature allows for it to coordinate seamlessly with a whole host of styles and room color ideas, but which wall colors work best in a room with gray furniture?
Whether you want to establish a cohesive and unified design with matching gray walls or create a stylish element of contrast with bolder, brighter tones for gray sofa living room ideas, our design experts reveal the top wall colors to use with gray furniture.
5 wall color ideas for a room with gray furniture
The beauty of gray furniture – and one of the reasons why it is so popular in homes both classic and contemporary – is that it really can coordinate with pretty much any other color out there, so no matter the style of your space, there will always be a wall color to suit.
Here are our 5 favorites.
1. Choose white walls for a fresh and bright look
'If you have gray furniture, I suggest sticking to cool tones. Clean and crisp whites are always great to incorporate with gray furniture. Farrow & Ball's Strong White is a perfect mid-tone color with a touch of warmth – but that still sits in the gray sphere,' says Samantha Struck of StruckSured Interiors.
White room ideas will always be timeless, and the combination of white and gray can establish a clean and fresh look that is perfect for neutral room ideas, too.
NYC-based interior designer, Artem Kropovinsky, also supports this and says, 'gray and white is a color combination that is ideal for a modern living room. The shades collaborate wonderfully together to generate a feeling of openness and brightness in a space.'
Samantha is the founder and principal designer at StruckSured Interiors. She lives on a 5th generation farm on the Columbia River, and her design style is ever-inspired by her travels, the mountains, rivers, and the seasonal shifts of the Pacific Northwest.
Founder of NYC-based interior design firm, Arsight, Artem Kropovinsky has a decade of extensive global design experience, connecting a cohesive, collaborative team of passionate professionals, who work on interior projects in the U.S. and worldwide.
2. Stick to shades in the same color family
Whether you choose to match your walls exactly to your furniture, for a more modern, color-drenched look, or establish a varied, tonal palette with a mix of grays with warm and cool undertones, coordinated gray walls can be a great look for gray room ideas.
Devin Shaffer, interior designer at Decorilla says, 'believe it or not, gray walls work great with gray furniture – when it's done right, this combination can be magical. When warm and cool grays are combined in a space, they create a sense of visual interest and complexity, which can make a room feel more dynamic and engaging.
For example, you can use a cool gray for your walls and then add warm gray accent pieces, like throws, pillows, or a rug. You can also use warm gray for your furniture and then balance it out with cool gray walls or a cool-toned accent wall.'
San-Francisco based interior designer Devin Shaffer has a Bachelor of Arts in Interior Design and is a lead designer at Decorilla Interior Design.
3. Balance out cool gray furniture with warm tones
'For cooler gray furniture – grays with blue or darker undertones – opt for a warm, bright, and bold color, such as Benjamin Moore's Pale Oats, which is a very light coral. Or, if you want something less eye-catching but with a little bit of color, Sherwin-Williams Sea Salt is a great pale sage green that will also soften cold grays,' says Dana Feagles of Revelry Interior Design.
Ideal for making a cool gray room feel warmer, pairing more warming shades with gray furniture will establish a beautifully balanced scheme rich with elegant contrast.
Helen Pett, design ambassador at Arteriors London also notes, 'a scheme that we're seeing a lot for 2023 interior design trends combines gray seating with a bright, golden wall to create a look reminiscent of the Art Deco era. This look really comes to life with finishing touches such as glistening chandeliers, marble detailing, and plenty of complementary gold accents; transforming a room into a space of decadent opulence.'
Dana is the founder and principal designer at Revelry Interior Design, an interior design firm that serves the Napa Valley, Sonoma County, and Marin. For 10+ years, Dana Feagles has designed homes from San Francisco to Nantucket, from some of the Bay Area's most discerning entrepreneurs to casual families looking for function and comfort.
Helen Pett is a brand ambassador for Arteriors, a global design brand that specializes in selling beautiful furniture, lighting, accessories and more. Arteriors has showrooms in London, Dallas, New York and Los Angeles.
4. Embrace a vibrant, bright shade
As discussed, gray can be paired with a truly versatile palette of complementary colors, so if you're thinking of embracing more colorful room ideas, then your gray furniture will be able to fit in perfectly!
Interior designer, Ashley Macuga, of Collected Interiors says, 'for gray furniture, I prefer a lighter palette for the walls – colors that would be common in a floral bouquet, such as lemon yellow, lavender and lilac, fuchsia and mineral blue. Without the contrast of a brightly colored hue, gray can feel cold and dreary – we should all use a design that makes us feel more joyful and optimistic!'
This colorful kitchen, painted in Farrow & Ball's Beverly green and Kittiwake blue, celebrates a truly eclectic mix of colors and materials, establishing a playful and welcoming design for this busy hub of the home.
Ashley Macuga is principal designer at Collected Interiors, a San Carlos-based interior design firm. Ashley's New Orleans heritage deeply influences her design point of view and practice.
5. For a classic look, pick a beautiful blue
Gray and blue can make for a wonderfully sophisticated color scheme – ideal for a more modern take on coastal decor ideas.
Whether you pair a navy blue with a deep gray, or choose a lighter, brighter sky blue, these cooler tones beautifully complement one another; as shown in this cozy reading nook, designed by Ginny MacDonald Design.
Dana Feagles also suggests, 'Benjamin Moore's Pale Smoke is great to use with warm grays if you want a little color on your walls – it's the perfect soft blue.'
FAQs
How can I brighten a room with gray furniture?
To brighten up a room with gray furniture, use lighter neutrals on the walls, such as white or beige. Or, for a more colorful scheme, opt for warming shades such as a pastel yellow or a beautiful blush pink.
As well as choosing the right paint ideas, get creative with your accent colors and accessories. For example, in a living room with a gray couch, bring in colorful pillows, throws, rugs, and even curtains.
Other tricks, such as positioning your gray furniture near to sources of natural light, and enhancing the space with plenty of warming pools of artificial light, will also help a room feel brighter and more cozy and inviting.
---
Helen Pett from Arteriors London concludes, 'when working with any color palette within a room, it is important to bear in mind the surrounding tones, consider wall color as well as accessory design and finishing touches. If you've chosen gray furniture for your home, the options are endless, it really provides the perfect blank canvas in which to build a look around.'
Zara joined Homes & Gardens in February 2022 as a Content Editor. After studying English Literature at University, she worked as an Ecommerce Website Editor, Content Writer and Buying Intern at multiple independent businesses within the luxury retail and lifestyle sectors. Her role at Homes & Gardens unites her love, experience and passion for the world of design and desire to create inspiring written content. She enjoys nothing more than discovering new trends, brands and products, whether that be in fashion, interior design or lifestyle.