How do you make a cool gray room look warmer? 7 ideas for a more inviting space
Are you thinking of updating an existing gray scheme? Learn how to transform your space from cool to cozy with our inspiring ideas and expert advice
(Image credit: James Merrell / Kimberley Harrison Interiors / Sofology)
Whether you want to give an existing cool gray room a new lease of life, or have found the perfect gray wall paint shade but want to make sure your scheme doesn't feel cold or uninviting, we are here to take you through how best to make it look warmer.
There is no denying the enduring popularity of gray room ideas, however, current color trends are focussing on more vibrant palettes that prioritize feelings of comfort and coziness – which is causing many readers to ask us how to make an existing cool gray room feel warm and inviting.
So, to help you freshen up a cool gray space in your home so that it is filled with warmth, color and character, we spoke to interior designers.
How to make a cool gray room feel warm and inviting?
The beauty of decorating with gray is that it is a wonderfully adaptable, neutral shade that can be paired with pretty much anything. So when looking into ways you can make a cool gray room look warmer, it makes things that little bit easier when updating an existing gray scheme with fresh accent colors, cozy textures and warming finishes.
However, you do need to consider the room's natural daylight if you are choosing a cool gray paint to decorate with. If the daylight is cool (with north- or east-facing windows), you will need to pick a warmer gray, with a yellow tone, rather than a colder, blacker one.
'Different shades of gray are hugely versatile – from cool off white shades, through warmer neutral mid tones to the very deep and mysterious. They have more color and texture within them than straight black – a monochrome scheme of black and white is much more unforgiving than one-off shades of slate and clay, which will change subtlety with the light throughout the day, giving them personality and character,' says color consultant Justyna Korczynska.
Justyna Korczynska is a senior designer and color consultant, and specializes in graphic design and color and trend forecasting.
1. Introduce the warmth of wood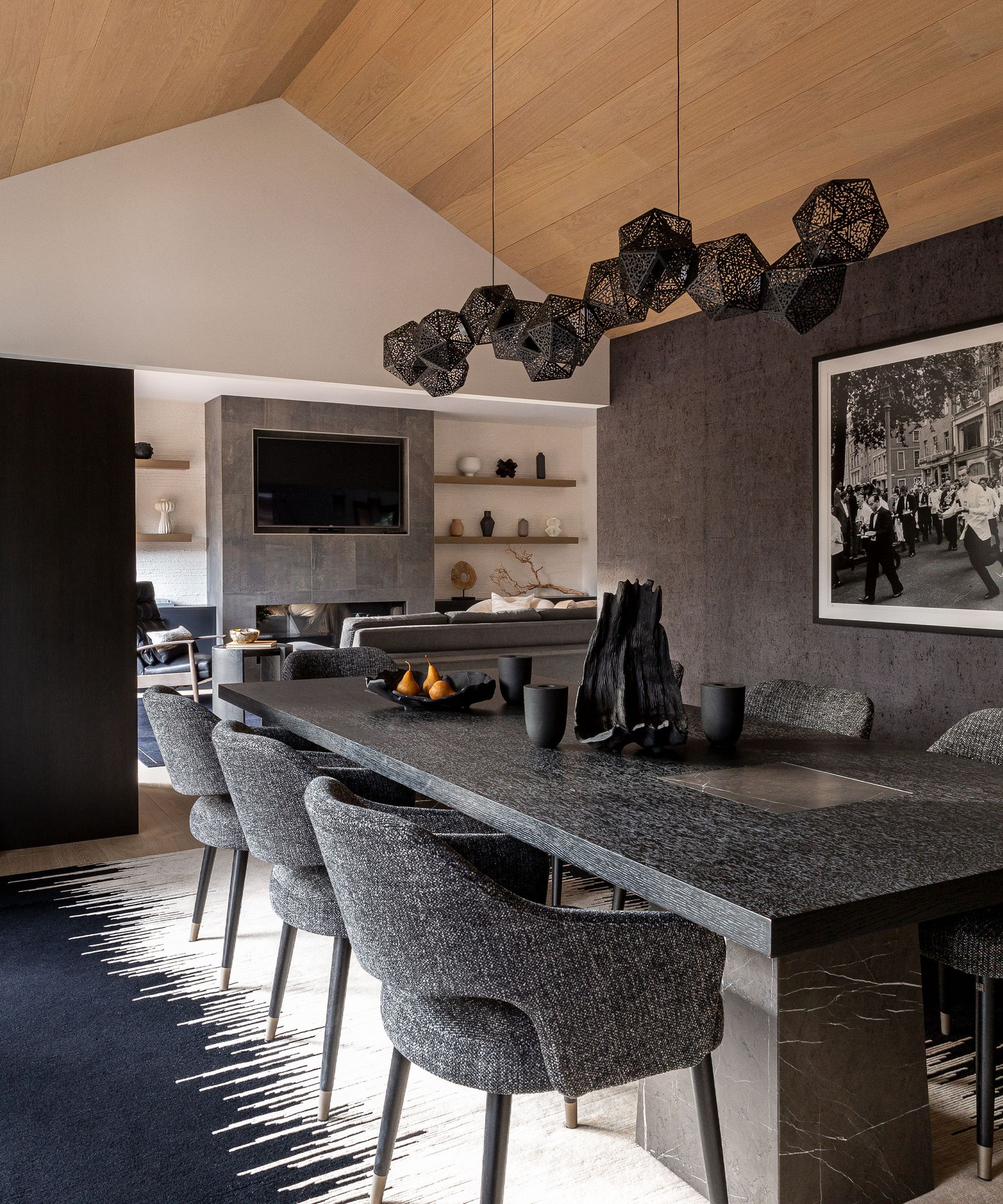 Adding warming wooden tones into a cool gray scheme is a great way to make a room feel more snug and inviting.
A timeless natural material, wood can not only connect us with the outside world by bringing the beauty of the outdoors, indoors, it can be used across so many different elements in interior design; from wooden flooring, furniture and accessories, to wood ceiling ideas, wall paneling ideas and more.
NYC-based interior designer, Artem Kropovinsky advises, 'add natural wood and textures to bring some comfort and organic elements to a gray room. Wood floors, tables, shelves, or frames can add warmth and beautiful character to the space.'
As shown in this modern dining room, designed by Kimberley Harrison Interiors, sleek wooden paneling adorns the striking vaulted ceiling to create an elegant contrast with the gray and black scheme, encasing the dark, gray dining room in an inviting layer of natural texture and warmth.
Other natural materials to consider for your cool gray space include tan or brown leather and wool in earthy tones.
Founder of NYC-based interior design firm, Arsight, Artem Kropovinsky has a decade of extensive global design experience, connecting a cohesive, collaborative team of passionate professionals, who work on interior projects in the U.S. and worldwide.
2. Bring in mood-boosting accent colors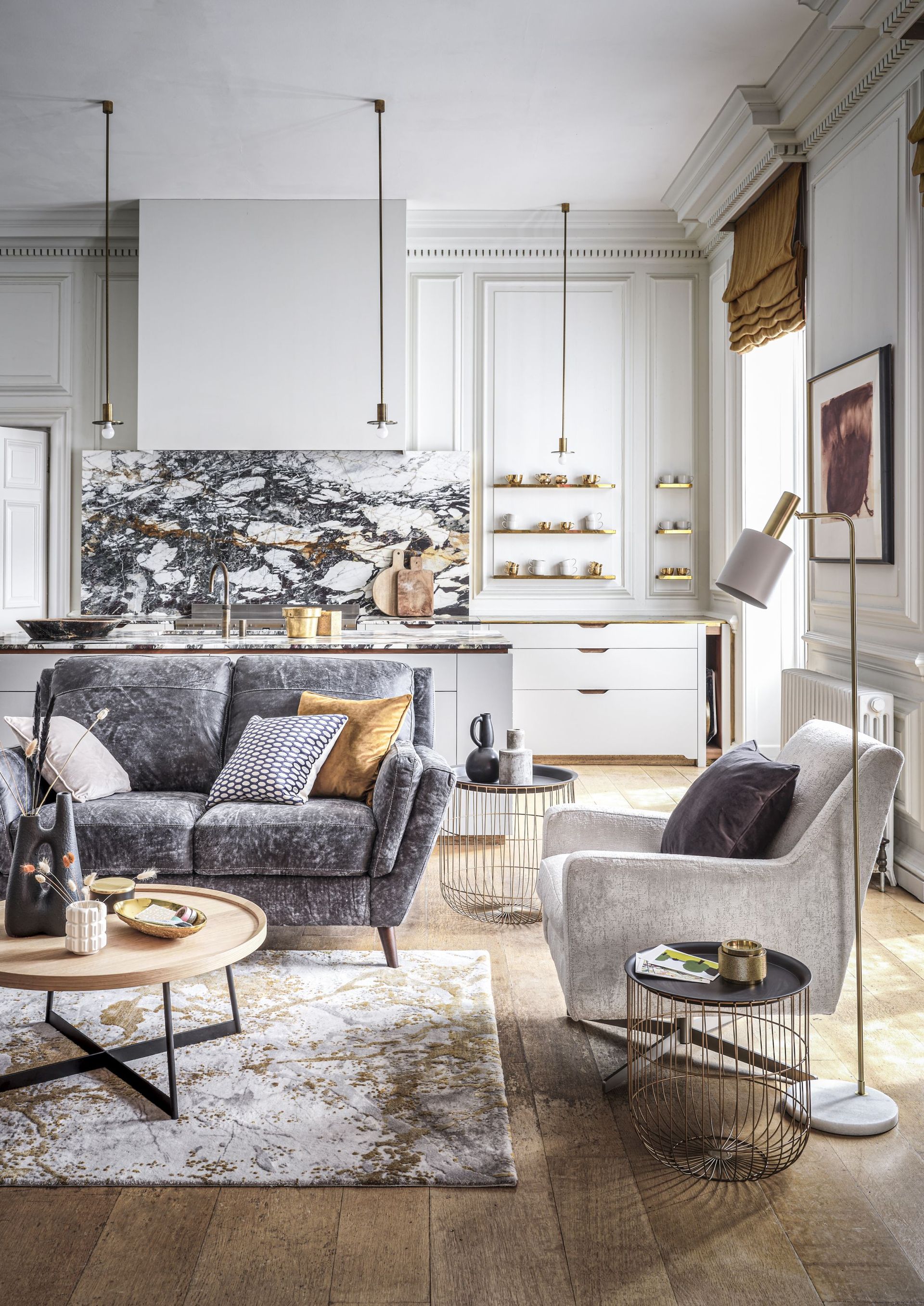 'Cool gray is a refined and adaptable color that can create a serene and stylish atmosphere in any room. However, it can also feel chilly and distant if not matched with the right accent colors,' says Artem Kropovinsky.
'Use warm-toned colors such as blush pink, mustard yellow, maroon, or caramel to add some warmth and contrast to the cool gray.'
Opposite colors, such as gray and yellow, can sit in perfect harmony together, and will work as one to create a well-balanced scheme rich with both warm and cool elements, as shown in this beautiful kitchen by deVOL.
Whether you embrace paint ideas when introducing accent colors for gray into your space, or create smaller zones of color through accessories such as pillows, rugs or artwork, choosing a playful, mood-boosting accent color will uplift your cool gray scheme with energy and warmth.
Our guidance on how to use the color wheel for interior design will be useful if you need help coordinating colors.
3. Look to more neutral, grounding accent shades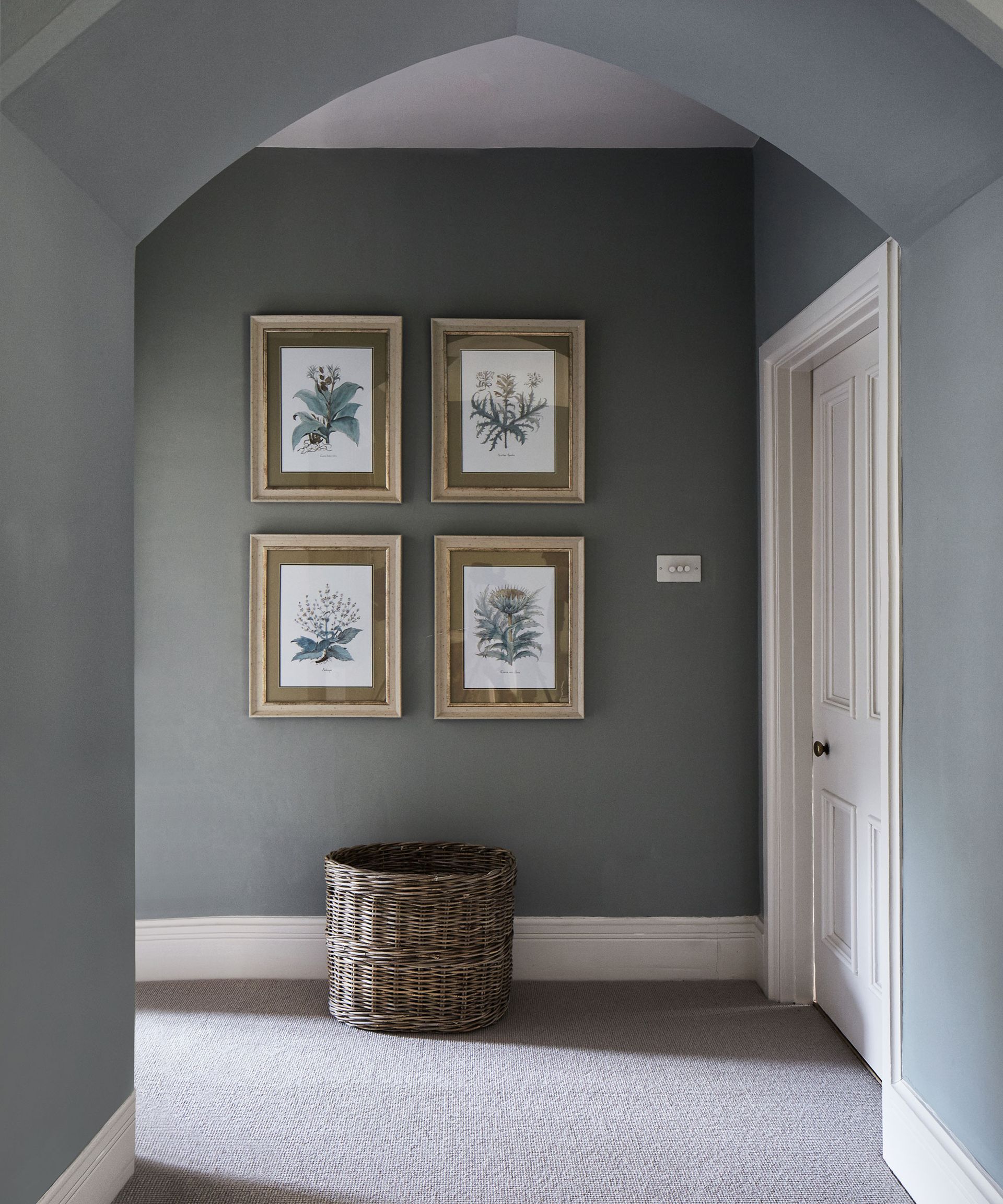 If bright colors are not your style, then have no fear, as more calming, grounding neutrals such as cream, beige and brown, can also work wonders when making a cool gray room look warmer.
'The love of warm, earthy neutrals continues and that once derided shade beige is very much a color of consideration. Its discreet, yellow/gray undertones give it huge flexibility to layer with other shades, too.' says Patrick O'Donnell, color consultant and brand ambassador at Farrow & Ball.
As shown in this gray hallway, the dark gray walls have been pared with cozy cream carpet ideas, with the woven basket and floral artworks adding the final finishing touch to this neutral room.
Calming colors of nature, such as blue and green, are also another great option to consider for freshening up a gray room with warmth and colorful visual interest.
Sue Wadden, director of color marketing at Sherwin-Williams advises, 'a hue like slate or graphite can easily be warmed up with accents or complemented by shades in the blue family to pick up on its undertones, like mid-toned Breezy SW 7616 or a light, muted pastel such as Lullaby SW 9136.'
Patrick O'Donnell is Farrow & Ball's color consultant & brand ambassador and has been with the brand since 2012. Patrick works with designers in the UK and North America, helping to bring their projects alive with the iconic, F&B color palette.
With a strong background in design and color leadership, Sue Wadden was appointed director of color marketing at Sherwin-Williams in 2016, and has been with the paint brand since 1998.
4. Add in plenty of cozy, tactile texture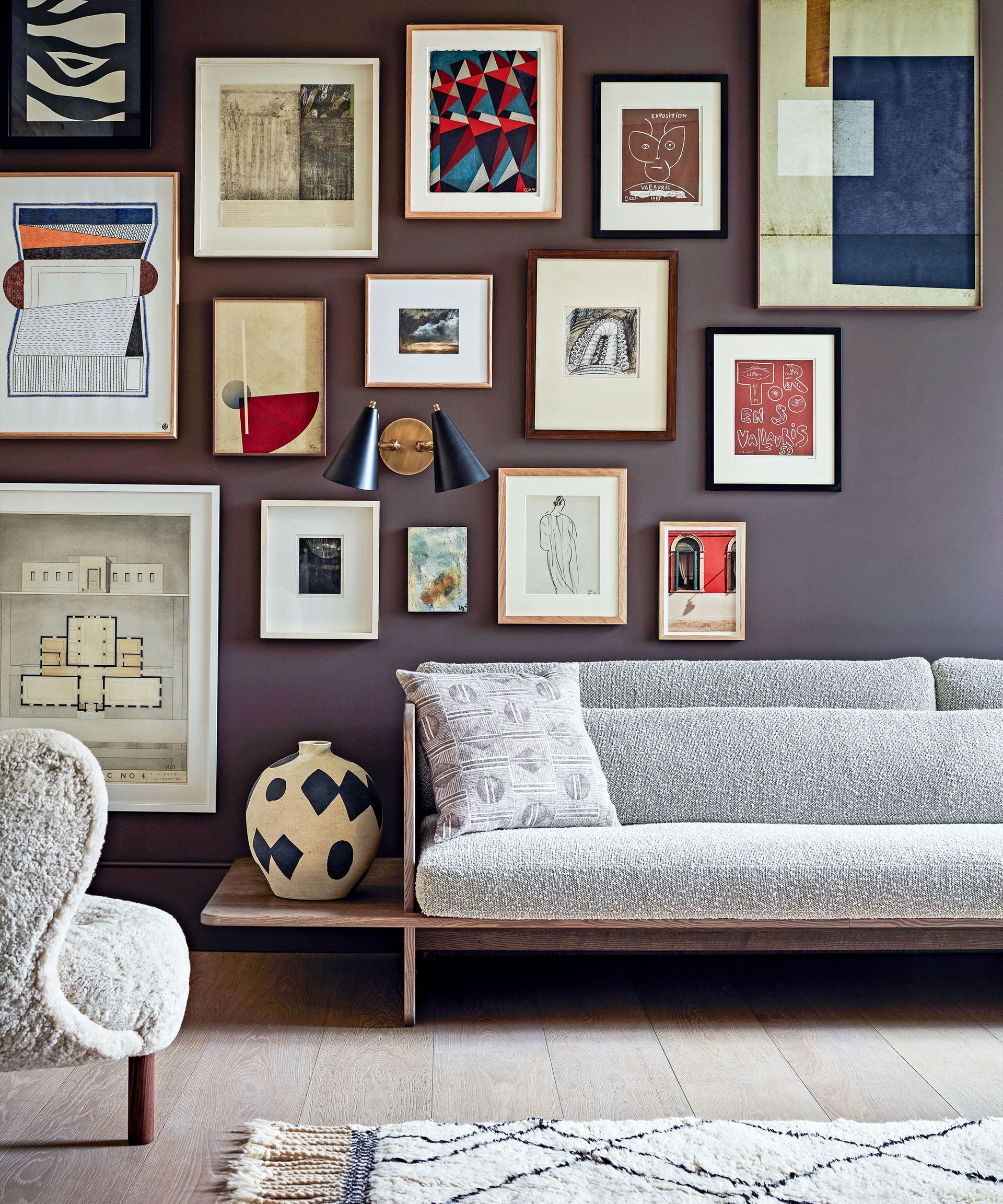 A simple way to make a room feel more warm, cozy and inviting is to dress the space with lots of layered texture.
This can be anything from soft pillows, throws and rugs, to decorating a room with an eclectic mix of materials and colors.
As shown in this gray living room, the design is rich with a beautiful palette of muted colors and a union of contrasting materials. The cool gray paint provides the perfect backdrop for the colorful gallery wall, with the soft cream upholstery and light wooden elements forming an elegant contrast with the gray walls. A design that feels homey and cozy yet sleek and contemporary, this space strikes the perfect balance between warm and cool.
5. Accessorize with plants and flowers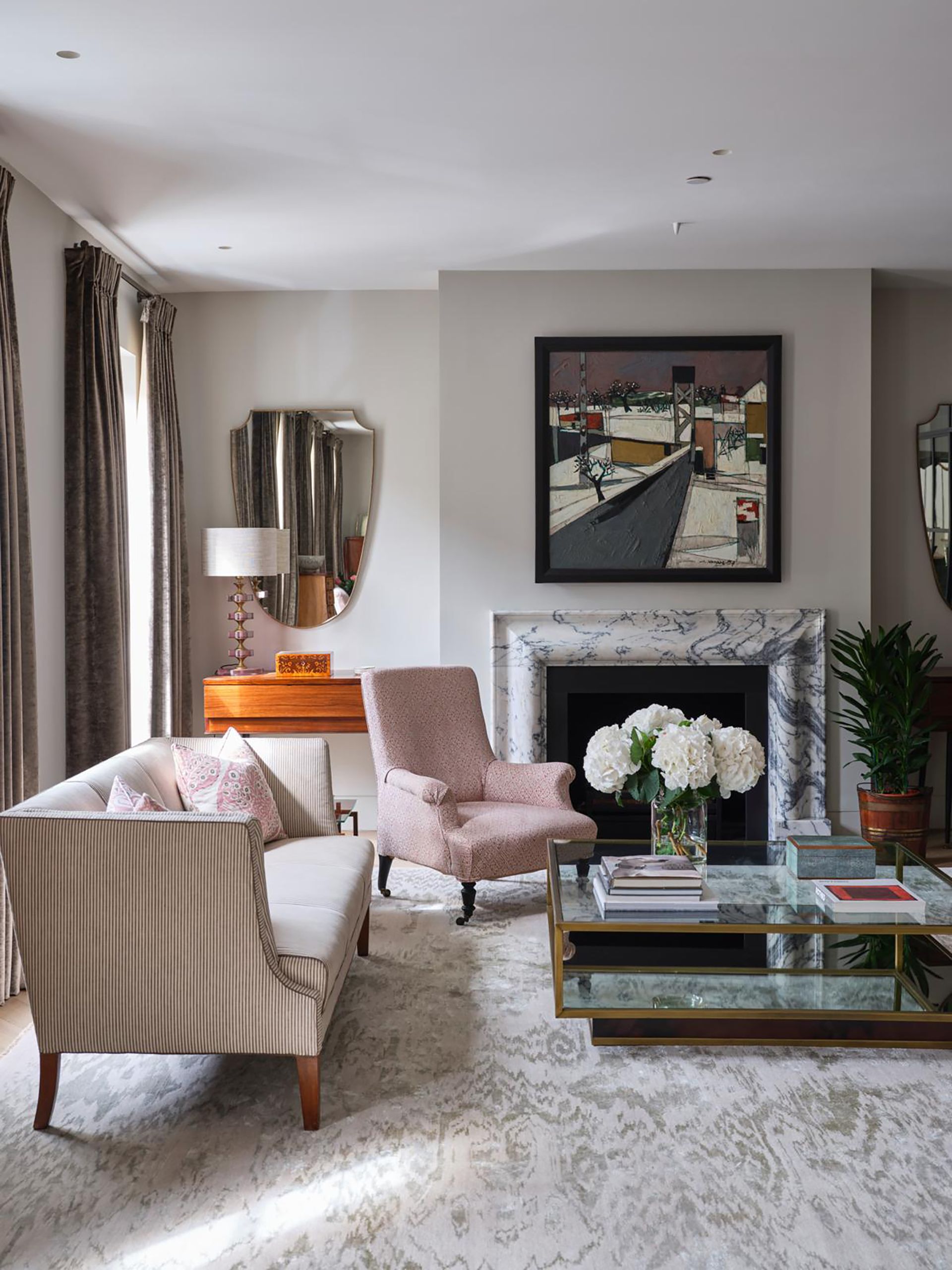 Decorating with plants and flowers can add beautiful natural texture and color to a room, and these natural accents are renowned to help our interior spaces feel more calming and grounding.
Combining green and gray together makes for a refreshing and sophisticated color pairing, and dressing a cool gray room with a collection of the best indoor plants is a quick and easy way to make the space feel more warm, inviting and relaxing.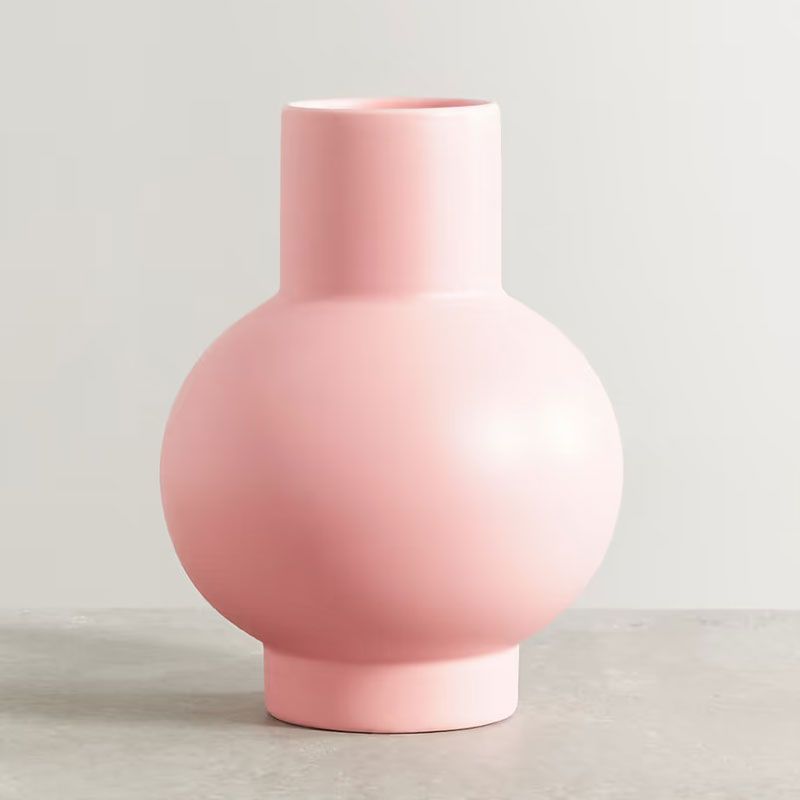 RAAWII Strøm Large Earthenware Vase
You can never have too many vases, and this pretty pink design by Raawii can sit empty as a lovely ornament or fill with beautiful blooms.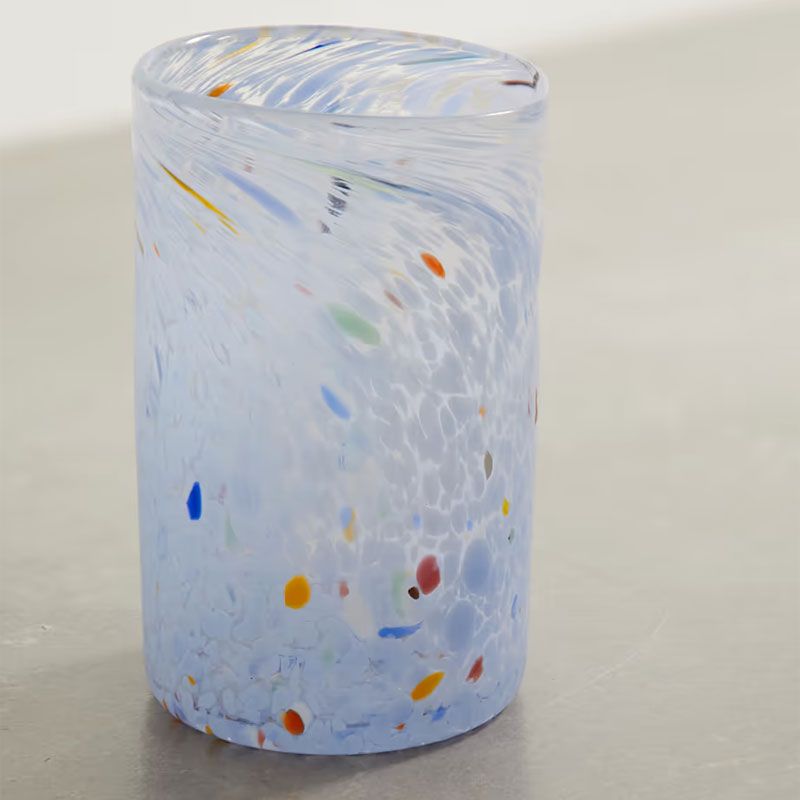 Soho Homes Venetian Hi-Ball glass
We love the colorful, confetti-like design of the Venetian HiBall vase by Soho Home, crafted by local Venetian artisans using a glass-blowing technique that's been practiced for over a millennium.
6. Get the lighting right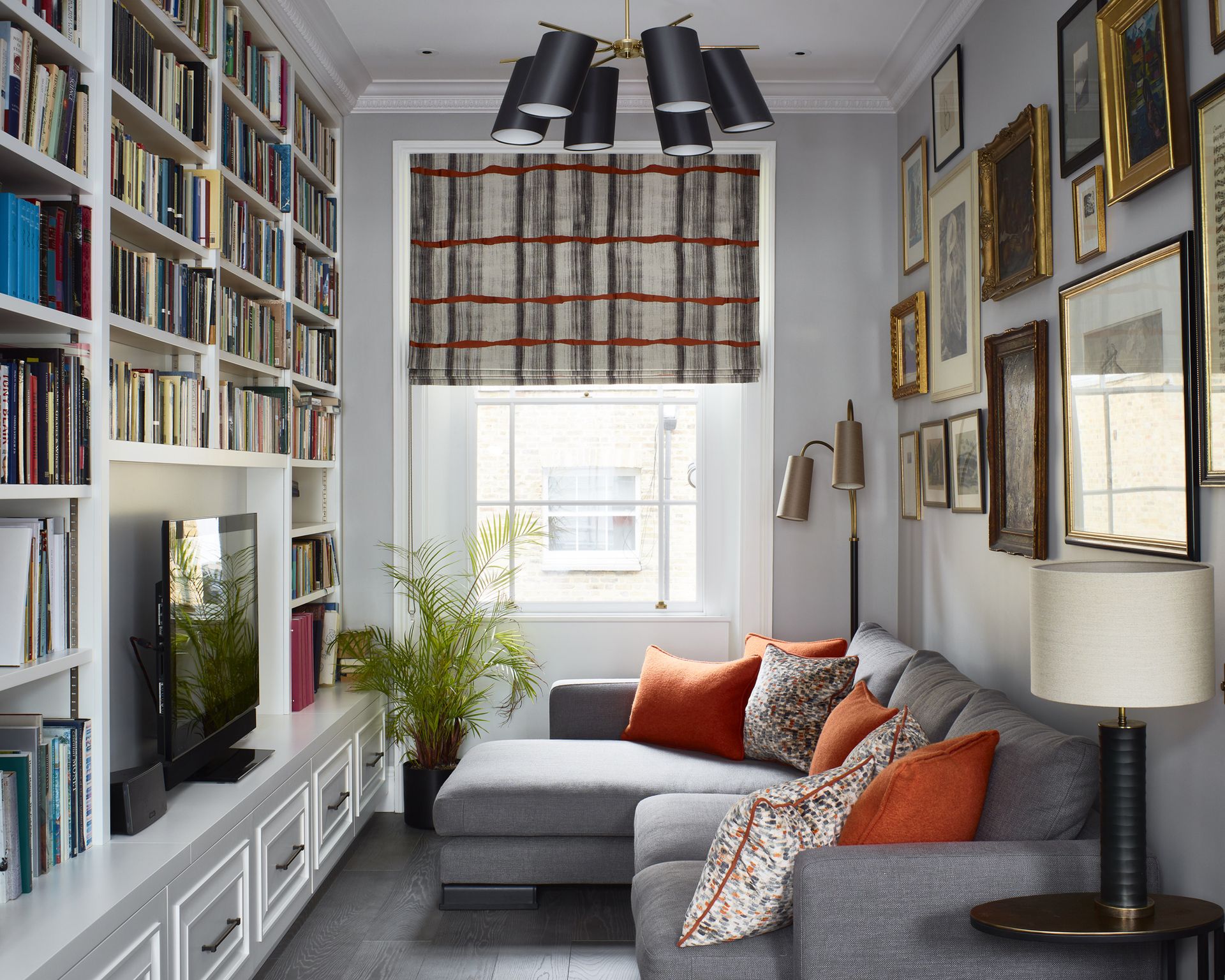 It is always worth considering how much natural light a room receives when choosing the right room color ideas, as the light – or lack of, can have a big effect on what color will work best. For example, a cool gray room that receives plenty of natural light will automatically feel warmer and brighter than a space where light is lacking.
Whether your cool gray scheme is filled with natural light or you've created a gray scheme in a darker, north-facing room, incorporating warming pools of artificial light will only help to make it feel more warm and cozy.
From cozy table lamps in a living room to smart wall lights in a kitchen, ensure to embrace warm light levels in a cool gray space.
7. Consider your metal finishes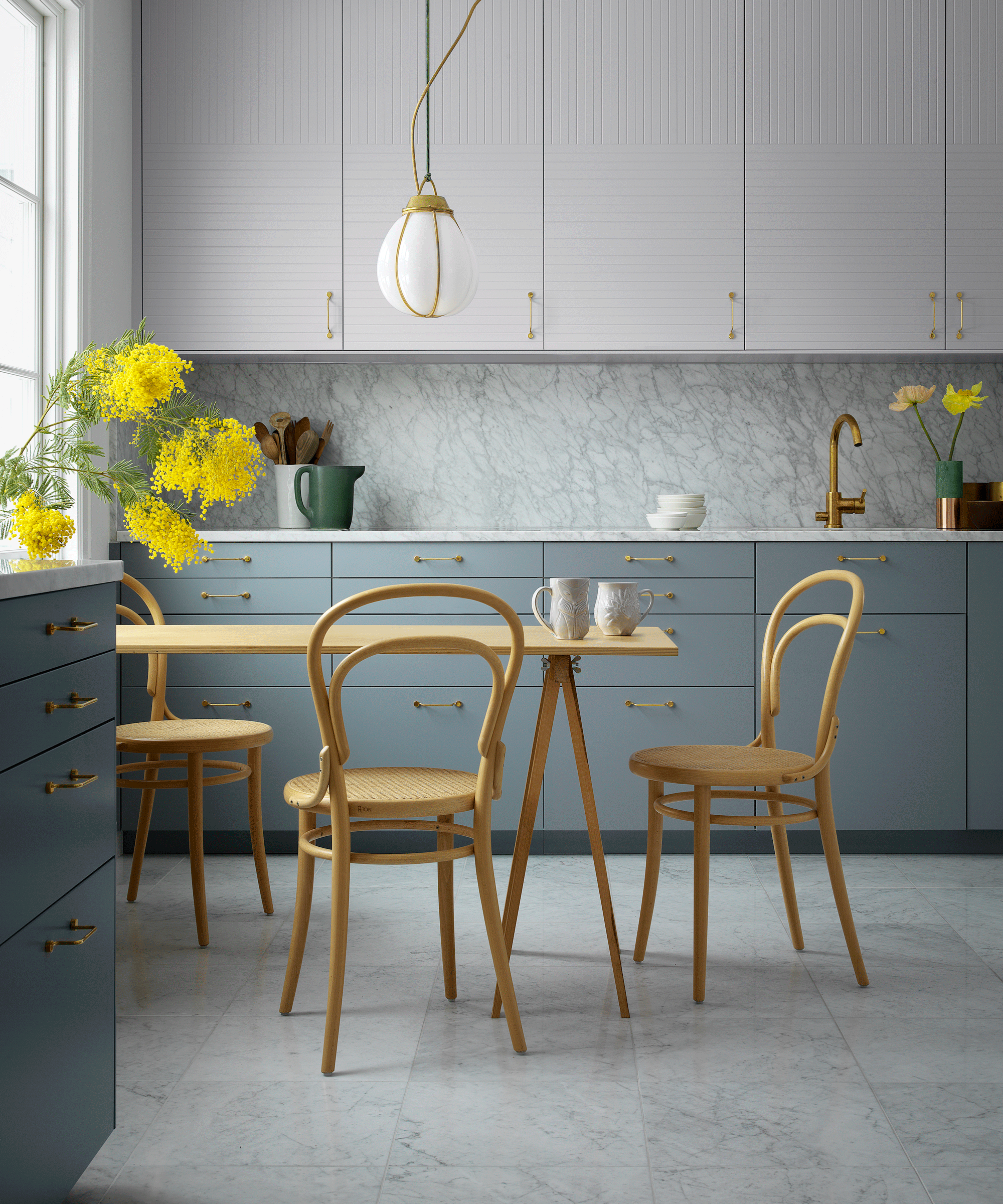 A gray scheme finished with metallic accents in gun metal or silver is great for industrial decor, but if you're trying to make a cool gray room look warmer, then warmer metal finishes will work best.
'Incorporate metals such as gold, silver, copper, or brass to add warmth and glamour to a gray room. These metals can reflect light and create some shine and dimension in the space. You can use them for lamps, mirrors, trays, vases, or hardware,' says interior designer Artem Kropovinsky.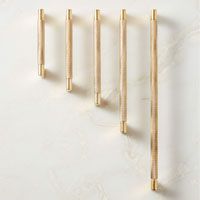 Nicolo Knurled Unlacquered Brass Handle
Available in 5 different sizes and in a beautiful, unlacquered brass finish, these sleek, textured handles from CB2 can uplift your cabinetry and furniture with style.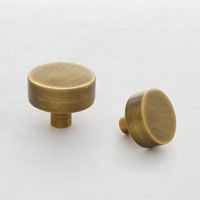 Part of Pottery Barn's bestselling Linden Collection, these tumbled brass cabinet knobs can integrate in to homes both classic and contemporary with ease.
FAQs
Is there such a thing as warm gray?
'Warm-gray' may sound like an oxymoron, but there are many gray shades out there to choose from that have warm instead of cool undertones; from the popular beige-gray to shades with undertones of red and yellow.
Sue Wadden from Sherwin-Williams says, 'slate, designed based on the rock material of the same name, is an earthy shade of gray that can range from deep to light. Over the past few years, we've begun to see popular tones of gray shift from cooler, modern tones to warmer hues inspired by nature. The earthy undertones in Slate Tile SW 7624 make for a grounding hue that pairs well with warm neutrals like Shoji White SW 7042.'
---
Cool gray may no longer be the popular neutral it once was, but that doesn't mean you should have to completely re-design your home. By embracing a few simple changes, whether that be through paint, plants or lighting, you can transform a cool-gray space to feel more warm, cozy and stylish.
Sign up to the Homes & Gardens newsletter
Decor Ideas. Project Inspiration. Expert Advice. Delivered to your inbox.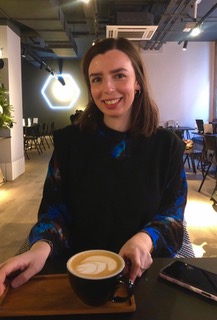 Zara joined Homes & Gardens in February 2022 as a Content Editor. After studying English Literature at University, she worked as an Ecommerce Website Editor, Content Writer and Buying Intern at multiple independent businesses within the luxury retail and lifestyle sectors. Her role at Homes & Gardens unites her love, experience and passion for the world of design and desire to create inspiring written content. She enjoys nothing more than discovering new trends, brands and products, whether that be in fashion, interior design or lifestyle.