The handmade beds fit for the King
Family owned and located on the Sandringham Estate, Wrought Iron and Brass Bed Company are flying the flag for exceptional British craftsmanship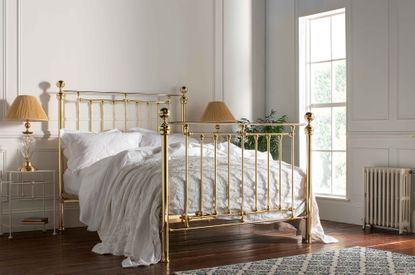 (Image credit: Wrought Iron & Brass Bed Company)
When Amanda Oldfield ordered a pair of iron beds for her two teenage boys, the Wrought Iron and Brass Bed Company was founded in a split moment. Disappointed and disbelieving in the poor quality of craftsmanship, Amanda and her husband Stephen took it upon themselves to rejuvenate the British metal bed market. Within months, they were selling their beautifully hand sculptured beds across the UK from their small workshop in Norfolk and are now joined by sons Jack and Harry.
When naming their skilfully handcrafted beds, overlapping family life with work is most in tune. 'Until our new designs are fully assembled and dressed, we refer to them with a code name, as each design has its own unique personality,' explains Amanda. 'Once assembled, we gather around as a family with a cup of tea, and the 'naming ceremony' begins.'
Each bed has its own unique story, often rooted in the family's past friendships, companionships, and relatives – like Bertie, named after a close family friend's first son, or William – named after Amanda's grandfather.
A genuine family company, they've had their ups and downs over recent years, and recognition of their exceptional quality and service came in 2021 – when they proudly received a Royal Warrant of Appointment to His Majesty The King. 'Over the years, the business has become our life, major milestones at work have become accomplishments in our own lives, and we're truly humbled,' says Harry. 'We believe it's this intrinsic connection that makes it more than just work. It makes it our passion. Our passion for our magnificent craft and superior customer service.'
Available in various sizes – from single to emperor – and beds for dogs. Each bed is a devotion to British craftsmanship, and exceptional quality sits at the heart of the company's philosophy. Using British iron and locally sourced materials whenever possible, craftspeople work with the heavy raw metal to carefully sculpt designs using a combination of complex and traditional techniques. Finished in either a powder-coated or plated finish, each bed showcases the characteristics and quirks that appear when crafting by hand, making each bed entirely unique.
At first, it was a cottage industry. 'I always wanted to have our beds handmade in Norfolk using materials that were sourced close to home,' says Amanda. 'I delivered the material to the craftspeople who made the bed, and we inspected everything before it was delivered.' Now, their workshop is home to a team of exclusive craftspeople and delivery drivers. Skilfully sculpting their range of exquisite metal beds and delivering nationwide daily – all handmade from locally sourced raw materials.
Over the years, this family company has grown – but the principles at its heart remain the same. 'Our family company started nearly twenty years ago, based on dismay and disbelief, which gave start to our impeccably high standards,' says Amanda. 'I have very high expectations myself, so I want to ensure we deliver what we promise direct to our customers. Iron beds exceptionally handcrafted in Norfolk, guaranteed to last a lifetime.'
H&G's sister brand Period Living has partnered with The Wrought Iron & Brass Bed Company to present a timeless collection of superior quality beds that work for homes of every era. The six designs have been hand-picked by the Period Living team, and are made in Britain using time-honoured methods of craftsmanship enhanced by the latest technology.
'I'm thrilled to be partnering with such a quality, conscientious British brand,' says Period Living editor Melanie Griffiths. 'I can think of no other bed maker that has achieved so much in terms of craftsmanship, provenance and sustainability, while the designs are simply stunning. The team are a real pleasure to deal with, too – they are true artisans who stand behind their craft. The designs are guaranteed to last a lifetime, and are destined to become heirloom pieces.'
Sign up to the Homes & Gardens newsletter
Decor Ideas. Project Inspiration. Expert Advice. Delivered to your inbox.
As the UK's first-ever home interest magazine, Homes & Gardens has been shaping British style for 100 years. Our core pillars are inspirational interiors, stylish decorating, beautiful gardens and fascinating stories. With the values of timeless style and considered elegance at our heart, we show an affection for heritage whilst also championing the future, from emerging designers to latest trends. The Homes & Gardens website brings all our beautiful content online, with a focus on stunning room ideas, expert advice from interior designers, architects and design professionals, and more practical expertise, too, on caring for and improving your home. Our website is updated and added to daily and we're delighted to welcome more than 6 million readers monthly. Of course, we've assembled a cracking team of experts in their fields to deliver all this stunning inspiration to you, and we'd love to introduce them. Their contact details are below, too.